My favorite decks from the past year
by BoardGameGeek reviewer EndersGame
Playing cards make the ideal gift, particularly the many beautiful custom decks available nowadays. Almost everyone can use a deck of cards at some point, so they have an instant and universal appeal, especially if a deck has some customized artwork and is packaged in an appealing tuck box. The average person's experience with playing cards is often limited to a cheap deck that handles poorly, so they're likely to be very impressed with the high quality of the decks seen here. Not only do these look great, but they will prove durable, and most of them handle like a dream, especially compared with the cheap-and-nasty decks that most people use.
A couple of years ago I put together a 
playing card holiday gift guide
, with a list of suggested decks to suit a variety of people and a variety of occasions. It proved pretty popular, but the world of playing cards is a constantly evolving one, so I decided to put together something covering some of the newer decks available. While the original list will give you many great ideas, a number of the decks listed there are now out of print. Plus there have been many releases in the past year that show new bursts of creativity, design, and color.
In this list I want to focus on some of my favorite decks that have come out in the past year 2020. This year has been a challenging year for many of us in light of the coronavirus that has swept across the world. Along with it came a range of restrictions and lock-downs, financial pressures, and personal crises. But in the middle of all this darkness, there have also been some bright sparks, and that includes a brand new crop of custom decks that have appeared in the marketplace. As they say, hindsight is 2020, so with the benefit of looking back over the past twelve months, I invite you to join me in a tour of some of my favorite decks from this past year.
The suggestions I'm making are very much a matter of personal choice. Playing cards are very much a matter of individual preference, and other playing card enthusiasts might make other choices. I haven't seen each and every deck that hit the market in the past year, and there are undoubtedly plenty of other worthy decks that qualify for a list like this. I've also not included any decks that have haven't yet been produced, even if they have been crowdfunded. This list strictly covers decks that have already been produced and you should be able to obtain from online retailers and resellers. I've also not included so-called "hype decks" that sell out almost immediately at the publisher level (e.g. Fontaines), but only those that enter retail channels and are more widely and readily available.

Popular Series
Several series of playing cards have become brands of their own, and achieved nearly cult status from collectors. This past year has seen some great additions to the line-ups from popular series that include big names like Jerry's Nuggets, Cherry Casino, and NOC.
● 
Jerry's Nugget Aqua Playing Cards
 - Jerry's Nuggets are a modern icon in the world of playing cards, due to the cult status of this deck, which was praised by cardists around the world. It was originally printed in the early 1970s, and was so much in demand in recent decades that copies fetched over $500 in the secondary market. A very successful reprinting of the original blue and red decks happened in 2019, and in the past year we've seen multiple reprints in different colors. Among my favorites in this series are the bright colors like orange, yellow, and green, which have all appeared in the past year. But there's also something for those who prefer a more muted look, such as steel and black. 
For more in this series, see
Jerry's Nugget decks
.
● 
Cherry Casino Tropicana Teal Playing Cards
 - The Cherry Casino decks capture a retro vibe, and are a throwback to the old fruit machines from gambling halls, with their distinctive cherry artwork. For me the real appeal of this series lies in the gorgeous card backs, which have a metallic sheen making them feel instantly different from all other decks. The face cards are all quite standard, so that makes them ideal for card games or card magic. Multiple new colours continue to appear in this series, such as 
Flamingo Quartz Pink
, and most recently 
McCarran Silver
. 
For more in this series, see
Cherry Casino decks

 
.
● 
NOC 3000X2 Purple Playing Cards
 - The acronym NOC originally stood for Nothing Only Color, and in line with this the initial decks in this series were all very minimalist. Many people like to collect and use the NOC decks, and over time the series has evolved somewhat. The most recent releases show some new splashes of creativity, and with the NOC 3000X2 deck we travel into the future, past the year 3000. Vibrant purples and pinks inhabit the landscape of the cards, for a very modern and flashy look that is particularly well suited to cardistry. This particular deck is also available in a matching 
pink
 version. 
For more in this series, see
NOC decks
.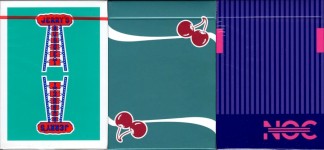 Popular Brands
There are several big brands that you can count on for quality, and this year was no exception, with big companies like Theory11, Ellusionist, and Art of Play all continuing to contribute wonderful playing cards to the market.
● 
James Bond 007 Playing Cards
 - When it comes to glamorous tuck boxes, it doesn't get much better than the luxury of playing card producer Theory11. This wonderful deck is a tribute to agent 007, James Bond. I collect most of the Theory11 decks, and this one is particularly terrific, with a supreme tuck box, and Bond-inspired paraphernalia on the court cards and on the card back. Close observers will find many Bond gadgets and more. Theory11 have put out several stylish releases in the past year, another one being the 
Hollywood Roosevelt deck
. 
For more, see
Theory11 decks
.
● 
Shadow Masters Legacy v2 Playing Cards
 - One of the companies at the forefront of the custom playing cards movement was Ellusionist and their 
Black Tiger deck
 continues to be a modern icon. While they've since been overshadowed by the many custom decks produced in the crowd-funding era over the past decade, they continue to produce some memorable decks from time to time that are worth picking up. The Shadow Masters Legacy v2 is a black deck in the classic Ellusionist style, and represents the kind of thing that made them great to begin with. A jet black background is the chief feature of this deck, and the red and white used for the artwork and pips stands out beautifully against the inky black. This deck compares favorably with any other deck from the modern era. 
For more, see
Ellusionist decks
.
● 
Yellow Wheel Playing Cards
 - The brand Art of Play is the home of influential cardists Dan and Dave Buck. Their 
Red & Blue Wheel decks
 are among my all-time favorite decks, with gorgeous metallic inks as part of a split-pip design. The Yellow Wheel deck is their latest entry in the Wheel series, that retains the original card backs but now in yellow. But the highlight is the card faces, with the split pips employing a stunning metallic silver that complements the cards beautifully. This is a completely custom deck that is certain to impress anyone who sees it. Art of Play produces many new decks each year, and their 
Henry & Sally deck
 is a fun novelty release also worth checking out. 
For more, see
Art of Play decks
.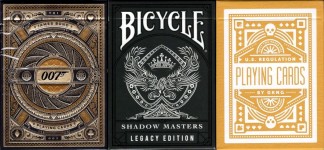 Popular Designers
They are a very select group, but there are some notable designers in the playing card industry who have developed a real name for themselves, have generated a large following of loyal fans, and continue to produce high quality custom decks on a regular basis.
● 
Italia Radiosa Playing Cards
 - Italian designer 
Giovanni Meroni
 is the man behind 
Thirdway Industries
, and his playing cards are in high demand from collectors around the world. His signature style is immediately recognizable in each of his decks, and this one is no exception. Along with its companion 
Italia Segreta
, it's themed around the wonders and secrets of Italy. The unique court cards are the real highlight, showcasing Giovanni's usual creativity and style. The number cards are also fully custom. These are the kinds of decks that will hold their value well in years to come. If you want even more vibrant colors, check out 
Modern Idols
, from the same creator. 
For more, see
Giovanni Meroni decks
.
● 
Postage Paid Playing Cards
 - Behind the brand 
Kings Wild Project
 is 
Jackson Robinson
, who is one of the few professional designers that actually makes a living out of designing playing cards. This deck was inspired by the idea of playing cards functioning as postcards, each with its own stamp and post paid stamp. All 50 US states are represented on different cards, and everything about this deck is fully customized. This deck was produced in only limited numbers, so it will be out of stock in most places. But if you're quick, you can still grab Jackson Robinson's 
General Admission deck
, which applies a similar concept to tickets, with each card representing a vintage ticket stub from the early 20th century. 
For more, see
Jackson Robinson decks
.
● 
Kodiak Playing Cards
 - From popular designer 
Jody Eklund
 and his 
Black Ink Playing Cards Company
, comes this delightful deck of playing cards that is geared to the poker player and collector. The cards have a very classic look, but offer a fresh take on the designs of the court cards and pips. Jody is highly respected for his approach to graphic design, and these cards will prove an excellent choice if you like playing card games, and want to bring something stylish and attractive to the table. 
For more, see
Jody Eklund decks
.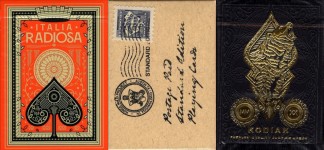 Magician Decks
Most magicians can perform their magic with any deck, but typically they prefer to do card magic with a deck where novelty and customization are minimal, so as not to distract from their magic. These decks are well suited to performing magic, and contain bonus gaff cards or other secrets that enable them to produce miracles not possible with ordinary decks.
● 
Card College Playing Cards
 - These decks are a tribute to the most outstanding modern teacher of the fundamentals of card magic, Roberto Giobbi. Mr Giobbi is the author of 
Card College
, a series of best-selling books which are the modern gold standard for learning card magic. Available in red and blue, these decks are simple and practical for the working magician, and as a bonus each contains two double backer gaff cards. If you want more luxury, check out the stunning 
Luxury 3 Deck Set
, which has even more stylish cards, individually numbered tuck boxes with unique origami style features, packaged in an attractive acrylic box - the ideal collectible or gift for magicians.
● 
Remedies Royal Blue Playing Cards
 - The Remedies decks come from popular creators Daniel Madison and Daniel Schneider, and this is a successor to the Remedies Scarlet Red deck. Many collectors love the Black Roses brand of playing cards, and collect whatever they produce. This blue Remedies deck has a classic and minimalist look with bold blue card backs, and is very functional and practical. The inclusion of a special Angle Zero gaff makes it ideal for magicians.
● 
DMC Elites Red v5 Playing Cards
 - Of all the marked decks I own, the DMC Elites is easily my first choice whenever I want a marked deck with cards that can be easily read from a distance, due to the clever and yet almost invisible marking system it uses. This deck has previously been released in several different colors, and now incorporates Tamariz's Mnemonica stack. All you need is the deck, but there is a terrific 
Passport
 book available separately, which will give you some great ideas for routines you can pull off with this great marked deck. 
For more, see
Marked decks
.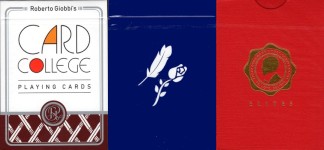 Cardistry Decks
Card flourishing has really boomed in recent years, and especially shines when cardists use a deck that has colorful and striking patterns optimized for cardistry, that enhance the visual aesthetics of cards in motion, as these decks show.
● 
Neon Orange Cardistry Playing Cards
 - This deck represents Bicycle's attempt to meet a demand for a relatively low-cost deck geared towards card flourishing. The card backs have a geometric design, and the faces are all identical and completely non-standard, showcasing the latest evolution in playing cards optimized entirely for cardistry. Bright colors ensure that the cards look visually appealing in fans, spreads, and flourishing moves. Alongside this vibrant orange deck is its blue companion, the 
Neon Blue Aurora deck
.
● 
Autumn Circle Cardistry Playing Cards
 - Tally Ho is a classic brand that USPCC has been producing for a long time. The circle back design of the typical Tally Ho deck has become iconic, and is especially appreciated by those who enjoy card flourishing. Each year the folks at Bicycle produce some in-house decks for special occasions, and the Autumn Circle Back deck is a lovely result. The colors capture the warmth and glow of autumn leaves and the mood of harvest time, while the pattern on the card backs is perfect for cardistry.
● 
ArrowDynamix Cardistry Playing Cards
 - Given the high volume of cardistry decks appearing all the time, it can be difficult to come up with something completely original, but this minimalist deck has accomplished exactly that. Each card features a giant vertical arrow on the card backs, and a giant horizontal arrow on the faces. With carefully choreographed sequences and moves, you can create truly unique patterns and effects that you simply can't achieve with any other cardistry deck.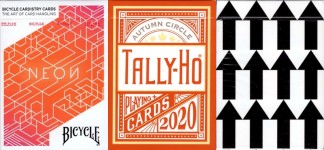 Animal-themed Decks
Do you love animals, or do you have an animal lover in your life? There are a lot of wonderful custom decks that are tributes to our four legged friends, or depict some of our favorite creatures.
● 
Woof and Whiskers Dog Playing Cards
 - The real appeal of this deck is the cute tuck box, which has cardboard ears that fold up, to complete the look of the friendly dog on the front of the box. I would have liked to see some more customization with the number cards, but it's still a very charming deck, with delightful custom artwork on the court cards and aces. This is one of two Zoo 52 decks, so if you like the Dog deck, you'll also want to pick up the 
Playful Paws Cat deck
, which is equally cute.
● 
Aviary Playing Cards
 - There are a lot of independent creators that produce Bicycle branded playing cards with the help of industry giant USPCC, but this big name producer also releases its own in-house decks. This is my favorite of their four newest releases that hit the market at the end of 2020, and is a very classy looking deck with artwork inspired by a traditional look, but with adjustments to give it a custom feel, and the presence of several birds carefully positioned throughout the deck. It's one of many decks in the 
under $5 range
. Of the four new releases from Bicycle, the 
Sea King deck
 is also proving to be very popular.
● 
King of Tigers Playing Cards
 - If you're looking for a deck with bling, this is it. The card backs have a borderless tiger skin pattern, which has been printed with some of the latest technology that makes use of foil for a truly eye-catching look. The tuck box is even more glamorous. While the court cards are clearly inspired by traditional courts, the Jokers bring back the tiger theme strongly, and the tiger skin look recurs throughout the deck.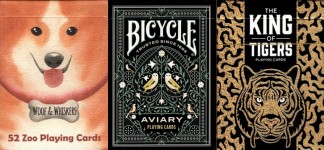 Food-themed Decks
Recent years have seen some wonderful novelty decks themed around different kinds of food. These are always a great way to whet your appetite for a card game, or to show off to family or friends, and have proved a real hit with collectors.
● 
Squeezers V3 Playing Cards
 - Good luck getting your hands on decks from this extremely popular series from Organic Playing Cards, because they sell out quickly. These fruit inspired decks have delightful tuck boxes, and this grapefruit themed deck even comes in a tuck box that looks like a juice box, and is actually scented like grapefruit. The cards themselves are quite practical, but add humorous grapefruit themed elements to the court cards, and new bold colors. OPC's 2020 releases also included the watermelon-themed 
Carvers deck
, while their current release sees the brand go in a slightly new direction with the corn-themed Shuckers.
● 
Noodlers Chicken Playing Cards
 - If you like the concept behind the Organic Playing Cards series, you'll probably also enjoy this deck, which has a similarly styled tuck box to the Squeezers decks, but represents a packet of ramen noodles. The orange color on the card backs and pips has also been inspired by the noodles theme. The artwork on the court cards has a quaint and cute style, with each character depicted in a light hearted style quite different from standard courts, and all holding a bowl of noodles. For a final laugh, the Jokers provide us with the necessary packet of "chicken seasoning" to add to our noodles.
● 
Citrus Playing Cards
 - Created by Flaminko, the Deliciousness series has been somewhat overshadowed by the more successful fruit inspired cards from
Organic Playing Cards. But I love the Flaminko decks, because they apply customization to all elements of the cards, including the pips. This novelty deck is well suited for card flourishing, card games, and collectors, and cleverly captures all that is juicy and wonderful about citrus fruit.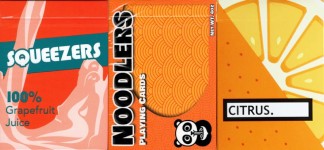 Music-themed Decks
Music is another evergreen theme, and there's a solid range of lovely decks for the music lover, whether your taste is classical or more contemporary rock-and-roll.

● Composers Mozart Playing Cards - This deck is part of a series that also includes Bach and Beethoven. These decks are true collector pieces, and make a wonderful tribute to some of the greatest composers of all time. The tuck boxes have a very classical look, and metallic ink enhances the gorgeous card backs. Meanwhile completely custom artwork on the faces emphasizes a vintage and classical feel. They are great for music lovers and collectors, but if classical music isn't your thing, then check out the Rock and Roll deck.

● Piano Player Playing Cards - If the piano is your instrument of choice, this is a deck for you. The creative tuck box is available in two styles, one with two black keys and the other with three black keys, which means you can place two decks alongside each other to create a larger keyboard. Fully custom characters inhabit the court cards, with the keyboard motif returning in the details of the artwork. Small touches like this really make this creative deck a thing of unique beauty.

● Soundboards v3 Midnight Playing Cards - Remember the old walk-man cassette players? In the 1980s these revolutionary electronic devices were among the first to make your personal music collection portable. The Soundboards deck replicates the look of a classic walk-man, and the Jokers complete the look by bringing the cassette tape look into the box. This Midnight edition has a dark look, so you might also want to consider the red deck if you prefer a more traditional color.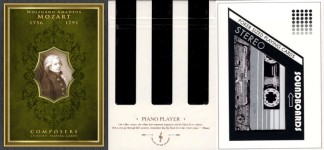 Fiction & Film themed Decks
Most of us love a good story, whether it's in the pages of a novel or on our screens. Here are some great custom decks that are loving tributes to some of the best from the worlds of fiction and film.
● 
Jane Austen Playing Cards
 - Fans of the classic novel will appreciate the loving treatment that Jane Austen's famous novels have received in this delightful tribute from the Art of Play label. Each suit represents a different novel, with the court cards featuring the lead characters in the story. The design of the characters is inspired by period costumes and reflects the fashions from the time in which the stories are set. The classy tuck case ensures that everything is nicely packaged and well presented.
● 
Star Wars Playing Cards
 - Theory11 achieved a real coup by acquiring the rights to bring the Star Wars brand to playing cards. They were the perfect company to ensure that the result was a classy deck that did justice to the world of the films. This pair of Light Side and Dark Side decks begins with a top quality and highly attractive tuck case, as we've come to expect from Theory11. The court cards all feature different characters from the movies, and the design is the perfect blend of customization and playability, making this a practical deck you can bring out for your favorite card game, or to give to the Star Wars fan in your life. A similar 
pair of decks
 was produced later in the year in White and Black.
● 
King Arthur Playing Cards
 - The result of a collaboration between Riffle Shuffle and Studio Muti, this pair of red and green decks tell the story of the famous Arthurian legend. For me it's a personal and nostalgic childhood favorite, in light of the adventure and imagination it evokes. But as impressive as these decks are, they pale besides the 
King Arthur Gold deck
, which has gold metallic ink on the faces, and gold foil on the card backs, for a truly extravagant look. Inside and out, this is a stunning tribute to a timeless classic from the world of fiction.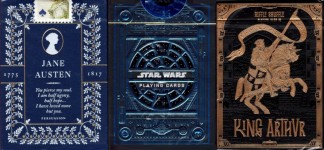 Space-themed Decks
So I cheated. I already have a section devoted to cardistry, so I figured I'd sneak in a second category, by including some cardistry decks that all have a space theme. These decks all feature colorful visuals that work well for flourishing, but can also be enjoyed by collectors who appreciate their vibrant colors and exuberant designs.
● 
Solokid Constellation Playing Cards
 - This set of twelve decks captures the twelve different star signs. It was produced by 
Bocopo
, a company well known for producing colorful custom decks that appeal especially to cardists and collectors. These decks are typical Bocopo offerings, with evocative colors that are unique to each different deck, to help capture a different feeling for each and every constellation. If you like vibrant color, you'll certainly find something to enjoy here.
● 
Stargazer New Moon Playing Cards
 - Several different decks have now appeared in the 
Bicycle Stargazer series
, but the recent New Moon deck is probably my favorite. The circular moon that appears on all the card backs makes it an ideal deck for card flourishing moves like spins and twirls. The face cards have some truly vibrant colors, and capture well the feel of a night sky bursting with color and life.
● 
Sirius B v3 Playing Cards
 - I fell in love with the style of the original Sirius B deck, so this third edition was always going to win me over. The court cards consist of a blur of colors that look like paints mixed together, and this style has also been applied to the pips. The colors are the real appeal here, and the signature design of the card backs also looks very nice in card flourishes.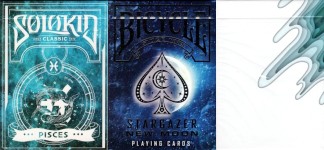 Transformation Decks
I personally adore 
transformation cards
, and consider them to be one of the most fascinating and memorable types of playing cards there is. The idea is that you take the pips and incorporate them into a larger picture that forms a unique work of art, for each and every card in the deck.
● 
Cotta's Almanac #1 Reproduction Playing Cards
 - This historic deck was first created in 1805 by J.C. Cotta, and was the very first of its kind. Themed on the "Joan of Arc" play by Schiller, the beauty and creativity of these cards will still win over collectors today. Lovingly produced in a high quality modern edition, this recreation is the first of the entire series of Cotta transformation decks that is being reproduced by PCD.
● 
5th Kingdom Playing Cards
 - This deck is possibly my favorite original release from PCD in the past year. It is an outstanding example of the creativity and originality of a semi-transformation deck, where the pips have been cleverly incorporated into the artwork. Each suit represents a different culture, turning each individual card into a work of art that can be admired and enjoyed.
● 
Pack of Dogs V2 Playing Cards
 - This transformation deck is the work of John Littleboy, who has produced a number of such decks in his inimitable style, including Pack of Dogs, Kitten Club, Mermaid Queen, and Bag of Bones. The number cards are my favorites, and in this deck each of these represents a larger art piece with a dog. Each suit has a progressive image, so they don't feel totally unique from each other. It's more like a series of consecutive snapshots, and you can use flip animation to tell the story. Littleboy's 
Kitten Club V2 deck
 applies a similar concept to cats.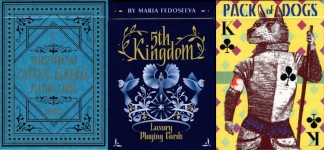 In-House Decks
PlayingCardDecks doesn't just sell playing cards, but Will Roya also uses his wealth of experience to team up with designers and graphic artists to produce high quality custom decks under the PCD label. Here are some great custom decks that were published in-house over the course of 2020.
● 
Astronaut Playing Cards
 - This novelty deck is a delightful creation that will please anyone who has an interest in space and space travel, in light of its unique theme. The Kings are all depicted as astronauts, while the Queens and Jacks represent space travelers. The card backs have a futuristic look with neon lights, and this look carries over to the number cards, which are highly customized with unique red and blue pips.
● 
Beekeeper Playing Cards
 - There are plenty of bee themed playing cards already on the market, but the artwork style gives this one a truly unique feel. Two decks were produced, one with light card backs and the other with dark card backs. This is a great novelty deck for the collector, because there's especially some delightful creativity to be found with the bee-inspired pips, and the detailed custom artwork on the court cards.
● 
Testament Classic Playing Cards
 - This is a Biblical themed deck created by artist Ben Green. It's intended as an art deck, with the images on the cards depicting Biblical characters from well-known narratives. Representing a dual love for playing cards and a love for Bible-inspired art, this deck will especially appeal to the collector.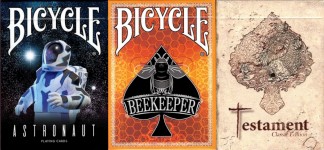 Out-of-the-Ordinary Decks
I'm a sucker for highly unusual decks with a high degree of novelty, and even though these are not ones I'd typically use for playing card games, they have very unique features that make them stand out from your average custom deck.
● 
Starry Night Puzzle Playing Cards
 - Fancy a deck that doubles as a jigsaw puzzle? This clever deck takes its inspiration from Vincent Van Gogh's famous painting, The Starry Night. The artwork on the card faces is all taken from the painting, and all the cards can be pieced together to make a single giant picture, thus effectively functioning as a large puzzle. Yet each card has clear indices so it's still something you can use for card games too. Definitely unique and out of the ordinary, this set of playing cards is a perfect choice for fans of classic art and paintings.
● 
Falcon Razors Deluxe Throwing Playing Cards
 - Rick Smith Jr has made multiple world records in throwing playing cards. His baseball background holds him in good stead, but anybody can learn to throw playing cards if you use the techniques Rick teaches (learn more in 
the interview
 we did earlier in the year with Rick). These throwing cards were a collaboration with legendary flourisher De'vo, and were featured in one of this year's viral videos from Dude Perfect, which featured Rick and his amazing card throwing. The cards are slightly thicker than standard Bicycle stock, to ensure extra durability and performance for card throwing.
● 
AQUA Invisible Plastic Playing Cards
 - If you're looking for something completely different, this might hit the mark. This is a ground-breaking deck that is the closest thing to being invisible. All the cards are made out of completely transparent plastic, after which a high gloss transparent printing is applied to selected areas of the cards to produce the designs and pips. So each card is effectively completely transparent, and yet you can see its unique artwork and determine its value and suit. The handling is surprisingly better than you'd expect for a completely plastic deck, and it's certainly something unique.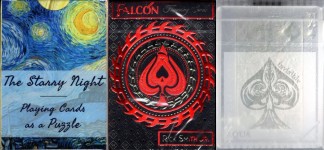 Other Gift Ideas
Do you want to let your gift recipient make their own decision about what to get, or are you not quite sure what to buy? Here are a couple of special gift ideas that might help out, even if it is to give your family or friends a convenient way to enable you to select your own gift!
● 
Accessories
 - There's a wide range of accessories available for playing cards, like card clips, card cases, and more.
● 
Gift Card
 - PlayingCardDecks.com gift cards are available in amounts of $10, $25, $50, $100, and $200.
● 
Pip Box Club
 - This popular club has been around for over two years, and subscribers get a selection of decks and goodies shipped to them each month, and offers great value with each box.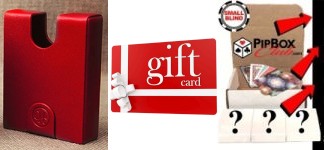 Happy shopping, and happy holidays!

Want to learn more about playing cards and PlayingCardDecks.com?
● Online Store: playingcarddecks.com
● Related links: Blog, Kickstarter projects, Loyalty Rewards Program, Pip Box Club, Gift Cards
● Social media: Facebook, Instagram

About the writer: EndersGame is a well-known and respected reviewer of board games and playing cards. He loves card games, card magic, cardistry, and card collecting, and has reviewed several hundred boardgames and hundreds of different decks of playing cards. You can see a complete list of his game reviews here, and his playing card reviews here. He is considered an authority on playing cards and has written extensively about their design, history, and function, and has many contacts within the playing card and board game industries. You can view his previous articles about playing cards here. In his spare time he also volunteers with local youth to teach them the art of cardistry and card magic.


Last update date: 12/26/20