Add an additional description to your product option. Ex: Size guides, and other common questions.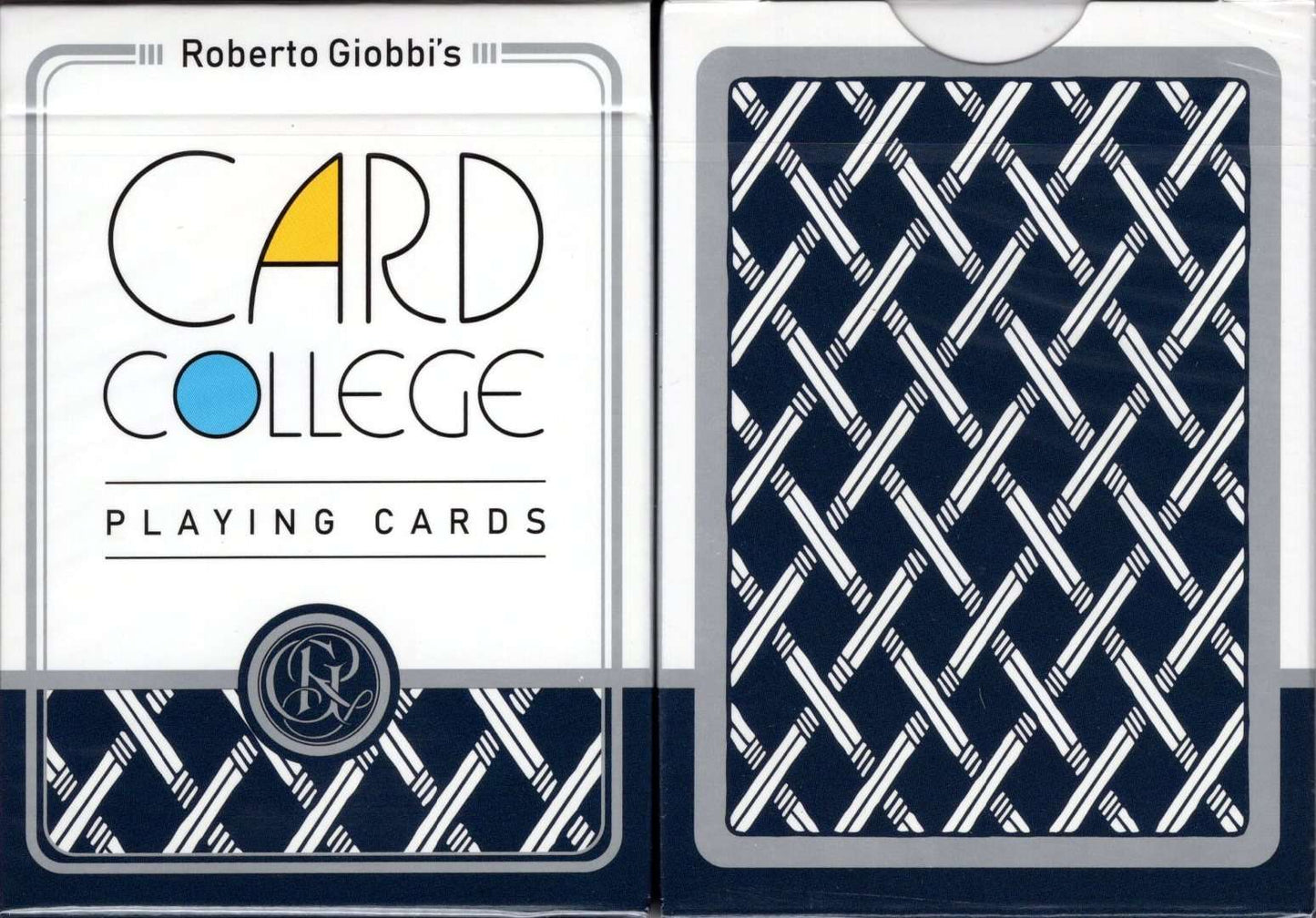 Card College Playing Cards USPCC
Card College Playing Cards
Available in blue & red, not sold as a set
Card College Playing Cards are manufactured and marketed with the full approval and support of Roberto Giobbi

Roberto Giobbi is the author of Card College, a five-volume work considered worldwide as the standard text on sleight-of-hand card magic. He is fluent in six major languages and performs internationally for private and corporate functions. In the magic community he is highly acclaimed as performer, lecturer and author of best-selling books.

He is member of the Escuela Magica de Madrid, magic's only Think Tank. Several international awards in magic round off his profile. More importantly, he's a gentleman and all-around nice guy.

Card College, Roberto Giobbi's acclaimed course on sleight-of-hand card magic, has received the highest praise from amateur and professional magicians alike, throughout the world. In 2020 the five-volume set, containing over 1'500 richly illustrated pages, has been voted the most important and influential magic book in history by the members of the Magischer Zirkel von Deutschland, Europe's largest magic organization.
Printed by USPCC, on Bicycle premium stock.
Classic & clean design, perfect for professional card magic and card playing.
Slim white borders.
The back design reflects the drawings in the Card College books.
Two specially printed cards (double-backer red/red or blue/blue and red/blue)
Standard USPCC face design and indices, special Ace of Spades and Joker.
Matches trick cards from the standard Bicycle trick card deck
Two-color options: red / blue (sold separately)
Highest quality at a low price.
Card College for the win!
Roberto Giobbi is definitely known to be a great close up card guy. You know if he slaps his name on a deck of cards that it would definitely have to meet his standards. This does not disappoint. The deck has a nice classic back design that would suit the needs of any card magician. If you want to use it for gameplay, you can definitely do that as well. The deck does come with a double backer and a color changing double backer to aid in magical purposes. It's manufactured by USPCC, so you know it handles well. Get this deck!
Practical working deck and tribute to a great card magic teacher
These decks are a tribute to the most outstanding modern teacher of the fundamentals of card magic, Roberto Giobbi. Mr Giobbi is the author of Card College, a series of best-selling books which are the modern gold standard for learning card magic. Available in red and blue, these decks are simple and practical for the working magician, and as a bonus each contains two double backer gaff cards. If you want more luxury, check out the stunning luxury decks that were produced as part of the same Kickstarter.
Nice
The Card College Playing Cards printed by United States Playing Card Company are really neat. The back design is pretty eye catching.