Accessories for the Playing Card Enthusiast - Part 2
by BoardGameGeek reviewer EndersGame
This is the second in a three-part series about some must-have accessories for the serious playing card enthusiast. If you love playing cards, you will appreciate the need to carefully store, display, and protect your favourite decks, and that's where these products come in.
Besides essential ways to display and store your beloved playing cards, you also will want to protect individual decks while you carry them around. These accessories will help you do that in style, while keeping your playing cards safe at the same time.
Card clip
If you've been buying playing cards for a while, you'll already have heard about card clips and know something about them. You can read more about them in our article "
Card Clips: What Are They, and Why Get One?
". In short, a card clip is a U-shaped metal container, into which you can snugly fit a single deck of cards, tuck box included. 
Card clips can be tremendously useful for a number of reasons. First of all, they'll protect your playing cards, effectively acting as a coat of armour that surrounds your precious deck. But more importantly, a good card clip will have a strong natural spring between the two opposite sides. This means that when your deck is wedged firmly inside, your card clip will help keep the cards flat, and it can even straighten out a warped deck. And of course it is a fashionable accessory which just looks great, and can add to your street-cred!
You can buy very cheap card clips on eBay, but these are typically made out of soft alloy, so they won't do their intended job of pressing your cards closely together. I know, because I've personally tried them, so my advice is: don't both with these. It really is worth spending a little extra to get a quality item from a reputable retailer. 
That's why I recommend taking a look at the 
stainless steel card clips
 from TCC that are made out of stainless steel and leather. These are made out of stainless steel, to make sure that they do the job that they are designed for, which is to keep your cards flat and pressed closely together. But they also have a lovely leather exterior which provides a very classy look. I got the 
Ostrich Grain Red Leather Card Clip
 ($29.99), which has an eye-catching and unusual leather grain, combined with a vibrant red colour. 
There are several other great options available, including a 
Ostrich Blue Leather Card Clip
 ($29.99), 
Lizard Grain Leather Card Clip
 ($29.99), and 
Litchi Grain Leather Card Clip
 ($29.99). All of these are quality card clips. I recommend staying away from the inferior quality cheapies on eBay, because you'll only be disappointed. If you're going to get a card clip, at least get a quality item like these that you'll actually be happy with.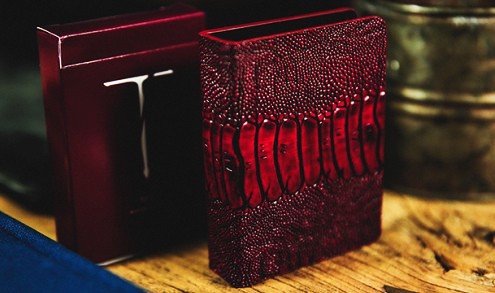 Deck carrier
You'll notice quite a few accessories made by TCC in this list, and the black leather-look 
Playing Card Carrier
 ($11.99) is another part of the ir product range.
Given the relatively low price point of this product, my expectations were somewhat moderate, but I was pleasantly surprised with the quality and attractive looks. The playing card case has a very classy leather look, and doesn't at all seem cheaply made.
When you first use it, you'll find that a deck fits inside quite tightly and can be somewhat hard to remove. But over time the material stretches a little, and your deck will fit inside snugly without being too tight, so you can remove it easily. When the case is brand new, I suggest leaving a deck inside it for a day or two, to give it time to stretch slightly, and from then on it should be just right.
This card carrier offers the deck perfect all round protection, while still looking very stylish, much like a wallet. The other side of the carrier even has room for credit cards, so you can use it to carry around more than just your deck. A magnetic closure would have made it even better, but even so I've very been pleased with this. I even ended up buying extras to give away as gifts for other playing card enthusiasts.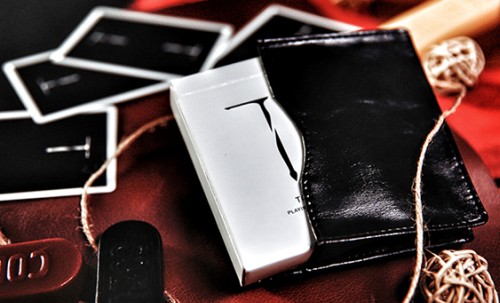 Denim deck holder
Also from TCC is this 
Denim Jean Bag Deck Holder
 ($9.99) which is designed to store and transport your deck as well. I love custom cases to use for carrying around my decks, and this is a particularly good one that is practical and stylish.
The case is made out of denim fabric on the outside, so it has a casual look. Denim is a popular choice for something designed to be fashionable and durable, and that's exactly what we have here. Decks fit inside quite readily, and they are very easy both to insert or remove. The external case is not overly rigid, so it doesn't give the uncomfortable feel of a card clip, yet it ensures that your deck has some protective covering - just like a good pair of jeans!
One of my favourite parts about this product is the magnetic seal. The top flap just folds over and a magnet keeps the flap in place. It's satisfying to open and close ... and open ... and close. 
If you're fussy about coordinating your deck choices, you might also want to consider pairing this deck holder with the perfect deck: 
Bicycle Denim Playing Cards
 ($4.99). But regardless of which deck you put inside, this is a very trendy deck holder that does a good job of keeping your deck safe while you're carrying it around.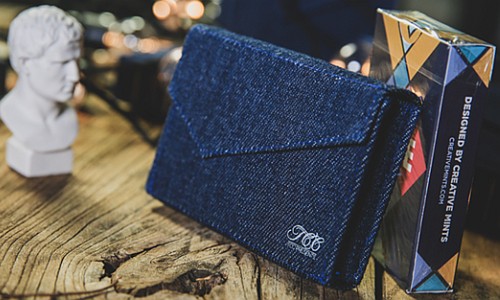 Deck sleeve
I am always looking for ways to protect my decks better, and the 
Carat Deck Sleeve
 ($17.99 for a 10-pack) is perfect for the job. It's made out of a very durable plastic that is 0.3mm thick. 
This product comes packed flat for easy shipping, and you simply fold over the flaps, which lock into each other at the base, and then you can slip your deck inside. Basically it wraps around your deck like an outside jacket, to protect it from spills and from getting banged up during regular use. To get the cards out, you just open up the top flap of both the sleeve and the deck. This means that the tuck box itself can remain in the deck sleeve as long as you like, until you're ready to switch out the deck you're using with another one.
The beauty is that the sleeve is completely transparent, so you can still enjoy all the visuals and artwork of the tuck box design. The sleeve is almost invisible unless you're looking very closely, and yet it does a terrific job of keeping the deck itself well-protected. The edges of your tuck box will normally get quite worn and damaged as a result of regular use, but all that damage comes to an end when a tuck box is inside one of these deck sleeves.
I've previously used the 
Clear Playing Card Deck Case
 sleeves ($29.99 for a 10-pack) produced by Patrick Kun, but those are now out of stock and unavailable. That deck sleeve had a top flap that cleverly integrated the tuck box lid, while the Carat deck sleeves use a simpler system. But for the price, the Carat sleeves do a terrific job of protecting your deck.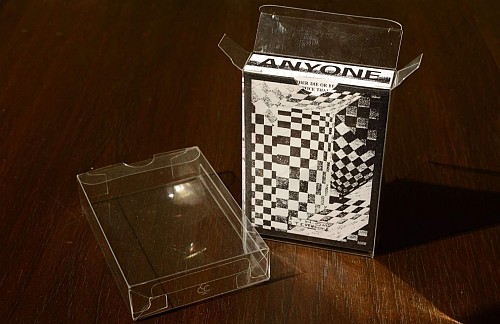 One-piece deck box
Here's another way to give your playing cards excellent protection, but at a bargain price. This 
PCD Clear Plastic Box
 ($0.99) is made of thick plastic, so it offers good protection from anything that is sharp or that would damage your deck. This is a one-piece design that has a hinged lid which stays shut courtesy of a snap closure, keeping the box securely closed. The hinged design also means that you don't need rubber bands to keep it together, as is the case with some similar two-piece boxes. It's been custom made especially for PCD by Carat Case Creations, and has the PCD logo on the bottom of the box. The boxes themselves are transparent, so you can clearly see the deck inside.
I'm loving these plastic boxes, and so are my decks of cards! I use them in several ways:
● 
To protect my decks when storing
: Nothing can damage my favourite decks when they're inside these plastic boxes, which ensures they get looked after. Otherwise it's easy for the tuck box to get accidentally damaged when it's stored besides or between other decks.
● 
To protect my decks when travelling
: When my deck is rattling around in a glove compartment, being bounced around at the bottom of a bag, or squashed between other items, it will stay in top condition when it is inside one of these boxes. I nearly always put my decks in boxes like these when I'm taking them with me in my car.
● 
To protect my decks when shipping
: I don't want a deck to get damaged when I'm mailing it to someone. Putting it in one of these plastic boxes ensures that it is pretty much invincible, and will travel through the postal system safely and arrive in pristine condition.
They're also cheap, and you can pick up a dozen of these for under eleven bucks, or individually for around a dollar each.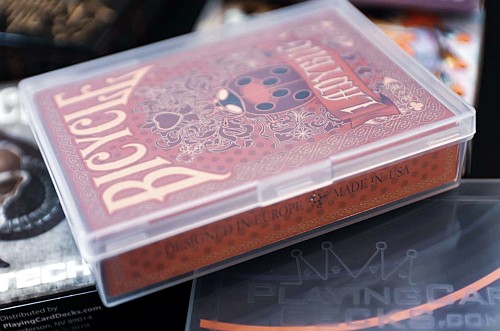 Two-piece deck box
In the same price range is the generic 
Clear Plastic Box
 ($0.99), which is also made of thick protective plastic. These boxes are also transparent, so that the deck inside is clearly visible and identifiable.
This product consists of two halves: a lower half into which your poker-sized deck fits perfectly, and an upper half which fits on top like a lid. If you want to, you can easily keep the two halves together with a rubber band. That's the solution I've used, although for this reason I tend to prefer the similar box that has a one-piece design with a hinged lid (see above). 
But these two-piece clear plastic boxes are terrific, and I have had excellent use out of many of them, and can recommend them. Given the low cost, these plastic boxes are outstanding value, and have proven very useful in extending the life of my playing cards. These are available 
individually
 or by the 
dozen
.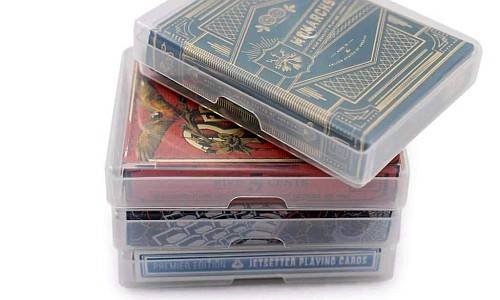 Final thoughts
Most of us invest quite a bit of money buying a quality custom deck of playing cards. So it makes sense to make sure it is well looked after when we're using it, and preserve its life as best as possible. Accessories like the ones featured here do a great job of helping us protect our playing cards, and get as much mileage out of them as possible!

Where to get them? Check out the full range of accessories on PlayingCardDecks here.
Other articles you might find interesting:


About the writer: EndersGame is a well-known and highly respected reviewer of board games and playing cards. He loves card games, card magic, cardistry, and card collecting, and has reviewed several hundred boardgames and hundreds of different decks of playing cards. You can see a complete list of his game reviews here, and his playing card reviews here. He is considered an authority on playing cards and has written extensively about their design, history, and function, and has many contacts within the playing card and board game industries. You can view his previous articles about playing cards here. In his spare time he also volunteers with local youth to teach them the art of cardistry and card magic.'


Last update date: 06/21/20