Accessories for the Playing Card Enthusiast - Part 1
by BoardGameGeek reviewer EndersGame
Playing cards aren't the only thing that can make a playing card enthusiast happy. Whether you're a cardist, magician, card gamer, or just a collector, you'll already know about the joy that a lovely custom deck of playing cards brings. But the good news is that there's also a whole range of accessories and playing card related products that you'll also find tremendously helpful, and will help us enjoy our hobby all the more.
To begin with, there are products to help you get the best mileage out of your favourite cards and decks, including displaying them, storing them, protecting them, or carrying them around. If you are a playing card enthusiast yourself, or if you're looking for the ideal gift for the person in your life who enjoys playing cards, then this article is for you.
Deck stand & card display
With all these fantastic looking decks in your collection, you don't plan to hide them in a cupboard or bury them in a box do you? The 
Carat XDS single card display & deck stand
 ($15.99) is an acrylic stand that helps you show off your favourite and most classy deck in a stylish way.
The two main parts of this product come pre-assembled, and consist of a base panel and a display panel. You simply slide the base panel into a slot on the display panel, and you're ready to go. The base panel then creates a shelf onto which you can place your favourite deck.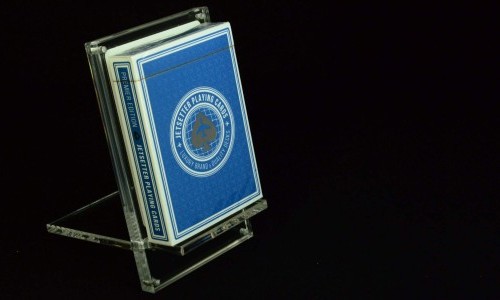 But this product can also display and protect one of your more impressive playing cards on its own. The card display panel has two pieces of acrylic held together tightly with magnets. Inside is a slightly indented interior (1mm deep) in the shape of a poker sized card, so your favourite playing card will be well protected, and also sits comfortably in the middle of the display.
Everything is made out of transparent acrylic, and it's functional and sturdy. I have one on my desk, and it really looks terrific. This assumes that you've got a beautiful deck and/or beautiful playing card to display on it - but I think for most of my readers that is a given! 
Are there other options? For sure. You might also want to check out the 
Crystal support playing card stand
 ($9.99) and the 
Wooden support playing card stand
 ($9.99), both of which do a similar job of showing off your favourite deck of playing cards in a stylish way.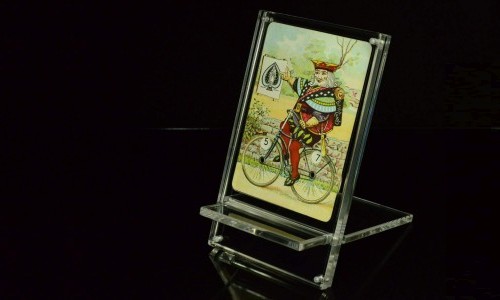 Carat case
If you're really looking to show off one of your more valuable decks of playing cards, you can't really look past the beautiful 
Carat Case
 (from $9.99). A carat case is the ideal way to store, show-off, and protect your favourite deck, all at the same time.
Made out of acrylic, the carat cases are available in a range of sizes. You can get a carat case that houses a single deck, or two decks, or up to as many as half a dozen or more. The lid is secured with magnets that are made out of neodymium, which is ten times more powerful than a standard magnet - and you can tell!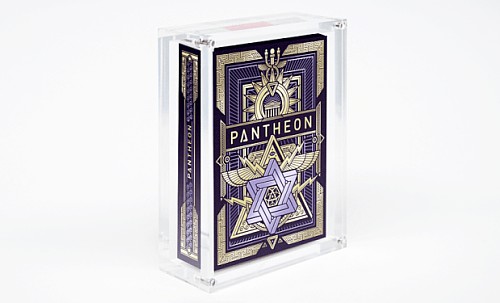 You also get four individual rubber pads which you affix to the bottom of the carat case with adhesive stickers. This makes sure that your carat case doesn't easily slide around, remains in position, and that it doesn't damage the surface on which you place it.
Everything about these carat cases is classy - so what better place can there be for your to house one or more classy decks!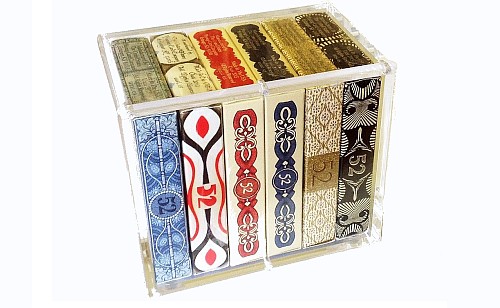 Brick box
To store a dozen decks, we might want to use the 
Carat XCB brick box
 ($11.99). If you're not familiar with the term, a "brick box" describes a container that houses exactly 12 decks, which in the playing card industry is referred to as a "brick". The reasons for this term are somewhat obvious: the result has the look and feel of a house brick!
Many of us already use brick boxes to store our playing cards. These are typically the boxes used for shipping larger orders of decks, so you may already have some of these more ordinary brick boxes. But while these budget boxes will ensure that our decks get to us safely in the mail, they aren't designed to stand up to much wear, and are quite flimsy. In contrast, the Carat XDS brick box has thick cardboard walls, and you can safely stack a few of these on top of each other, even when they are fully loaded.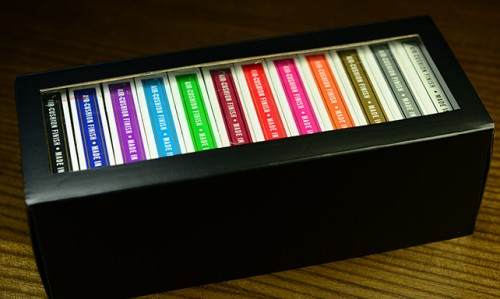 An additional advantage of these boxes is the viewing winWdow. hen playing cards are stored in a standard shipping brick box, you can't usually see what's inside. But the Carat XCB brick box solves that by adding a convenient window made out of thin (1mm) transparent acrylic.
My Carat XDS brick box came as a cardboard flat pack and was easily assembled. You just fold the sides and insert some flaps into pre-cut slots. The main part of the box then folds around from the back forwards, with a flap on each side keeping the lid down. I'm very pleased with mine, and am already considering getting more!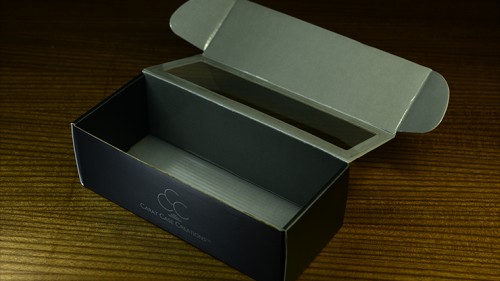 Cabinet
Do you really want to take things to the next level, and combine storage with even better looks? Then you might want to consider a 
Wooden Playing Cards Cabinet Display
 ($59.99).
Like some of the other accessories featured here, this lovely cabinet is produced by the TCC Playing Card Company, which is based in China. They're also makers of popular decks like the ones shown in the image below, including cardistry decks like EDGE and Forma. But they also specialize in accessories for playing cards. And as playing card enthusiasts themselves, they know all about the kind of looks that the card collector appreciates.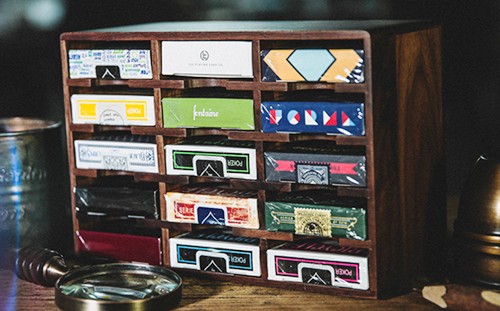 This wooden cabinet can house a total of 15 decks altogether, with three cards in each of five rows. It's made out of wood, and to ensure a quality look, they have opted for North American Black Walnut. 
Decks are placed inside so that the cards are flat and won't warp. Meanwhile the top of the tuck box faces outwards, so you can easily identify your favourite decks at a glance. Semi-circle shaped notches at the front of each shelf compartment make it easy to grab the deck of your choice. As an added bonus, you can even stack two of these on top of each other, or besides each other, to double or quadruple the amount of decks you store, while still maintaining a professional look.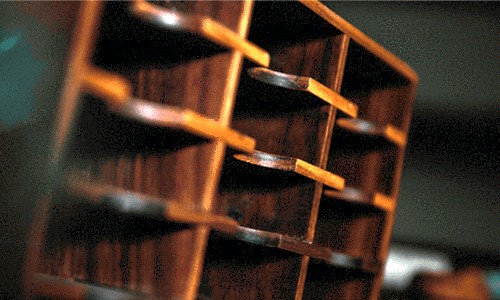 Final thoughts
As you can see, some wonderful accessories are available for the modern playing card enthusiast, to help preserve, protect, store, and display your precious decks of playing cards. But there's still more to come, and in a future article we'll cover some of the great accessories that are available to help protect and carry around an individual deck.

Where to get them? Check out the full range of accessories on PlayingCardDecks here.
Other articles you might find interesting:


About the writer: EndersGame is a well-known and highly respected reviewer of board games and playing cards. He loves card games, card magic, cardistry, and card collecting, and has reviewed several hundred boardgames and hundreds of different decks of playing cards. You can see a complete list of his game reviews here, and his playing card reviews here. He is considered an authority on playing cards and has written extensively about their design, history, and function, and has many contacts within the playing card and board game industries. You can view his previous articles about playing cards here. In his spare time he also volunteers with local youth to teach them the art of cardistry and card magic.


Last update date: 06/21/20