Accessories for the Playing Card Enthusiast - Part 3
by BoardGameGeek reviewer EndersGame
This is the third in a three-part series about some must-have accessories for the serious playing card enthusiast. We've already covered some great products that help you display and store your favourite decks, as well as carry them around safely and stylishly. 
But what other things are available for purchase that will be of interest to connoisseurs of playing cards, besides decks and solutions for storage or protection? If you love playing cards, you're almost certain to find at least one of these related items to be of interest!
Puzzles
Maybe you have people in your home that enjoy puzzles. My family loves doing them, so I really couldn't pass up the opportunity to get the 
Piatnik Playing Card Puzzle
 ($24.99).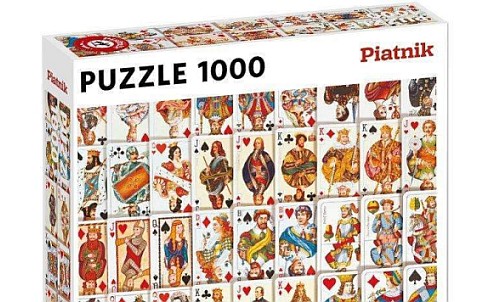 This is a beautiful 1000 piece puzzle that comes to us from Piatnik, which is a big European playing card manufacturer. Piatnik is especially known for their wonderful playing cards that feature European style designs, with stylish artwork on the court cards. They also produce many playing cards with German suits, namely Hearts, Bells, Acorns, and Leaves.
This delightful puzzle allows us to enjoy a wide range of Piatnik playing card designs, without breaking the bank by needing to buy all of the decks themselves. Not everyone in my family enjoys playing cards quite as much as I do, but because they love puzzles, this is a great way for us to enjoy their hobby and mine, both at once. 
That's the appeal of this quality jigsaw puzzle product - it has the potential to produce hours of enjoyment for anyone who enjoys puzzles, not just for the playing card collector. But of course for playing card enthusiasts like us, it will be a special treat!

Books
My real love for playing cards lies not in the playing cards themselves, so I didn't think I'd be all that interested in a 
book
 about playing cards. But I surprised myself when I included the book 
Playing Cards in Photographs
 ($14.99) in a recent order. I originally intended this as a gift for someone else, but found myself loving it, so I ended up keeping it. Other books are available too, but this is easily one of my favourites.
This book is written by Laurence H. Lubliner, an antique dealer who has had a long time interest in collecting playing cards and related items. As part of his love for collecting and for playing cards, Laurence had been compiling a collection of old photographs about playing cards. He found himself wondering what he would do with them, and hit upon the idea of publishing a book with the photos, so that others could enjoy seeing them too. This book, published in 2014, is the result.
Somewhat unexpectedly, I found myself enjoying every moment I spent with this book. It consists of nearly 100 pages, and is a fine hardcover volume that is beautifully presented with glossy pages. Every page contains one or two photographs, along with commentary from the author. The generous dimensions (11 x 11 inches) ensure that you can really enjoy the visual delight of each picture.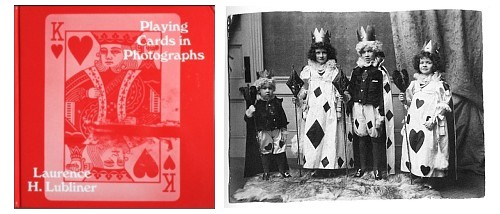 The photographs are arranged by topics: Card Games, In the Act, As a Prop, In Costume, and At War. For example, one section contains photos of people playing games with playing cards, and another a section showing people wearing playing card themed costumes. Many of the photos date back to the 1800s or the early 1900s, and it is fascinating to see how playing cards have been an important part of peoples lives over the last 150 years.
What really makes this book a treat is the author's text that accompanies each picture. In some instances we get a summary that recounts the circumstances of the picture. In other cases all information about the individuals and setting has been lost to history, and the author has had to speculate about what might have occasioned the photograph. He does a fantastic job of asking questions that force us to look at the details of each image, and I found myself getting increasing enjoyment out of each picture and each page as a result.
This book does much more than just show us vintage playing cards, because it especially focuses the people that have used and enjoyed them. In other words, people very much like ourselves, playing card enthusiasts who just happened to live in a different time and place. And that's especially what makes this book a true visual delight, because it doesn't only get us thinking about playing cards, and but also about ourselves and about those who have gone before us.
Several other great books are also available, including Lewis Ganson's 
A New Look At Card Fans
 ($4.99) and Albert Field's 
Transformation Playing Cards
 ($19.99). Enthusiasts of card magic will want to check out Jason Ladanye's excellent 
Game Changer
 ($49.99), but besides this you will also find other titles relating to playing cards and card magic.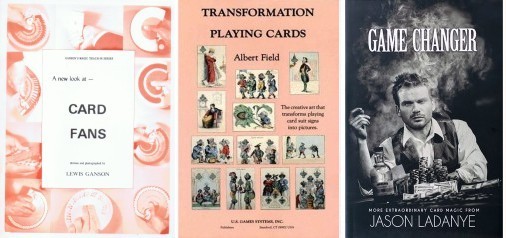 Dealer coins
In recent years it has been popular to see crowd-funded playing card projects include all kinds of trinkets, like pins and stickers. These aren't always terribly useful. But the dealer coins that some creators include have quickly become among my favourite add ons. Fortunately for us, these 
Dealer Coins
 are often available for purchase separately as well. Some of these, like the 
Dealer Coins

 
($9.99) by Home Run Games, can be as large as 2 inches in diameter, and have quite some heft to them. Their coins are made of antique brass, and also make great souvenirs. 
The first time I saw a dealer coin, I had no idea what it was for. But with a bit of research, I soon discovered that you can use it for card games. For example, you might use it as a visual indicator to keep track of who the dealer is, thus serving as a visual reminder to make this obvious to everyone at the table.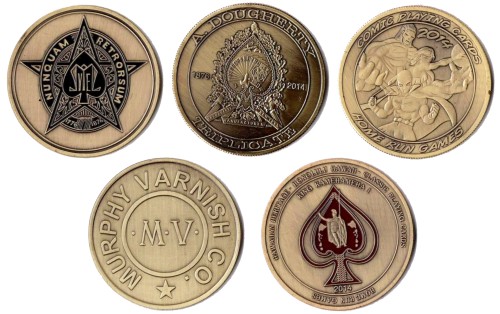 Alternatively, you might use a custom coin like this as a "poker card guard". Also sometimes called a card protector, this use is primarily poker-related. By placing your coin on your cards, you ensure that the dealer won't take your cards by mistake, thinking you have folded. Dealers tend to act speedily during a game, so you won't typically have a chance to stop this happening if ever it happens in error. But a coin placed on your cards indicates that you're still in the game and prevents it from happening in the first place. Searching for "poker card guards" or "poker card protectors" will turn up a lot of different customized coins created specifically for this purpose. Some people even consider the use of a special coin for this purpose to function like a "lucky coin".
Regardless of how you use it, a dealer coin that has been made in combination with a specific playing card project is usually created to complement the design of the playing cards. Some lovely ones are available, and regardless of whether or not you pair them with a matching deck, or use them independently, they are nice novelty items, and can add a personal touch to your card games or to you playing card shelf.
Other sized coins are also available, including 1.75" and 1.5" coins. A few 
specialized sets
 are available which include a customized deck and matching collectible coin. My favourite is easily the 
Princess Bride set
 ($19.99), which comes with both a customized dealer coin and an attractive deck of cards that fans of the film will really appreciate and enjoy.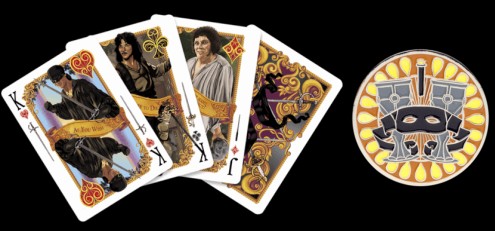 Cardistry trainers
Anyone who has tried learning cardistry, will be familiar with the experience of 52 playing cards scattering onto the floor. Dropping your playing cards is just one of the hazards that comes with the cardistry territory! But it's not good for your playing cards, and that's where cardistry trainers come in. Several different types are available, including 
Pure Cardistry Trainers
 ($9.99, available in 
color
 or 
black
), and the 
Wooden Cardistry Trainers
 ($23.99). 
So what's the point of these? To begin with, you can spare your actual playing cards from some damage by substituting them with these trainers. 
But perhaps more importantly, cardistry trainers will help you develop cardistry skills using packets of cards. Whether you're learning packet cuts for the very first time, or if you're experimenting with new moves and developing new flourishes, it is all the more challenging when you're using packets of actual cards - especially if they don't stay together consistently. Cardistry trainers remove that difficulty, and ensure that you are operating with an actual packet. Once you've refined your moves and mastered the technique with these trainers, you then progress to doing the exactly same moves with actual playing cards.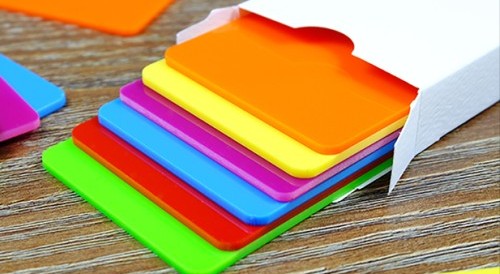 The plastic cardistry trainers pictured above are the more budget option you could start with. These come with plastic packets (your choice of several colours), which are even washable. Serious cardists may well prefer the wooden cardistry trainers, which have smoother edges and a performance that is even closer to real playing cards.
Most of these products come with seven packets, that together make up the approximate size of a regular deck. They're designed to have the feel and weight of a similar sized packet of actual playing cards, so that the transition from these to playing cards will be smooth. In contrast the 
Jelly EDGE Cardistry Trainers
 ($17.99) have just five packets. These also have a more pleasant look for cardistry, and are inspired by the EDGE deck of the same name.
If you want the top of the range, you can always consider the 
Jerry Nugget Cardistry Trainers
 ($39.99). These feature the card backs of the iconic Jerry Nugget Playing Cards, and are handcrafted with hand-polished edges for a smooth feel, of course with the famous looks. Whichever you choose, these cardistry trainers are bound to help improve your cardistry skills and flourishes.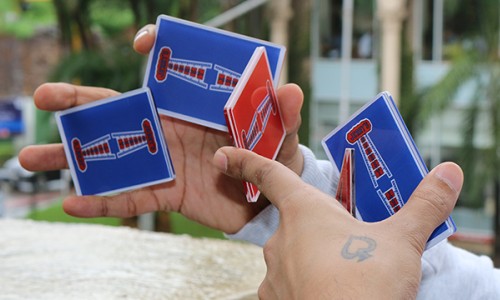 Final thoughts
It's great news that today's playing card industry is producing much more than simply a growing number of custom decks. Besides these playing cards themselves, the market is also seeing a growing number of different accessories available. So if you have a special occasion coming up, like a birthday or anniversary, you might just want to send your family and friends a link to this series of articles, as a small hint about the kind of things you'd like! Or else why not just treat yourself to some of these lovely accessories and oddities?!

Where to get them? Check out the full range of accessories on PlayingCardDecks here.
Other articles you might find interesting:


About the writer: EndersGame is a well-known and highly respected reviewer of board games and playing cards. He loves card games, card magic, cardistry, and card collecting, and has reviewed several hundred boardgames and hundreds of different decks of playing cards. You can see a complete list of his game reviews here, and his playing card reviews here. He is considered an authority on playing cards and has written extensively about their design, history, and function, and has many contacts within the playing card and board game industries. You can view his previous articles about playing cards here. In his spare time he also volunteers with local youth to teach them the art of cardistry and card magic.


Last update date: 06/21/20