by BoardGameGeek reviewer EndersGame
In a previous article (Kickstarter Rockstars, Part 1) we toured through the top 20 most funded decks of playing cards on the popular crowdfunding platform Kickstarter. Measuring by the total number of funds raised, the project that was the most successful was 
The Name of the Wind Art Deck
 by Elodin Enterprises. In 2017 this raised a massive $630,300 with the help of 10,090 backers. Coincidentally, the deck in the number two spot was based on the same book, and also generated over half a million dollars. That was 
The Name of the Wind
 by Albino Dragon, which in 2013 raised $589,660 with the help of 11,334 backers.
No other decks of playing cards in the history of Kickstarter have quite reached such heights, although 
MINT 2
 from 52Kards would also top the half a million dollar mark, and another four projects would generate in excess of $300,000 in funding each. Altogether more than 20 projects have now raised over $150,000 a piece. In fact, to break into the top 20 most funded decks, a project needs to raise more than the $158,200 generated by Lee McKenzie's 
Royales
 in 2020.
So now that we've finished examining the top 20 decks, let's take a look at the heavy hitting decks that wouldn't quite make the top 20, but would qualify for the top 40 most funded decks on Kickstarter. And there's still plenty of high quality projects to be found in this next tier of projects that rank from #21 through #40. In fact, nearly all of the next ten projects (ranked 21-30) generated around $150,000 each. By the time we get to the end of our top 40 list, this number dips to just under $120,000. That's still an extraordinary accomplishment for a project that is producing what essentially amounts to printed piles of cardboard. But we're willing to throw money at these projects, because we know that these are more than just piles of cardboard; they are miniature works of art!
== The Top 30 ==
21. Bitcoin Puzzle - $154,611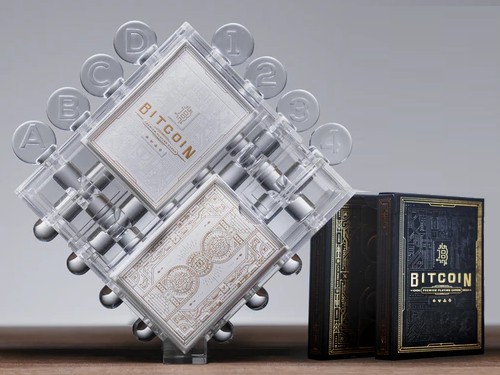 Deck:
Bitcoin Puzzle
 by IP052 (
product page
)
Funding:
 $154,611 raised by 1,286 backers
Year:
 2018
Cryptocurrency is one of today's hottest investments, and Bitcoin is the most well-known of all the digital currencies on the market. This project featured two wonderful decks that captured numerous aspects of Bitcoin currency in detail. In addition, it also offered the option of an unique acrylic puzzle box which visibly portrays Blockchain technology. To help design this puzzle, the creators engaged the services of Oskar van Deventer, a world record holder for the largest Rubik's cube. Artist Billy French did a splendid job in all aspects of the actual design. As an added bonus, and in keeping with the puzzle theme, the cards themselves are marked.
22. The Parlour - $151,484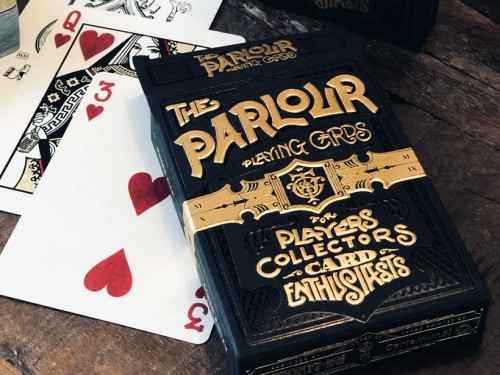 Deck:
The Parlour
 by The Gentleman Wake (
product page
)
Funding:
 $151,484 raised by 1,697 backers
Year:
 2019
This was the debut deck of respected playing card reviewer and videographer The Gentleman Wake. Besides the support of his own fans, a big reason for its success is that he engaged Stockholm17, one of today's most popular playing card designers, to create the actual design. The faces are semi-custom, with small adjustments made to the court cards. The card backs and tuck boxes show all the hallmarks of Stockholm17's signature design, and the deck is finished with glamorous tuck boxes. It is a very practical deck that understandably had a wide appeal.
23. The Origin - $151,200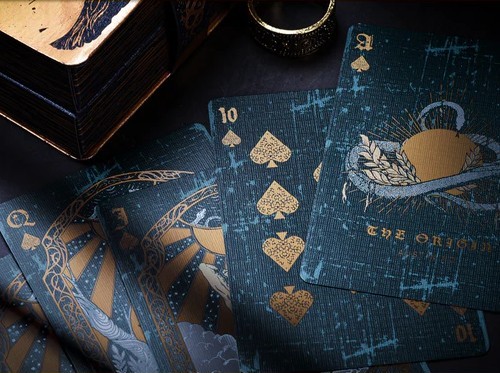 Deck:
The Origin
 by Skymember Presents
Funding:
 $151,200 (S$99,755) raised by 755 backers
Year:
 2021
Along with Kingdom and Kinghood, this is one of only two projects on our list which had less than 1000 backers, and yet had enough funding to make our top 40. That's an indication of how much the average backer splurged with this particular project. With original artwork from Austin Ho, the goal of The Origin (Genesis 3D) deck was to capture elements of the Genesis narrative. Besides super luxurious playing cards that had an intricate and original design, this project offered several remarkable editions, as well as other unique treasures closely tied to the deck.
24. The Woman Cards - $150,003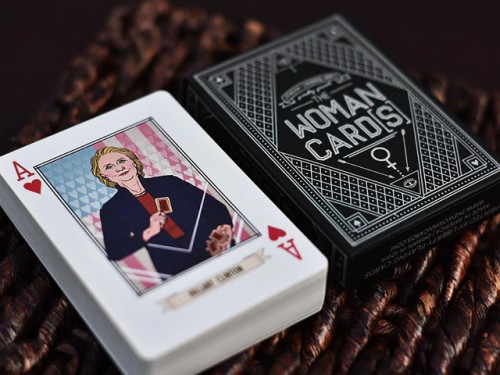 Deck:
The Woman Cards
 by Zach Wahls
Funding:
 $150,003 raised by 3,918 backers
Year:
 2016
Sometimes a playing card project just needs a good idea and the perfect timing. In this case Zach Wahls struck gold with the help of nearly 4,000 backers, by creating a deck inspired by Donald Trump saying that 
the only card Hillary Clinton has is the woman's card
. The fact that this coincided with the 2016 presidential campaign made the timing perfect, even if the looks of these cards can't compete alongside many others in this list. The deck features hand-drawn portraits of powerful American women, ranging from Hillary Clinton, alongside historical figures like Ruth Bader Ginsburg, Clara Barton, Amelia Earhart, Susan B. Anthony, and others.
25. Federal 52 - $149,156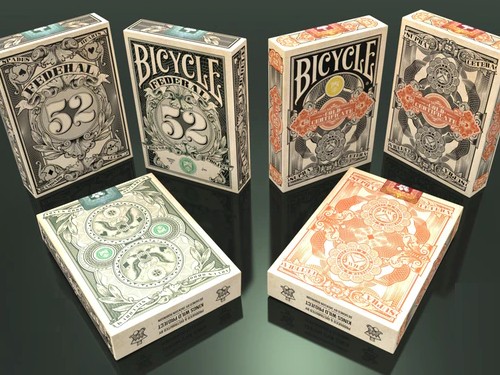 Deck:
Federal 52
 by Jackson Robinson (
V2 product page
)
Funding:
 $149,156 raised by 2,798 backers
Year:
 2013
This is the deck that may just have launched Jackson Robinson's career as a full-time professional playing card designer. It was cleverly inspired by bank notes, and is one of his most sought-after decks by collectors. His idea to use a graphic design that mimics currency turned out to be a brilliant move. This Federal 52 deck was crowned as United Cardists inaugural Deck of the Year in 2013, and went on to spawn others like it. Jackson has since produced several other versions, as well as many other designs under his successful label Kingswild Project.
26. Mechanical 3D Metal - $148,637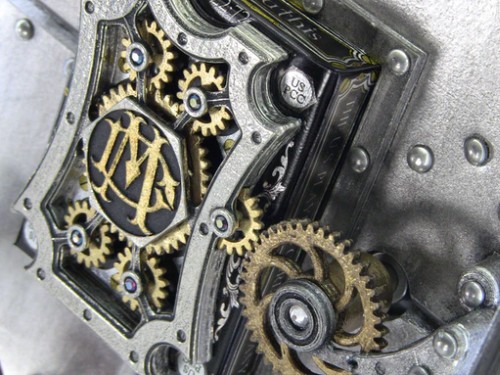 Deck:
Mechanical 3D Metal
 by Dale Mathis
Funding:
 $148,637 raised by 1,226 backers
Year:
 2013
This was a deck of firsts, and was lauded as "the world's first 3D metal and mechanized playing cards". Dale Mathis set himself the goal of creating a Ferrari among playing cards, which he achieved by thinking outside of the box - literally. The deck itself is mostly standard looking, but let's be honest: this project is all about the tuck box and the accessories. A 3D metal card face mechanism attaches to the box, which then goes inside a 3D metal tuck box, complete with gears. This then fits inside a mechanical card frame, which engages with the gears on the box. Flipping a switch causes the gears to rotate, and turns on LED lights for additional visual impact. Wow!
27. Violet Luna Moon & Esther Star - $146,800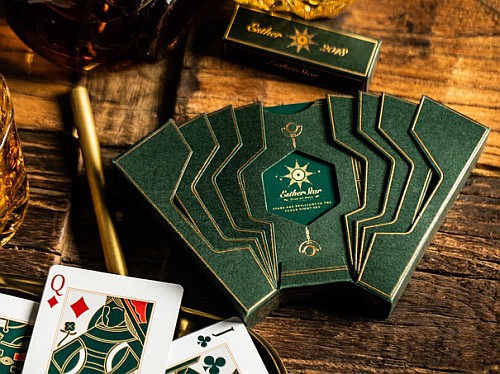 Deck:
Violet Luna Moon & Esther Star
 by Bocopo (
product page
)
Funding:
 $146,800 (HK$1,151,488) raised by 1,481 backers pledged
Year:
 2018
The extravagant tuck box design of these decks will immediately look familiar from Card Mafia's Arrow & Shield and Trident & Sword projects. That's because the same person is behind it: Kevin Yu. Under the Bocopo label, he first produced the 
Luna Moon & Helius Sun decks
, which featured the same basic tuck box, and became an instant hit at the time of their release. This later project from the same year took the same concept, using two new colours (purple and green), and proved even more successful than the original.
28. Misc Goods Co - $146,596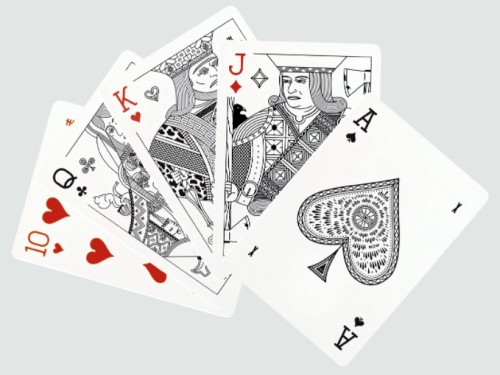 Deck:
Misc Goods Co
 by Tyler Deeb (
product page
)
Funding:
 $146,596 raised by 4,022 backers
Year:
 2012
This has the unique distinction of being the first ever playing card project to top the $100k mark, already back in 2012. With over 4000 backers, it raised a remarkable $146,596. At the time, playing cards were still a novelty on Kickstarter, and many backers had never seen a custom deck before, and were blown away by the concept. On the back of this extraordinary result, the creator Tyler Deeb was able to finance and establish his own Misc Goods luxury brand company, which has produced several other versions of this deck, along with other luxury goods. You can read the entire story about this record-breaking project in my article "
It all began with a deck of cards: A life-changing Kickstarter success story
" (
link
).
29. Luminosity - $145,201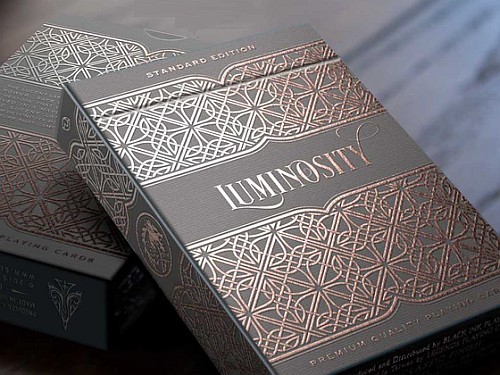 Deck:
Luminosity
 by Jody Eklund (
product page
)
Funding:
 $145,201 raised by 2,815 backers
Year:
 2019
Jody Eklund
 is another of today's top playing card designers. He has a strong following of fans that appreciate his attention to historical detail, and his clean artistic design. He typically employs a trademark pen and ink style, but Luminosity is somewhat of a departure from his usual fare. It was inspired by Norse mythology, and behind the deck is a rich allegorical story about good and evil written by Ricky Cassford, which Jody has beautifully depicted with lavish detail and colour.
30. Air Deck 2.0 - $147,100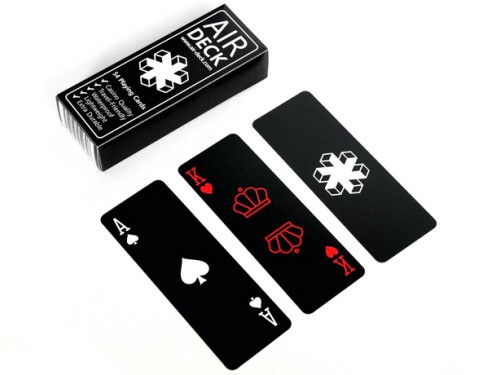 Deck:
Air Deck 2.0
 by TipTop Things (
product page
)
Funding:
 $147,100 (HK$1,131,127) raised by 7,167 backers
Year:
 2019
The original 
Air Deck
 was funded in mid-2017, and was advertised as a deck created by travelers for travelers: a portable and washable deck made out of durable premium PVC. Some 18 months later, the Air Deck 2.0 added new colours and patterns to the original red, white and black decks. In other words, it kept everything that made the original so popular, with a few small upgrades, and some new designs. Clearly the formula was enough to attract some previous backers, and to get a whole new crop of supporters.
== The Top 40 ==
31. Conjuror Community Club - $142,543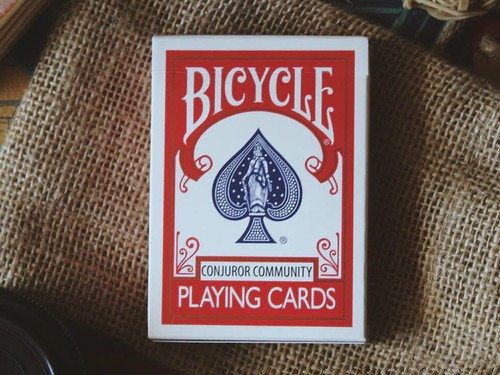 Deck:
Conjuror Community Club
 by Conjuror Community
Funding:
 $142,543 raised by 1,694 backers
Year:
 2020
This deck was created by magicians for magicians, as the names of those involved indicate: professional magicians Aaron Fisher, Adam Grace, and Lee Asher. The Conjuror Community is an online magic club that was built by Aaron and Adam. It is much like a school for magicians, and offers training courses, coaching, and a community. The center of the project was of course a deck of playing cards, which was described as a premium performer's deck geared to the needs of magicians. The card backs reprise a lovely design from 1907. Besides the cards, backers could also get access to a four week live online training course at CC Club, making it very attractive for people interested in card magic to get behind this project.
32. Princess Bride - $136,009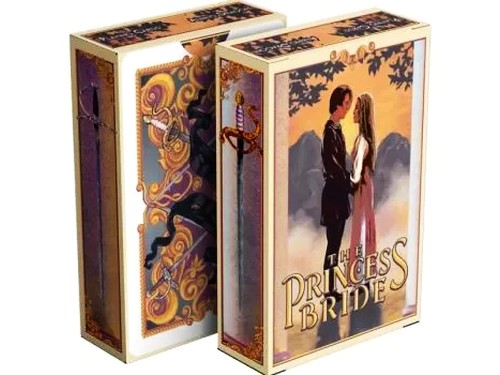 Deck:
Princess Bride
 by Albino Dragon (
product page
)
Funding:
 $136,009 raised by 2,525 backers
Year:
 2013
The Princess Bride is a film from 1987, and is a much-loved spoof on the fantasy adventure genre. This deck is a licensed product and serves as a wonderful tribute to this classic comedy. It's also one of Albino Dragon's great successes as a publisher of custom decks. Three different decks were produced as part of this project, each by a different artist, and featuring different characters and aspects from the story. These charming decks do a great job of capturing the magic of a wonderful story. The project could draw on the enormous popularity of the film, easily smashing its goal of $10,000.
33. Wicked Kingdom - $134,485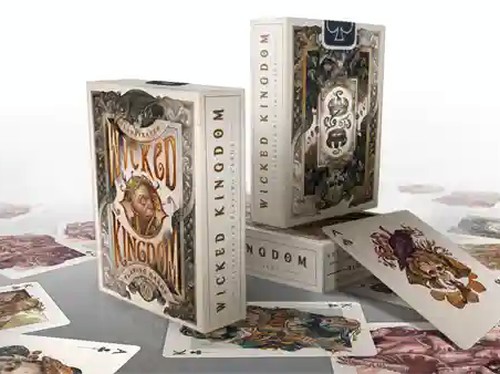 Deck:
Wicked Kingdom
 by Wylie Beckert
Funding:
 $134,485 raised by 3,637 backers
Year:
 2016
This deck comes from fantasy artist Wylie Beckert. It features hand-painted artwork that captures a dark fantasy world which is inhabited with a variety of unusual and complex characters. The illustrations are lush and rich, and even the number cards feature ornate decorations and elaborate pips set against a watermarked backdrop. Wylie created a companion art book that was available as a separate add-on. It includes the illustrations used in the deck, and tells the backstories for each card. The hand-drawn artwork of the court cards is a real highlight.
34. Alpha & Omega - $128,400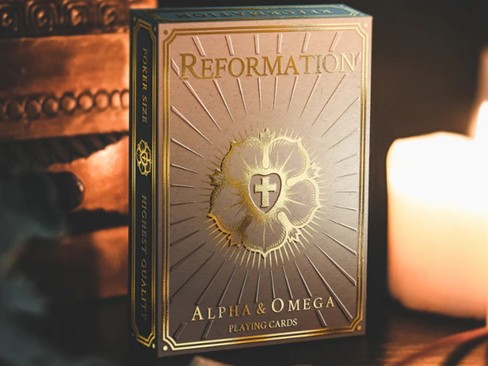 Deck:
Alpha & Omega
 by Elephant Playing Cards
Funding:
 $128,400 (AU$166,237) raised by 2,021 backers
Year:
 2021
Ben Jones is the man behind Elephant Playing Cards, home of the creative Pipmen decks. An experienced creator, with this project he took on more serious subject material. Each of the three decks in the series corresponds to a different significant period of church history: The Early Church, The Protestant Reformation, and The Great Awakening. The artwork of the court cards is very detailed and presented in classic wood-cut style. The cards feature key figures from each historical period, including early church fathers like Augustine and Athanasius, and Reformers like Calvin and Luther.
35. Black Mint - $125,808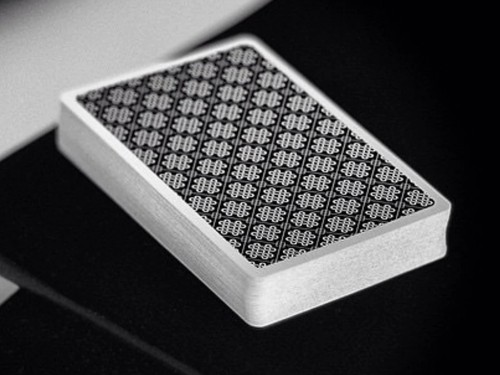 Deck:
Black Mint
 by 52Kards
Funding:
 $125,808 raised by 2,140 backers
Year:
 2016
This was the original project from Asad Chaudhry's 52Kards, a popular youtube channel providing tutorials in card magic. The goal was to produce a deck that combined the best of form and function, and would serve as a worker's deck for modern card magicians. The faces all have a relatively classic appearance, with subtle changes to ensure a custom look. The backs are marked, with an easy to use coded marking system. The classic look of the striking back design proved very popular. The two colours offered were Black Mint and Raspberry Mint, along with a limited edition borderless version and a stripper deck.
36. Sovereign - $125,681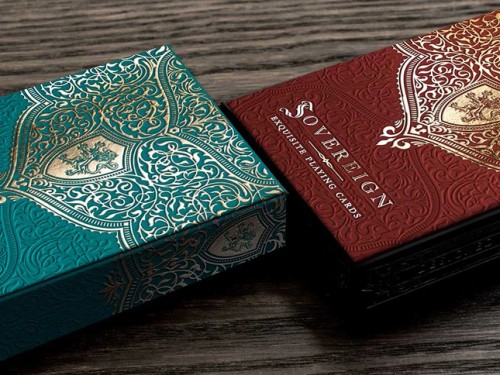 Deck:
Sovereign
 by Jody Eklund (
product page
)
Funding:
 $125,681 raised by 1,798 backers
Year:
 2020
This is the second deck by Jody Eklund that appears on our top 40 list. He describes it as "
a homage to some of the most well-known Kings and Queens of the greatest European empires of all times.
" The court cards depict historical personages, as reimagined by Eklund, but without their flaws, in order to honour their sovereignty: Henry VIII, Elizabeth I, James I, Mary Queen of Scots, Phillip II, Isabella I of Castile, Louis XIV, and Marie-Antoinette. Besides the two main decks in blue and red, a beautiful white Exquisite Edition featured MetalLuxe foil on all the card backs.
37. Vengeance of Witches - $121,300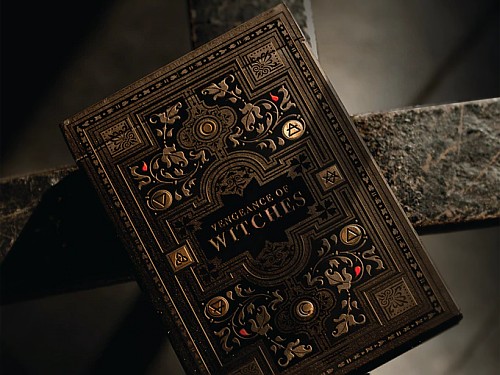 Deck: Vengeance of Witches by Nicolai Aarøe
Funding: $121,300 (DKK 797,834) raised by 1,800 backers
Year: 2020

Danish artist Nicolai Aarøe specializes in creating fine art decks. Notable examples of his work are his Light vs Darkness series (Indictus, Dominus, Culminus) and his Florus Drama series. Vengeance of Witches is a dark occult themed deck based on the 17th century witch hunt, and thus picks up the darker tone of the Light vs Darkness decks. Like his other decks, it was published by Noir Arts (NPCC), and had special features such as metallic inks on all the cards, and numbered seals for both limited editions, Caccabus and Hagazussa.

38. Card College - $120,900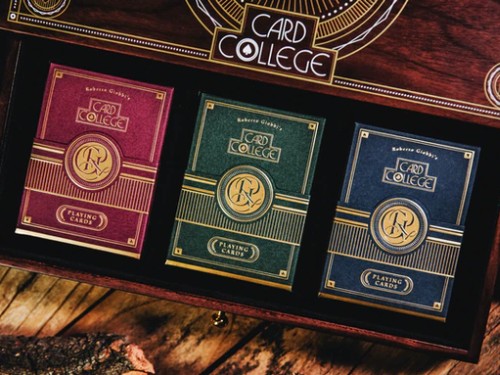 Deck:
Card College
 by Artisan Playing Cards (
product page
)
Funding:
 $120,900 (HK 937,610) raised by 1,030 backers
Year:
 2020
Better known as Ark Playing Cards, Artisan would achieve even greater heights with their next two projects (Tempo, and Kingdom & Kinghood). But already in this first project they showcased the luxury of their extravagant tuck boxes. The project was named after master magician Roberto Giobbi's monumental 
Card College
 series of books about card magic. The standard decks are quite normal, but Ark really pulled out all stops with the limited edition decks. These came with incredibly creative packaging, and the Black Gold Box Set, Walnut Deluxe Box Set, and Luxury Acrylic Box Set are truly special collector's pieces.
39. War in Heaven - $119,300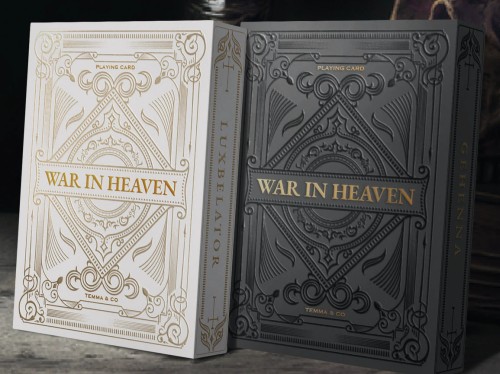 Deck:
War in Heaven
 by Temma&co
Funding:
 $119,300 (CA$143,884) raised by 1,955 backers
Year:
 2021
These fine art playing cards from Temma&co depict a war in heaven between angels and demons. The artist acknowledges Nicolai Aarøe's work as an inspiration, and the dark tone and artwork is reminiscent of Nicolae's distinctive style. The Biblical prophecies from the book of Revelation about a war in heaven form the basic setting. The two decks that were part of the project reflect the two sides of this spiritual war between angels (Lux Bellator deck) and demons (Gehenna deck). Each suit corresponds either to a specific angel or demon.
40. Ornate: White Edition - $118,111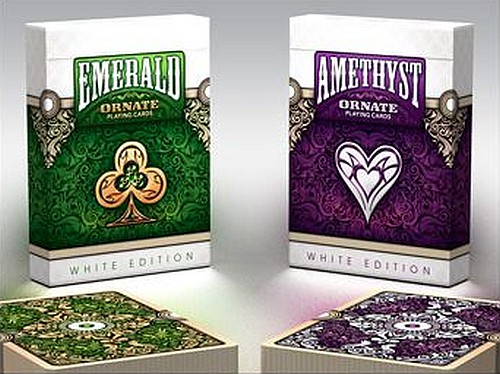 Deck:
Ornate: White Edition
 by House of Playing Cards (
product page
)
Funding:
 $118,111 raised by 1,094 backers
Year:
 2014
Randy Butterfield
 is a prolific designer with more than 40 designs and over 200,000 printed decks to his credit. The original Ornate deck represented the beginning of his career as a playing card designer, and was published by House of Playing Cards in 2012. The White Edition was a definitive and improved version from 2014. It marked his final project for HOPC before launching his own brand, Midnight Cards. The four main decks were Amethyst, Emerald, Sapphire, and Scarlet, and were accompanied by a special limited edition Obsidian.
Final Thoughts
Now that we've arrived at the end of our top 40 most funded decks of playing cards on Kickstarter, are there any conclusions we can draw from all this? Absolutely. Here are some of my reflections:
1. Kickstarter works
. Anybody who dismisses Kickstarter too easily, and thinks it is not a viable tool to help creators and consumers is crazy. You'll always come across stories about the occasional Kickstarter failures, where creators didn't follow through on promises, or where communication was poor and delays were unreasonable. But on the whole, good things can happen with the help of Kickstarter. It's good for consumers, especially if they're working with a reliable and proven creator. And it's good for creators, especially if they have an original and excellent project and put in the hard yards with their marketing and promotion. The big numbers that some of these projects are bringing in prove that there's real potential for regular success stories.
2. Crossover appeal works
. There are a number of projects that owe their success in part to their appeal to a different market besides playing card collectors. The Name of the Wind decks were able to draw on fans of the book, while The Photography Deck proved popular with photographers. Any project that has the potential to tap into another fan base outside of playing cards, has a greater chance of success, as long as it is done well.
3. Previous success works
. There are quite a few repeat names on our top 40 list. That's because successes don't come out of nowhere. Occasionally an unheralded and unknown designer will strike it lucky by being in the right place at the right time. But that's rare. Typically successful projects are from experienced designers who have already established a presence in the industry, and have built up a large fan base. That's true even if their success comes from another niche. Examples of this include 52Kards and The Gentleman Wake, who were well-known for their youtube videos before entering the market as creators. Other creators build on their past Kickstarter successes by returning with new and better projects, such as Steve Minty and Jackson Robinson. Success breeds success.
4. The years 2013-2014 were big
. It is clear that the years 2013 and 2014 were real break-out years for playing cards on Kickstarter. While the very first playing card project to top $100k was in 2012, quite a number of projects went on to achieve this feat over the next couple of years. Some of the projects from those years are still in our all time top list. While it did take a few years for Kickstarter to make inroads into the playing card industry, and turn naysayers into adopters, by 2013 it had most definitely arrived, and proved itself a force to be reckoned with.
5. The years 2020-2021 were big
. It is astounding to observe that nearly half of the projects in this top 40 list are from the last year and a half. In fact, projects from 2020 and 2021 represent 11 of the places in the initial Top 20. That means that a list of Top 20 most funded playing card projects would have looked drastically different less than two years ago. That gives good reason to suggest that crowdfunded custom playing cards haven't peaked yet. If anything, we can expect this trend to continue, and can anticipate Kickstarter projects for playing cards to continue generating big numbers well into 2022. The playing card industry continues to generate momentum, and is attracting a large base of support with a growing number of collectors and enthusiasts. We've seen some top quality projects in recent times, and recent successes give us a reliable basis for predicting that we can anticipate more stunning projects with big support figures in the next year or two, which will knock many entries off this list.
6. Quality has increased
. Increased use of Kickstarter's platform over time has forced creators to come up with original and innovative ideas, and better designs. With an increasing number of projects hitting Kickstarter all the time, it is not as easy for a project to be funded as it once was. Some of the projects that were successes in the early days of Kickstarter, would not make it today, given the increased competition and the higher expectations of backers. This forces creators to improve the quality of their product, and means that mediocre designs are less likely to succeed. If you're going to be successful in funding your project as a creator, in most cases you're going to have to work very hard, and have a genuinely good product. But this is good news for consumers, because it means that we are living in an unprecedented era, where an astounding range of new custom decks is constantly hitting the market with the help of Kickstarter, that are better and more beautiful than ever before.
7. Extras have increased
. It didn't take long for playing card projects to offer extras like stickers and pins and coins. But that is small fry compared to what we are seeing offered as extras today. We are witnessing extravagant and creative tuck boxes the likes of which have never been seen before, such as Luna decks and the recent projects from Card Mafia and Artisan Playing cards. A lot of projects also come with unique custom items, such as special-crafted antique looking books, metal cards, and special options like gilding. These kinds of add-ons significantly ramp up the amount that backers are prepared to spend, and account for some of the large support totals. The large funds raised by the Conjuror Community's CC Club, for example, are largely due to the free online magic training resources by Aaron Fisher that came with it, thus adding to the appeal of the overall project for backers.
8. Support has increased
. The reality is that there are backers out there willing to throw large amounts of money at projects that they like. Some of the extravagant creations, like The Origin Deck from Skymember Presents, are true works of art, and people are willing to pay big bucks to get it. In the last few months alone we have seen projects like The Eye of the Ocean (Stockholm17) and Anubis & Osiris Shadow (Steve Minty) raise funds well in excess of $300,000. Despite the misgivings that some cynics may have that Kickstarter has jumped the shark, the truth is that it is still proving to be a winning formula for enterprising and creative playing card designers.
Kickstarter is by no means the only viable channel for producing playing cards. But it certainly has proven a welcome ally for creators and collectors alike. I'm already looking forward to seeing what the next couple of years will bring!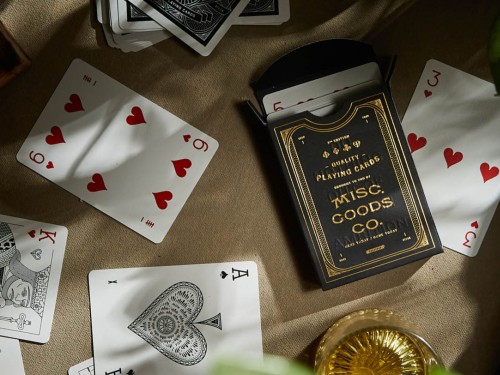 Related articles you might find interesting:
About the writer: EndersGame is a well-known and respected reviewer of board games and playing cards. He loves card games, card magic, cardistry, and card collecting, and has reviewed several hundred boardgames and hundreds of different decks of playing cards. You can see a complete list of his game reviews here, and his playing card reviews here. He is considered an authority on playing cards and has written extensively about their design, history, and function, and has many contacts within the playing card and board game industries. You can view his previous articles about playing cards here. In his spare time he also volunteers with local youth to teach them the art of cardistry and card magic.

Notes about the statistics:
1. This list was compiled in the first week of June 2021, and doesn't reflect Kickstarters that were launched or funded after this time.
2. Determining the most funded Kickstarters for playing cards is not as simple as looking at the Most Funded Projects in the Playing Card category. A number of earlier projects weren't categorized as Playing Cards, or were categorized differently, and thus will be missing from that list. Besides some important omissions, a list generated in this way also includes card games and some other projects that aren't directly playing card related.
3. I've not included projects like Iron Clays & Spades by Roxley Games, since the bulk if its funding was for gaming counters (over 3500 backers) rather than for playing cards (only 175 backers).
4. Some of the projects used foreign currencies. I have converted these into the equivalent amount in US currency for the date when they were funded. This is also what Kickstarter platform appears to do when ranking the most funded projects in order.


Last update date: 02/09/22