by BoardGameGeek reviewer EndersGame
Popularity doesn't necessarily equate to quality. But certainly when something is extremely popular, it is a reliable indication that something about it has a real appeal. Over two articles, we'll take a look at the 40 most funded decks of playing cards of all time on Kickstarter. This is effectively a "greatest hits" compilation, and is a showcase of the custom decks that have been the most successful on this crowdfunding platform over the last decade.
When Kickstarter first emerged as a viable platform for crowdfunding around 2009, few could have anticipated its remarkable success. According to 
Kickstarter's official stats
 from early June 2021, it has been used to successfully fund over 200,000 projects, to the tune of almost $6 billion raised. Just to be clear, that is a 6 followed by nine zeros. In other words, Kickstarter has helped raise a million bucks nearly 6000 times over. And it has accomplished that with the help of nearly 20 million backers and over 70 million total pledges. Those are extraordinary numbers! Over 500 of these projects have single-handedly brought in over a million dollars' worth of funding each, which is an indication of Kickstarter's remarkable popularity. One project, Pebble Time, even brought in a cool $20 million all by itself, making it #1 in the official list of Kickstarter's 
most funded projects of all time
. Admittedly there are crowdfunding platforms that have generated even bigger numbers (see 
this list of examples
), but most of them are blockchain related, so Kickstarter remains the platform of choice for the average creator and consumer.
There is no doubt that Kickstarter has had a huge impact on the custom playing card industry as well. Collectors of custom playing cards in the 1990s and early 2000s typically found themselves relying on big publishers like Ellusionist and Theory11 to provide them with new and interesting custom decks. But Kickstarter has changed all that. We now live in an era where the enterprising designer can create an original and attractive deck of playing cards on his personal computer, partner with a reputable printer like USPCC or Cartamundi to produce a quality product, and fund the whole endeavour through Kickstarter. As a result, the custom playing card industry has exploded. In any given week there is a brand new crop of custom decks seeking funding on Kickstarter, often with original features and creativity the likes of which have never been seen before. Some big name playing card designers owe their success almost entirely to this platform, after attracting a loyal following of appreciative supporters who are willing to support their creativity in return for getting beautiful custom playing cards.
So let's have a look back over the last decade, and take you on a tour of the forty playing card projects that have reached the greatest heights of support on Kickstarter. In this article we'll start with the top 20 most funded playing cards of all time on Kickstarter, listed in order by the total amount of funding, based on the numbers from early June 2021. In a follow-up article, we'll list the next 20 highest projects and come to some conclusions. So without further ado, here are Kickstarter's top 20 heaviest hitters.
== The Top 10 ==
1. The Name of the Wind Art Deck - $630,300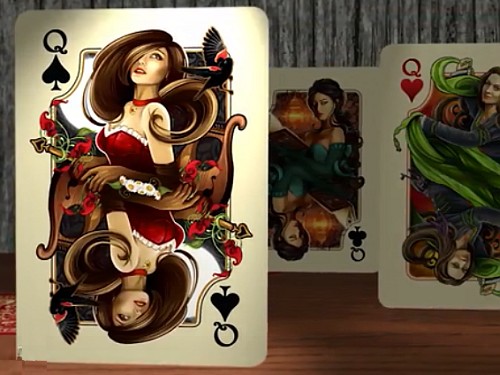 Deck:
The Name of the Wind Art Deck
 by Elodin Enterprises
Funding:
 $630,300 raised by 10,090 backers
Year:
 2017
The remarkable success of this Kickstarter project was due in no small part to the fact that it was based on the popular novel of the same name by Patrick Rothfuss. The project had his blessing, and was a collaboration with fantasy artist Echo Chernik. The deck featured characters from 
The Name of the Wind
, which is the first book of Rothfuss' Kingkiller Chronicles series. The cards were beautifully illustrated with a colourful and classic style. It is not hard to see how this became a runaway success for the legions of fans who were devoted to the series, and for playing card enthusiasts generally.
2. The Name of the Wind - $589,660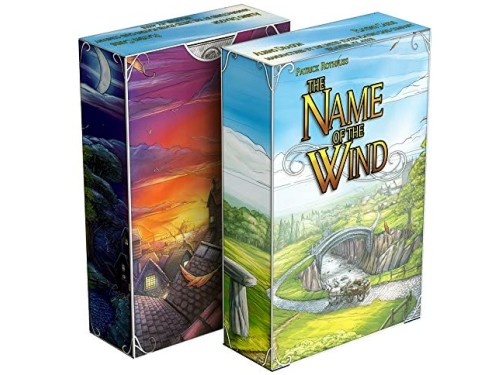 Deck:
The Name of the Wind
 by Albino Dragon
Funding:
 $589,660 raised by 11,334 backers
Year:
 2013
Somewhat surprisingly, the deck in the #2 spot is based on the same book, and goes all the way back to 2013. But this project was produced by Albino Dragon, a publisher that specializes in creating licensed playing cards, and has been responsible for creating a significant number of lovely custom decks. The wonderful illustrations were by a different artist than the later Art Deck. What makes this project notable is that no single deck in this top 40 list has had as many backers, with a massive 11,334. The reason for its success is much the same as with the previous project, namely that it was wedded to a successful novel, and had the support and involvement of the author.
3. MINT 2 - $564,558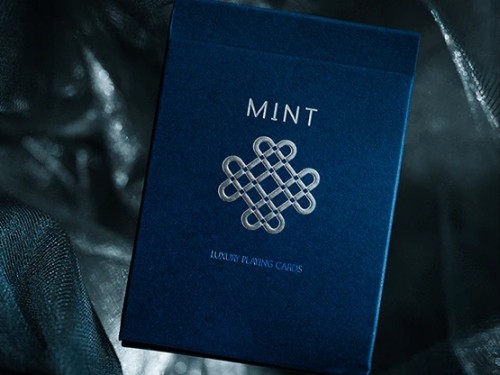 Deck: MINT 2 by 52Kards (product page)
Funding: $564,558 raised by 5,671 backers
Year: 2018

52Kards is the brand of Asad Chaudhry, a popular youtuber who has been producing helpful magic tutorials for over a decade. He now has over 1 million subscribers, so he could tap into a strong existing support base when producing his own decks. This project was a follow up to his first MINT deck, which proved very popular. The back design had a very appealing look, and incorporated a clever coded marking system, making it an attractive choice for magicians wanting a good marked deck. MINT 2 saw the original design tweaked and improved, plus new colours: Blueberry Mint, Cucumber Mint, and a limited edition Frost Mint.

4. Jerry's Nugget - $477,229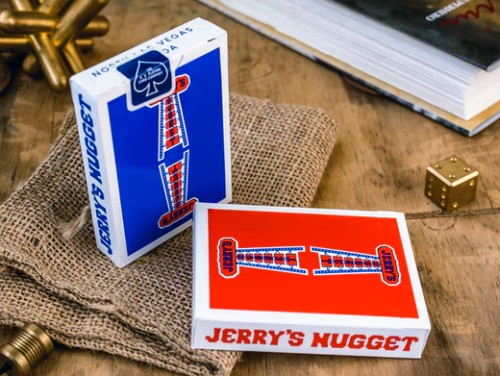 Deck:
Jerry's Nugget
 by Expert Playing Card Company (
product page
)
Funding:
 $477,229 raised by 4,094 backers
Year:
 2019
The story of the 
legendary Jerry's Nugget decks
 is a fascinating tale, which even has aspects of 
mystery
 about it. These iconic decks were originally produced in the early 1970s. Over the last couple of decades they have gained a holy grail status due to their popularity, and an original deck now typically sells for $500. Cardists have praised the legendary handling of the unique stock used for these cards. Expert Playing Card Company partnered with the Jerry's Nugget Casino to bring these back to modern collectors, in the original blue and red colours and in a range of further colours, albeit with modern stock.
5. The Eye of the Ocean - $393,000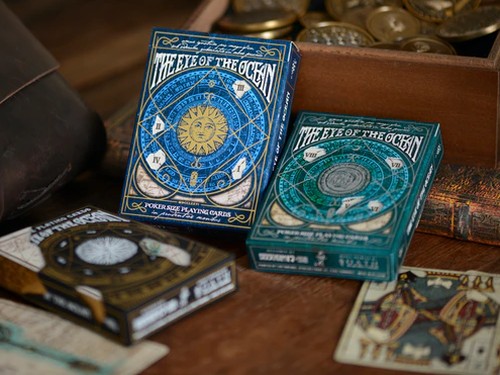 Deck:
The Eye of the Ocean
 by Stockholm17
Funding:
 $393,000 (€323,377) raised by 2,217 backers
Year:
 2021
Lorenzo Gaggiotti
, more commonly known in the world of playing cards as Stockholm17, is one of the most sought after playing card designers today. His previous decks have won numerous awards in playing card circles. This most recent project only just finished funding in May 2021, and is perhaps his best yet. It has stunning custom artwork on the cards, a unique tuck box the likes of which we've not seen before, and add-ons that include a novel, a metal astrolabe, and an inbuilt puzzle.
6. The Photography Deck - $364,000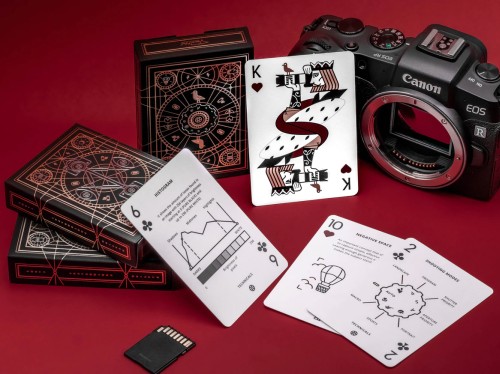 Deck:
The Photography Deck
 by Travel9to5
Funding:
 $364,000 (€309,119) raised by 10,736 backers
Year:
 2020
This is one of only three decks on the top 40 list which have had over 10,000 backers. The man behind the project, Eric Bohring, is a creator and adventurer behind the brand Travel9to5, and specializes in travel, film, and photos. These cards feature camera and photography tips and tricks, hence the deck's subtitle: "Camera Cheat Sheet Playing Cards". The fact that it effectively doubles as a camera reference sheet with rules and techniques about photography was a big factor in its high level of support. Unsurprisingly it was featured in a lot of photography websites and had a lot of positive press generally.
7. Anubis & Osiris Shadow - $321,052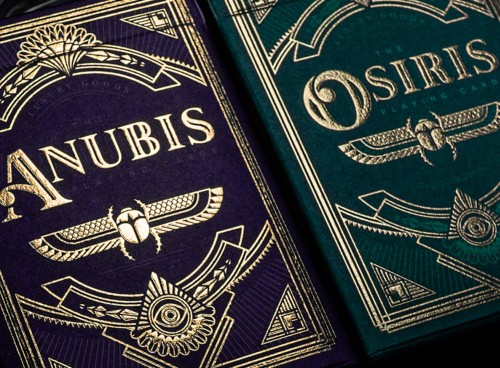 Deck:
Anubis & Osiris Shadow
 by Steve Minty
Funding:
 $321,052 raised by 3,617 backers
Year:
 2021
Steve Minty is one of the rock stars in the world of playing cards. The stunning Egyptian themed Anubis and Osiris decks that he first created in 2016 were a huge hit, and are still highly sought after by collectors. The beautiful design and gold foil on the back of all the cards and on the tuck box makes them a work of art and luxury, and they can reach prices of well over $150. With the Anubis and Osiris Shadow decks, Steve Minty reprised the originals in updated colours of purple and green, along with some small changes to the design, and the luxury of foil on both sides of all the cards.
8. The NOC Luxury Collection - $287,813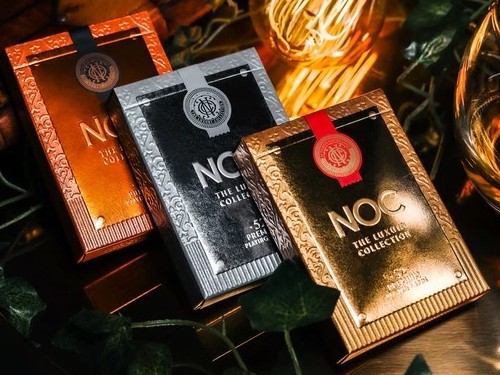 Deck:
The NOC Luxury Collection
 by Riffle Shuffle x House of Playing Cards (
product page
)
Funding:
 $287,813 raised by 2,038 backers
Year:
 2020
NOC was originally conceived as an acronym for Nothing Only Colour. It represented an approach of sheer minimalism towards the backs of playing cards, which consisted simply of a single block of colour within white borders. The concept proved surprisingly popular with cardists, and spawned a large series of NOC decks in different colours and styles. In this collaboration between Riffle Shuffle (Kevin Yu) and House of Playing Cards (Alex Pandrea), the NOC decks get the most luxurious treatment imaginable, with holographic foil on all the cards, in three different decks: Gold, Silver, and Bronze.
9. Arrow & Shield Playing Cards - $265,200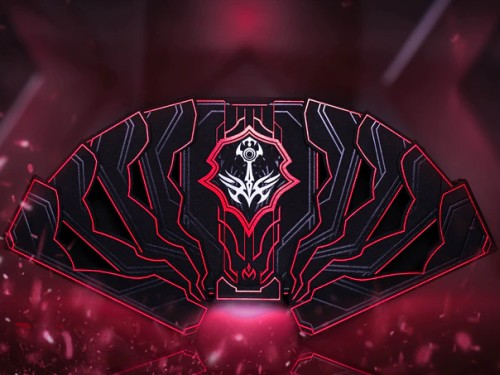 Deck:
Arrow & Shield Playing Cards
 by Card Mafia
Funding:
 $265,200 (HK$2,056,227) raised by 2,484 backers
Year:
 2020
If you need evidence that supporters are willing to pay for an extravagant and creative tuck box, this project is all the proof you need. Creator Kevin Yu from Card Mafia had already produced a stunning tuck box with his Trident & Sword project, which appears later on this list. The Arrow & Shield project capitalized on that earlier success with a new pair of decks, this time inspired by Apollo, the Greek God of the Sun. While the cards themselves are beautiful, the chief attraction here is the deluxe tuck box, which features a magnetic opening and closing and self-locking system.
10. Kingdom & Kinghood - $250,887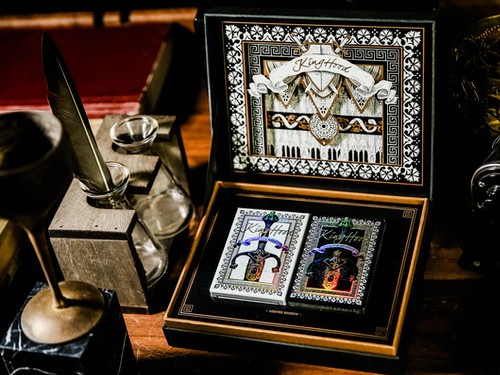 Deck:
Kingdom & Kinghood
 by Artisan Playing Cards
Funding:
 $250,887 (HK$1,947,197) raised by 727 backers
Year:
 2021
This is the third project from creator Artisan Playing Cards (better known as Ark Playing Cards), following their debut Card College and Tempo projects, both of which also appear in this top 40 list. They already showed what they could do in the area of innovative tuck boxes and packaging with those previous efforts. But they've really outdone themselves with the Kingdom and Kinghood project, which features box sets presented as luxurious gift boxes, glamorous foiled tuck boxes, and playing cards the likes of which have never been seen before.
== The Top 20 ==
11. Trident & Sword Playing Cards - $238,600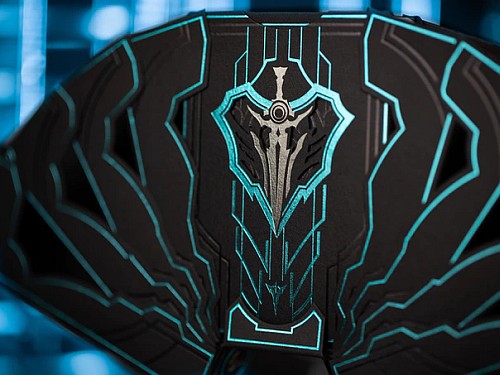 Deck:
Trident & Sword Playing Cards
 by Card Mafia (
product page
)
Funding:
 $238,600 (HK$1,852,031) raised by 2,946 backers
Year:
 2020
This is the project from Kevin Yu's Card Mafia that preceded his Arrow & Shield decks that are in the #9 spot, and was inspired by the god Poseidon from Greek mythology. With Trident & Sword he debuted his magnificent tuck boxes, with their unique magnetic open and closing system and a self-locking system. Besides these Deluxe editions, the two decks also had a Classic edition. But we all know that the more complex tuck box for the Deluxe edition is easily the star attraction here. Each tuck box required eight times more paper than a standard tuck box, and when fully opened it spreads out into a 145 degree angle.
12. Butterfly Black - $219,800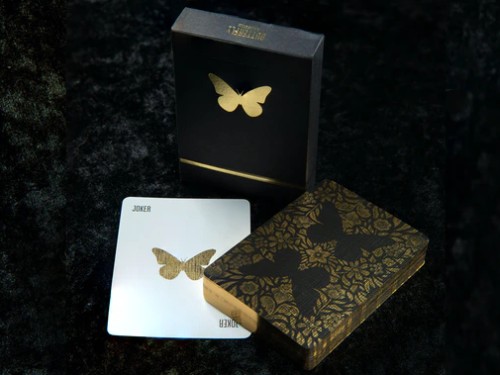 Deck:
Butterfly Black
 by Ondrej Psenicka (
product page
)
Funding:
 $219,800 (SEK2,117,815) raised by 1,466 backers
Year:
 2019
Ondrej Psenicka has enjoyed success as a magician, fooling Penn and Teller twice on their show Fool Us. His innovative Butterfly Playing Cards were originally crowdfunded in 2016, and came with an ingenious marking system that was truly ground-breaking. Not only could these escape detection from many magicians, but they could also accomplish things not possible with other marked decks. Building on this success, this more recent project presented the most luxurious versions imaginable of the Butterfly decks. They include gold and silver foil, gilded edges, and the option of unmarked versions.
13. The Tale of the Tempest - $194,187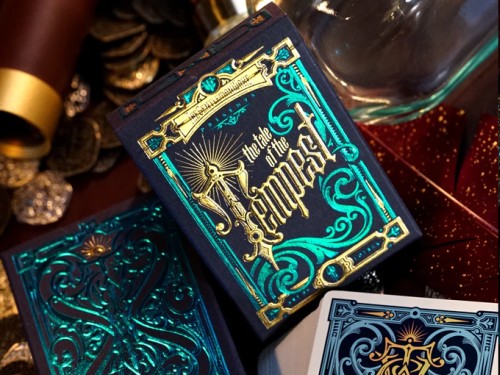 Deck:
The Tale of the Tempest
 by The Gentleman Wake.
Funding:
 $194,187 raised by 1,235 backers
Year:
 2020
Many playing card collectors will be familiar with The Gentleman Wake, courtesy of his superb skill as a videographer and reviewer on youtube. In 2019 he teamed up with popular playing card designer Stockholm17 to create The Parlour Playing Cards. The Tale of the Tempest was his follow-up project the next year, this time in tandem with Lotrek, who is arguably today's #1 designer of luxury playing cards. Even though this more recent project didn't have as many supporters as the previous ones (1235 compared with 1697), the playing cards were more customized and luxurious, and so the overall level of support was considerably higher.
14. Arcana - $190,592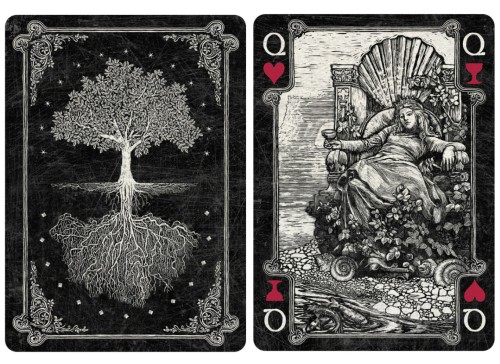 Deck:
Arcana
 by Chris Ovdiyenko
Funding:
 $190,592 raised by 3,199 backers
Year:
 2015
There is a huge demand for Tarot cards, and the Arcana deck bridges the gap between standard playing cards and the traditional Tarot. It serves as a regular deck of cards, while still drawing on the imagery and symbols from the world of Tarot, particularly the popular 1910 Rider-Waite-Smith Tarot deck. The cards incorporate regular pips along with the wands, swords, cups, and pentacles familiar from Tarot, and four Major Arcana cards (Fool, Lovers, Death, Tower) were included instead of Jokers and ad cards. It is first and foremost a deck of playing cards, however, rather than a full 78 card Tarot deck, and the engraved style helped make it a winner.
15. Federal 52 Part 2 - $188,005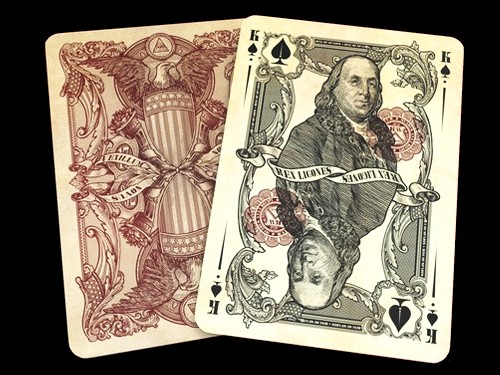 Deck:
Federal 52 Part 2
 by Jackson Robinson
Funding:
 $188,005 raised by 2,705 backers
Year:
 2013
Jackson Robinson from King's Wild Project has the unique achievement of being one of the world's only full-time professional playing card designers. His original Federal 52 project in 2013 was a deck of cards inspired by currency, and featured a style that reflected the traditional engraving designs of bank notes. It was an instant hit with nearly 3,000 backers, and Jackson's work was soon in high demand from collectors. This follow-up from the same year featured a Reserve Note deck and Silver Certificate deck. It continued the same successful formula, including embossed tuck cases stamped with foil.
16. The Apothecary 2 - $184,339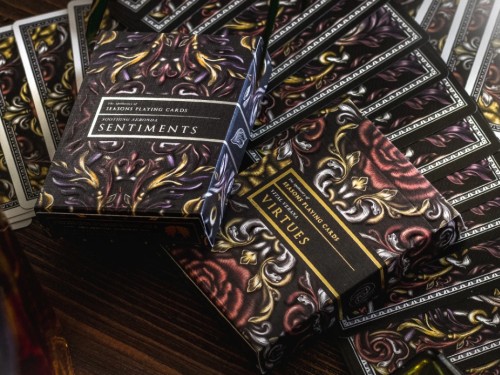 Deck:
The Apothecary 2
 by Alexander Chin (
product page
)
Funding:
 $184,339 raised by 2,348 backers
Year:
 2018
Alexander Chin is one of today's hottest playing card designers, and has won numerous industry awards in packaging for his designs with Seasons Playing Cards, and Deck of the Year Awards for his NPCCD decks. This pair of Apothecary decks were entitled Seronda Sentiments (Fall) and Verana Virtues (Summer), and were a sequel to his earlier release, Primavera Ponderings (Spring) and Inverno Insights (Winter). The series of Apothecary decks explores "intangible curiosities from the other side", and wants us to focus on physical things that can be touched, felt, and held. The White Label edition is the highlight, with gilded edges, and a colour changing tuck box that responds to heat and touch.
17. Tempo - $175,100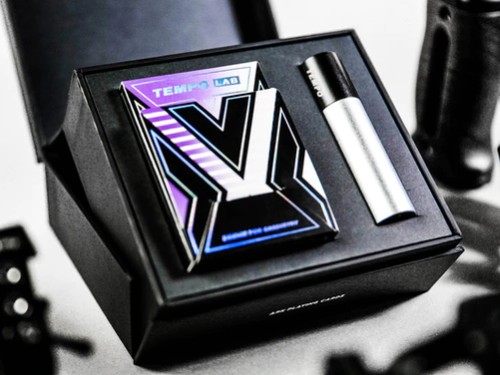 Deck:
Tempo
 by Ark Playing Card Co
Funding:
 $175,100 (HK$1,358,230) raised by 1,033 backers
Year:
 2021
This isn't the first entry from Ark Playing Cards on this list, with their Kingdom & Kinghood project appearing already. It's not surprising given their focus on pushing innovation to the extreme. Tempo was their sophomore effort, and followed their successful debut Card College release. Several decks were part of the Tempo project, including a telescopic and a mechanical flip box design at the entry level. In addition they produced a UV electro-optic box set that came with a UV torch and that made use of UV light fluorescence technology on all the actual cards. Also available was an edition with a sunlight colour-changing tuck box.
18. Air Deck 3.0 - $164,100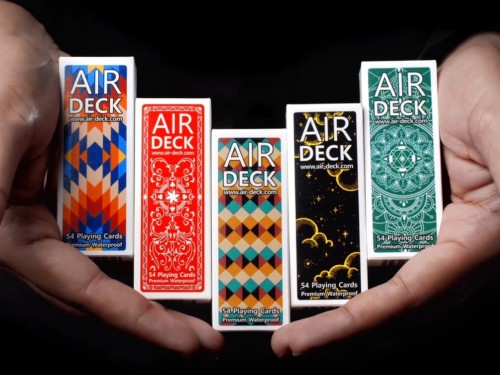 Deck:
Air Deck 3.0
 by TipTop Things (
product page
)
Funding:
 $164,100 (HK$1,275,853) raised by 6,690 backers
Year:
 2020
People like novelty, as the Air Deck 3.0 project demonstrates, with the healthy support of nearly 7,000 backers. The creator Tip Top Things was able to capitalize on earlier successes that included three versions of their clever Nanobag shopping bag, and two previous versions of their Air Deck. Marketed as "cool playing cards for travellers", the Air Deck 3.0 offered more of the same, but with seven new designs. Their successful travel-optimized deck was billed as waterproof, compact, lightweight, and durable. Its small size and waterproof PVC card stock certainly made it eye-catching and popular.
19. Muertos Day of the Dead - $159,706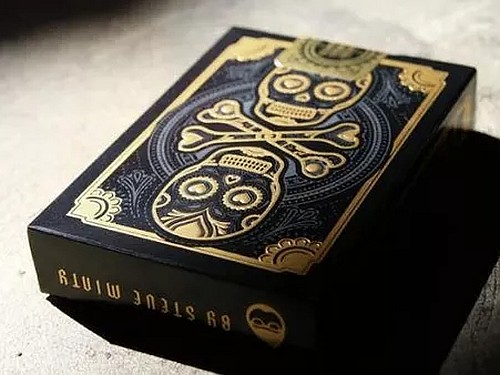 Deck:
Muertos Day of the Dead
 by Steve Minty
Funding:
 $159,706 raised by 2,793 backers
Year:
 2014
The Muertos collection was inspired by the Mexican holiday that celebrates life and death: Dia De Los Muertos, also known as the Day of the Dead. Produced in 2014, it was one of Steve Minty's first deck designs, and had a modest funding goal of $13,000. This was absolutely blown away when a staggering $159,706 was raised. Steve tried to capture and convey the combination of sorrow and laughter that the Day of the Dead is about, with a blend of the sombre and the playful. Classical aesthetics were combined with a style that respectfully honours the traditional message of Dia De Los Muertos, and several different colours gave consumers plenty of choice.
20. Royales - $158,200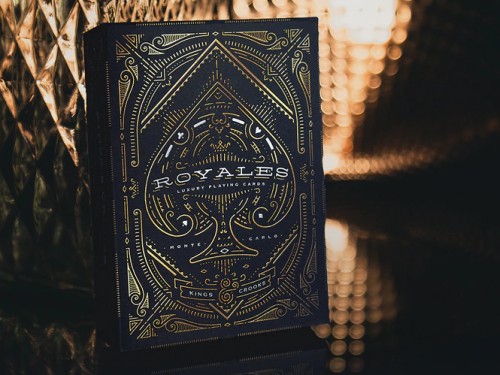 Deck:
Royales
 by Lee McKenzie
Funding:
 $158,200 (£118,466) raised by 1,713 backers
Year:
 2020
Playing card designer 
Lee McKenzie
 from Kings and Crooks doesn't nearly get the credit he deserves. He designed decks for Ellusionist at the time they were one of the biggest players in the custom playing card industry, and had a big hand in their popular decks like Arcane, Artifice, and Infinity. He embarked on his own with the launch of his popular Empire decks in 2013. But the tremendous success of Royales has proved that he's finally emerging into his own right as an elite designer. This luxurious Monte Carlo styled deck is available in several versions, and the gorgeous card faces are a real highlight.
== The Top 40 ==
In the next article, we'll showcase the remaining decks from Kickstarter's top 40 most funded playing card projects, by taking a look at the projects ranked #31 through #40.
So are there any conclusions we can draw from all of this? For sure, but we'll save that for the end of the next article, after we've completed our tour. Meanwhile, enjoy the creativity and beauty of these wonderful projects, which represent the 20 heaviest hitters produced with the help of Kickstarter. But there's plenty of more good stuff to come!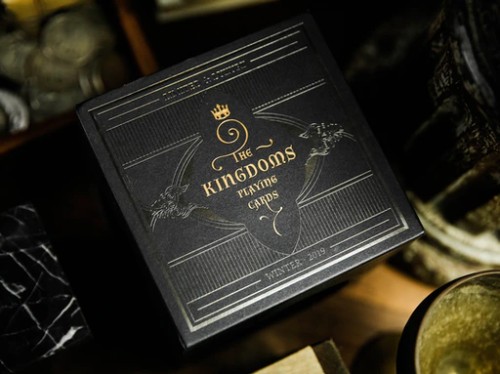 Related articles you might find interesting:
About the writer: EndersGame is a well-known and respected reviewer of board games and playing cards. He loves card games, card magic, cardistry, and card collecting, and has reviewed several hundred boardgames and hundreds of different decks of playing cards. You can see a complete list of his game reviews here, and his playing card reviews here. He is considered an authority on playing cards and has written extensively about their design, history, and function, and has many contacts within the playing card and board game industries. You can view his previous articles about playing cards here. In his spare time he also volunteers with local youth to teach them the art of cardistry and card magic.

Notes about the statistics:
1. This list was compiled on 14 June 2021, and doesn't reflect Kickstarters that were launched or funded after this time.
2. Determining the most funded Kickstarters for playing cards is not as simple as looking at the Most Funded Projects in the Playing Card category. A number of earlier projects weren't categorized as Playing Cards, or were categorized differently, and thus will be missing from that list. Besides some important omissions, a list generated in this way also includes card games and some other projects that aren't directly playing card related.
3. I've not included projects like Iron Clays & Spades by Roxley Games, since the bulk if its funding was for gaming counters (over 3500 backers) rather than for playing cards (only 175 backers).
4. Some of the projects used foreign currencies. I have converted these into the equivalent amount in US currency for the date when they were funded. This is also what Kickstarter platform appears to do when ranking the most funded projects in order.


Last update date: 02/09/22