Add an additional description to your product option. Ex: Size guides, and other common questions.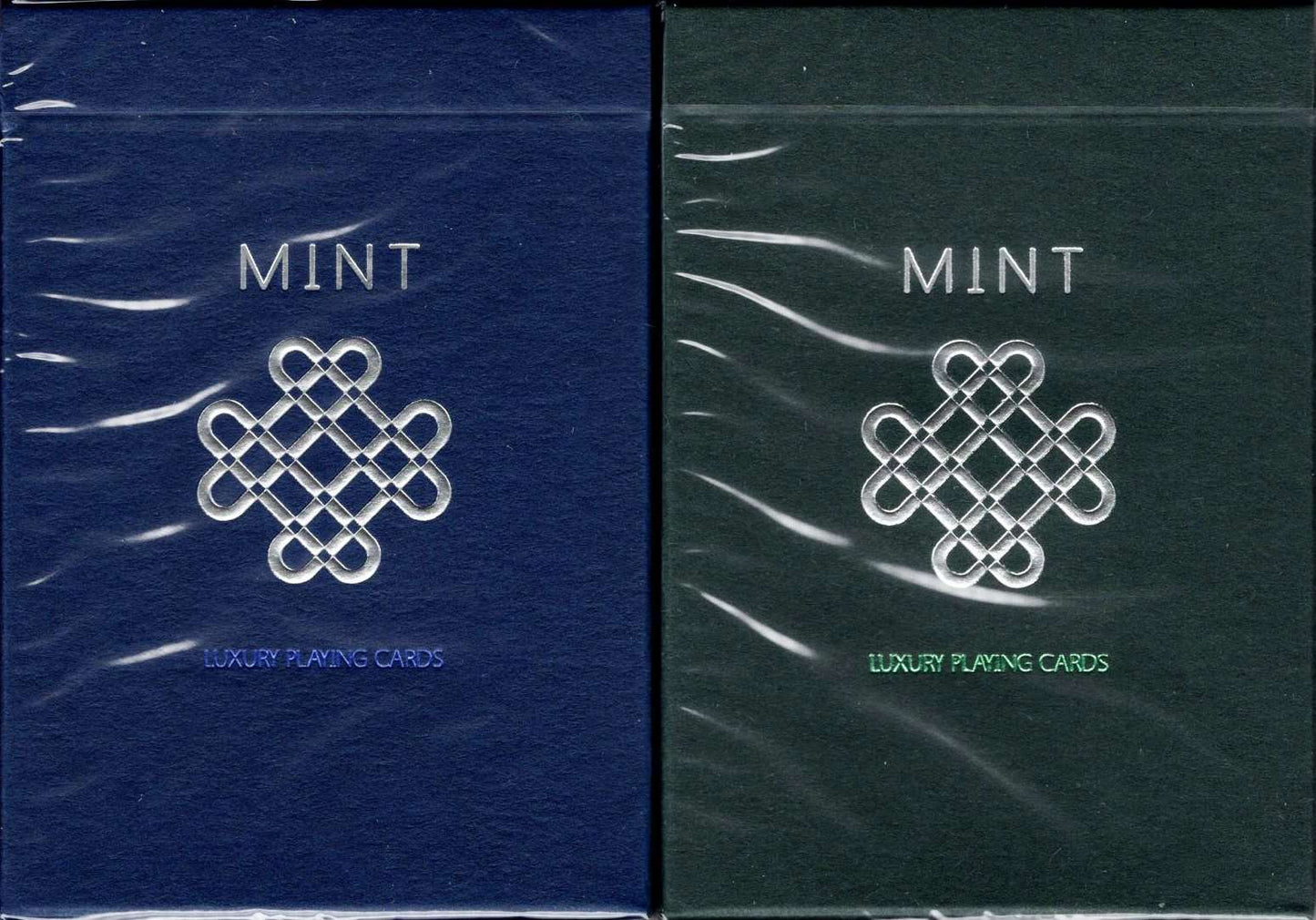 Mint v2 Marked Playing Cards USPCC
Mint v2 Marked Playing Cards
Available in blueberry  & cucumber, not sold as a set
The Mint Playing Cards features the iconic Mint design pattern. 

Proudly crowdfunded on Kickstarter. This deck was presented as a part of the MINT 2 Kickstarter project in 2018. Over 5,600 incredible backers came together to raise a historic $564,558 in funding to make this deck a reality. 

The cards are printed by the United States Playing Card Company on a Crushed Casino Grade Bee Stock and coated with a silky Air Cushion Finish. Your hands deserve nothing but the best. 

The cards are carefully packaged in a beautiful embossed and foil-laced tuck case, and then sealed with a branded 'Second Edition' tax stamp. 

Mint Playing Cards contains a number of valuable features for magicians. The back design includes the new and improved multi-directional Mint Marking System. The cards are traditionally cut to help facilitate the execution of perfect Faro shuffles. Each deck also includes a double backer gaff card and two identical Jokers.
Awesome Marking system
I must hand it to 52cards that he created a very elegant deck of cards that utilizes a great marking system. The back design is not too flashy and I can truly appreciate that it comes with duplicate jokers and a double backer. While I agree that the marking system is a little on the small side, I can also say that it's unique that you can read the back of the cards no matter what orientation. Though I haven't truly tested it, but I'd vouch that it would pass the riffle test because the system is more discrete than most marking systems. The handling is superb as expected by USPCC. If you want a practical marked deck, look no further!
Gorgeous and smart
I'm considering making this deck my "everyday" magic deck. They feel amazing! Smooth, silky.
The face cards are pretty standard, except the color skews toward more black in the design than the generic look, which is classy and striking. Only the Ace of Spades is somewhat different, the other aces are stark and ordinary.
As for the marking system, it really is very simple and intuitive!! (You can learn about it on their web site, mint52.com.) It really will not be noticeable to anyone not carefully looking. Even I couldn't tell what the marking might be when I was looking in the area I presumed it would be before I learned what it is. But knowing now, it's easy to tell at a glance both the value and suit.
The only problem, is it's SO small and hidden, those of us with bad eyes have a problem. *sad frown* It's really only going to work without being obvious you're looking at the markings, in good lighting and good eyesight.
I really don't want to take a star off for this, because any marking HAS to have a balance of hidden but reasonably quick recognition, and I really do thing this deck has that! The failure is in my eyes, not the cards, sadly. So just know, if you have a problem with middle-distance seeing, you may not like these.
But if that's not a problem for you, or you don't care about being marked, this deck is in all other ways fantastic!
Very popular marked deck
This deck was produced by 52Kards, and is the latest version in the very popular Mint series. The tuck box has an immediately classy appearance, with an embossed and shiny look. The card backs have a very appealing design, which does a great job of hiding the marking system. It's an optical system rather than a "reader" system, but not one that's hard to learn. These decks have been very popular, and it's not hard to see why once you have it in your hand.
Great Marked Deck
If you are looking for a marked deck that will not drag to much attention and be useful for magic tricks, this is a great option.