Add an additional description to your product option. Ex: Size guides, and other common questions.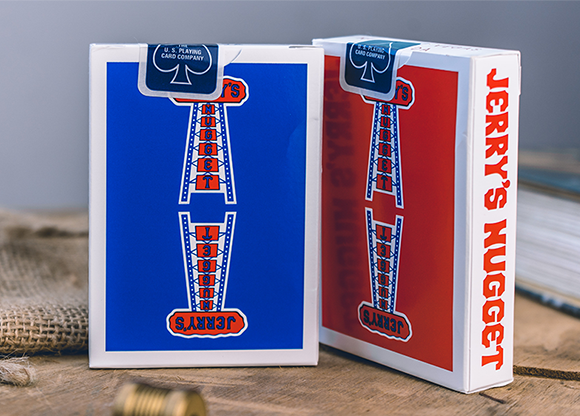 Modern Feel Jerry's Nuggets Playing Cards USPCC
Modern Feel Jerry's Nuggets Playing Cards
Available in 4 colors, not sold as a set
The most iconic deck of cards ever to be created. Now Jerry's Nuggets Playing Cards are your EVERYDAY cards! 

In 1970, Jerry's Nugget Casino printed what would become one of the most collectible playing card decks ever manufactured by the United States Playing Card Company (USPCC). They made them for the tables but opted not to use them and put them in storage for 20 years! Playing card expert, Lee Asher, recognized the unique quality and feel of these cards and began evangelizing about them. In due course, Jerry's Nugget playing cards became legendary. 

By the fall of 1999, these cards sold out, yet the demand continued to grow. Today, authentic Jerry's Nugget cards are among the most desirable and expensive modern decks on the market. After more than three years of pursuit and negotiation, a deal with Jerry's Nugget Casino and Expert Playing Card Company is making them available again! 

In homage to the original decks, we have decided to print with USPCC on their Premium stock (formally called Bee stock). We are THIN CRUSHING this stock to the thickness of an original Jerry's card. And while these new decks won't feel the same as the originals, we've modernized them for today's tastes. They will be the perfect thickness (or thinness, in this case!) to handle today's sleights, flourishes and cardistry with ease. You will love these cards! 

THE CUT: 

The Modern Feel Jerry's decks will be TRADITIONALLY CUT, which makes them perfect for faro work! They will shuffle bottom up so table faros will be a breeze. 

THE PRINTING PRESS: 

Unlike almost all other custom decks that are printed one sheet (one deck) at a time, these Modern Feel Jerry's Nugget decks will print on the biggest and fastest press in the USPCC factory - THE WEB PRESS! 

The Web press prints on huge rolls of paper and works extremely quickly, printing both sides, crushing the stock, coating both sides, heat curing the cards and cutting out the sheets in about one tenth of a second per deck! This unique printing process is the best available way to make cards at USPCC. 

Once you feel these cards, you will see that the quality speaks for itself. 

THE DETAILS:
Authentic Jerry's are now available to EVERYONE
Thin Crushed USPCC Premium (Bee) stock for the Modern Card Feel
Traditionally cut
Original Back and Face design, including the original Jokers and Ace of Spades
Printed and crushed on USPCC's WEB press for outstanding handling
Priced low so that Jerry's can be your everyday carry
Modern Feel Nugs
I love this deck. It has that classic Jerrys look but with the feel of todays cards. I did buy both Classic and Modern.
Great feeling deck
This was one of my first non-Bicycle decks, so I was blown away by the thinness of the cards and the flexibility of the deck. I also love the sold bright card backs with the two inverted Jerry's Nuggets logos. What a great deck!
Jerry's Modern (Teal)
I am a fan of the Jerry's Nugget modern and vintage for various and different reasons. For this particular review, I want to focus on the teal colorway. I picked one of these up for personal preference as I love the color teal. The modern feel Nuggets are a great stock and finish, resulting in what one would consider good, modern handling. They have fanned well for me and perform well. I love the casino style decks for any game night, and they always produce a good result from participants in the game.
Amazing
I picked these up to see what the hype was all about. Wow was I impressed. These are the best feeling cards I have ever touched. Its tough to pick up some of my others cards, because the just don't feel as good.
Colorful
History of the Jerry's Nugget cards and now having reproductions in so many colors and variations, rewarding to collect all of them