by BoardGameGeek reviewer EndersGame

There are many recognizable big brands in the fashion industry, food industry, and automotive industry. A brand name will tell you what style of product you can expect, and will also indicate something about its quality.

The same is true in the world of playing cards. Companies like Ellusionist and Theory 11 produce a range of custom decks, and when you see the name of these familiar brands on a box of playing cards, you'll have a fair idea of what to expect inside. Alongside these popular brands of decks is Art of Play. So let's tell you a little about the Art of Play brand, and what you can expect from the range of custom playing cards they have produced.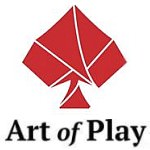 The Art of Play brand
Art of Play is the lifestyle brand of twin brothers Dan and Dave Buck, who are accomplished magicians. But they are also at the front lines of the fast-growing and rapidly-developing performance art of cardistry, which is often described as "juggling with playing cards". They are widely regarded as among the top pioneers and innovators in this relatively new art-form, and have played a major role in its growth and development. Dan and Dave produced several instructional videos about cardistry when the modern form of this art was still in its infancy, and their contribution and involvement has had a huge world-wide impact. They were involved in organizing the world's very first cardistry convention in 2014, which has been held annually since, and they continue to be a massive influence in the world of cardistry. They've even appeared in the popular film "Now You See It" (2013), performing some of their well-known card flourishes.
So these guys love playing cards, and they know a thing or two about using them, and this led to the establishment of Art of Play as their own brand. Their brand includes sourcing many ingenious puzzles and unique games and toys from around the world, typically geared towards high end consumers. But what's of special interest to us is that they are also creators of some of the world's best designer playing cards. Besides carrying a large inventory of custom decks, Dan and Dave have been making an ongoing contribution to the custom playing card industry by producing decks of their own under their Art of Play label.
Given their own background and roots, it won't come as a surprise that the playing cards produced under the Art of Play brand are especially geared to cardists, magicians, and collectors. Typically they produce around a dozen new decks each year, with many wonderful and popular designs, many of which are intended to serve the needs and wants of card flourishers. So let's showcase some of the decks from the Art of Play brand, to give you an idea of what their brand label offers. If you're looking for a quality deck of playing cards for card flourishing, or something classy and sophisticated to use for your poker night or your magic performance, the Art of Play brand has something to suit your needs.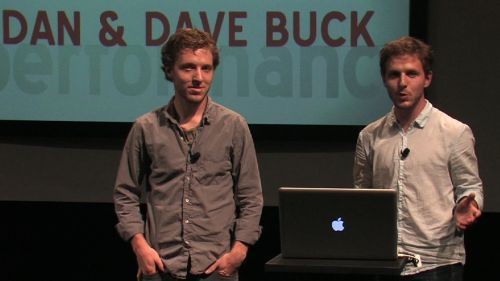 FOR CARDISTS
Card flourishing is a speciality for Dan and Dave Buck, and they know all too well that cardists look for a very unique set of characteristics in a deck of playing cards, including the aesthetic appeal of cards in motion. As such, a cardistry deck does not have to be very functional for playing games or card magic - although often they can serve a dual purpose of being used for these purposes as well. But of primary importance in card flourishing is good handling and an instant visual appeal, so it's important to have a design and pattern that looks great when the cards are in motion. Here are some great examples from their Art of Play range.
Off The Wall
The expression "off the wall" means unconventional, unusual, surprising, different, and that's certainly a good description of Art of Play's 
Off The Wall deck
. It's a radical "off the wall" design that was inspired by 80s surf and skate culture in sunny California. The name is an apt one, because the tuck box already screams "unconventional", with a very bold choice of colours that include a vibrant blue, orange, and yellow, along with some black, and finished off with silver foil accents for the title of the deck and parts of the artwork. It's loud and dashing, but isn't that exactly what much cardistry is about?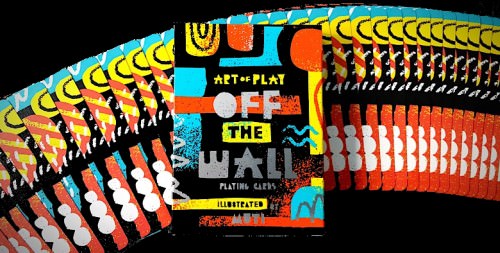 The design of the cards themselves continues the lively style of the tuck box. The deck was designed by Studio Muti in South Africa, and perhaps there's some tribal roots that account for the energy and vividness of the design and colours. But the abstract shapes and bright colours work perfectly for the stylish borderless backs, and ensure that our flourishes are not going to go unnoticed. Fans and spreads look particularly attractive in both directions courtesy of the creative, lively, and symmetrical card-backs.
Fans of custom designs will be pleased to know that all the Aces have adopted an over-sized pip that shows off the main design pattern. The court cards continue this style, with oversized faces that have a hand-drawn feel, and yet retain symmetry and make a stylistic statement that bursts with sunshine and energy.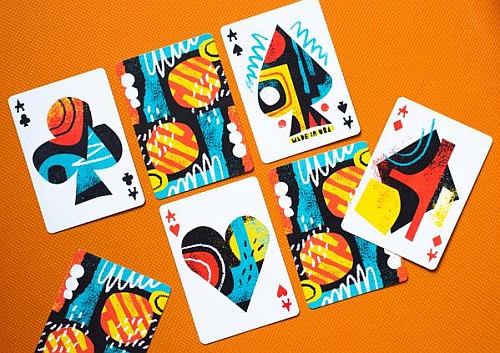 The colour used for the Hearts and Diamonds has a orange tinge to it, in keeping with the rest of the deck, and giving us a sense of sunny days, full of energy and vitamin C. The pips on the number cards, including the font used for the indices, continues the overall surf-skate theme with its deliberately styled casual look, and ensures that the entire deck feels customized and works together well as a whole.
While functional, the attraction of this deck is really all about the colours and vibrant patterns on the card backs, court cards, and Aces. It also handles well for cardistry, since it uses USPCC's thin crushed stock. The Off The Wall deck is definitely one of my current favourites for card flourishing, and should appeal to anyone who likes a bold and colourful style.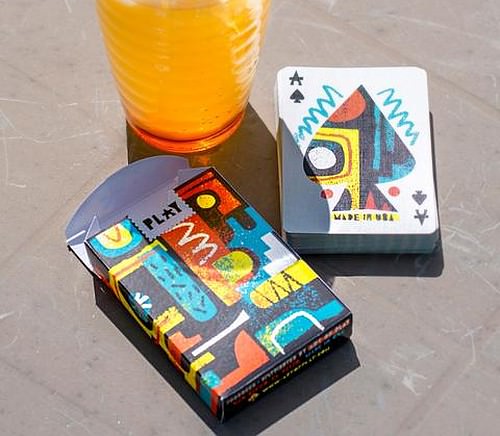 Lost Wax
With the 
Lost Wax deck
 we travel back in time to Africa in the 15th century. This deck immediately gets your attention with an embossed tuck box and gold foil on the outside, but there's also gold to be found on the inside.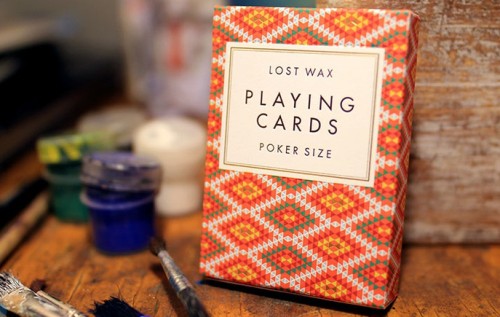 The artist behind this deck, Olutade Abidoye, brings us back in time to the Benin Empire, which flourished in an area of Africa that we call Nigeria today. The design on the card backs has a tribal feel, and flourishes involving fans and spreads will benefit from the borderless backs and colourful pattern.
The Ace of Spades also conjures up the image of an ancient artifact that one might find in an African ruin, and its touches like this that ensure that the entire deck feels like a thematic whole.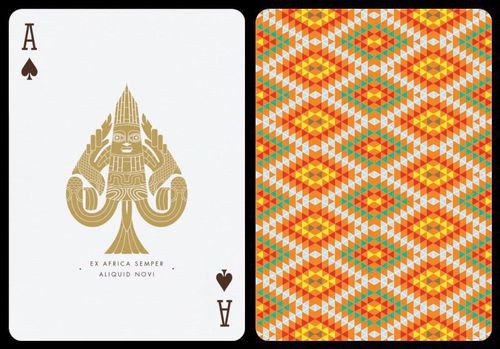 The court cards seek to recapture something of the royal figures, with the face cards carrying markings of four distinguished Benin Kings, four Queen Mothers, and four respective Jacks (court servants). Meanwhile the pips on the number cards are stretched and slender, adding a slimming feel to the traditional markings.
In a very colourful way, this is a deck that pays homage to a bygone era of prosperity, and has potential to fire the imagination of card lovers around the world.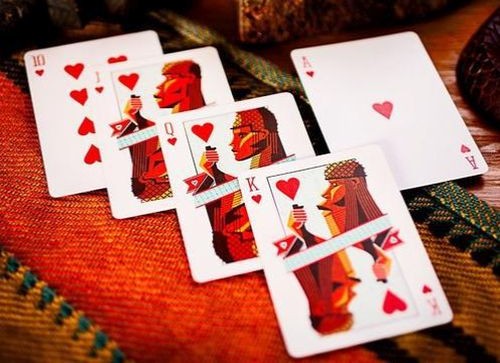 Jungle
The 
Jungle deck
 is somewhat of a playful deck, inspired by the African jungle. Created by design Muti from South Africa, it is self-described as having "vibrant colors and raw animal magnetism".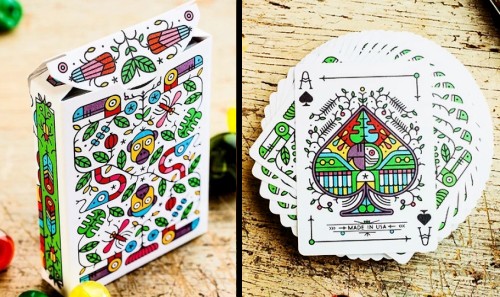 The card backs have a ornate decorative design with green and black, in a style that will match the design of the court cards.
All of the cards are custom illustrated and feature elements from the Zulu wilderness. Even the number cards have exaggerated pips and a unique style of text that is in keeping with the feel of rest of the deck.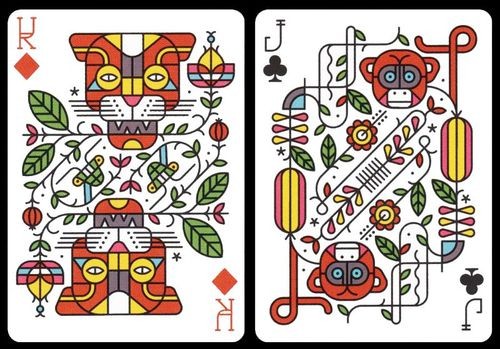 The Jungle deck certainly has a wild jungle-like vibe about it, and is colourful, creative, and energetic!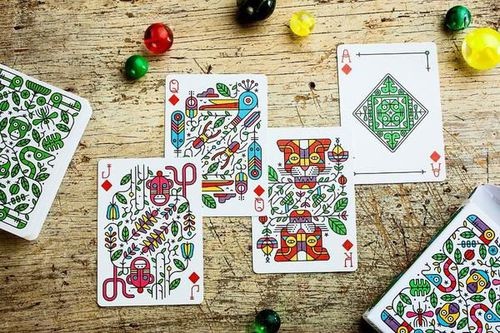 Balance
The 
Balance deck
 is one of the newest editions to the Art of Play portfolio, and was collaboration project with SDCO Partners. Both cardists and collectors who have a love for minimalism will appreciate this deck, that has a tuck box featuring a very modern graphic design which makes the most of soft pastel pink colours and simple linear shapes.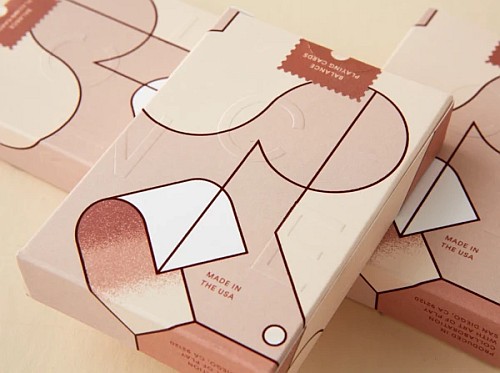 These playing cards are all about boiling down the essence of a playing card, deconstructing the traditional artwork by stripping away complex designs and multiple colours, and replacing them with a monochromatic look that strikes the right balance of contemporary and stylish minimalism.
The court cards are a real highlight, but the number cards also contribute to the overal impression of minimalism, with the help of an unadorned font used for the indices. Smaller than usual custom pips are grouped together in the center of the cards in an original pattern, creating a strong sense of delicate elements framed by a larger than usual amount of white space.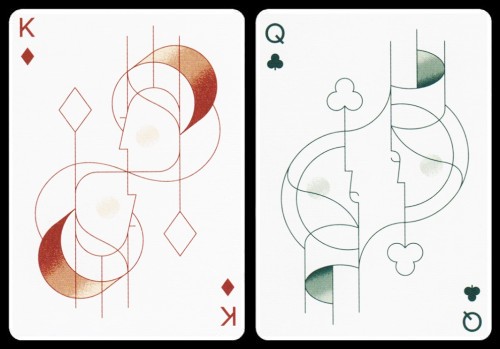 In contrast to the faces, the back of the cards have borderless design where wavy patterns are a central focus. The card backs have an overall darker look that nonetheless complements the colours used for the spades and clubs. The Jokers also match the rest of the deck well, and are also borderless but employ a soft pink.
The subtle colour tones and minimalist design, combined with the thin USPCC cardstock that cardists especially appreciate, makes this deck suitable for chill cardistry. At the same time the sleek modern design remains functional, and it is practical enough to be used for card games as well.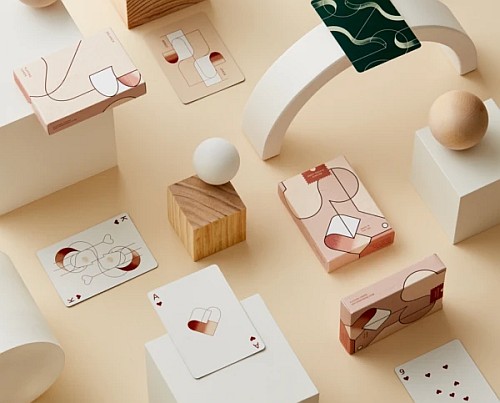 FOR CARD PLAYERS & MAGICIANS
Art of Play has also produced more traditionally styled decks, and while these have more of a familiar look, they typically add sophistication, style, and luxury from what otherwise might look like a "standard" deck. A heavily customized deck might be well-suited for cardistry, but that doesn't make it very functional for playing card games or for performing card magic. But if you are looking for something functional that is at the same time elegant, and makes a stylish statement, the Art of Play decks in this category are for you.
MAKERS (Blacksmith Edition)
The tuck box of the 
MAKERS deck (Blacksmith Edition)
 is truly amazing, with elegant gold foil stamped all over the black box in intricate lines that create a look of sheer beauty and class, both inside and out. Silver foil is also used, allowing special words and phrases to pop out. Even the larger-than-standard stamp that is used to seal the tuck, with its handwritten font, makes it look super classy.
While the outside of the tuck case is already amazing, the inside of it is magnificent! Gold foil is stamped throughout the inside of the tuck in the same elegant swirls and lines as on the outside, and combines together to create an absolutely exquisite tuck case.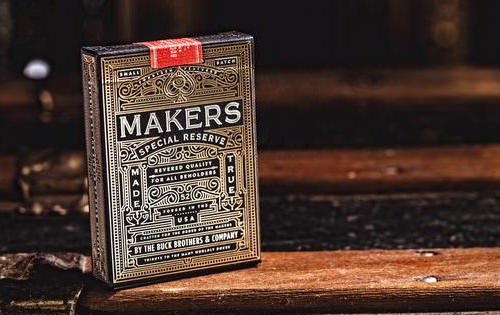 This deck has been designed by Chad Michael, who has done an excellent job all round. The jet black background of the card backs looks amazing as the canvas on which the gold ink can clearly stand out, creating a look of pure beauty. Intricate lines are featured on the entire card back, and the closer you look at the cards the more details you notice and appreciate.
The attention to detail continues with the Ace of Spades, which is an oversized piece of delicate artwork, featuring a head forming a spade, with significant aesthetic appeal.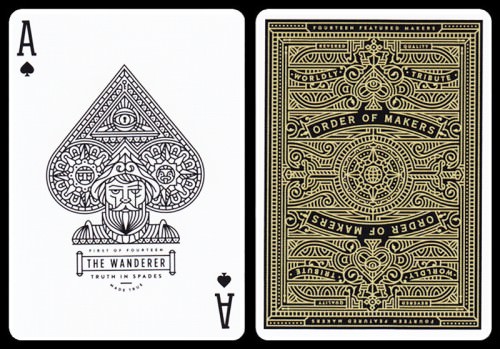 The faces of the cards also have intricate lines forming the pips and the court cards, making it a truly ornately decorated deck in every respect. The court cards all represent different foundational "makers" that civilisation has been built on, such as the Smith, the Monarch, or the General. Like the rest of the deck, each court card is composed of lines with a high level of detail, in either red or black.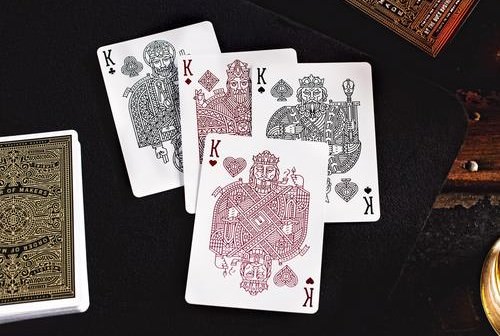 Sons of Liberty
The 
Sons of Liberty deck
 is another in-house production from Art of Play, and immediately has a very American feel, evident from all the stars on the tuck box flap, and the proud "Made in America" on the box cover. It's an exquisite tuck box that features embossed images and text in bronze and pewter foil.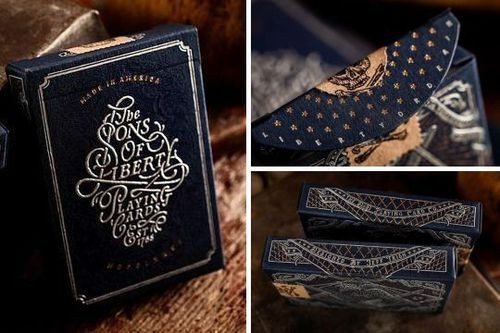 This deck commemorates the patriots who were active as revolutionaries during the time of British rule, and who - as the Sons of Liberty - "operated in the shadows, leaving secret signals, passing hidden messages, and meeting in the dead of night."
Designed by Jeff Trick, the cards feature images and themes related to this material, e.g. there are references to the masons on the card backs, and the Ace of Spades is a Liberty Tree. The court cards feature some of the patriots, and use an 18th century style etching.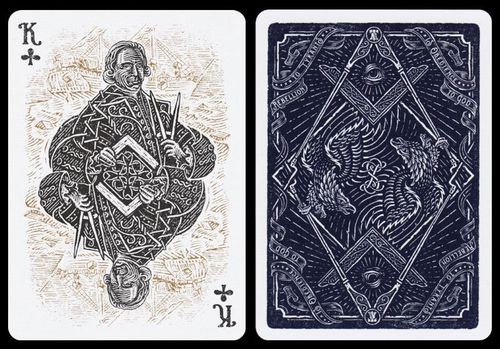 The Sons of Liberty deck is definitely one that will appeal to history fans, American patriots, or anyone who enjoys an exquisitely made deck where every last detail has been meticulously thought out and made as best as it can possibly be.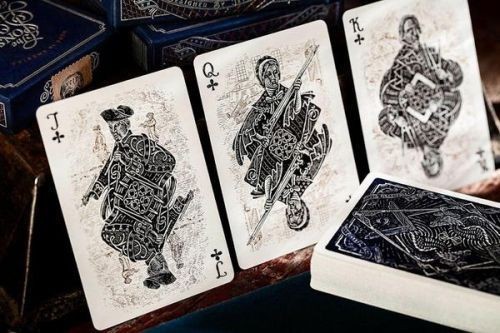 Red Wheel and Blue Wheel
The 
Red Wheel and Blue Wheel decks
 were the result of a collaboration between Art of Play and Californian creative studio DKNG. The original decks were made in Red or Blue, although a Green Wheel and Black Wheel deck were later added to the series. The tuck boxes feature an understated and casual matt look, which only serves to make the shiny look on the cards themselves seem even more impressive.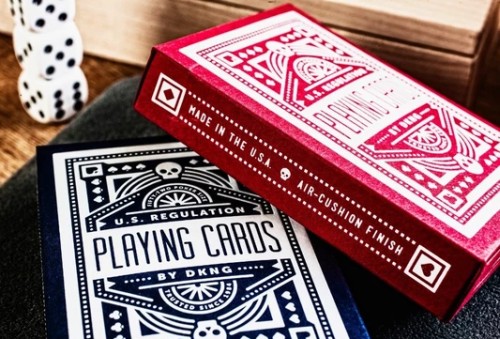 The Red Wheel deck features gold accents that are a result of gorgeous gold metallic ink. The face cards offer a modern take on the classic court cards, although the colour scheme on all the cards is red/blue instead of the usual red/black. One of the things I love most about these decks are the pips, which are split in half and use metallic gold for the Red deck and metallic silver for the Blue deck. This split-pip design produces a wonderful combination that is both creative and classy, and metallic ink employed for this makes it a real highlight of the deck.
The card backs may look symmetrical, but if you observe the corners closely, you'll see that all four suits are represented, making for a very clever and subtle one-way design that will escape notice from most. Like the tuck box and Jokers, small skulls are also featured on the card backs.
Both decks are a reinterpretation of the classic Bicycle Rider Backs, with the bicycle influence clearly evident everywhere, including on the tuck boxes and the card backs. This influence is especially noticeable on the gorgeous Ace of Spades, which is one of my favourite cards from this deck, featuring a gorgeous illustration of a bicycle inside the giant two-tone pip. In fact, all the Aces are stunning examples of clean and stylized design.
In the Blue Wheel deck a silver metallic ink is used in place of the gold employed in the Red Wheel deck, giving the front of the cards and the pips quite a different look.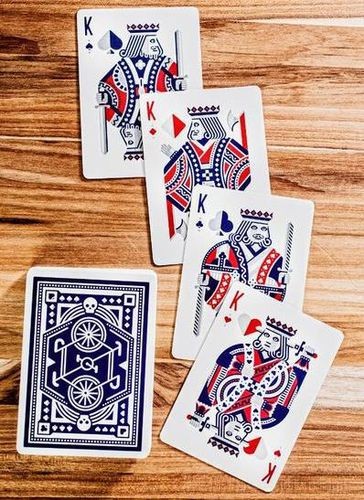 This popular deck also received a new eco-friendly colour scheme as the 
Green Wheel deck
. Unlike its more classy brothers that prefer to present themselves with gold and silver accessories, it is the more down-to-earth and outdoorsy member of the family, that prefers to go on hikes and spend time in nature, and thus has a more comfortable and casual look.
Antler
Given that the two men who run Art of Play are twins with the surname Buck, an outdoor themed deck featuring the glorious antlers of a buck is a natural fit within the Art of Play range. This pair of limited edition 
Antler decks
 showcases the majestic and amazing beauty that is found outdoors.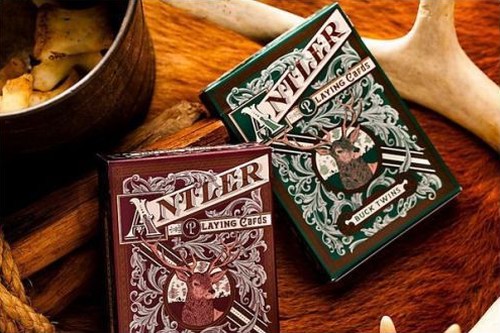 Available in Hunter Green and Deep Maroon, these decks have a back design that is full of detailed artwork. The beautiful flourishes surrounding the two twin bucks on the card backs are said to mimic the lush greenery that can be found within Yosemite National Park. This US national park is a popular place to visit, and is famous especially for its waterfalls and its giant ancient sequoia trees.
The exquisite Ace of Spades showcases an elegant and noble buck, with beautiful natural ornamentation around his horns, which illustrates the theme of the deck beautifully, and complementing the back design well.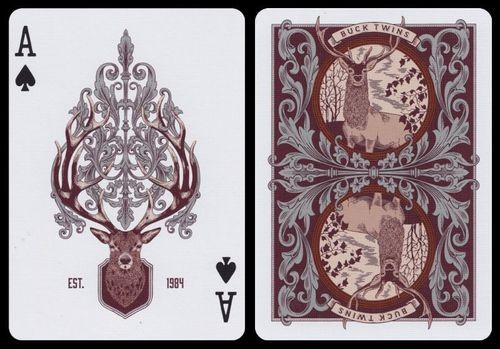 The court cards are depicted in a traditional style, with a colour scheme that also suits the rest of the deck.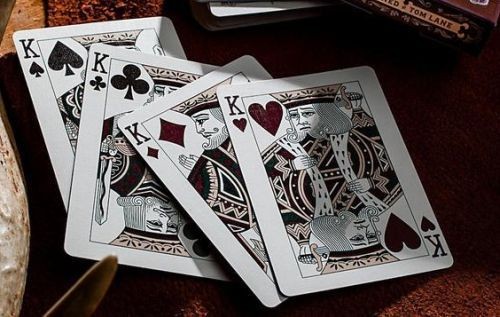 FOR COLLECTORS
The decks in this category have a higher degree of customization, and while that can make them less suitable for practical purposes, their creative elements are exactly what makes them highly appealing and attractive to the collector.
Ultimate
The 
Ultimate deck
 is truly a work of art - literally! All 54 cards in this deck are unique works of art, and feature different images by a range of artists. The tuck box is embossed, with silver foil, and a custom stamp seal - so it's a very stylish look right from the moment you first get this in your hands.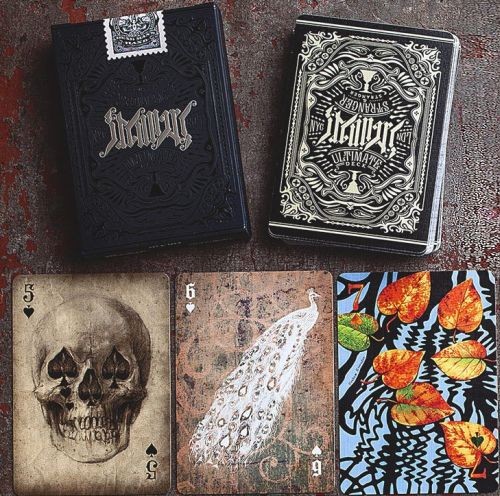 The deck was the result of a collaboration with award-winning design firm, Stranger & Stranger, whose name you'll also find incorporated on the intricate back design.
Each card is its own unique piece of art, often telling a story that incorporates classic or modern art. Many of the cards use a transformation style, which is where the pips are cleverly integrated into a large work of art.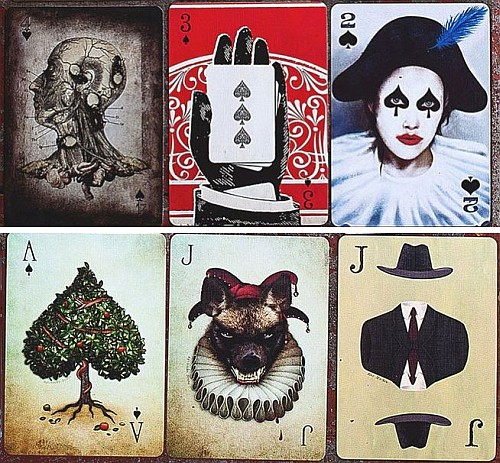 Some cards may look a little macabre or dark, but the majority of the artworks are simply gorgeous and attractive images. With this deck, you're getting a miniature art gallery, with over 50 separate masterpieces, all worthy of being admired and enjoyed!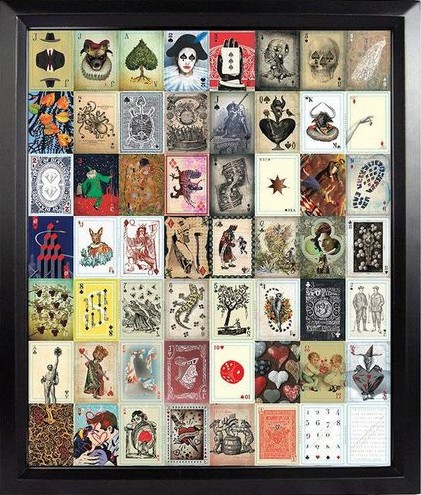 Into the Weird
The 
Into the Weird deck
 is truly a weird and wonderful deck of cards, just as the name suggests. Everything about it is truly out of the ordinary, and the tuck case immediately gives a taste of what the deck is like, with an image that invites us to come inside an unusual cave entrance. Opening the deck involves entering into a weird and strange world, and the unusual red and green colours help emphasize a sense of the strange and ghostly.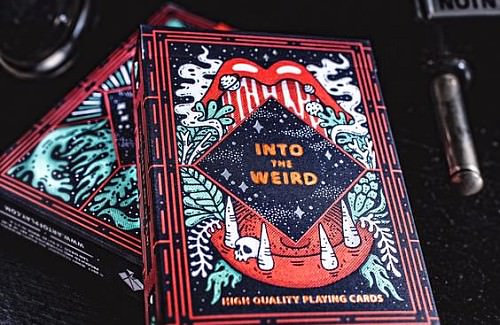 Art of Play produced this deck in collaboration with Jenny Gebhardt, who was inspired by a fascination with the strange and unusual. A special card is included to explain her back story about unspeakable experiments that have happened inside a mountain laboratory. In opening the deck, we are joining travellers in a dreamlike state who enter a black cave filled with hideous traps and dark occupants.
The back design of the deck uses the same strange and mysterious colours as the tuck case, and features a large eye in the centre of a starry diamond, with green plant-like ripples coming off it. Everything about this design confirms our initial impressions: we are really entering the realm of the strange and unusual.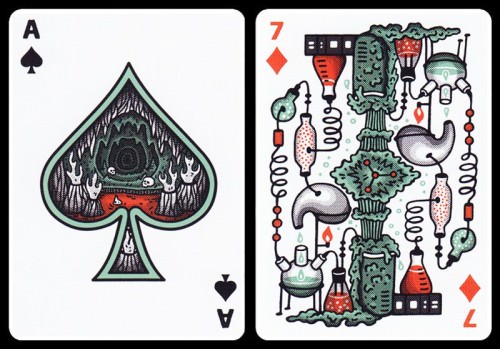 The faces all have unique eye-catching artworks, and each suit has its own "theme" (Diamonds = air/science, Clubs = earth/nature, Hearts = water/dream, Spades = fire/nightmare), yet the indices are nonetheless clear and distinct. The court cards also have a very unique feature in that they have slightly different artwork when rotated, giving added details to explore and enjoy.
More surprises await discovery by the curious, including full interior printing on the inside of the tuck case. While not for everyone, this is certainly an intriguing and interesting deck that stretches us far beyond the ordinary!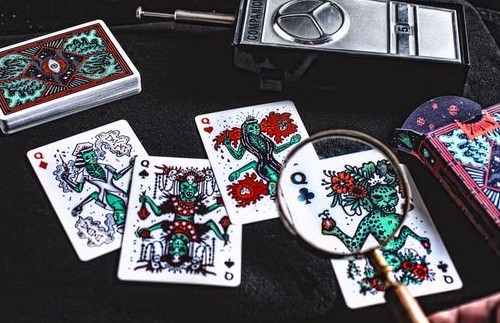 Seekers
The unique 
Seekers deck
 features functional cards that have been well illustrated by talented graphic designer Billy French, and tells a special story of two parallel worlds. The torch on the navy blue tuck box represents an ongoing struggle for victory before our light is extinguished, while a giant Spade pip covers an archway that has a starry background.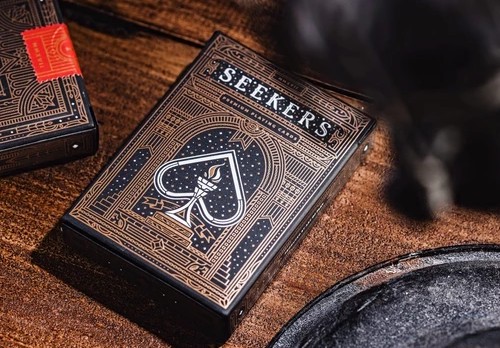 The interior of the box has been printed with a gold metallic ink, and has been designed to create the impression of a starry night of darkness inside the box, adding an extra touch of quality and style to the deck, and evoking a sense of elegance and sophistication.
The cards have a single blue coloured back design, with an economy of design that ensures that it is not too distracting for users of the deck, while at the same time not detracting from class and style. In the centre of the card backs is a large diamond with a starry night sky, and two entwined rings with the Eye of Providence in the centre, representing the fact that there is a God watching over everything.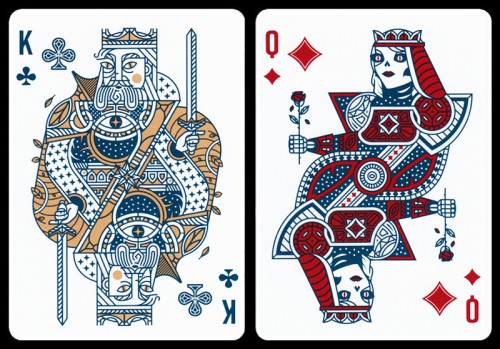 On the faces, the Clubs and Spades employ a blue matching the colour used on the card backs, ensuring an overall thematic unity. The indices of this deck are very clear, despite the pips being heavily customized. The court cards of the Hearts and Diamonds depict undead characters, juxtaposed against the living characters found on the Clubs and Spades.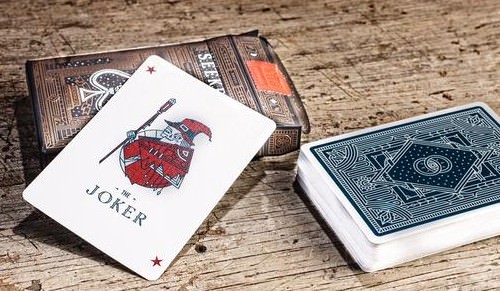 Bruce Lee
In collaboration with Bruce Lee Enterprises, Art of Play has produced a wonderful 
Bruce Lee deck
 (V2), which is a delightful follow-up to an earlier deck created as a tribute for this famous martial artist's 73rd birthday. The tuck box is presented in a matt black finish, with the shadowy figure of Bruce Lee emerging from the darkness, and his signature in bright yellow.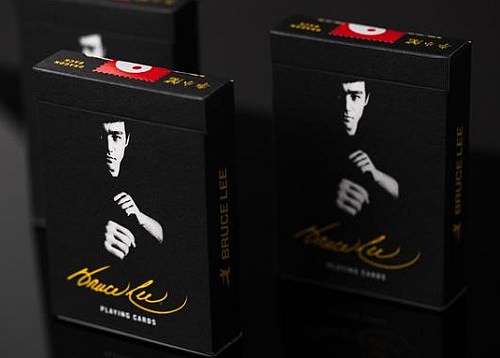 Bruce Lee wasn't just renowned for his martial arts, but also as a philosopher, and this commemorative deck contains 52 quotes that illustrate his perspective on life. One of the extra cards included in the deck explains something of his philosophy as follows: "
Bruce Lee's art was steeped in a philosophical foundation and did not follow long held martial traditions. Instead it had its core the ideas of simplicity, directness, and personal freedom
."
The black and yellow card backs have a vibrant two-way design featuring dragons. The faces feature black rectangular panels with white borders, and contain a Bruce Lee quote in white capital letters, with Lee's signature below it.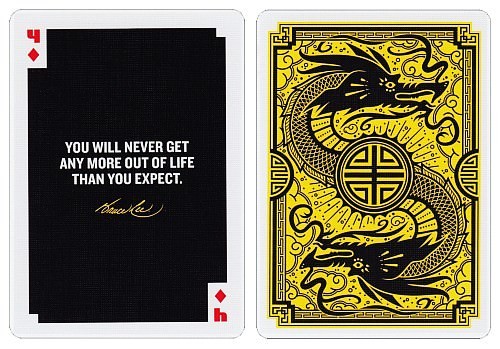 For example, here's a quote from Lee from one of the bonus cards included with the deck: "
I fear not the man who has practiced 10,000 kicks once, but I fear the man who has practiced one kick 10,000 times
". The only pips to be found are on the indices, and these add to a real sense of customization.
This deck is a beautiful homage to a popular martial artist. As for the handling, like Bruce Lee himself, your moves are going to be smooth and slick courtesy of USPCC's crush stock finish, which ensures that flourishes will be consistently good.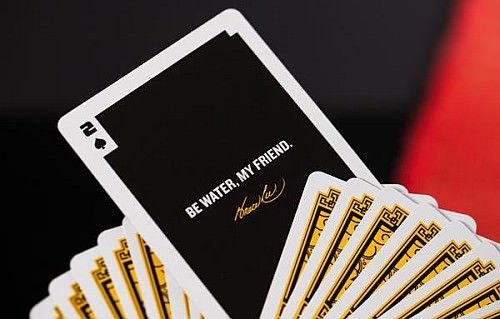 Impressions
So what can you expect of playing cards produced by the Art of Play brand? Many of their decks qualify as being unique, with a creative style hard to find elsewhere. If you're looking for that one-of-a-kind high end deck for your own enjoyment, or a gift for a magician, cardist, or collector, then chances are good that one of Art of Play's in-house decks will meet your needs. Here are some of the qualities you can expect from this brand:
Cardistry:
 Since Dan and Dave Buck are cardists themselves, they have a real love for card flourishing. So it's no surprise that a large number of the decks that they have produced lend themselves particularly well to this growing art-form. Card flourishers are fussy about the decks they use, because it is essential that their playing cards handle well. But equally important to them are the colours and patterns of the design. Cardists know that the visual aesthetics of their art-form will be magnified when combined with colours and patterns that accentuate the movement of cardistry, and Dan and Dave's own expertise in this area ensures that the decks they have created for cardists are truly a dream to use.
Creativity:
 Some of the decks produced under the Art of Play label exhibit amazing creativity. The Ultimate Deck, for example, is like a miniature art gallery, and each individual card can be studied and enjoyed. The Art of Play cardistry decks typically are full of flowing colours and patterns, while their decks geared towards collectors offer original and fresh designs that are fun to look at and use. Even the more `standard' decks geared to card players and magicians feature creative touches on the tuck boxes that helps set them apart from your ordinary playing cards.
Luxury:
 Even the more "ordinary" decks listed in the Art of Play catalogue are luxurious, because their brand is all about producing classy playing cards that are well suited for gentry. The Dan and Dave brand is all about sophistication, and this is evident from the moment you first hold these decks in your hands. Not only are the cards themselves good quality, but a great deal of thought has gone into designing and producing the tuck boxes. Carefully placed foil accents and embossing add elegance and style, while even the more earthy decks have been carefully and thoughtfully crafted to accentuate an outdoorsy feel that is still refined and geared towards high-brow gentlemen. Clearly Dan and Dave don't settle for second best, but only want to produce the most outstanding and high quality decks that cater to the discerning buyer.
Quality:
 The decks featured in this article are prime examples of the high quality designs that Art of Play is contributing to the playing card industry, and the quality of their decks is consistently excellent. The quality applies not only to the design of the artwork and tuck boxes, but equally to the cards themselves. Dan and Dave have good connections in the playing card industry to ensure that the cards they produce meet the highest standards in every way.
Performance:
 Not only do their decks feature the best in looks, but the creativity of the designs is consistently matched by quality production that offers smooth and consistent performance. Most of their decks have been produced by US Playing Card Company, a reputable and established printing company that produces the Bicycle brand of playing cards with their proven air cushion finish. Using an industry leader like this ensures that we can expect consistently good card-stock and finishing that will be durable and will handle smoothly. Many of Art of Play's newer decks are printed on USPCC's popular crushed stock, which means that the cards are softer than usual, and are ready to use right out of the box, whether for games, magic, or card flourishing. It's evident that Dan and Dave only want to produce and stock playing cards which will offer a level of performance that matches the good looks of the cards themselves.
Variety:
 Art of Play has a solid variety of decks of cards in their catalogue, and their home grown range is very strong, with different styles to suit the cardist, the card player, the magician, and the collector. The selection of decks reviewed above in no way exhausts what Dan and Dave have produced. Each year they are producing over a dozen great new designs, and they have created something for everyone - you just need to look!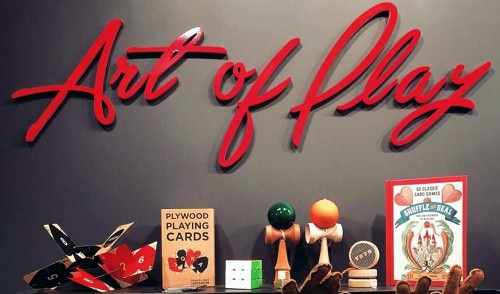 Final thoughts
So are decks from Art of Play something for you? If you're a collector, card gamer, cardist, or a magician looking for an eye-catching and quality deck of playing cards that looks great and performs well, the Art of Play brand is hard to beat. This brand has a stellar reputation for wonderful decks well-suited for card magic and for card flourishing, as well as fun novelty designs. By collaborating with world class artists and creative thinkers, Dan and Dave Buck continue to ensure that their growing catalogue includes fresh new designs that are exactly what consumers today are looking for.
More importantly, Dan and Dave Buck's own background in cardistry and magic means they have a lot of first-hand expertise with playing cards, so they are in tune with the looks and handling that a good deck of cards needs. They also demand the highest standards of quality that ensures that they make only the very best. As a result cardists and magicians can be confident that Art of Play's carefully curated collection only includes the top patterns, colours, and designs that will serve them well, because anything produced under this label first has to meet Dan and Dave's own exacting standards for visual aesthetics and performance. These guys understand what kinds of designs are appealing and functional, because they are cardists and magicians themselves.
With fresh designs, as well as carefully placed details on the tuck boxes like foil accents and embossing, these are exquisite and high class products that are certain to please the discerning buyer. Whether your interest is in card games, card magic, card flourishing, or even just card collecting, you're almost certain to find some treasures in the growing collection of playing cards produced under the Art of Play label!
Where to get them?
 You'll find a range of Art of Play decks on PlayingCardDecks.com 
here
; also click the names of the decks featured above to go to the product pages for each.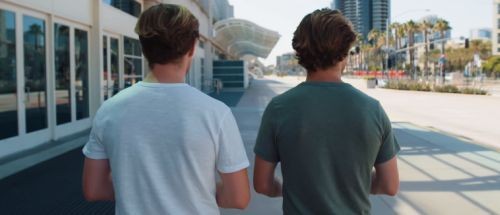 Want to learn more? Check out

 

Art of Play

 

over on their

 

official website, or on social media (Facebook,

 

Twitter,

 

Instagram,

 

Pinterest)


About the writer: EndersGame is a well-known and highly respected reviewer of board games and playing cards. He loves card games, card magic, cardistry, and card collecting, and has reviewed several hundred boardgames and hundreds of different decks of playing cards. You can see a complete list of his game reviews here, and his playing card reviews here. He is considered an authority on playing cards and has written extensively about their design, history, and function, and has many contacts within the playing card and board game industries. You can view his previous articles about playing cards here. In his spare time he also volunteers with local youth to teach them the art of cardistry and card magic.


Last update date: 5/12/20