by BoardGameGeek reviewer EndersGame
Cotta's Almanac Reproduction Decks and AZURED OX
A deck of playing cards is really a portable portfolio consisting of 52 miniature works of art. And when it comes to these collections of art-pieces, few decks are better than 
transformation playing cards
. These cleverly transform the pips on the cards into a larger single work of art. For example, a creative artist might transform the Hearts into faces, the Diamonds into hats, or the Clubs into leaves on a tree. Transformation decks exhibit a level of creativity and ingenuity like few others, because their creators need to be creative, imaginative, and original, while working within the limitations of having pips with fixed shapes in fixed positions.
Transformation playing cards first started appearing in the 1800s, and especially in the latter half of the nineteenth century there was a real boom. But the honor of the very first published and complete deck of transformation cards goes to Johann Friedrich Cotta, the man at the helm of publishing house J.G. Cotta from Tübingen, Germany, around 1804. J.F. Cotta went on to produce a series of six playing card almanacs in successive years from 1805-1811, with a new deck appearing in all but one of those years.

For a couple of years now, Will Roya from PlayingCardDecks has spearheaded a special project to produce reproductions of these rare and historic decks. The 
first five decks
 of the series have already been printed, and 
the sixth and final deck
 is now up for crowdfunding on Kickstarter. Not only do backers get the opportunity to get the latest deck in this series, but there are also special options that enable consumers to get the entire series at a great price.
The person chiefly responsible for the actual making of this lovely set of reproduction decks is a graphic designer who was born in Czechoslovakia, who goes by the artist name AZURED OX. With painstaking precision and dedication, she recreates the cards digitally to ensure that they capture everything of the original work. She's already recreated reproductions of several other delightful historical decks in collaboration with Will Roya. But this epic project with the Cotta's Almanac decks is arguably her crowning achievement yet. In light of the completion of this project and the release of the final deck on Kickstarter, she kindly agreed to do this interview with us.

The Interview
General background
What can you tell us about yourself and your background?
I am Ms. Alexandra K., also known as AZURED OX. I am all kinds of games, playing cards, and art loving visionary, enthusiast, collector, creative artist and designer. I would describe myself as introvertly imaginationally unstoppable, grounded, upbeat, and approachable, and a customer-loving hustler.

To the Kickstarter community I am well known as an "artist" for re-creating many playing card reproduction decks, as part of a personal "hustle" full time collaboration with Will Roya at PlayingCardDecks. I am a passionate playing cards enthusiast, motivated to contribute to the community of playing card enthusiasts. I have recreated or breathed new life into over 15 different historical decks (many more when considering variations of card backs and tucks). With PCD I am mainly focused on going forward to the time past of historic playing cards, and bringing out their stories to the future.

At the same time I am writing down another hardcore life story as US startup foreigner founder chewing glass on the own deep challenging entrepreneurial stealthy mission doing some kind of entertainment industry revolution and designing the future of interactive play, but I can't say more about that at this "seeding" time. (I risked everything to might make the vision happen and come into life, doesn't matter what, and so this way to bring happiness and make happy hundreds of million people around the world...)
What can you tell us about some of your other interests?
I have always been a collector, and I have been collecting everything that it is possible to collect. This shapes my creativity all the time, and I am saving my memories into my collections, which is an enormous source of important inspiration for everything I do in life.

I started with children's fairy tales books, tiny comics from chewing gums, coloring books, and stickers from sweets. A big game-changer for me was when the Disney influence arrived here after communism in 1991. Publisher Egmont CSFR (Czech and Slovak Federative Republic) began publishing Mickey Mouse Magazine and later DuckTales. Disney cartoon movies also came on TV, such as DuckTales, Gummy Bears, Rescue Rangers, Chip and Dale, and TaleSpin. I got addicted immediately.

I was also obsessed with table top games, and with collecting the memory pairs game PEXESO, plastic toy 80's C-chains, figures from Kinder Surprise eggs, addicting sticker albums, some collectible card games, stamps, and vinyl records collection mostly of US and German techno (I spent years of mixing "underground" music). I am also a huge fan of Lego, fantasy games, and sickly obsessed with the wizarding world of Harry Potter ... and finally playing cards.

I have admired David Copperfield from childhood, I even did his card magic tricks. One I reversed engineered together with my father after watching his performance on TV. I performed it with my other magic tricks and "mathemagic" at school Christmas presentations. Except doing crazy card tricks and hunting lizards on the meadow for their "dropped" tails which I wanted to use in my desired special color changing and sparkling flame magic (fortunately never reached that goal). I also spent long, long hours patiently building houses of cards.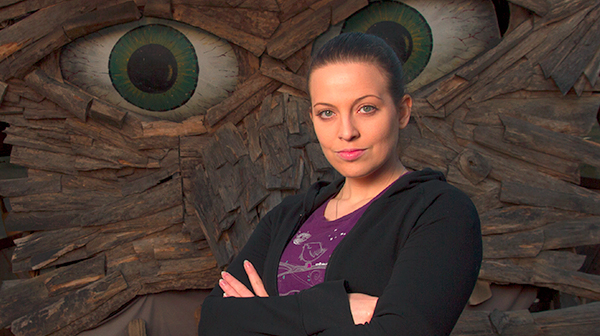 How did growing up in central Europe shape your development as an artist?
I was born in central Europe in Czechoslovakia, which at that time was a communist country under totalitarian rule, and remained so until the 1990's. For many years anything belonging to or originating from Western countries and cultures was kept out. Everything was subject to heavy censorship from the controlling communist party, including language, literature, movies, music, toys, food, drinks, clothing etc.

Thanks to my grandfather I always felt my soul tend to escape to the forbidden fast-developing West, and my heart loved everything from there. He was a reputable electrical engineer and pioneer of Czechoslovakian television with executive function there. He was also the leading expert member of the European Broadcasting Union in a group which participated - even in these socialist times - in the remarkable team of Walter Bruch, who invented the first PAL system color television broadcasting. My grandfather could travel out of Czechoslovakia due to his work as an engineering inventor without being in communist party. Color television was a huge step forward for the entertainment industry.

Thanks to God and my grandfather (who was also a talented hobbyist art photographer), I could grow up in a family which could smell the influence of the West much more than most people here. As a child I went to television studios and saw everything behind the broadcasting and recording, such as music composing, sound-making, costumes and makeup, and even movie shooting itself. I actually played in cinema movies many years later, and was in photo modeling. Later this led me to establish my own studio and career as a professional photographer and art director. My love for visual stuff, my ear for music and everything creative, had an amazing base and roots there when I was young. I am very thankful I could spend so much time with my grandparents, and that my father supported me in everything from a young age.

Although the socialist times are so-called "over" today, I still strongly feel the impact of them, decades into the new millennium. It is somehow still imbued and firmly rooted in the minds of folks here, and that drives me mad. I am a highly creative person that often feels like I'm fighting through dark times in a hostile environment, working to exhaustion just to stay alive. But my vision is to bring happiness to other people, and that keeps me going.
What is your professional background?
My background doesn't include a degree in Fine Arts, because I am just a self taught artist. I have always loved to be creative in everything. In my spare time, besides drawing illustrations and designing graphics, characters, and games, I am also a fantasy narrative writer, and hobby music composer. Unfortunately to be creative in these areas requires plenty of time - which I wish I could have more of.

My initial experience in the workforce was as a full time "IT guy". For many years I was involved in creating websites, and I did information technology work as a project manager. I was the electronic data interchange coordinator and a programmer administrator at one of the largest retail chains in Europe headquartered in Germany.

I realized I was not happy as an employee, and that this suppressed my creativity. So I gave a precious gift to myself. When I heard that "calling", I left the comfort zone of regular payroll and "toxic" work culture. As a creative person I decided to do art and wanted to find my passion. I temporarily started my creative studio and professional photography, while researching the next steps for establishing a startup. I started with illustrations for children's books. And I became more obsessed with playing cards.

At this time, on a way in the darkest of times, I met Will Roya, another strongly passionate entrepreneurial founder, establishing his business dream of the huge house of playing card decks, and in addition, Will just had a vision of producing custom playing card decks. Playing cards were always my heart thing, they accompanied me somehow in significant moments all my life and our collaboration led me to discover the different types of decks on the market. So I became obsessed with collecting and creating historical decks, and bringing them back to life for collectors. I have always felt like a part of PCD, and am always happy for any small success we have together.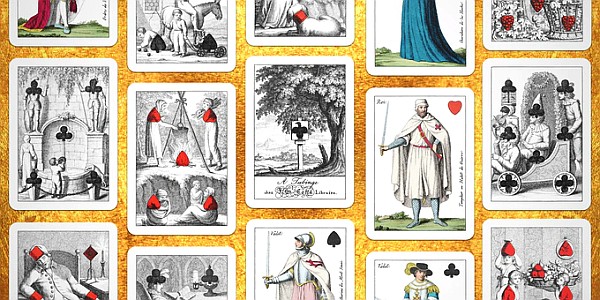 What positive lessons have you learned from personal hardship and hard work?
There were difficult COVID-19 times that arose later, as well as my daily battles with anxiety and frustration, making it unstable and harder. But thank God and Will I could or still can see the warm bright light. I have run a rat race at times, but in working to the point of exhaustion I am grateful I have been able to handle overwhelming everything. And I have a hopeful dream I may even finally move and immigrate legally to the US, to live there and build a successful US company as a proud American.

Some people think that spending 2-5 years to build a business is a long time to achieve this. I always say it doesn't matter where you are, it matters where you are going. I don't compare myself with anyone. The sun and the moon rise when it is their time.

And don't let the darkness of the past cover the brightness of the future. No matter how many days you have spent crying, no matter how hopeless and depressed you feel, no matter how many days have passed wishing things were different. I say just keep going every day, no matter how stuck you feel, and no matter how bad things are right now, or how much you are struggling right now.

The universe and God knows what's best for us, and the biggest leaders are those with the most scars. Every time I thought I was somehow slowed down from something good, I was actually being redirected to something better. The problem with shortcuts in life is that you may arrive prematurely and unprepared. I believe everything has its own time, even our personal achievements and success itself! Creative work is the same. Sometimes it appears immediately and you don't even know how it came. But sometimes you can't get a creative idea for hours, days or weeks.
What else captures your approach to life?
Walt Disney once said: "I am interested in entertaining people, in bringing pleasure, particularly laughter, to others, rather than being concerned with 'expressing' myself with obscure creative impressions."

Call me crazy, but I love to see other people happy and succeeding. Life is a journey not a competition! I believe that happiest people are the givers not the getters. Just as important as having what you need to stay alive is to give to others.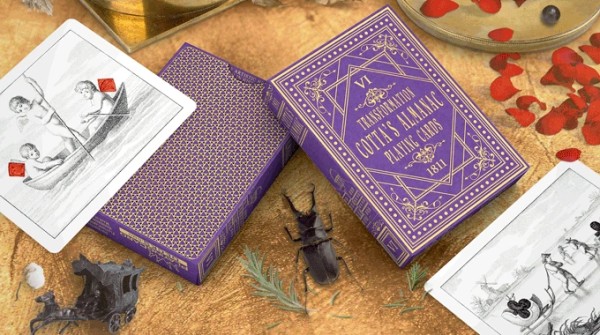 Creating playing cards
How did you get involved in creating playing cards?
My life is similar to the strong stories of well known successful or rich people who began with a poor beginning. My passion for a cause and a calling faced big challenges due to the condition of the country where I am forced to live, while I was undertaking steps to establish a US startup company as a foreigner. In the darkest of times I met Will Roya, another strongly passionate entrepreneurial founder, who was establishing his business dream of a huge warehouse of playing card decks.

In addition Will had a vision for producing custom playing card decks, and I was searching for another creative work opportunity after finishing off some previous children's books illustrations and dull freelance graphic designs stuff. Playing cards have always been my heart thing, and have accompanied me in all the significant moments through my life, so I had a gut feeling it would be the right thing to take this opportunity.

I suggested some kind of creative collaboration to Will, combining my own understanding of starting up a business with his passion for starting PCD, and mutually helping and advising each other to fulfill his goals, and develop collaborative projects. We have built a long-term relationship based on trust, and I have never perceived Will as "client" and myself as only as "artist". From the beginning and the entire time, I have felt that I have been part of PCD. I am glad for the opportunity to contribute towards each tiny success and step forward together, with a motivational bright light of the future in front of us. As Albus Dumbledore said, "Happiness can be found, even in the darkest of times, if one only remembers to turn on the light."
What was the very first deck you created?
Friendly Felines. It was a funny and light deck made fairly quickly from my old children's book concept work.

If I still remember well, we wanted to start with some crazy themed decks to make an initial impact on Kickstarter. It was like prototyping a base of backers. The idea was just to do something, no matter how small. The most important thing was to get through the pledging goal without the campaign failing, and to stay alive.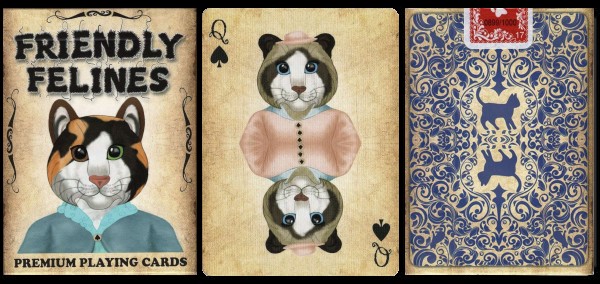 Which decks have you produced besides the Cotta's Almanac decks?
All my decks have been produced by Will Roya and PlayingCardDecks, and I am only behind the creation, art reproduction, and eventual design. I also contribute information and historical facts about decks when I find important data.

These decks include Squared Faro in color variations with snowflake backs, and Vanity Fair No. 41 in two color variations and different card backs. I also did two versions of Hustling Joe No. 61, two versions of Ye Witches No. 62, and Circus No. 47 in two color variations.

Another interesting reproduction I did was the Comic Eclipse deck in two color variations, which was the first transformation deck in the United States.

So there is the Friendly Felines, the above-mentioned reproduction decks, plus the six deck Cotta series.
How would you describe the style of your decks?
Nearly all of my decks have been historical reproductions for now. The only original deck I created was just to help grow the PCD business as quickly as possible at that time, and I consider it a kind of prototype or beginner's deck.

But some newly designed creations by AZURED OX will probably come in the new year. I think it will be the start of a new chapter. I hope an AZURED OX project will be supported by backers so I can keep improving and make my hopeful US dream come true as fast as possible.

I can adapt almost any style. Mostly I love to work doing digitally free hand drawing on a graphic tablet. But basically I am flexible, and I can make cards in any style. So there are still many reproduction decks in front of us.
Which decks in your portfolio of created designs are your favorite, and why?
I love almost all the card back designs of the USPCC reproduction decks I have done.

For face cards, for sure I like the whole Cotta series. There was plenty of fiddly work involved for each card, and I love their hidden secrets and stories and the all-round mystery. There is also a strong influence of Biblical stories on these cards, and I feel the atmosphere of that age very strongly.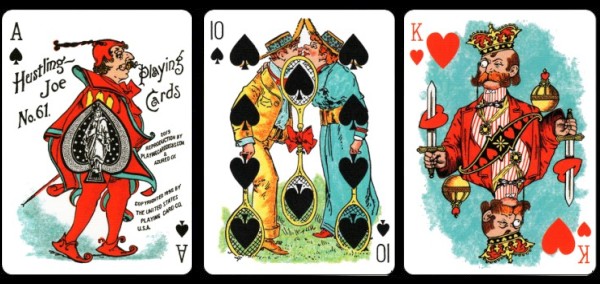 Creating historic reproduction decks
How much time does it take to make a reproduction deck?
It depends on style and complexity. For the challenging Cotta series, it was approximately a few months for each deck in the series. This involves fiddly work every day, with many hours concentrating on tiny points and details. It often resulted in conjunctivitis and sore eyes. The worst for me is the allergy season, which complicated my work a lot with sinusitis headaches.

It is around 1-3 days per card for the complex transformation cards. And for the Cotta series, there was also deep research of data behind the deck.
What are some of the easiest and hardest parts of the process in making a reproduction deck?
The worst is when something crosses workflow and interrupts your fluency. It could be anything unexpected, or my seasonal allergy symptoms. So the most frustrating thing is when I wrongly estimate the time needed for creation. Often I need to extend hypothetically set deadlines, and I am not able to stick to my original timeline and submit final print files as I had planned to do. But I would never submit something that wouldn't be properly checked at least 7-10 times first.

Will once said that if it was easy, everybody would do it. No part of the process is easy. I am nervous even when everything is at the printers.
What are some of the things you enjoy about this work?
I always love to bite into a new project of playing cards, to bring them to life. I like using techniques to adapt the style as close to the original as possible, like a restored piece of art. I also love the creative freedom.

I just enjoy the final deck. And I enjoy seeing people loving them. Most of all I am happy when I can read positive testimonials by backers and customers or reviewers. I always love to watch Magic Orthodoxy's videos, and reading backer's comments or extensive articles by EndersGame.
What characteristics of these decks do you hope people will especially appreciate?
With reproduction decks I am doing my best to recreate them as closely as possible to their historical original.

But I like extraordinary and sophisticatedly decent traditional or classic decks, because they have a timeless magic about them. I have an idea for a series that would be elegantly designed for magicians as well as for collectors and playing card enthusiasts, and I can't wait to work on it.

Which printer do you use to make your playing cards, and why?
Will's decks are mostly printed by USPCC, and I am confident in them for preferred paper stock. But after the acquisition of USPCC by Cartamundi, I am open minded about using either Cartamundi printing house for AZURED OX's newly designed projects.
What has it been like working with Will Roya from PlayingCardDecks?
Will trusts my judgment in everything. I love to travel back in time, with the personal freedom he gives me to be creative in bringing all details as closely as possible to the originals that are hundreds of years old.

I love to contribute to PCD with my suggestions for improving things, because I am passionate about playing cards and everything Will does. But I am always doing my own research on everything about playing cards and sometimes I feel pretty much obsessed. I want to have everything perfect and I check everything ten times, to make sure everything is right the very first time that it gets submitted to the printer.
What do you wish consumers realized more about creating a deck?
Creating a deck of playing cards requires precision, and is a time consuming work. Even for the person who is passionate, it can be grinding for a long period of time, and even for years.

For me I am surrounded with circumstances and concerns, and under the pressure of many matters. This means insufficient sleep, because I am an early riser who also stays up late permanently, so I almost do not know which time zone I am truly living in. I am working patiently, yet thinking creatively, and the power of never giving up is real. We (creators) don't do it for ourselves. We do it for people (playing card enthusiasts)!

Also, it is very often a budget thing. So support is very important for opening up new possibilities of artistic endeavor, and ensuring proper compensation for each creator.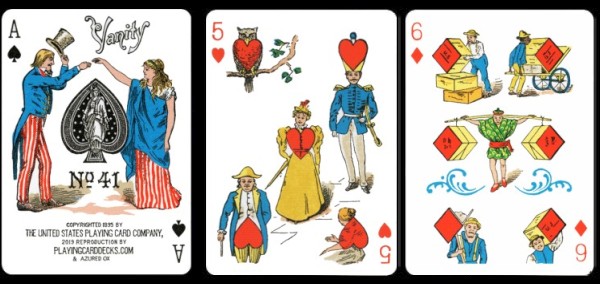 The Cotta's Almanac series
How did you get involved with the Cotta's Almanac series?
We were at the end of USPCC reproduction decks when Cartamundi signed an agreement to buy and acquire The United States Playing Card Company. Will didn't get permission to do more of these copyrighted great historical decks for their reproduction. So we decided to find something else and we have just chosen something that is pretty challenging.
Of all the Cotta decks, which is your favorite, and why?
Of the Cotta series, maybe the 5th deck is the one that I like the best of all, because of the Aesop fables and mythological stories, and the funny court cards.

But the 2nd second deck is also very interesting with interesting meanings. And the 6th and last deck is sealing the series with the enigmatic "masonic" question, that someone could find really interesting to investigate through all Cotta's series.

What is your process in creating a Cotta reproduction deck?
For any deck or creative work I am crazy, because I love to be focused completely on the deck I am recreating. So I want to feel that atmosphere under my skin, and bring the cards back into life as close to the original as possible. So I listen to the thematic audio books and do my own research, because I am interested in the history of the location, and I dive deep into the art, the mysterious meaning, and the symbolism on the cards.

You need patience, and the right mood, and work hard for that feeling when you get to the last card. After a long period of time you can find yourself in a never-ending loop. Because you always can find something to improve. So often it takes longer than I first assume. That's why I can never say the exact time for how long it takes to finish a deck and have it ready to be printed.
Did your view on the Cotta decks change throughout the process of working on the series?
When I first started working on the first blue Cotta deck, I had no idea that all the decks in the series were connected to Schiller. I realized this gradually, deck by deck. At first it scared me, but then I got obsessed with searching for more information about it. I am still sad I couldn't find more time to study these cards more deeply on this point. If anybody knows more about it I would be glad to receive any further information about it.
Can you tell us anything interesting you discovered while researching the Cotta decks?
Each card has a deeper meaning as you look at the theme of the cards in each of the decks of series. I started to notice this mysterious thing after finishing graphic editing of text for a comprehensive Cotta Guide to use with the Cotta #1 deck for fortune readings and cartomancy.

It seems to be that some base thematic transcendent concept might be continuing throughout the all decks in the series. But it is up to each individual to observe this, and what they make of this. I can't say more at this point about using cards for kind of divination or as so-called fortune-telling, because I am a faithful believer, and despite my huge love for playing cards, I don't use them for this activity. Even tarot cards I admire just for their art, their deep meanings of symbolism, and use them only for some kind of transcendental self-reflection. For example, there are recurring elements like water and fire, or other situations captured on the cards. Sometimes I have the feeling that Cotta cards are mystifying me.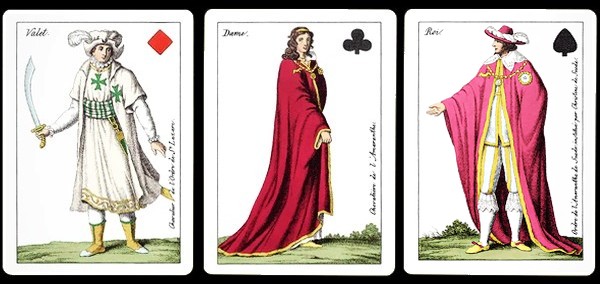 What do you personally like about transformation decks?
I like the intriguing arrangement of the pips and artwork on each card, and the need to creatively manage the space and artwork together.
Are there any other transformation decks that you especially like?
There is a transformation deck that I saw previously at an auction, which seems to be very interesting to reproduce in the future. I have very limited information about it, and don't know the name or the issue year of this deck. Hopefully I can figure it out soon, and that I can bring it back to life together with Will some day.
What have you learned from the experience of creating the Cotta's Almanac decks?
All the decks I have been involved with have influenced and shaped my interest in the history of playing cards more deeply. I love the hidden secrets and the mysterious symbolism, and all the elements behind the scenes.

I love old things and an antique atmosphere, so this may eventually be reflected in future playing card projects that I plan to do in the coming year. I plan to make decks that are created not simply as an artist, but as a collector and a card enthusiast myself in every aspect. I can say that each deck I have brought to life and reproduced has moved AZURED OX to the next level of perceiving playing cards and playing card lovers.
Are there any upcoming playing card projects you have planned?
There is a set of two very interesting and colorful reproduction decks that are planned for launch on Kickstarter in December. I am also currently working on another mysterious oriental reproduction. And there are many more reproductions in the queue for next year.

Besides reproductions produced by Will Roya, I am planning to launch my own AZURED OX designed decks series in the new year, if everything goes well and if there is enough support from backers. So time will tell, and we shall see. I am brainstorming and have plenty of ideas. My mind is like my internet browser with hundreds of tabs open, three of them frozen, and I have no idea where the music is coming from!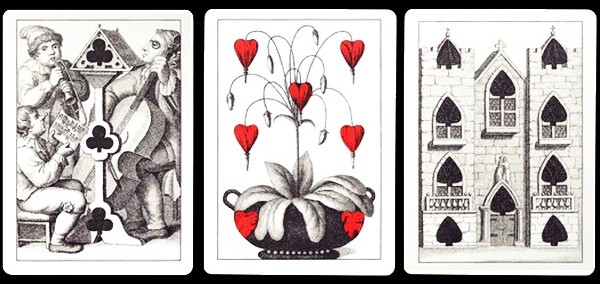 Collecting playing cards
What kinds of playing cards do you enjoy collecting yourself?
I am a huge collector of everything that can be considered collectible. From the first moment that I realized that there are so many amazing custom playing cards in the world, my heart is whistling for many of them to be added to my newly developed collection. I like various decks, but I can especially mention those by Theory11. I am also a huge fan of NOC playing cards by Alex Pandrea and Kevin Yu. I also like some tarot card decks for their art (you can see miscellaneous ones yourself at PCD's sister site Tarot Merchant).
What do you think about the explosion of custom playing cards that we are seeing today?
From what I can see, over the last years the industry is growing. Even more casual people are buying new decks. So this has potential to be a nice space for creative playing card enthusiasts and creators.
What impact has crowdfunding like Kickstarter had on the custom playing card industry?
With my entrepreneurial mind I am glad there is an opportunity like the Kickstarter platform that is focused on creativity. It's a great space for making your creative dreams come true. The company's stated mission is to "help bring creative projects to life". I love browsing through amazing Kickstarter creative projects almost every day. I think that it is thanks to this platform that custom playing cards could expand so much, with so many amazing decks created with its help.
Where will the custom playing card industry go from here?
There always will be new decks. And I believe that playing card manufacturers will develop new technologies, and produce innovations in much more sophisticated ways than we know today. We can already see this in ways that previous boundaries and limits are being broken.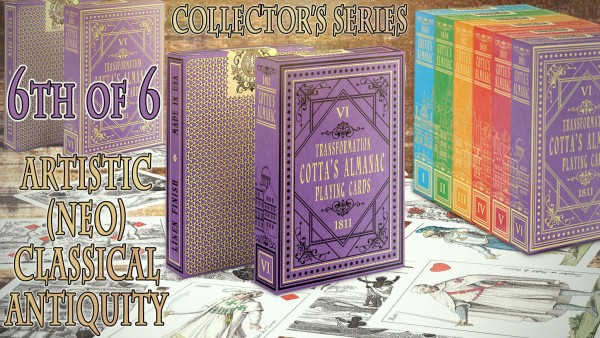 Do you connect with the playing card community in any way?
I am still getting to know the playing card community through forums and chats. But I am always glad to see feedback on playing cards art.
What advice would you give someone just starting to collect playing cards today?
With 1000 people you have 1000 tastes. For me it is always a heart thing. What I prefer to collect might be something that another person wouldn't like at all. So maybe look at the technical quality, or the purpose of what you need a deck for. Or else just collect what gives you pleasure.

Sometimes playing cards are pretty intriguing, so that at first sight you can't see the value of a deck, but later you find a real treasure in it. So don't hesitate to purchase a deck if you feel like it, because it could hold a great surprise for you.
What do you use playing cards for besides collecting?
As a child I was always building card houses, and playing Rummy and other card games. Now a deck of cards represents for me a box of art that is full of symbolism. So I look at a deck of playing cards as an art gallery. And I feel like playing a game with the deck or other manipulation could damage the art.

I also like some tarot decks for their deep meanings of art.
Is there anything else you'd like to share?
Maybe someone would like to know why I go by the name "AZURED OX". But as a woman I would rather not tell, because it could disclose my age.

But thank you for your support and your passion and commitment in helping bring amazing projects to life, and helping make them happen for us all!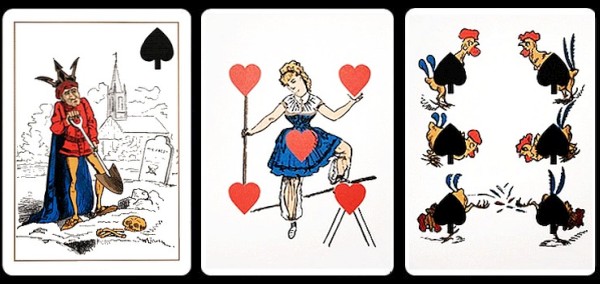 Conclusion
AZURED OX and Will Roya have made a wonderful contribution to the playing card industry with their historic reproduction decks. I love the previous releases that AZURED OX has been involved in producing, particularly the Hustling Joe deck from 1895, which features vibrant colors and charming artwork. And the Cotta's Almanac series is both historically significant, as well as creative and beautiful. But all of these historic decks have their appeal, and are well worth taking a look at.
It's obvious that AZURED OX has spent a huge amount of time giving careful attention to all the details, in order to provide modern collectors with a product that is the very best that it can be. Her own life story is one that involves a road where there have been elements of real darkness and challenging personal circumstances. Yet clearly she hasn't allowed that to be the only determining influence in her life, and her creative work has proven to be a source of inspiration and a shining light.
But AZURED OX's personal story isn't just a narrative of triumph over circumstances. By keeping herself motivated in this way, her goal has been to inspire all of us with some wonderful creative artworks to enjoy. And with these delightful reproduction decks that she has helped bring back to life, she has found a way to reach back into the past, and give us something positive to enjoy in our own future. For that she deserves to be applauded, and her work appreciated and admired.
The playing card industry has a rich heritage, and creative persons like AZURED OX and producers like Will Roya are doing us a real service by preserving this heritage in the form of high quality editions of historic and beautiful decks. It's important for us to build on the creativity of those who have gone before us, and the historical significance and beauty of the iconic Cotta's Transformation Playing Cards is particularly notable. The sixth and final deck of the series, dating from 1811 and themed around knightly orders, is a compelling piece of work, with attractive court cards depicting members of various knightly orders.
I'm very pleased that we can now get the entire set of six Cotta's Almanac decks at a very affordable price in editions of the highest quality, both technically and artistically. With committed and hard-working contributors like AZURED OX on board, the future of the playing card industry is bright indeed!
Where to get them, or want to learn more?
● Kickstarter: 
Cotta's Almanac #6 Transformation Playing Cards Reproduction
● Article: 
The Famous J.G. Cotta Transformation Decks
● Produced previously: 
Cotta's Almanac Decks #1-5
 (
also available as a
6 deck set
)
● Produced previously: 
Vintage Reproduction Decks
 (
also available as a
10 deck set
)
● Connect with Azured Ox: 
Instagram
 and 
Kickstarter


About the writer: EndersGame is a well-known and highly respected reviewer of board games and playing cards. He loves card games, card magic, cardistry, and card collecting, and has reviewed several hundred boardgames and hundreds of different decks of playing cards. You can see a complete list of his game reviews here, and his playing card reviews here. He is considered an authority on playing cards and has written extensively about their design, history, and function, and has many contacts within the playing card and board game industries. You can view his previous articles about playing cards here. In his spare time he also volunteers with local youth to teach them the art of cardistry and card magic.


Last update date: 11/04/21