by BoardGameGeek reviewer EndersGame
Why Card Magic?
Maybe card magic is what brought you to the hobby of collecting or buying playing cards in the first place. Or perhaps you've always wanted to give card magic a try, but never really knew where to start. Magic with playing cards is definitely a wonderful way to enjoy those custom playing cards you have! Every kid growing up should learn at least a few good card tricks, and all you need for that is a decent quality deck of cards, and the help of your public library, or of course the internet and youtube. So whether you're young or old, the present is always a good time to start learning some card magic, or to add some new card tricks to your repertoire. Whether you're a complete novice, or if you already have some experience but are looking to progress beyond the "beginner" level, this article should help you get on your way with that next step into card magic.
But why do card magic? To begin with, by doing so you're participating in a very old and respected tradition. You likely know already that playing cards have a long history that dates back several centuries. Initially they were a luxury item possessed only by the aristocracy, but mass production eventually helped bring them into the hands of the general public, and that eventually led to the arrival of card magic. The primary use for playing cards was to play card games. Unfortunately, making playing cards readily available to the lower class also produced a problem: it led to the gambling and cheating which caused the church to frown on playing cards generally. But this development also saw these same "cheating" techniques used for a different purpose, namely to create illusions designed purely to amuse and entertain. Since it was so familiar to the average person, the playing card became the ideal tool for the conjurer to incorporate into his theatre performances. The history of magic does date back much further than the playing card, and encompasses much more than just card magic. But today the deck of cards has become one of the most well known tools for magicians, and it is arguably one of the easiest places for the beginner to enter the world of magic.
There are many wonderful benefits to doing card magic. First of all, it is by its very nature about social engagement and making an interpersonal connection. In our age of technology such healthy human interaction is sorely needed. Secondly, it is a positive activity that requires learning, thinking, and practice. Anything that gets us busy in this way has the welcome benefit of pulling us away from passively activities like watching TV or cruising youtube. Thirdly, performing card tricks forces you to get out of your comfort zone, and is a wonderful way to build self-confidence. Fourthly, magic can be a great ice-breaker, and gives you the capacity to make connections with people. You will even become what somewhat famous and respected in your family or social circle. Fifthly, it's incredibly satisfying to figure out how an illusion works, understanding the bare bones of what seems to be a logical impossibility, and then recreating this experience for others. Sixthly, it can bring a lot of joy to those around you, by providing them with pleasant entertainment. I've often use magic to put a spark in someone's day and a smile on their face! Finally, for those of us who collect playing cards, it is yet another wonderful way to put our packs of 52 friends to good use!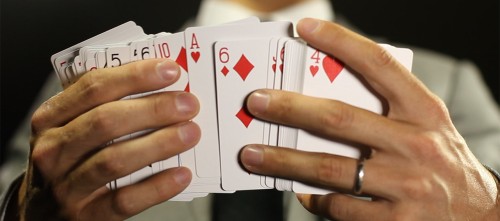 Your Deck
Card magic begins, very obviously, with a deck of cards. In theory, any set of playing cards will work, and famous magicians like Harry Lorayne were known for having a remarkable ability to do card tricks completely impromptu with any borrowed deck - even if it was well worn, dog-eared, and torn. But that's by far not the optimal scenario, and ideally you want playing cards that handle well, both for your practicing and for your performing. 
There's an old saying about using the right tools to do the job, so if you're going to do some card tricks, you should start by using a quality deck that handles well. Fortunately that doesn't mean that it has to be difficult to obtain or cost a lot of money. As for that completely worn deck in the hallway cupboard, the one that has some cards missing while others are torn, dog-eared, and dirty? Let's not use that! A deck like this will only make your life harder, because the cards won't handle smoothly, and it will cause unnecessary frustration and distraction.
All this doesn't mean that you can only do card magic with a completely brand new deck. In fact, a just-opened deck can sometimes have very slippery cards, so a deck that has been worn a little may even serve the purposes of magic slightly better. But you do want to go for a deck which has an embossed finish, which is often referred to as an `air cushion finish'. Magicians will typically avoid the durable plastic cards preferred for poker in favour of a regular deck made out of paper. While plastic cards might be great for poker, they aren't so great for sleight of hand or fanning. That's why you should look for paper stock that is embossed, which means that it has tiny bumps on the surface. The little air pockets between these bumps will help your cards flow smoothly over each other. Very cheap decks typically don't have embossing, and their smooth finish means they won't fan or spread evenly.
You should also opt for a poker-sized deck rather than a bridge-sized deck. Poker-sized cards are a little wider than bridge-sized cards, which are designed to be narrower so that you can fan out a hand of 13 cards all at once, which you won't need to be doing for your magic tricks. Wider cards also look nicer, and handle more consistently. There's a good reason why these are typically the standard used for card magic today, so it's good to get used to poker-sized cards right at the very start of your budding new hobby of card magic.
The good news is that playing cards that meet these requirements are readily available and are usually inexpensive. Perhaps the most recognizable playing card in the world today is the standard Bicycle rider-back deck, produced by the United States Playing Card Company (USPCC). It is often preferred by magicians because of its familiarity, and it is arguably the best deck that immediately sends a message of being a "normal" rather than a "trick" deck. Granted, perception on this is slowly changing, because custom and artistic decks are increasingly being used for card magic. But if you are starting out, and want something to practice with, there's no point in spending a lot of money on a pricey deck. Standard Bicycle rider-back decks are typically available for just a few dollars in many big box stores like Walmart and Target, or online via retailers like PlayingCardDecks.com, where you can pick them up for just a few dollars. Most decks printed by USPCC will be of the same quality and handle identical to a standard Bicycle rider-back deck, and while there may be small differences in card stock, for the most part any Bicycle deck should work well. I suggest starting with that, because you'll find that your shuffling and sleights will be much more smooth and pleasant, and you can always broaden out to more custom USPCC printed decks at a later date.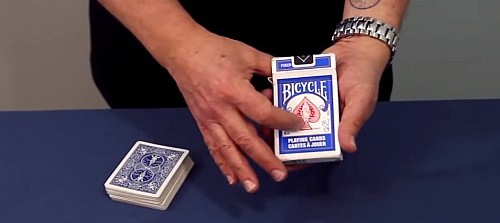 Your Teachers
So where do we head next to start our learning? Every student needs a teacher, and in our digital era teachers are easy enough to find. But unfortunately it's all too easy to find a lot of bad instruction, and it can be more of a challenge to find 
good
 instruction. Sure, you can head to youtube, and you will definitely find some tutorials by a few skilled magicians there, if you know where to look. But do realize that shining examples of sound instruction are typically the exception, and the majority of magic tutorials and teaching you'll find on youtube is by teenagers with a mediocre ability in card handling. If these are your go-to teachers - as they are for many budding magicians - you'll learn bad habits, inferior techniques, and in the long run it won't hold you in good stead. While youtube can be of some help, I advise you not to rely on it as a primary or a reliable source when starting out. Instead I strongly recommend that you consider investing in a good book or video by a trusted magician and teacher, so that you'll learn proper techniques right away. 
I won't start a debate here about whether books are better than videos, or whether videos are better than books. In my experience there are real benefits to using 
both
. Reading requires careful attention to detail. Books also contain far more information than a single video ever could. They also help you avoid merely parroting what you see on camera - a common rookie mistake - and they force you to develop your own style. On the other hand a video has the real advantage of showing you what moves actually look like. As a result, they can be much easier to follow, and can really speed up the learning process. Especially when you're just starting out, good video instruction can be tremendously helpful. I recommend you get the best of both worlds, and utilize both resources: print and screen!

Your First Steps
So where should you start? A follow-up article will give a longer list of recommended books and videos, with some comments about each. But if this article has whetted your appetite for learning card magic, you need a place to go right now already. So let me point you to a couple of reliable magicians who will help you get started with some very easy material. These are for the complete newbie, who wants to learn a magic trick right now, without the hard work of learning sleights and moves. These links will get you going instantly with some straight forward card tricks that are easy to learn and perform.
● 
Will Roya -
6 Magic Playing Card Tricks For Kids
. Don't let the title deceive you, because these aren't tricks just for kids. These video clips are taken from a set of DVDs produced by Las Vegas magician Will Roya, and was originally created to teach children card magic. But that just means that these card tricks aren't very difficult to learn, and adult beginners will enjoy them just as much. There's some easy and fun tricks here that will have you amazing friends and family in no time, like the Ace Assembly #1 and the Quick 96 Card Trick.
● 
Jay Sankey -
10 Super Easy Card Tricks
. Jay Sankey has to be one of the most prolific creators of magic in the modern era. Many of his tricks have been performed by other magicians on TV specials. He's produced many DVDs and videos, because he's also a great teacher. This 20 minute video includes 10 card tricks that can have a real impact, and yet are ideal for beginners. 
If you want to progress further, check out some of the other card trick tutorials that Jay Sankey has available for free on his youtube channel. His "Learn Easy Card Magic Tricks" playlist (
link here
) currently includes around 100 videos. Just be warned that some of these are harder than the title might suggest, and occasionally you may find yourself needing to learn some intermediate sleights along the way. For some slightly easier material, you can also check the "Beginner Tricks" playlist (
link here
) from Hester23BearsCH.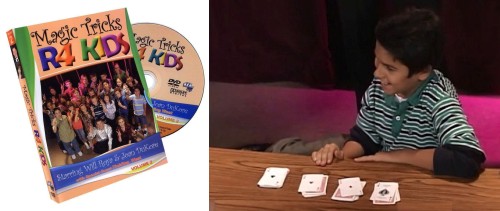 My next article will offer more recommendations for books and videos to help you with your journey into card magic, but this should already get you started. You undoubtedly already have a good deck of cards, so why not give one of these simple card tricks a whirl today? Perhaps you'll even amaze yourself, by discovering how satisfying it can be to learn and perform an easy card trick. Better yet, think about how much joy and amazement it can give your family and friends!
Other articles you might find interesting:


About the writer: EndersGame is a well-known and highly respected reviewer of board games and playing cards. He loves card games, card magic, cardistry, and card collecting, and has reviewed several hundred boardgames and hundreds of different decks of playing cards. You can see a complete list of his game reviews here, and his playing card reviews here. He is considered an authority on playing cards and has written extensively about their design, history, and function, and has many contacts within the playing card and board game industries. You can view his previous articles about playing cards here. In his spare time he also volunteers with local youth to teach them the art of cardistry and card magic.


Last update date: 06/20/20