by BoardGameGeek reviewer EndersGame
In previous articles we've taken a look at some big brands in the world of playing cards. Big-name producers like Ellusionist and Theory11 are well known for their high quality decks of luxury playing cards, many of which are geared towards magicians. Art of Play is another familiar brand, and their range of custom playing cards especially includes flashy decks well-suited to cardistry.
Vanishing Inc. Magic
 may be a lesser known creator, but they've certainly put out some high quality material. In this article we'll introduce you to the Vanishing Inc brand, and tell you about the range of custom playing cards they have produced so far.

The Vanishing Inc. brand
The brains behind Vanishing Inc Magic are magicians Andi Gladwin and Joshua Jay. Both in their mid-thirties, they specialize in close-up magic, and are very experienced and highly respected in magic circles. They have both performed on major television networks, lectured in magic, and produced well-regarded teaching materials on magic. I can personally recommend very highly Joshua Jay's excellent book 
Magic: The Complete Course
. It is now available in four languages, and in some instances comes with a companion DVD, and is an excellent tool for learning starting out a journey into the world of magic. His book 
Joshua Jay's Amazing Book of Cards
 is also a fantastic resource for learning a large ranges of card handling skills, including some great card tricks.
Despite Andi being located in the UK and Joshua being located in the US, in 2009 they teamed up to begin a commercial venture called Vanishing Inc Magic. Over the last decade, the Vanishing Inc brand has published numerous teaching materials, instructional videos, and magic effects, and it has also grown into one of the biggest magic retailers worldwide. But it's their range of playing cards that is of real interest to us, particularly some of the custom decks that they have created under the Vanishing Inc label, since that's what this article is all about.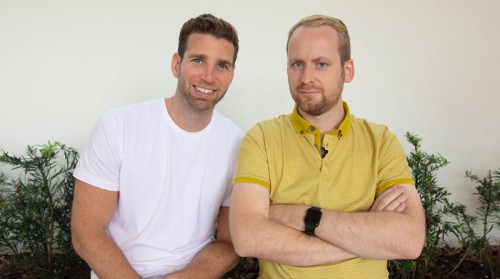 Dapper Deck
The word "dapper" is an adjective used to refer to a man neat and trim in dress and appearance. Appropriate synonyms include smart, spruce, trim, debonair, neat, tidy, neat and tidy, crisp, well dressed, besuited, well groomed, well turned out, smartly dressed, elegant, chic, dashing. This is the kind of image that Andi Gladwin and Joshua Jay wanted to evoke with their very first branded deck of signature playing cards, appropriately called 
The Dapper Deck
.
The Dapper Deck was originally conceived to be part of a deluxe set that was designed by fashion industry insiders, and a deluxe set even came with a matching tie and pocket square! The Vanishing Inc team deliberately opted for a very fashion-forward and sophisticated look, consulting with fashion industry experts to produce a classy and elegant design. It was produced in two colours, Jerry's Nugget Orange and Navy Blue.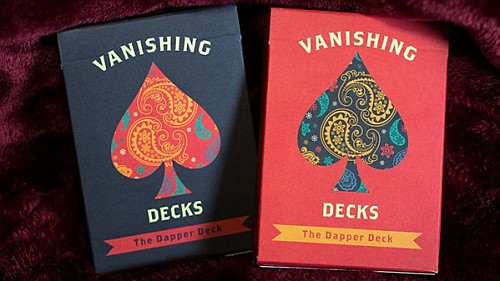 Jerry's Nugget Orange deck
The Jerry's Nugget Orange deck is the most striking of the two Dapper decks, with its fiery orange colour. It's hard not to be impressed by the vibrant colour and design of the card backs. These incorporate a paisley design that also utilizes pastel shades of green, yellow, red, and grey.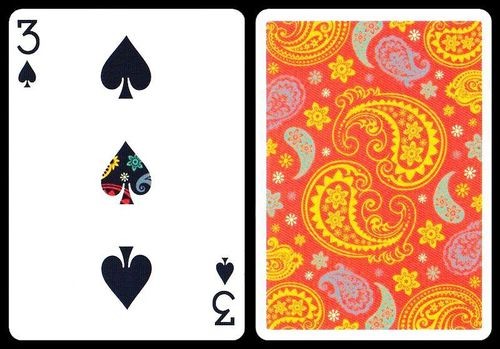 The court cards have designs that are along traditional lines, but most importantly they feature a custom colour scheme that matches the rest of the deck. The presence of yellow, red-orange, blue, and green results produces a different look from a regular deck, but it corresponds to the colours on the card backs, and ensures that everything is in keeping with the overall feel. The colour of the red pips throughout the entire deck is also noteworthy, because it is more of a fiery orange and red than what we'd normally expect, and this is also a deliberate choice to complement the colour scheme of the main design.
What I especially appreciate about these decks is how the paisley pattern from the card backs returns on the face cards. It is incorporated into a single pip on some of the number cards, which helps add a touch of genuine style and customization to the traditional look. In addition the paisley design has been integrated in the custom Aces, all of which are over-sized and highly attractive.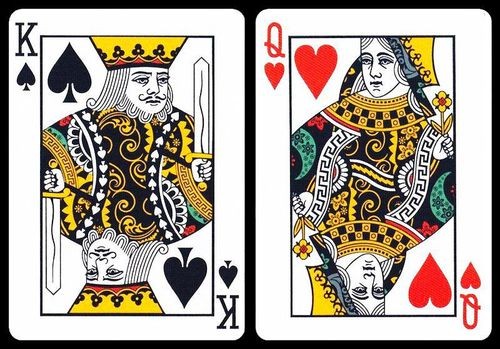 Navy Blue deck
The Navy Blue deck is basically a matching and identical deck, except that the card-backs feature navy blue as the dominant colour. The decks are independent, but they do also complement each other nicely as a set, because the Spades and Clubs use the colours of the blue deck, while the Hearts and Diamonds use the colours of the orange deck.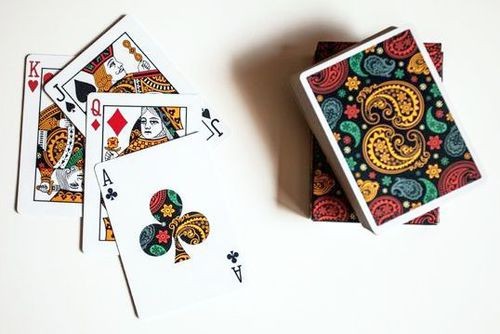 These decks will especially appeal to magicians, who will appreciate the fact that they come with their own subtle marking system. It's a reader system, and despite being very easy to read it is not at all obvious to the unenlightened eye. I would have loved to see this beautiful deck design also available in a non-marked version, but all along it has been Vanishing Inc's aim to create a great marked deck that was classy and affordable for magicians.
An initial print run of the Dapper Decks was manufactured in Taiwan by EPCC, with a somewhat slick finish. But given the popularity of these decks, they've since been reprinted by USPCC, which means that they have the feel, handling, and quality that magicians are already familiar with from Bicycle decks with an air cushion finish.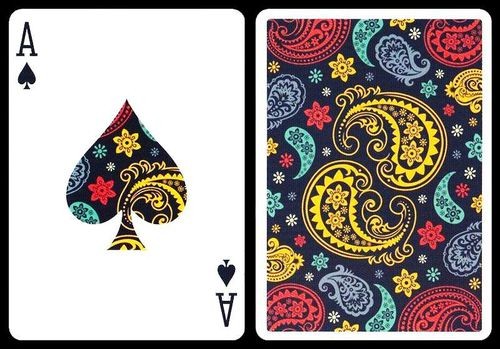 World Tour Set
The folks at Vanishing Inc followed up their Dapper Deck by creating a series of five decks entitled the 
World Tour Set
. This is so lavish, that it even has an official 
video trailer
. These five decks celebrate exotic places around the world, and a deluxe version of the set even originally came with a miniature travel trunk, and was described as follows: "
more than a collection of cards - it's an adventure
".
The idea of the World Tour Set is that these decks combine to tell a story. The premise behind them is that an entertainer called Ezra the Great is travelling the world, performing his show in 1902. Along the way, Ezra buys decks of cards, which he sends to us. Each deck has been cleverly crafted with artwork and a design that reflects different elements of the lands, cultures, and time period that they come from, and corresponds to a different country: France, Switzerland, Egypt, Mongolia, and China.
While the decks are available separately, one nice thing about all five decks is that when you place them alongside each other as a set, the artwork on the spine combines to create a map of the world, including all the above-mentioned countries. So let's tell you something about all the individual decks, and show you what they look like, as we pack our bags and get ready to travel the world along with Ezra the Great!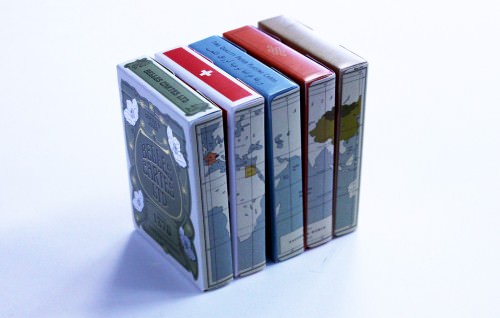 France deck
Our journey starts to where playing cards first gained popularity centuries ago: France. The 
France deck
 has an exquisite looking tuck boxes, and touches of gold and silver produced by foil accents adds real style and beauty to the art deco design - an appropriate choice given the French origins of this art movement. In keeping with this theme, the side of the tuck box reads "Design Unique - Fabrique en France".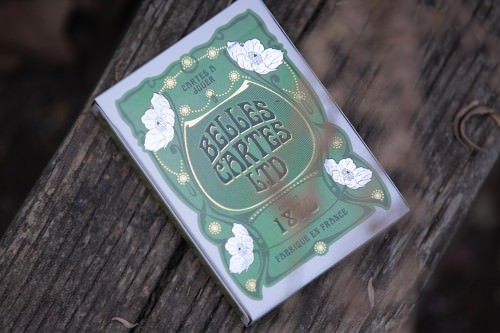 The pale green also adorns the inside of the tuck box, and brings to mind the colour of vegetation and foliage. So it is no surprise to see the card backs covered an attractive water lily design, complete with soft pink/purple flowers. Even though it is a one-way design, it looks lovely in fans and spreads.
The green and pink/purple are also the two main colours of the card faces, corresponding to the traditionally black and red suits that make up a deck. The court cards have a truly retro look that matches the theme and location well, and seem to be inspired by the designs and style I've seen on classic French decks.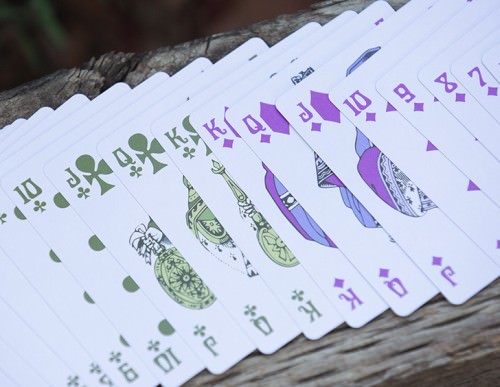 As we'd expect, the pips are completely custom, and have been designed to match the overall "old-world" feel of the deck. To round out the deck, two matching jokers both feature a floral theme that complements the card backs beautifully.
The France deck makes a fine beginning to our world tour travels, and truly evokes something of a turn-of-the century set of playing cards, capturing a very French style.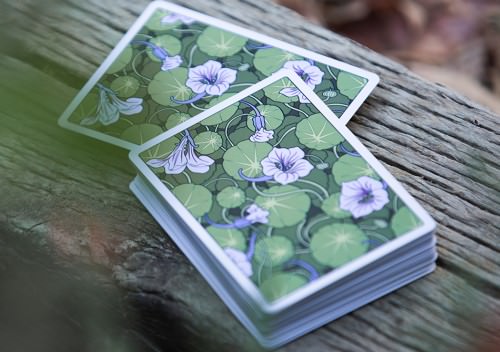 Switzerland deck
Next up we visit the Swiss with the 
Switzerland deck
. The tuck box makes use of a simplified colour palette which emphasizes the signature view we've all come to associate with Switzerland: the Alps. Apparently in this country, wherever you look, you see mountains.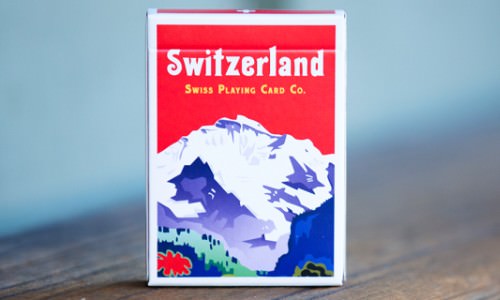 The image on the tuck box has been inspired by travel posters from the early 20th century, and largely returns on the card backs, which are emblazoned with a one-way artwork scene. The side of the tuck box adds to the focus on breath-taking Swiss scenery with the words: "
Majestic Mountains, Peace on Earth!
"
Tucked safely inside our impressive view of the mountains are 54 cards. The pips employ a very bold red and black, with a very matter of fact and distinct shape. It's obvious that we've left the art-world of France behind, and are now concerned with being practical and down-to-earth - even when our head is in the clouds and when we are walking on mountains!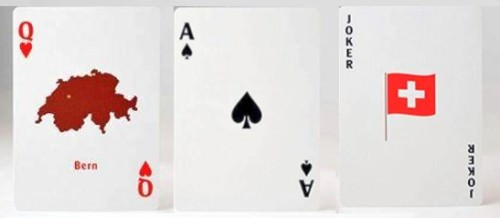 The court cards do a good job of reminding us that we're in Switzerland, because they feature various elements typically of the culture we see in this country. Instead of personages, our Kings, Queens and Jacks all feature the name of a Swiss city like Lausanne, Zurich, Geneva, or Basel. Also depicted on these cards is something we might see on our Swiss adventures, such as a set of skis, a dairy cow, a watch, a mountain goat, and more.
As for the twin Jokers, these both depict the iconic red and white Swiss flag. Like the mountains, these are the two colours that are ever-present wherever we look in this lively deck, that is a wonderful tribute to an iconic country.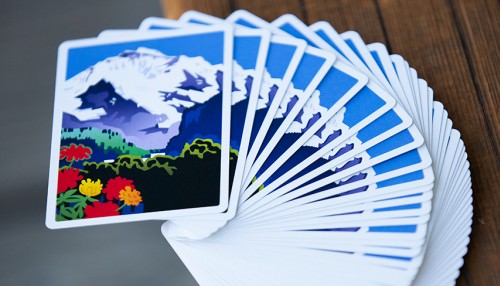 Egypt deck
Courtesy of Cairo Cards Ltd, we now head to examine the 
Egypt deck
. Of course the preferred means of transport requires us to hop aboard a local camel, as pictured on the tuck box cover. The back of the box reminds us that not all of Egypt is desert, and if we know where to look, there might be an oasis with palm trees to be found.
Perhaps it will help if we have good company along the way. As the side of the tuck box reminds us, these are "Preferred Playing Cards of Egyptian Pharaohs". Whether it's native Egyptians or visiting Egyptologists, as long as someone knows the route!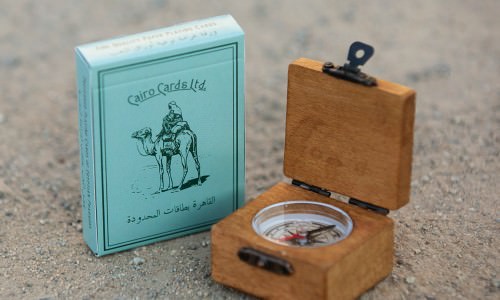 The back design is one of my favourites in the World Tour series, and although it is a one way design, it features a simple yet inspiring pattern that is suggestive of ancient mosaics, and the artwork one might find in this part of the world. The shapes bring to mind camels and pyramids, and the design is one that you expect to see on caravan rides in the early 1900s.
The two main colours of the face cards are an earthy red (hearts and diamonds), reminiscent perhaps of desert terrain, while the emerald green (spades and clubs) corresponds to the colour used on the tuck box.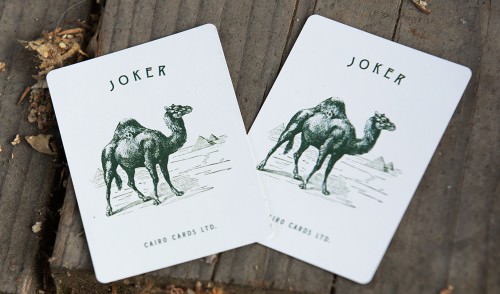 I especially appreciate the court cards, all of which feature Egyptian images, and really help bring this exotic location to life. A somewhat surprising choice has been made to have the court cards of the spades and clubs match, and the same with the court cards of the hearts and diamonds, meaning that there are six unique designs in total. The font used for the indices of the face cards is also stylized, and fits well with our Egypt encounter.
As we farewell Egypt, our last view is of the two matching Jokers, which both feature a lonely camel, with the pyramids fading from view in the background. We've enjoyed our stay, and undoubtedly we'll be back to play with this deck some more on another day.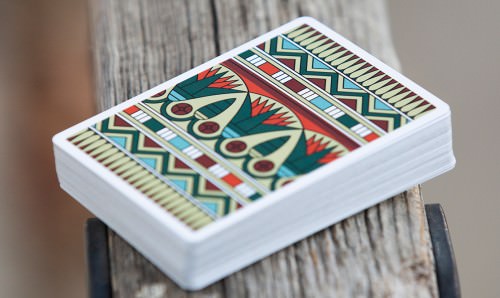 Mongolia deck
Mongolia is bordered by Russia and China, and its nomadic culture and expansive landscapes have helped inspire the design of the 
Mongolia deck
.
The tuck box of this deck immediately confronts us with the memorable ochre that many of us associate with Mongolia - many Mongolians love the colour orange, and it occupies a dominant place here. The tuck box leaves us in no uncertainty where we are, with the faux origin being credited as "Mongolia Card and Paper Co, Established 1886".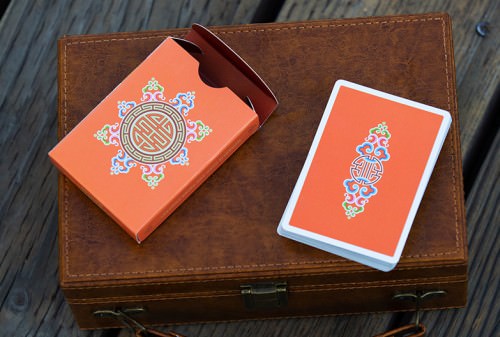 The unique design on the tuck box almost has a floral feel to it. The design on the card backs shares some common elements with this, but has its own shape and pattern, suggesting simplicity combined with style. This originates with a Peace symbol that the Vanishing Inc team came across on some antique Mongolian furniture.
The court cards will look immediately familiar, with the shape of our characters being clearly taken straight from traditional courts - the only difference is that they are dressed in orange and brown. Even in strange lands, beneath the unfamiliar clothing of the local inhabitants, are people that are still very much human like us!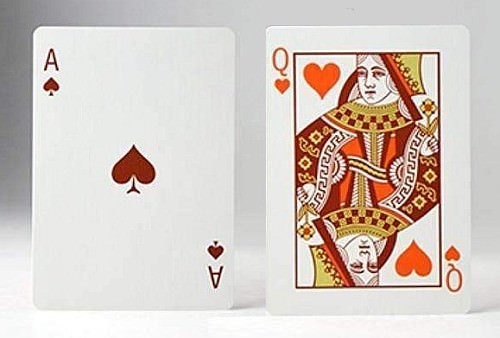 The Hearts and Diamonds all use orange pips, while the spades and clubs have a dark brown. The dark brown also makes an ideal choice for our mono-coloured Jokers, both of which depict the Yak, a close relative of buffalo and bison, and a creature we are almost certain to see during a Mongolian visit.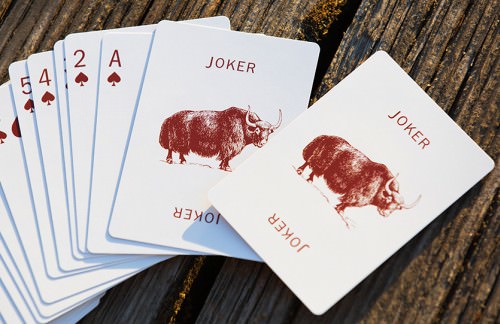 China deck
From Mongolia we head to our final stop, which is China. The tuck box of the 
China deck
 looks like some ancient manuscript we might expect to find in Asia, and even though Westerners like me have no clue what the characters on it mean, they leave us with no doubt about which part of the world this has come from!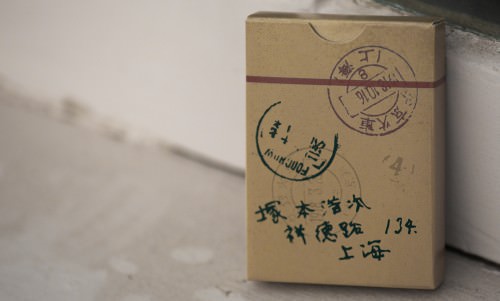 A measure of uncertainty and confusion doesn't disappear once we start exploring the contents inside the box, because what confronts us here is somewhat of a puzzle. This is certainly something that we do not often see in the playing card industry: all the card backs are different! They have swirls of black on a plain white background, and despite the minimalist colour scheme, at first we struggle to put the pieces together of what is going on here.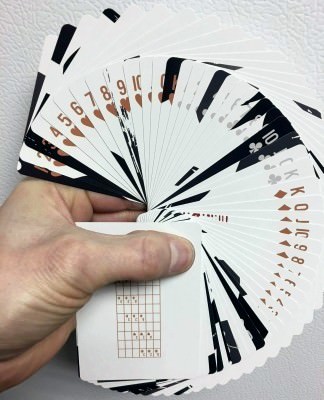 But wait ... that's it: put the pieces together! See, if you stay in a foreign country long enough, eventually you get to learn the language, and the strange gradually becomes familiar. The challenge here is to piece together all the cards, which can be arranged adjacently in a 6 x 9 pattern like a puzzle. Fortunately an interpreter is close at hand in this mysterious world. In lieu of one of the Jokers, a card is provided that will help us translate this confusing collection of individual puzzle pieces into a single image. If we follow its instructions carefully, we'll eventually get a larger mosaic with the Chinese characters for "Mystery".
The face cards all have indices, in which an unadorned and plain font and pips do give each card a recognizable identity, in orange and silver colours. But the real feature of these faces is that they, too, can be arranged into a single image. While unusual, this is certainly a memorable deck that is sure to make an impression on people due to its uniqueness, and is a true novelty item worthy of our adventures around the globe.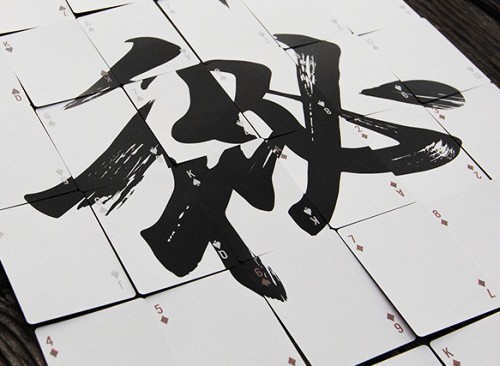 Dead Man's Deck
The legend
The 
Dead Man's Deck
 was produced by Vanishing Inc as a tribute to a classic legend. Given the important role that playing cards have played in our culture and history, it's no surprise that there are some great stories that involve cards, and one of the most famous of them all is the legend of the Dead Man's Hand. This legendary hand consists of a pair of black aces and a pair of black eights. It's considered to be an unlucky hand, and you'll understand why when you hear the story behind it.
The legend revolves around a famous gunfighter and professional gambler from the wild west era, James Butler Hickok (1837-1876), better known as "Wild Bill". His many gun fights were widely reported by the press, and his exploits were often sensationalized. But it is a documented fact that he was involved in multiple shoot-outs and did gun down at least half a dozen men.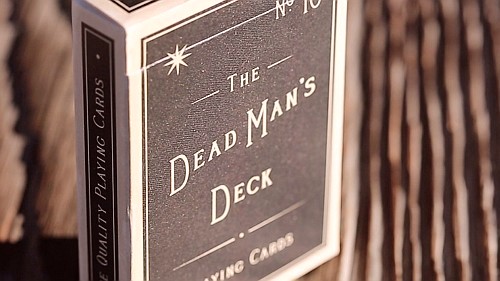 In 1876, Will Bill was playing poker at the Nuttal & Mann's Saloon No. 10, when in walked a buffalo hunter named Jack McCall, who had lost heavily to Wild Bill the previous night while drunk. He shot Wild Bill from behind at point-blank range, killing him instantly. As legend has it, Wild Bill was clutching a pair of black Aces and a pair of black Eights in his hand when he died, and over time this came to be known as the Dead Man's Hand.
While it's difficult to determine the exact historicity of some of these details, there's no doubt that this tale has become the stuff of legend, and over the last century a hand with a pair of black aces and a pair of black eights has been dubbed the Dead Man's Hand and is closely connected with Wild Bill Hickok's death. There's even many references to it in books and films, and a small casino at the place where Wild Bill was killed has a historical exhibit about the Dead Man's Hand.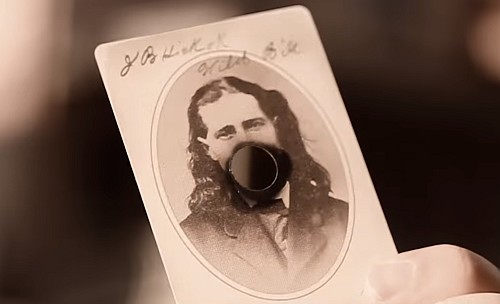 The deck
The folks at Vanishing Inc Magic have produced a special deck of playing cards as a homage to this legend. Geared to collectors, this limited edition deck commemorates the story, starting off with a relatively plain tuck box that has muted black and yellowed borders, to give it an authentic vintage look.
But a surprise awaits when you remove the cards from of the box, because a round metal musket ball falls out from the center of the deck! It turns out that there's a hole punched through the center of all the playing cards, and the metal ball literally sits inside the deck while it's in the box. The cards themselves have a weathered and worn look, with scorch marks around the hole on each card to give the impression of it being a genuine bullet hole. For added dramatic effect, the black Aces and Eights that make up the legendary Dead Man's Hand are finished with what looks to be smears of blood, and several other cards also have blood splatters on them.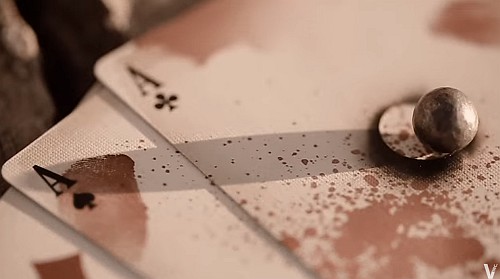 The card backs are identical, and incorporate tiny details connected to the legend, such as Wild Bill's initials. The face cards have a vintage look with artwork in the traditional French style, including indices on all four corners. Two extra cards are included, one with a photo of Wild Bill, and the other telling a short version of his story.
This deck is a very unique collector's item with real novelty value. But it's also quite functional, and you can certainly use it for card games or even for magic if you wish. It would be well suited to gambling routines or a card trick with a Wild West story line.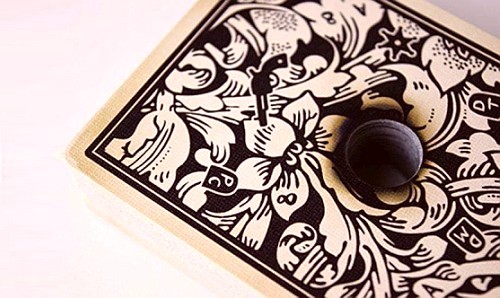 Impressions
So what can you expect from the decks produced by Vanishing Inc Magic? At this stage their range is admittedly quite modest, but what they have put out on the market so far is nonetheless impressive.
Fashionable
: I'm a huge fan of the vibrant colours of the Dapper decks, with their attractive paisley design. I've always loved the combination of blue and orange, and it is used to good effect with these decks. Including the design pattern on the pips of some of the card faces is a lovely touch that helps give the entire deck a custom feel, without making it too distracting. And how many other playing card companies have engaged expert fashion designers as consultants, and originally conceived their playing cards to be part of a deluxe set with a matching tie and handkerchief?!
Stylish
: All these decks make an instant statement of style from the moment you first see the tuck box. It's clear that they aren't some variation of decks we've seen many times before, but are genuinely unique and one-of-a-kind, with a level of sophistication and class.
Practical
: Despite being quite fashionable and stylish, the colourful and unique decks created by Vanishing Inc are still quite practical. The face cards of the Dapper deck retain a traditional design, while incorporating small stylish touches and accents. Even the World Tour decks, despite an increased level of customization, are still recognizable and usable. In my opinion the Vanishing Inc team has succeeded in created playing cards that can actually be used on a regular basis, because nothing feels so customized or unusual that they are rendered unsuitable for use in the real world, and yet they look novel, colourful, and classy.
Magical
: The folks at Vanishing Inc are first and foremost magicians, and so it's no surprise that their products are particularly geared to the magic industry. That's especially evident with the Dapper decks, which come with a subtle marking system. But it's also evident in the functional design that is the hallmark of all their creations.
Novel
: All the Vanishing Inc decks have something that immediately marks them as unique. The Dapper decks have a striking paisley design with vibrant colours and a marking system; the World Tour Set decks have cleverly integrated various aspects of the different cultures each deck represents; the Dead Man's Deck comes with hole through the deck, appropriate artwork, and even a small musket ball. These are the kinds of details that give them real novelty value, and make them great conversation pieces, standing out from your typical custom deck.
Collectable
: Particularly the World Tour decks and the Dead Man's deck make great collectors' items. Only 1500 of each deck from the World Tour Deck set were printed, as a one-time production never to be repeated. The Dead Man's Deck is also a strictly limited edition, and is already sold out at many places.
Quality
: Vanishing Inc has used EPCC and USPCC to print their custom decks, so it's quality all round. Especially given the narrow white borders of the cards from the World Tour Set, Taiwanese manufacturer EPCC with their hard-wearing Master finish was a good choice as a printer for these, since they are an industry leader known for their precise printing and perfect registration. The newest printing of the Dapper Decks is by USPCC, which is a sensible choice given that these are primarily intended to serve magicians, the majority of whom already use decks printed by the maker of the famous Bicycle brand, and will appreciate their familiar feel.
Affordable
: Most of the Vanishing Inc decks are very attractively priced at a relatively inexpensive $10-12 each. In today's market place, it is common to see custom playing cards sell for at least $15 each, so this is definitely at the lower end of that price bracket. Considering that you get an attractive and quality product, this is a comparatively good price.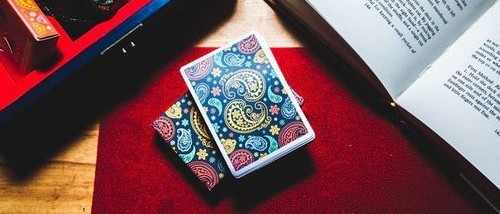 Final Thoughts
So are the decks of custom playing cards produced by Vanishing Inc something for you? Even though they have only created a small range, they do offer something for everyone: the collector, the card gamer, and especially the magician.
The Dapper deck makes for an eye-catching and quality deck of playing cards that will serve the magician well, especially with its marking system. The World Tour decks can be used for multiple purposes, since it includes a range of well-themed decks that depict different cultures. And the Dead Man's Deck is a fun novelty item that the collector will especially appreciate.
I'm impressed with all the decks that the team at Vanishing Inc Magic has contributed to the market-place. While this isn't a brand that has produced a lot of custom decks at this stage, what they have produced certainly stands well above the mediocre and average, and is well worth a careful look. I look forward to see what they come up with next!

Where to get them?
 You'll find all the Vanishing Inc decks featured in this article on PlayingCardDecks:
● 
Dapper Deck
● 
Dead Man's Deck
● 
World Tour Set
 - 
also available individually
: 
France
, 
Switzerland
, 
Egypt
, 
Mongolia
, 
China


About the writer: EndersGame is a well-known and respected reviewer of board games and playing cards. He loves card games, card magic, cardistry, and card collecting, and has reviewed several hundred boardgames and hundreds of different decks of playing cards. You can see a complete list of his game reviews here, and his playing card reviews here. He is considered an authority on playing cards and has written extensively about their design, history, and function, and has many contacts within the playing card and board game industries. You can view his previous articles about playing cards here. In his spare time he also volunteers with local youth to teach them the art of cardistry and card magic.


Last update date: 08/11/20