by BoardGameGeek reviewer EndersGame
Who is Paul Carpenter?
Graphic designer Paul Carpenter is the man behind 
Encarded Playing Card Company
. He made a big splash in the custom playing card industry in 2012 with his original Tendril deck, which was produced with the help of crowdfunding, and broke the Kickstarter record for the highest funding for a playing card project at the time. These decks were originally priced at under $10 each, but since they are prized by collectors, they typically sell on the secondary market today for more than ten times that much! 
Why was the Tendril deck so successful? It had some unique features that made it very attractive, particularly the fact that it was a black deck with fully customized artwork in neon colours, card backs with organic symmetry, and shadowed borders. These elements came together perfectly, resulting in a deck that was beautiful and practical, all at once, and had an instant appeal for card flourishers, magicians, and collectors. But the timing was especially fortuitous; it came out just as Kickstarter was really starting to take off, before the abundance of custom playing cards designs found on crowd-funding platforms today. Pioneers like Paul Carpenter were able to reap the rewards by publishing a good design, and capitalize on a market that was looking for something new and exciting, and where the marketplace wasn't yet flooded with competition, and this deck effectively launched his brand, Encarded. After that initial record-breaking success, Encarded has gone on to produce well over 30,000 decks of custom playing cards. 

The Interview
For those who don't know anything about you, what can you tell us about yourself and your background? What do you do for a day job and/or what are your other interests?
Encarded has been my fun creative side project since 2011, but I am also the creative director for an internet development company, and have been in that business since 1997. Visual design has been an interest of mine since childhood and I have always pursued creative endeavors that get to explore that area. I live in Florida, am married and have two super children, and we enjoy hiking, traveling, and spending time together.
When did you start designing playing cards, and what got you started?
I started designing cards in late 2011, after seeing an article in a design blog about the "Deck One" designed by Homer Liwag. At the time, I had no idea that custom cards existed and the idea of creating my own immediately brought back my childhood love of sleight of hand and card magic.
How would you see yourself as a designer today, compared to when you started?
The card market has changed significantly since those early days, and I find that my projects have become smaller, more "thoughtful" and fewer in number. Instead of trying to cram more product into a hugely crowded space, I prefer to take my time and consider more aspects and create decks that I personally want in my collection.
What are some of the things you especially enjoy about designing playing cards?
I primarily love the process of creating the back design. I find that exploring a rough concept, or stumbling across a motif and then expanding on it is the most fulfilling part. My second favorite part is definitely the box and if you look at any of my decks you'll see a fair amount of attention paid there. Since many of my customers buy decks and never open them, I have also put a lot of thought into how to incorporate the deck inside with the outer appearance, which you can see manifested in cutouts or laser-cut details that expose the interior even if you don't open the box.
How do you come up with an idea for a deck design?
My inspiration comes from many areas but travel to other parts of the world is probably the most prominent inspiration. My first deck, Tendril, was inspired by the rainforest of Costa Rica and many of my other decks have used motifs or ideas from other parts of the world.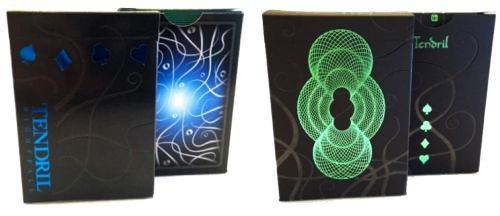 How many decks have you designed so far, and which of these have been your most popular and successful designs?
I've created about a dozen main designs, but many of those have variants or limited edition versions which expands the total significantly. I've been fortunate that almost all of my designs have sold out over the years and most have become collector items, some of which routinely top the value charts for modern designed decks. I surprised myself a few years back by checking eBay and seeing what some of my earlier releases go for! 
Which deck (or decks) in your portfolio of created designs is your favourite, and why?
If forced to pick, I think that Aurum is my personal favorite. I love the way the design and colors came together on that deck and it was my first foray into laser-cut boxes, which is still a very unique feature. The purple colors are not commonly seen and it has a "complex simplicity" that has become a part of many of my designs. 
How would you describe the style of your playing card decks? Are there any particular features or characteristics of your decks that you hope people will notice and appreciate, or help make your decks different from the many others out there?
I do not have any particular style, on purpose. When I started Encarded I very specifically chose to explore a wide variety of designs and not do the same thing. Most of my decks are quite different from the previous releases. A common thread that I do like to explore is mixing huge amount of detail with an overall visual simplicity. Many of my decks will look somewhat simple from a distance but if you get closer you will start to see layers of complexity and high detail exposed through more careful study.
What is your process in designing a deck of playing cards, starting with the concept, all the way to completing the project and having finished decks?
I usually start by exploring a small aspect of a design, like a fragment of a pattern that I might stumble across. Sometimes I do quick and extremely rough pencil sketches, but most often I transfer right into the computer and start playing with ideas. I do not consider myself an "illustrator" and am more of a designer, so you won't find huge notebooks full of concepts and drawing in my designs. I always start with the back design, then transfer to developing a related box, and then finish with pip designs and assembling faces.
Which printer do you use to make your playing cards, and why? What has your experience with them been like?
I've printed with both the US Playing Card Co and Expert Playing Card Co. Both have pros and cons, though in more recent times I've done smaller projects that lend themselves to Expert. I've found them to be a pleasure to work with, Bill Kalush has such a passion for cards and the people at the factory have a huge attention to detail.

What are some of the easiest, and what are some of the hardest parts of the process in making a deck of custom playing cards?
I find that the initial ideas are pretty easy to come up with, but getting all of the details just right takes a lot of time and effort. It can take dozens of test prints and changing details by just a few pixels to get the card looking perfect. The hardest part, by far, is fulfillment and customer service. I have never wanted to offload that to a third party as I want to ensure that everything is packaged perfectly and also so I can accommodate special requests like signatures. Doing that process myself is the way to go but is painful. 
What is it about designing a deck of playing cards as a creator that you wish consumers realized more?
I mainly wish that people would be less swayed by fads and look more to the artistry that playing cards are capable of. So many of the decks these days are just lazy design and have no redeeming quality other than being "from that cool guy" and it's mildly disappointing to see excitement for decks that are literally the 10th color version of the same lacklustre design. If you expand your horizons and look to finding true art you can come across some utterly amazing and gorgeous decks.
The playing card industry has changed rapidly over the last decade. Do you have any thoughts on the explosion of custom playing cards that we are seeing today?
I've mentioned that a bit, but when I did my first deck there were 6 decks on Kickstarter. Last time I checked, there were over 3000. The volume is approaching an almost absurd level and I will not be surprised if it will break soon and you see a huge drop in successes. I see many long time customers that have slowed down or given up because the volume of garbage decks is just too high. Eventually I think this will self-correct and we'll see more quality and less quantity. 
What impact has crowdfunding like Kickstarter had on the custom playing card industry? And what has your own experience with this been like?
Crowdfunding was how I started, but at this point I do not rely on it. It is a valuable tool, but I think it also drives some less than desirable behaviors. To stand out now, you have to have far too many add-ons and extras that exist solely to drive dollars and less to actually augment the core design. As a result, you'll find too many projects that have a poor core design but tack on every button, coin, pin, sticker and alternate color possible just to get the funding goal. Kickstarter is a great way to start but you can't ignore your design and the customer service required to get your project done.
Where do you think the custom playing card industry will go from here, and what innovations or changes might we see in the coming years?
I think it will slow down eventually and you'll see less "fad" decks and more careful and artful designs. Cardistry has driven much of the excitement in cards in recent years but the art of playing cards has been around for a very long time and there will always be a subset of designers that want to explore that history and creativity and care less about what is currently in fashion.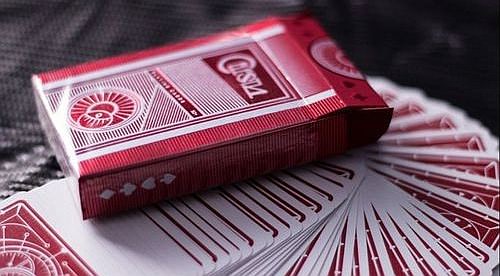 What do your family and friends think of your love for designing playing cards? How do you explain your work to non-enthusiasts of playing cards?
Everyone that I know and talk to is surprised to learn of Encarded and is universally excited about it. I've shown my collection, decks, uncut sheets and printing plates to nearly everyone that has visited my home and they all stand there with a wide-eyed, "wow that is so cool" look on their face. It's quite fun to introduce people to the world of cards.
Do you belong to any playing card organizations, or connect with other designers, either online or in any other way?
I am a member of 52 Plus Joker, a long standing collector organization. I've given some talks at their conventions and had the honor of designing their club deck a few years ago. I chat with a variety of other modern designers online and we trade thoughts and ideas now and then.
What advice would you give someone just starting to collect playing cards today? What do you consider to be important elements of a quality design, and what they should look for in a quality deck of playing cards?
As I eluded to, if you want to collect cards for the long term than don't look to fads. The 8th color version of a deck will barely be remembered in 20 years. I'd encourage people to look for decks that grab their attention and create a moment of wonder or fascination. Don't buy a brick of decks just because it seems popular with the kids, because the problem is that there are 1000 other people doing the exact same thing and you will all be stuck with a brick of lacklustre decks that no one wants. Look for gems that have thought and love put into them.
Do you have any recent, current, or upcoming projects that you can tell us about?
I am working on a new deck that I call The Priory. It is a bright, colorful design that could be used for cardistry but will also appeal to collectors. While the design may look extremely bold and modern it actually dates back to an 11th century French church, which I was just fascinated by. I take my time and don't have an exact release date but have been noodling with the details for a while now.
What is the best way to keep up with news about playing cards from Encarded?
Many new people seem surprised to learn that Encarded has been around so long and ask how they can find out more about my decks and releases. I'd encourage any collectors to visit encarded.com and follow on social media (Facebook, Instagram, Twitter), as many of my limited decks sell out fast.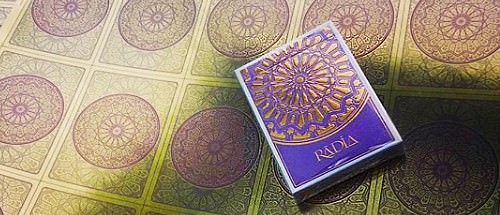 Final Thoughts
With his record-breaking Tendril deck, Paul Carpenter made an important contribution to the playing card industry more broadly. When his original Tendril deck was released on Kickstarter in early 2012, it went on to reach a total funding level of over $40,000, with the help of more than 1000 backers, and at the time it easily set a new record for the highest amount of funding ever for a deck of playing cards, crushing the previous high. Unsurprisingly, some consider this deck to have played a key role in beginning the playing card revolution on Kickstarter that would follow in the years afterwards. After this home-run, the word was out that Kickstarter was a truly viable platform for projects of quality playing cards, and so collectors and magicians began flocking to this crowd-funding platform in search of other hidden gems. It's a result of successes like the Tendril story, that other talented and independent designers began to tap into a market that previously was monopolized by big publishers like Ellusionist, Theory11 and Blue Crown.
But Paul wasn't just in the right place at the right time - he's also a skilled designer. The Tendril decks that kickstarted Paul Carpenter's Encarded brand are still as eye-catching and appealing as when they first were released. They have luminescent colours and an eye-catching design that feels simultaneously jarring and yet relaxing; a paradoxical combination of the boldly striking and the pleasantly calming, making them feel oddly hypnotic and at the same time ethereal. But Paul's creative talents are in no way limited to this initial effort. He likes experimenting and trying new things, and he has continued to develop his designs after this high powered entry into the world of custom playing cards. Whenever he releases a new design today, it immediately attracts a lot of interest, and his decks often sell out quickly. Since the launch of Encarded in 2011, he has created numerous projects, many of which are produced in limited numbers, and are highly sought after by collectors. Some of the decks he's produced under this label include Aurum, Deco, Zenith, Chancellor, Celestial and more. These are classy playing cards that are typically in high demand, so if his style appeals to you, you'll definitely want to keep an eye for his future projects so that you can snap up new arrivals while you can!



Where to get them? Paul's decks are often produced in limited quantities, and quickly sell out. The best place to look is at Encarded's website (encarded.com), stay in touch on social media (Facebook, Instagram, Twitter), or sign up for their mailing list (link).
You can also get the following decks here on PCD:
Encarded v1 Playing Cards EPCC
Tendril Ascendant v2 Playing Cards USPCC
Tendril Nightfall v2 Playing Cards USPCC
52 Plus Joker 2015 Club Deck Playing Cards EPCC
About the writer: EndersGame is a well-known and highly respected reviewer of board games and playing cards. He loves card games, card magic, cardistry, and card collecting, and has reviewed several hundred boardgames and hundreds of different decks of playing cards. You can see a complete list of his game reviews here, and his playing card reviews here. He is considered an authority on playing cards and has written extensively about their design, history, and function, and has many contacts within the playing card and board game industries. You can view his previous articles about playing cards here. In his spare time he also volunteers with local youth to teach them the art of cardistry and card magic.


Last update date: 04/07/20