by BoardGameGeek reviewer EndersGame
Who is Beverly?
In April 2020, PlayingCardDecks celebrated its third anniversary. That's quite an achievement, and over the course of three full years of business, this online retailer that specializes in custom playing cards has grown enormously. They have an inventory of literally tens of thousands of decks of playing cards at any given moment. Each week up to one thousand orders are processed, which means that there are literally tons of decks arriving and departing on a regular basis.
The business was started by Will Roya, a family man who lives in Las Vegas. After a successful career as a professional magician, Will decided it was time to reduce his time on the road and to spend more time at home with his family, and so over the course of several years he built up an online business. This culminated with the opening of his online store, PlayingCardDecks.com, three years ago, and he hasn't looked back since. The bulk of his business comes via online orders, and these continue to grow significantly at a steady rate. In addition to selling decks, Will has also used his expertise to create numerous custom decks under his own brand, usually in collaboration with professional artists and graphic designers, and with the help of crowdfunding.
But to accomplish all this, Will Roya needs dedicated staff members to assist him. It's often the people behind the scenes that make an important contribution to the success of any business, and in the case of PlayingCardDecks.com (PCD), one of these unsung heroes is Beverly. The month of May marks two years since Beverly has been on board the good ship PCD, and I figured this milestone would be a good time to learn more about the work that she does, and to discover some of the behind-the-scenes work that happens to bring us our playing cards.
Fortunately, she was happy to agree to an interview, which also received Will Roya's stamp of approval. So let's find out more about Beverly, and learn something about what's involved in getting our coveted playing cards from a warehouse to our mailbox!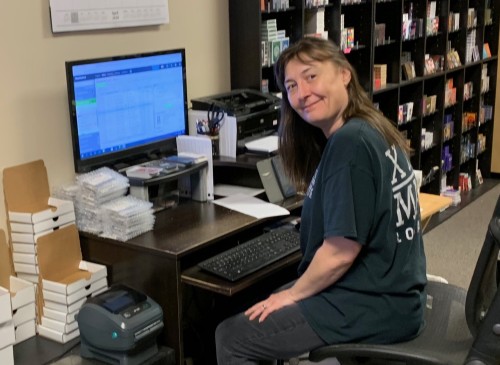 The Interview
Please tell us something about yourself, and what you did prior to your current job at PCD?
I was born and lived in Texas until I was 14. My dad taught me great work ethics at a young age. He always took advantage of opportunities, and owned and operated a few of his own businesses. After high school I went on to study Hotel Operations and pursued a career in accounting. I worked for some great companies like Alan Waxler Group, and Larry H Miller Properties.
When did you start working for PlayingCardDecks.com?
My 2 year anniversary is coming up in May.
What was it that interested you about this job?
Being behind a desk and behind the scenes in Accounting can be a bit challenging, and somewhat depressing. Honestly, I needed a career change. I needed to be more active. I expanded my job search, and being that I love playing cards, I responded to Will's ad for part-time shipper. I was impressed with the operations, warehouse, and showroom. And Will and I hit it off right away.
How many hours a week do you typically work?
I was hired on as a part time shipper. A lot has happened in two years! I am now shipping manager and work full time. Sometimes I put in some overtime hours, considering Kickstarter fulfillments and Pip Box subscriptions keep us very busy at certain times of the month.
What does your job actually involve?
I account for all customer orders being accurately fulfilled and accurately shipped according to company policy. This involves updating/printing labels, making sure product/order weights are accurate, and packaging is done properly. I also keep track of inventory.
What percentage of time would you roughly spend on the different aspects of your job?
Preparing labels for all orders each day is about 25% depending on the volume. Picking and packing can take up to 60%. The remaining time, if any, is focused on restocking the show room and maintaining the warehouse.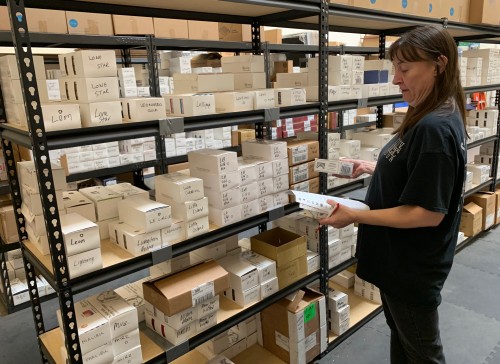 What happens on the PCD end after an order is submitted?
Every morning at PCD we start off with checking all the orders statuses to make sure there are no order changes or cancellations. We have 3 stores to fulfill orders for, Amazon, Ebay and Playingcarddecks.com. Picking items, printing labels and fulfilling orders come next. Packed orders are then placed in bins to be picked up by USPS, Fedex, or UPS.
What is the typical turnaround to get an order shipped after it has been placed?
24-48 hours. 95% are shipped within 24 hours.
What happens if you have an order placed for an item which you don't actually have in stock despite saying so on the website?
This is very rare. If inventory is off, this usually means the wrong product was sent out. In most cases the deck is being restocked. However, if the deck is no longer available, we offer the customer a refund, or they can get free mystery deck with their next order.
How many new decks arrive on a regular basis, and are you involved with stocking these?
We have shipments of new decks arriving a few times a week on a regular basis. Once they have been listed for sale they are stocked in the showroom and depending on how many decks there are, I might have to rearrange the warehouse. Sometimes, extremely popular decks sell so fast, I don't get a chance to make room for them!
How are the decks you package arranged in the warehouse, and how do you keep track of inventory?
All the decks are usually picked from the showroom, which are arranged in alphabetical order by the name of the deck. Except for a few exceptions, USGS and Piatnik brands have their own sections. The warehouse is also arranged alphabetically. To keep track of inventory we use ecomdash software which keeps track of all 3 stores.
How many orders are shipped in an average week?
700-1000.
Do you have many repeat customers?
We have lots and lots of repeat customers! They know to take advantage of the rewards program!
Are there any trends you've noticed, or ordering patterns?
Sales usually slow down during the summer time. But, since the virus, we expect this summer to be different.
How do parcels get from you to the post office?
The post office picks them up.
How many different countries would you have shipped to?
We ship all around the world.
My decks have always arrived in top condition. What are some of the things you do to make sure orders are packed and arrive safely?
Double packing always insures quality shipping. This is very important to collectors and magicians who want their product in perfect condition.
Do you ever receive reports of items arriving damaged on the other side, and how do you deal with this?
Usually when customers receive an item that is damaged, which is very rare, we try to accommodate with a replacement deck. Collectors don't want damaged anything so if we have one, we will replace it.
What are some of the things you enjoy most about your job?
I really enjoy picking the mystery decks that people purchase. I love to try to guess what they would like by looking at their order. Also, I know the collectors act as if Santa's coming to town, so there's a special attention to detail when we pack the orders.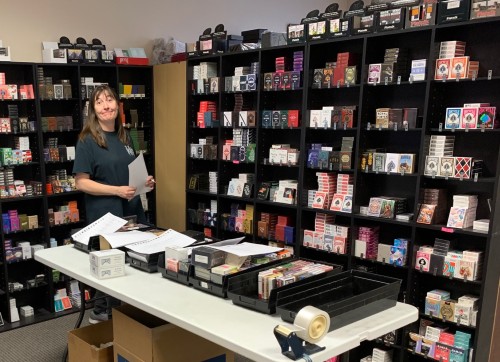 Besides you, what other people are key players involved at PCD, and what are their roles?
We have freelancers that contribute in many different ways. Boxes have to be made, and sample card sleeves prepared. Reviewing and marketing decks is always good. But I've got to say that Will is the number 1 key player in this whole operation. Without his vision, dedication and passion for cards, PCD wouldn't be what it is now.
Tell us something interesting about Will Roya that we probably don't know.
He can play guitar!
Tell us about a few custom decks in the PCD stock list that you find appealing yourself?
We have a deck called Strigiform Owls. It was a Bicycle deck that Will created. It was a beautiful deck of cards. It's been sold out now for a while. I also love the Ladybug deck and 5th Kingdom.
What can you tell us about some of the bonus extras that are sometimes shipped along as freebies in PCD orders, and how does this work?
Everyone loves free stuff! There are a few criteria for this. Number one, is there room in the package? We do give away free decks if there is room in the package. First time customers get special free stuff if it fits! We also give away card samples, stickers, PCD cases and other small accessories.
Our orders from PCD often include individual playing cards. Why is this, and where do you get these from?
Sometimes, we get damaged decks. And sometimes the artwork is so great we want to share it! We like to include sample cards in the orders so people can get a glimpse of other card decks that are out there.
How many orders take advantage of the Rewards program?
I see many orders that total hundreds of dollars and the rewards they take advantage of cuts the total almost to nothing! It really depends on how much you like to collect because we have new arrivals and exclusive decks coming in every few days.
How popular are the clearance items with customers?
Clearance items are always popular. You never know when you might get a GREAT deal on a very collectible deck!
Do you have any final advice for buyers about using the site or ordering?
Get the weekly newsletter so you can get exclusive deals and discounts on decks and featured items.

Conclusion
What a fascinating insider's perspective about an aspect of the playing card industry that we don't usually get to hear much about. Thank you Beverly for sharing your experiences and impressions, and for the good work you do. I've personally placed many orders with PlayingCardDecks, and my orders have always arrived safely and accurately, and been very well packaged with plenty of padded envelopes and packing peanuts. And to be honest, I always love it when my parcel includes some free goodies, whether it's some extra playing cards, or sometimes even a bonus deck!
We live in a time where there are so many terrific decks of custom playing cards being created and brought to the market. But we need the middle men who can help bring these to our door, and that's where businesses like PCD come in. My own diverse interests in playing cards probably reflects the broad dynamic of customers, because I enjoy playing card games, doing card flourishing, performing card magic, and collecting unusual and beautiful playing cards. Decks from PCD are typically all high quality products, that handle as well as they look. With their massive inventory, and with the help of hard workers like Beverly assisting Will Roya, it's little wonder that PlayingCardDecks has been a growing success over three years. Onwards and upwards!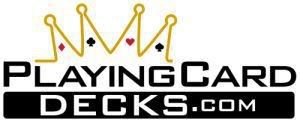 Want to learn more? Check out the following:
- PCD related links: Official website, Clearance Items, Rewards Program, Pip Box Club, Newsletter, Kickstarter projects
- PCD resources: PCD Blog, Playing Card Articles, Card Game Rules
- PCD social media: Facebook, Instagram, Twitter

About the writer: EndersGame is a well-known and respected reviewer of board games and playing cards. He loves card games, card magic, cardistry, and card collecting, and has reviewed several hundred boardgames and hundreds of different decks of playing cards. You can see a complete list of his game reviews here, and his playing card reviews here. He is considered an authority on playing cards and has written extensively about their design, history, and function, and has many contacts within the playing card and board game industries. You can view his previous articles about playing cards here. In his spare time he also volunteers with local youth to teach them the art of cardistry and card magic.


Last update date: 5/19/20