by BoardGameGeek reviewer EndersGame
In the world of playing cards, there are several different big players that help bring us our playing cards. There are playing card manufacturers that run the factories which produce the physical playing cards. But there are also companies that organize everything else, including the selection of material, organizing artists and graphic designers, and advertising and selling to the public.
While some custom playing cards are produced by individual graphic designers and creators, there are also established publishers and brands that have been producing playing cards for an extended period of time. One of the big brands that you really need to know about is 
Theory11
, makers of some of the finest playing cards you'll ever see.
The Theory11 brand
Theory11 has close links to both playing cards and magic. Under the leadership of CEO Jonathan Bayme, and together with a team of experienced magicians and artists, their stated goal is "
to advance, inspire and create wonder
". They've been in operation now for more than a decade, after their launch in 2007, and have an active community of magic creators and members. They also offer consulting services, and have created magic for stage, film, and television projects. As part of their commitment to quality, the Theory11 website offers the following creed: "
Every product at theory11 is developed by our world class team. We bring together industry-leading designers, creators, editors, and producers to develop products unlike any you have ever seen. Our goal is to provide quality over quantity. We only release products that we believe in.
"
But our interest isn't so much with the instructional magic products and videos that Theory11 has produced, but with their playing cards. They consider themselves to be the largest producer of luxury designer playing cards on the market. And with around 80 unique playing card designs to their name, they have an expansive and exquisite portfolio to back that up. As far as their playing cards are concerned, their design goal is simple: "
to push the envelope and create the most breathtaking, innovative, elegant designs.
"
Theory11 playing cards really are among the best you'll find. Their website boasts an endorsement from famous TV magician David Blaine who says "
The best playing cards ever produced.
" Many people would agree. Given their close links to magic, many of their decks are geared to the needs of magicians. But they can be appreciated by anyone who loves a quality deck of playing cards.
All this has led Theory11 to occupy a remarkable place in today's playing card industry: they're one of the only publishers to have managed to wiggle their way into the mass market. As a result you'll find their playing cards in retailers like Barnes and Noble, and even on the shelf in big box stores like Target. So let's take a look at a few of their decks, to give you some idea of their quality and range.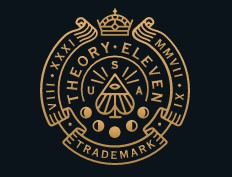 Monarchs deck
The 
Monarchs Playing Cards
 is a very practical deck of cards that has the look of complete class and sophistication, making it fit for a king, hence the name. These cards are widely hailed, and regarded as one of the best decks in the business.
These beautiful cards are delivered in an absolutely amazing tuck case that is laced with royal gold foil all over a navy blue tuck case, which is finished off with a gorgeous red seal that is labelled with a gold crown. This exquisite work of art comes complete with amazing embossing touches, and is guaranteed to catch the attention of anyone who sees it.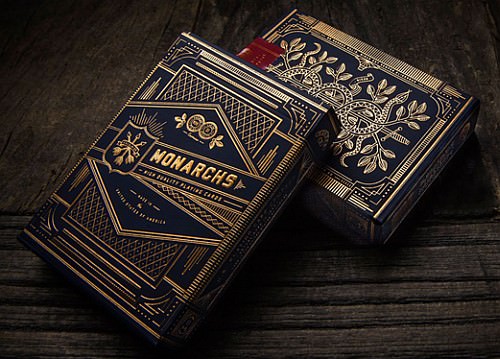 The back design features an ornate pattern with two white swords on a very dark navy blue background, entwined with snakes and surrounded by leafy branches. The use of a single colour keeps the cards from being too distracting, and makes them ideal for card games or magic, while also offering a fresh design that is visually appealing and intricate.
The faces of these cards are mostly standard, making them very practical, since they are quickly recognisable and identifiable. The Ace of Spades has an enclosed crown depicted in rich gold metallic ink, fitting in with the royal theme of the deck. The court cards are standard, but utilize a red, black and gold metallic ink that further strengthens that classy regal feel.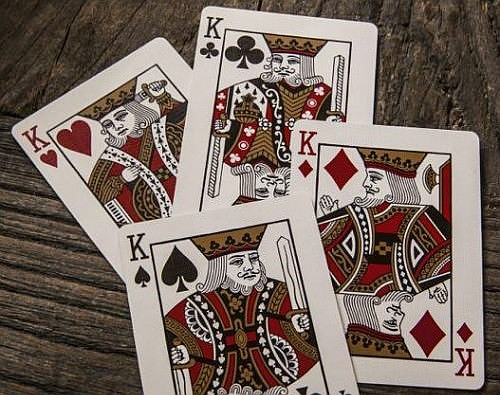 Citizens deck
As stunning as the tuck box of the Monarchs deck is, perhaps my favourite Theory11 deck is that of the 
Citizens Playing Cards
.
It has one of the most intricately designed tuck boxes you'll ever find, lavishly decorated with the most exquisitely patterned gold and bronze foil. The attention to detail is simply supreme, making the tuck box alone a true work of art. Even the inside of the tuck box has received the treatment of luxury, with an intricate foil pattern. Latin phrases on the box help add an extra layer of sophistication.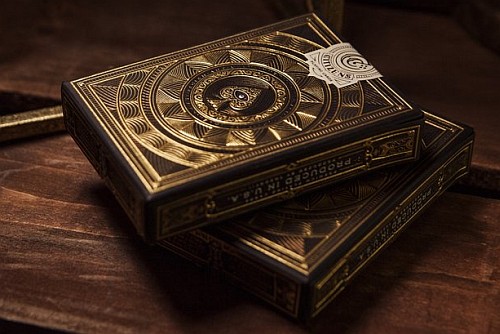 The cards on the inside don't disappoint either. The signature Ace of Spades continues the theme of intricate patterns, with a highly detailed line drawing that evokes class and style. The rest of the cards, including the courts, are highly attractive and elegant. The deep wine red used for the hearts and diamonds also enhances the sense of class.
The stylish back design complements the tuck box and the card faces well. While the box can be considered somewhat flashy, the cards themselves are not so "loud" that you can't use them for card magic or card games.
And like all the Theory11 playing cards, they handle great straight out of the box. If you're looking to make a supreme statement of style and elegance, few decks do it better than the Citizens. This gorgeous deck has been the subject of rave reviews, and once you have it in your hands, you'll immediately understand why it associated with a stream of superlatives. If you're going to just get one Theory11 deck, and want to know how they've earned a reputation for class, this deck is a good one to start with.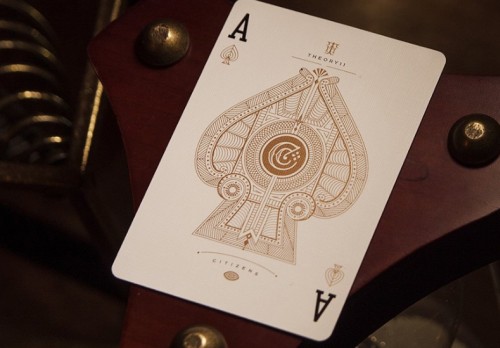 Rarebit Gold Edition deck
The 
Rarebit Gold Edition Playing Cards
 has proven to be one of Theory11's most wanted decks, and it's one of the top of their range. Featuring a matt black, the attractive tuck box has an embossed gold foil, with a signature style title that just oozes elegance.
The original Rarebit decks produced by Theory11 in 2013 were inspired by a restaurant called "The Rarebit" in Charleston, South Carolina. After selling out quickly, they were soon commanding high prices in the secondary market, and are still highly sought after. A sequel with copper foil backs was released in 2015, but that was topped by Rarebit Gold, which was released in early 2017.
The real appeal of the Rarebit Gold decks is the gold foil which has been hot-stamped onto the backs of the cards. Seeing a hand of cards with gold foil backs being fanned or spread looks mighty impressive! It really does have the appearance and sparkle of gold, and evokes an immediate and overwhelming sense of luxury and class.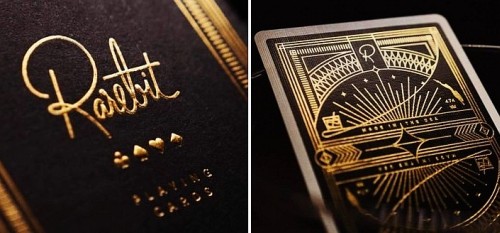 The Ace of Spades is intricately detailed and bursting with life, and contains a drinking glass that reflects the cafe behind the Rarebit name. The court cards feature another unique element of this deck: rabbit characters. Their presence is explained by the fact that "rarebit" is in fact a drawled pronunciation of "rabbit".
The court cards have a minimalist style that is somewhat of a departure from Theory11's usual approach to playing cards, which tends towards the more traditional. A gold metallic ink has also been used on the court cards to add to the sense of class. Despite the the striking sense of wealth and luxury, these beautiful cards are still very functional, courtesy of clear indices in a very stylized font.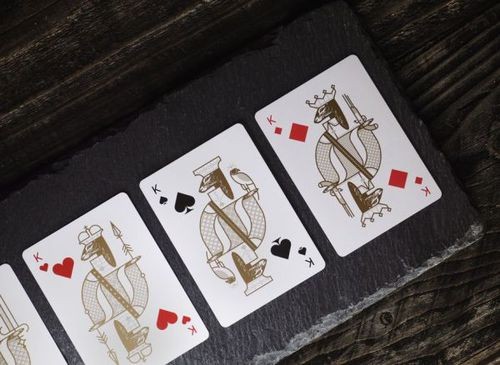 Animal Kingdom deck
The 
Animal Kingdom Playing Cards
 proves that Theory11 still has its feet on the ground, and also knows how to mix with more earthy types, and not just the sophisticated. This deck was a special collaboration with the World Worldlife Fund, the world's largest conservation organization, and was created to help generate funds for this worthy cause.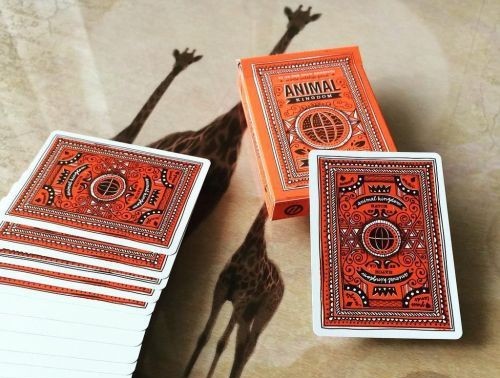 Both the Ace of Spades and the card-backs reflect the deck's connection with the the WWF, and the global symbol found on the card-backs is also a key feature of the interior printing inside the tuck box.
The gorgeous illustrations for this deck were created by Hatch Design. Their work is best appreciated by looking at the delightful court cards, which feature charming hand-illustrated artwork of various animals. The blue and green colourway of the black suits changes to red and purple for the red-suited cards, as shown with the Lion King and Parrot Jack pictured here. Meanwhile all the pips and indices have a customized design that complements the style of the artwork.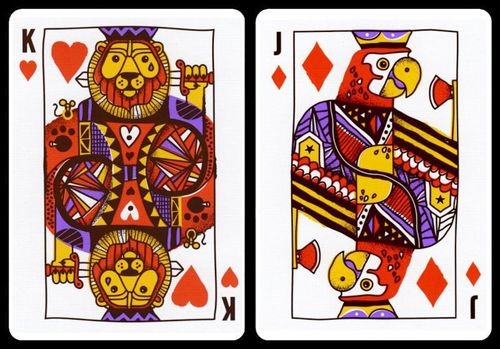 Other Theory11 decks
Many other examples of fine Theory11 decks could be given, and they continue to add new decks to their line-up on a regular basis. Some of the most recent designs produced just in the last year or two include the Navigators Playing Cards, the Voyager Playing Cards, and the Hudson Playing Cards.
If you are looking for tuck boxes with real class, three more of my personal favourites are the Contraband, Nomad, and Medallions. Along with the Citizens deck, these are among the nicest tuck boxes ever made - not just by Theory11, but by any publisher.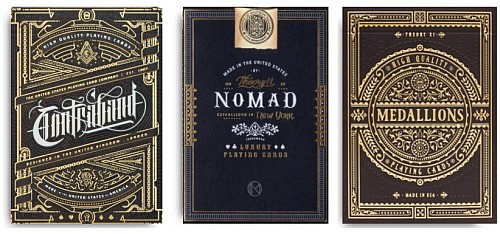 Impressions
Tuck boxes
: This is where Theory11 shines the most - literally. That's because a lot of their tuck boxes are just loaded with foil and embossing. Of course adding touches of foil won't make a deck attractive if the shiny look is not matched by a good design on the tuck box. Fortunately Theory11 is an expert at what they're doing, and every tuck box ends up looking like a statement of class and sophistication. Many of their decks are worth owning for the tuck box alone, because they're really that good!
Sophisticated:
 If you had to choose some adjectives to describe Theory11 decks, all the synonyms of "sophisticated" would make good choices. These are decks that are classy and elegant, and scream luxury and style from the moment you lay your eyes on them. There are some exceptions, and the Animal Kingdom deck is an example of a more low key and understated deck. But for Theory11, that is a departure from their usual style, and by far the vast majority of their decks reach similar heights of sophistication and style.
Magical:
The Theory11 decks are especially suitable for use in card magic or in card games. The look of the cards is immediately familiar, and doesn't depart significantly from a traditional look. While the tuck box and customization on the Ace of Spades and Jokers all breath a high degree of professionalism and style, the rest of the deck looks exactly what it is intended to be: an ordinary deck of playing cards.
Card design:
 If there was going to be a criticism of the Theory11 decks, it would be that the cards themselves don't always live up to the high standards of the classy box that contains them. They're excellent quality, to be sure. But the design of the card backs tends to be a mono-coloured design. In comparison with the eye-catching tuck box, this can seem somewhat "plain" by comparison. And with most of their decks the overall style of the card faces is quite standard, and customization is mostly limited to the Ace of Spades and Jokers. But it needs to be remembered that these are playing cards designed chiefly with magicians and serious card gamers in mind, where too much customization isn't usually acceptable. For the purpose they're intended, they are perfect.
Card quality:
 All Theory11 decks of playing cards are printed by the United States Playing Card Company, at their highest level of quality. That means that you can immediately expect a consistent handling, due to USPCC's standard air cushion finish and embossing, which combines to ensure just the right amount of slipperiness to make the cards handle very smoothly. As with all USPCC-produced decks, there is always the potential for slight misalignment of the borders, and Theory11 decks aren't exempt from this happening on rare occasions. But by and large the cards are the high quality you've come to expect from the maker of the Bicycle brand, and will be long-lasting, shuffle smoothly, and fan and spread evenly.
Inexpensive:
 A deck of Theory11 playing cards tends to be around the US$10 mark, which is an absolute bargain considering the high quality of the tuck box and cards. In today's playing card market, the typical crowd-funded custom deck tends to cost around US$15 minimum, and its quality will rarely compare favourably with what you get in a Theory11 deck. Theory11 has the advantage of producing playing cards in high volume, which enables them to bring down the cost. For what you pay, and compared with most other playing cards, it's a bargain.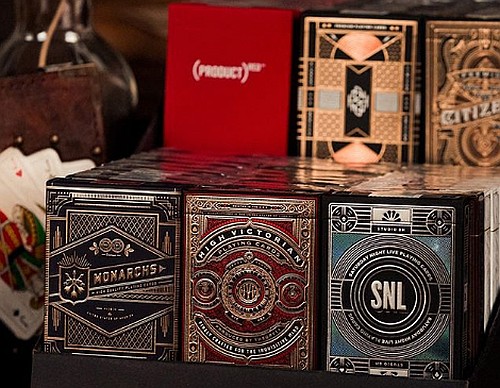 Final thoughts
Theory11 has the goal of producing quality playing cards, and they have an established reputation and fine array of classy published decks to prove it. If I'm looking for a deck of playing cards to give away as a gift to someone who enjoys card games, and want to get something that exudes sophistication and style without being overly customized, then a Theory11 deck will nearly always be my first choice. These are elegant decks that don't cost an arm and a leg, and yet I can be confident that I'll be getting something that's an attractive and quality product which will be well received.
Whether you enjoy card magic, card flourishing, card games, or just card collecting, there's room in everyone's life for a quality Theory11 deck!
Where to get them?
 You'll find a range of Theory11 decks on PlayingCardDecks.com 
here
.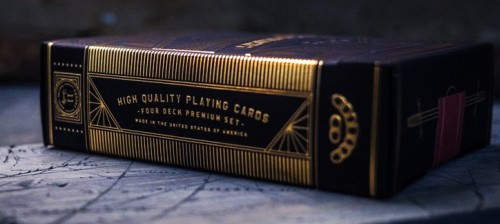 About the writer: EndersGame is a well-known and highly respected reviewer of board games and playing cards. He loves card games, card magic, cardistry, and card collecting, and has reviewed several hundred boardgames and hundreds of different decks of playing cards. You can see a complete list of his game reviews here, and his playing card reviews here. He is considered an authority on playing cards and has written extensively about their design, history, and function, and has many contacts within the playing card and board game industries. You can view his previous articles about playing cards here. In his spare time he also volunteers with local youth to teach them the art of cardistry and card magic.