by BoardGameGeek reviewer EndersGame
Big brands like Ellusionist and Theory11 are well known for their contribution to the world of custom playing cards. But what about some of the smaller players in the playing card industry? In this series of articles we're introducing you to some of the lesser known lights, which are nonetheless producing some shining stars in the world of custom decks.
The man behind 
Guru Playing Card Company
 (GPCC) is Sunish Chabba, and also part of his team is his friend and top Indian illustrator Ishan Trivedi. Sunish has a career as an Agile & Digital transformation consultant with experience in human-centered design. He is very familiar with the world of custom playing cards, and is respected for his positive activity in forums about playing cards and designing them. So let's learn about some of the decks he has helped bring to collectors under his Guru Playing Card Company label.
Divine Art deck
With the help of Kickstarter crowdfunding, the very first design published for Guru Playing Cards was entitled the 
Divine Art deck
.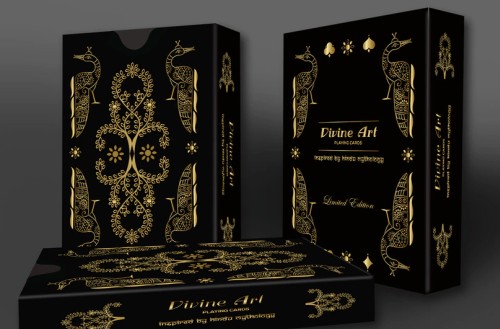 The deck's rather niche theme revolved around Hindu mythology, and depicted traditional imagery in attractive pastel colours, along with high attention to detail and ornamentation. This included decorations on the court cards that were inspired by traditional Henna Tattoos (Mehndi).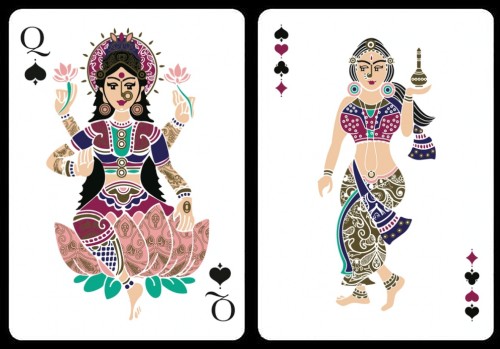 The Divine Art deck had gold gilding, and all the other extras you'd expect from a high quality limited edition deck, including a hot stamped gold foil on the card backs, and an individually numbered custom seal with metallic gold ink.
For a debut custom deck, it was a remarkable success, with backers consistently reporting that they were extremely pleased with the outcome.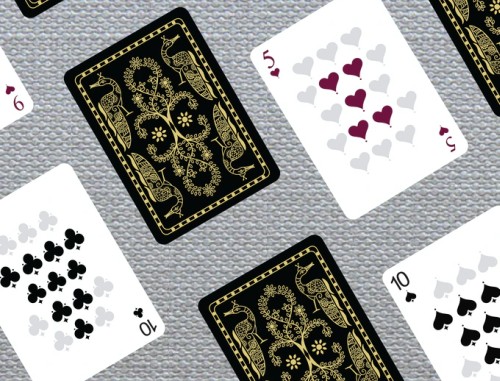 Bharata decks
Bharata Playing Cards - Series 1
The Bharata decks have their own pedigree, starting with the very first edition of the Bharata deck - Series 1, which was produced in 2017.

This is a high end deck of playing cards with all the extravagant trimmings you can imagine. When a deck comes with gold gilded edges as standard, you know that it is designed to look pretty!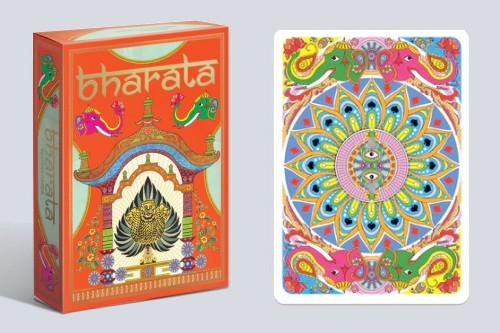 This wonderful deck has intricately designed and vibrantly coloured card backs, and faces inspired by Indian royalty of old. Bharata is the original name of India, and these playing cards are an ode to the childhood stories of kings and queens that have become part of the history of Indian culture. They feature illustrations and artwork based on Indian folk art forms, courtesy of the fine work of Indian illustrator Ishan Trivedi.
The gold gilding matches the card backs beautifully, and complements the overall tone of the deck with welcome elegance. As beautiful as these decks were, not too many of them were ever going to see much usage on the card table or for card magic, due to their luxurious qualities - they are primarily geared towards collectors.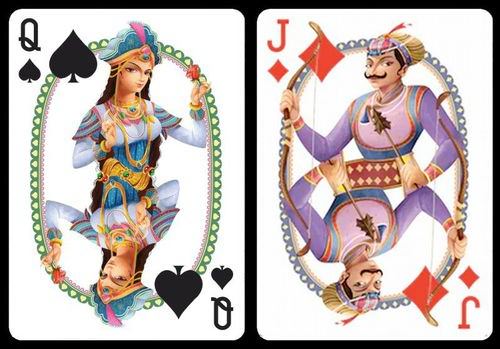 Bharata Tarot Major Arcana
After the initial Bharata deck came a follow-up, the Bharata Tarot Major Arcana deck. This was designed as a tarot deck, and only has 26 cards in total (22 Major Arcana cards plus 4 extra cards).

For me the card backs are even more lovely than those of the original deck, with a less garish look. There is a simple circular design that is instantly memorable. Yet there's incredible detail, including patterned flowers and swan-like figures. And the colours - I am just smitten by the rich combination of reds, blues and purples, which come together in a palette that feels warm and luxurious without being overpowering.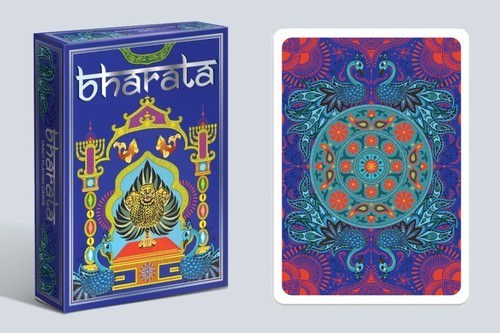 The beautiful artwork on the face cards has a similar style to the previous deck, but now it occupies the full canvas of the cards. With poker sized cards and gorgeous full-sized art, it is highly attractive. Inspiration behind the images includes Kishangarh paintings and miniature paintings, and these really come to life when the borders are absent, and where all the attention is on the artwork.
Like its predecessor, the edges are again hand gilded for an extra touch of luxury, this time with an antique gold look. While not designed for intense practical use, it is another stunning deck from Sunish Chabba, and a highly attractive piece of art.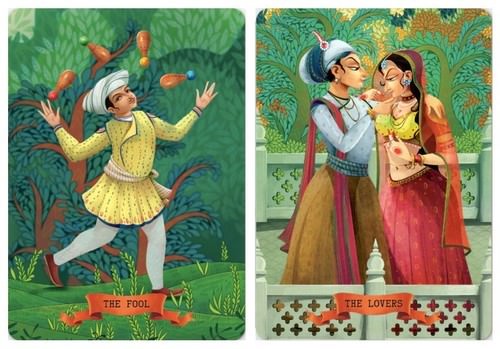 Bharata Playing Cards - Series 2
I was thrilled when Sunish subsequently produced a Bharata deck - Series 2, intended as an addition to the Bharata line-up that was a more workmanlike deck geared for normal use.

That's not to say that Sunish took short cuts with quality. You only need to take a close look at the tuck case to see that this is a very stylish and sophisticated deck. It features some very vibrant and colourful patterns, reflecting the cultural heritage of the deck itself, which are set on a black background to help give it a more serious look. A silver foil border and silver lettering all adds to the look of real class, which is confirmed when our fingers rove over the box and notice embossing for that extra level of luxury.

On the inside is full interior printing - again with a silver foil pattern that exudes sophistication and style, and which looks especially regal with its black backdrop.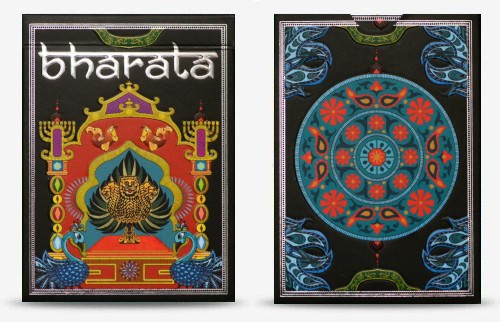 Once again I absolutely love the card backs, which take over the spectacular design and vibrant colours that we first saw on the Tarot version of this deck. The white borders help ensure that it isn't over the top and remains functional, while the design is the perfect blend of being striking, simple, and detailed, with a wonderful combination of colours.
The faces of the cards feature customization wherever you'd expect it - first of all with the Aces, which have giant pips that have ornate decorations inside them. The Ace of Spades has an especially lavish touch that includes the name of the deck and the playing card company below it, and employs a traditional look inspired by the Asoka Pillar.
Along with the delightful tuck case and attractive card backs, the court cards are my favourite part of this deck. A lush oval border uses a different colour for each suit. Inside this framing are figures with a delightful and charming style that immediately sets it apart from a typical Western deck.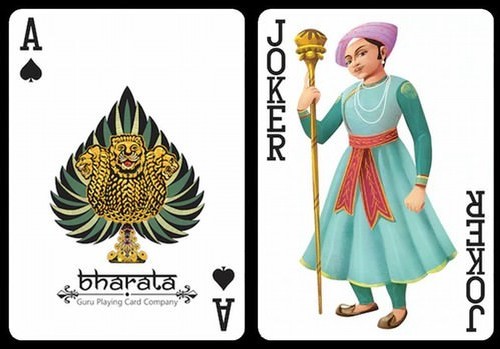 The striking artwork here was inspired by the Kishangarh painting style which emerged in the middle of the 18th century. The enchanting characters have been depicted as part of the Indian royalty, and look as if they have stepped straight from the pages of classic stories like Tales of the Arabian Nights. I may be confusing my cultures here, but no matter - I'm sure you see my point about the exotic lands and people that these cards evoke!
The court cards also have very clear, large, and functional pips and indices. The number cards feature similar customization, with very bold and plump pips that make good use of the entire card space and are printed very close to the edges for a very rich and full look to match the overall style of the deck.
The Jokers also feature two beautifully costumed characters with a one-way design, and there are also two extra gaff cards included to round out the deck.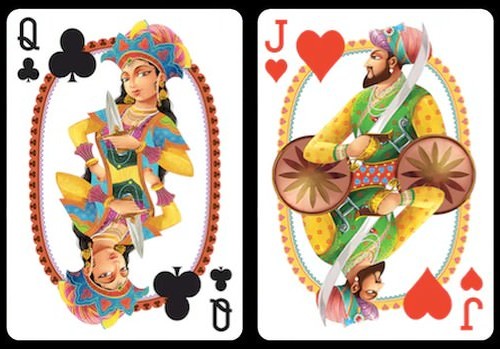 Kalevala decks
The 
Kalevala deck
 represents a change in direction from the previous decks, all of which were based on Indian folk art and mythology. But like those decks, it still reflects an appreciation for the treasure troves waiting to be explored and enjoyed in literature and culture, in this case Finnish oral folklore and mythology.
Kalevala means "land of heroes", and is the poetic name for Finland. The Kalevala is the national epic of Finland, originating in the 19th century, and was compiled and edited from oral tradition. It is an important cultural inspiration for the Finnish people, has been translated into about 50 languages, and is even said to have had a profound impact on Lord of the Rings author J.R.R Tolkien - and when you see some of the artwork on these playing cards, you'll understand why!
This deck consists of entirely hand-drawn artwork, starting with the tuck box. The simple colour scheme helps emphasize the legendary roots of the tale that the deck tells.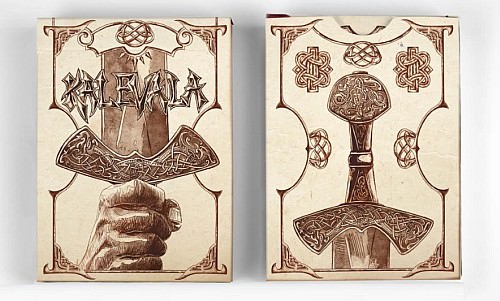 The central character of the Kalevala epic is Väinämöinen, who is often depicted in paintings and illustrations holding a sword. It was important to Sunish to stay true to Kalevala and Finnish folklore, and what is seen here reflects research of Finnish sword designs from the 8th-9th century onwards, with knots and scrollwork. Sunish has poured a lot of time and research into the making of this deck, including extensive consultation with Indian poet and translator Vishnu Khare, who made his own valuable contribution to Kalevala studies by producing an important Hindi translation for it.
The Kalevala poem starts with the traditional Finnish creation myth which describes the origins of the world, recounting myth and history all the way up to the introduction of Christianity. Some of the characters that inhabit this story include the old and wise leader Väinämöinen, a powerful seer who is master of the harp-like Finnish kantele; Ilmarinen, a skilled smith involved in forging the lids of heaven at the creation of the world; Lemminkäinen, the carefree adventurer-warrior and charmer of women; Louhi, the female ruler of the northern land of Pohjola, a powerful and enemy land in the north; and Kullervo, a hero tragically forced to be a slave from his childhood.
The court cards and Jokers are one of my favourite parts of this deck, because they depict these and other characters. All the names of all the characters featured in the deck are listed on an extra card included with the deck.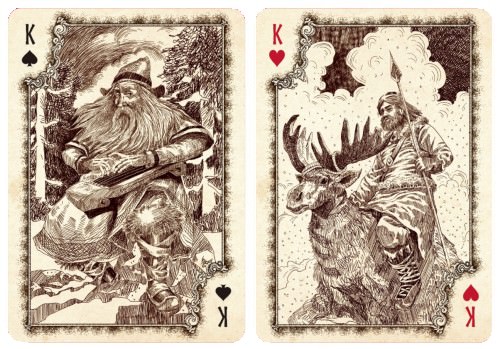 The card backs have a background that looks like antique parchment, with browned edges, creating an old world style which really contributes to the legendary feel of this deck, and is entirely fitting for a tribute to a national epic. The mono-coloured line style of drawing adds to this, and is strengthened further by the antique look of the background artwork on the card faces.
All four Aces have oversized pips, blending ornate decoration with a primitive and vintage feel, entirely appropriate for an epic. The number cards employ oversized pips that capture a style that harks back to playing cards from previous centuries, contributing further to the overall effect of an antique look.
The style adopted by illustrator Ishan Trivedi fits the thematic material perfectly. As a result this work has received high praise from Finnish natives who are familiar with the epic poem that is at the background of this deck. As proof of this is the fact that a copy of the Kalevala deck, along with a linen canvas print and the custom Väinämöinen's Sword that were made in conjunction with this project, are now part of the educational collection at the National Museum of Finland.
Those who appreciate Tolkien's 
Lord of the Rings
 will also find much to enjoy about this deck. Tolkien got the idea of a rescue by eagles from the Kalevala, and this is partly why the card backs feature this image. He was also inspired by Finnish and Nordic myths as the wider background to his Middle Earth.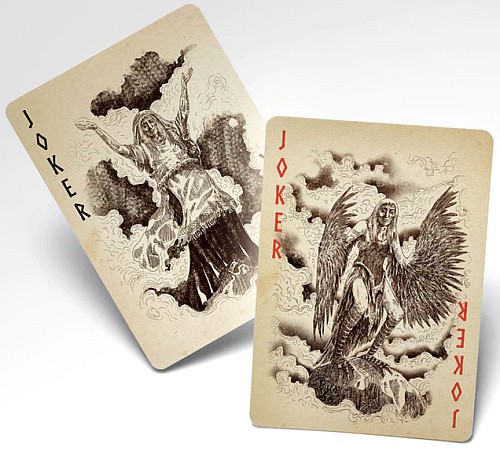 A Motley Pack: Transformation Playing Cards
Possibly my favourite project from Guru Playing Cards is one of their most recent ones: 
A Motley Pack
.
This deck is a recreation of some famous transformation playing cards that originally appeared in a book around 1875, but have never before been expanded into a complete deck.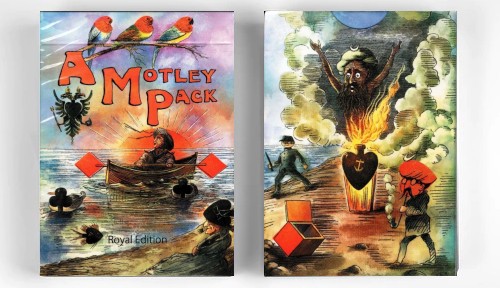 I'm a huge fan of 
transformation decks
, and this is a splendid example of the genre. Transformation playing cards have the unique feature of incorporating the pips into a larger artistic image (e.g. the pips on a Six of Clubs might each be transformed into birds as part of a bigger picture). Typically these pips use their traditional location on the card and retain their red and black colours.
Transformation decks were very popular in the 19th century, with some incredibly creative decks produced in this time period. One of the most famous was created by George Gordon McCrae in 1875, though at the time not as an actual deck of cards. First published in a Christmas Annual under the title "On the Cards" or "A Motley Pack", McCrae's illustrations consisted of 40 transformed playing cards, all of which are part of this deck.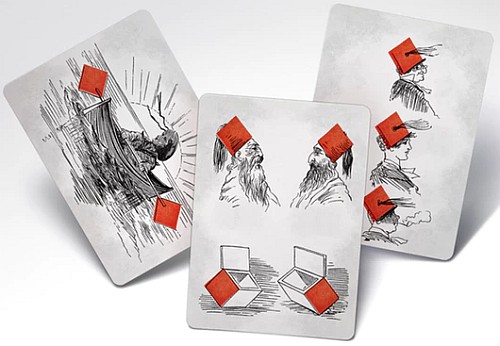 It's important to realize that the Motley Pack was previously never published as an actual deck, but simply consisted of illustrations as part of McCrae's book, which for a limited time can be obtained for free as an eBook from Guru Playing Cards here.

With the help of his illustrator Ishan Trivedi, Sunish Chabba has for the first time turned McCrae's remarkable illustrations into an actual and complete deck of playing cards. To do this, the artwork from the original book was redrawn, and McCrae's set of 40 cards has been supplemented with 14 additional ones using 19th century artwork in a similar style. That makes this project a world first.


Unlike some transformation playing cards, McCrae resisted the temptation to turn most of the pips into people, resulting in some very clever and humorous designs. The pictures were related to the book's story, which was written by the Australian writer Garnet Walch. This undoubtedly accounts for the presence of some Australian animals and characters on the cards.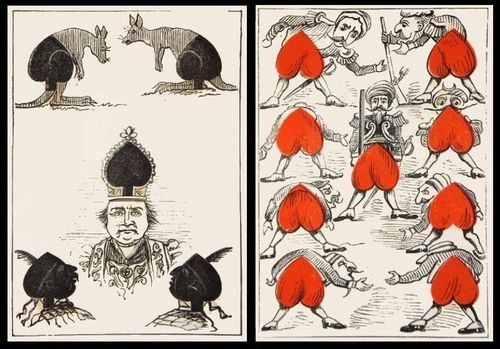 The significance of this deck hasn't gone unnoticed. In his recently published book 
Playing Card Divination: Every Card Tells a Story
 (2020), Stephen Ball included a picture of the cards from Sunish's Motley Pack as part of a section discussing transformation playing cards.
The Heritage Edition of the Motley Pack features a more austere colour scheme true to the original. Alongside this edition, Guru Playing Cards also produced a Royal Edition. This incorporates much more colourful artwork, adds indices to the faces of the cards, and is a charming upgrade from the original version and brings it to modern audiences. It's also functional and practical, and can even be used for playing card games, while serving as an attractive keepsake and tribute at the same time.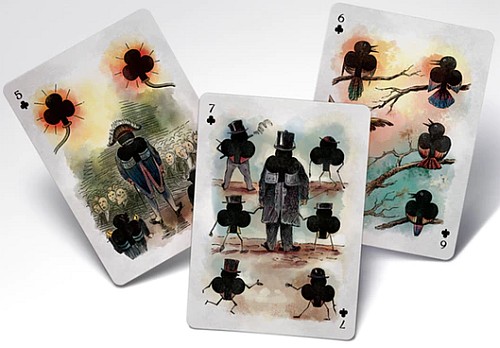 Forthcoming Projects
Sunish is currently busy working on two more projects for the Guru Playing Cards. He has already put an enormous amount of time and effort into them both, and these have been over a year in the making already. Both of these are scheduled to be launched on Kickstarter later this year, with the Bosch project tentatively scheduled to be launched within the next three months or so.
Hieronymous Bosch deck
The first deck will be unlike anything that Sunish has done before, with full-bleed artwork in a semi-transformational style.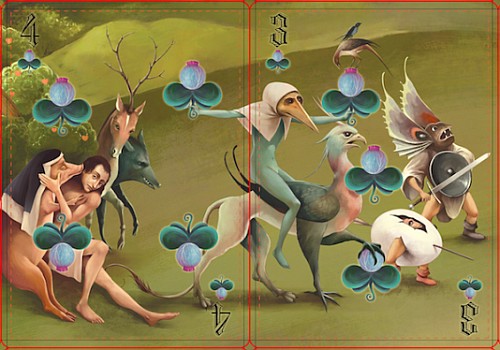 This will be a fine art deck that is a tribute to Dutch painter Hieronymus Bosch (circa 1450-1516), whose work is noted for fantastic religious illustrations, many of which depicted hell in a nightmarish manner.
The images shown here depict artwork that is still under development, so be aware that what you see reproduced here is not final.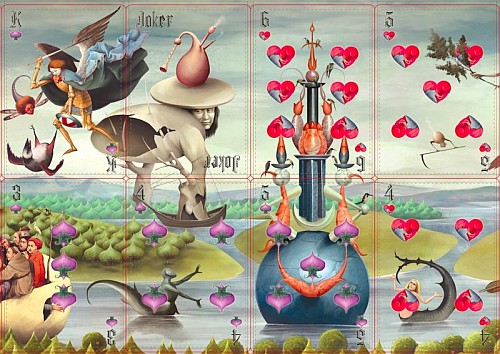 Mythos deck
The second deck will be about trickster gods, which are depicted in the various mythologies of different cultures.

This project will also have some special features in keeping with the theme, like a puzzle/trick box. Sunish has especially devoted extensive attention to this last item, which has already undergone multiple redesigns and prototypes to ensure that the final result will be perfect.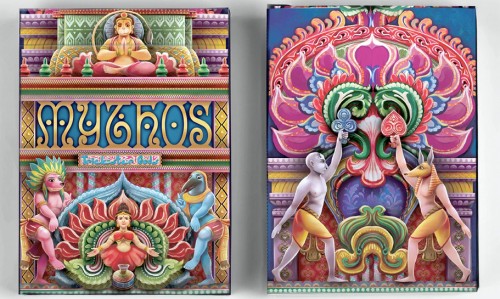 In line with the trickster theme, the court cards are asymmetrical, which represents an additional challenge for any artist. Currently the court cards and Jokers are expected to represent the Norse Loki, Greek Eris and Hermes, Finnish Lemminkainen, African Anansi, Roman Laverna, Hindu Hanuman and Mohini, Slavic Kutkh, American Coyote, Maori Arohirohi, Chinese Monkey King, Egyptian Set, and Islamic Molla Nasreddin Hooja.
Bear in mind once again that all the artwork shown here is non-final, but it gives an idea of what we can expect from this deck.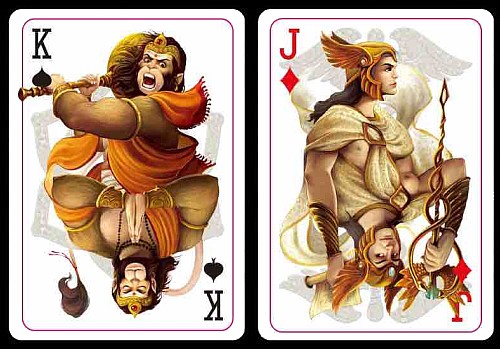 Impressions
So what can you expect from the decks produced by Guru Playing Cards? Here's some brief final impressions of the decks they've put out so far:
Divine Art
: Given that the theme of this deck revolves around the gods of Hindu Mythology, this will have a narrower appeal than the decks that followed it - although certainly many people do love it. But this project is important because it gave Sunish Chabba some solid experience with the playing card industry, and the later projects he produced have successfully benefited from this.
Bharata
: I'm a sucker for decks that have a luxurious looking tuck box along with engaging and unique playing cards, and this deck meets all of those criteria. The card backs especially grabbed my attention, and when I saw the charming court cards with their folk art style, I knew instantly that this was something I would like. It has a unique Indian style that sets it apart from most other custom decks that are being produced today, while remaining very practical and usable.
Kalevala
: This represents a change in direction from Sunish's previous decks, but it continues their loyalty to cultural traditions, and a desire to be true to folklore. Even though the subject material of this deck covers a different culture, what it has in common with those other decks is careful attention to detail, which is the result of significant research, and an artistic design that captures essential elements of the source material. The Kalevala deck is a wonderful tribute to a classic epic, which will be enjoyed and appreciated by anyone who has a love for epic stories, Finnish myths, or Tolkien.
Motley Pack
: This is the kind of deck that will appeal to any collector of quality custom playing cards. The novelty and creativity of these transformation cards is almost certain to make them a hit with whoever sees them. I'm a huge fan of transformation playing cards, and you don't have to be a collector like me to realize that this is a unique and rare opportunity to pick up something truly special!
Forthcoming
: The upcoming Hieronymus Bosch deck and the upcoming Mythos deck show the versatility that Sunish has. After an already strong line-up that includes mythological themes and a classic transformation deck, Sunish is treating us to some fine artwork from the school of surrealism, as well as another unique deck that plays to his area of strength: mythology.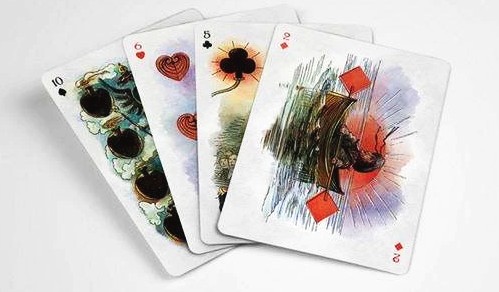 Final Thoughts
Sunish Chabba has now produced several playing card projects, and consistently produced great results. He has solid experience with the playing card industry, and from the playing card forums I frequent, it is obvious that he is an active contributor and designer who is well-respected by his peers. The classy results speak for themselves, with the unique and stylish custom decks he has helped create.

He is willing to draw on an incredibly diverse range of sources for his work, and his projects show an artistic depth that you'll not often see from creators. His portfolio already includes fine examples of a fully custom deck, a Tarot deck, a transformation deck, and a fine art deck. In today's playing card market we see too many "lazy" creators, who hastily put out yet another version of an existing hype deck with a simple recolouring or minimal other adjustments. That's definitely not a criticism that can be levelled at Guru Playing Cards!

Definitely take a closer look to see if these unique decks from Guru Playing Cards are something to add to your collection. If the artwork of these deck appeals to you, you will want to keep an eye on Sunish's social media to stay informed about news on these upcoming projects. And if you want some of his previous decks, you may need to act quickly, since they were produced in limited numbers, and they are going to be sought after by discerning collectors.

Where to get them? You'll find several of the Guru Playing Cards decks featured in this article over on PlayingCardDecks:
● Bharata deck (Series 2)
● Kalevala deck
● A Motley Pack (Royal Edition)


Update: The Bosch deck has since been launched on Kickstarter (link).

Want to learn more? Check out Guru Playing Cards over on their official website, or on social media (Instagram and Facebook)





About the writer: EndersGame is a well-known and respected reviewer of board games and playing cards. He loves card games, card magic, cardistry, and card collecting, and has reviewed several hundred boardgames and hundreds of different decks of playing cards. You can see a complete list of his game reviews here, and his playing card reviews here. He is considered an authority on playing cards and has written extensively about their design, history, and function, and has many contacts within the playing card and board game industries. You can view his previous articles about playing cards here. In his spare time he also volunteers with local youth to teach them the art of cardistry and card magic.


Last update date: 08/25/20