by BoardGameGeek reviewer EndersGame
Brand recognition. It's helpful for anyone who purchases playing cards to have some idea of some well-known brands and publishers. Because just like with clothes, certain brand names can be a guarantee of quality. That's also true for the world of playing cards. And when you see the name 
Ellusionist
 on the box, you know that you are getting a high quality deck of playing cards that will look sleek and perform well.
Like Theory11, Ellusionist is a company that is all about playing cards and magic. But while Theory11 specializes in high class playing cards with a sophisticated and yet practical look for the professional magician, the roots of Ellusionist lie with street magic first of all. As a result, they are all about being young, fashionable, and making a visual statement, and the playing cards they publish are created with that in mind. Their decks have been crafted by giving much attention to their attractive and stylish modern looks, and will especially be at home when used for flashy card magic.

The magic behind the Ellusionist brand
The chief face of Ellusionist is Brad Christian, who founded the company at the start of 2001. Brad's self-stated ambition was "
to create the best online training environment for people who want to learn high-impact, effective magic tricks.
" With his own long time love and experience for card magic as a background, he wanted to capitalize on his own strength in teaching magic, with a special focus on newcomers to the art. And so Ellusionist was born, with Brad creating videos for his website, and slowly building the brand.
Ellusionist's self-stated vision for their website is as follows: "
At Ellusionist, we have one goal: to give you the power to perform magic beyond belief. We want to make you the life of any party. We want to make you into a performer. Composed of 12 individuals, we barely sleep, and we will do anything necessary to bring you the best magic, the best talent, the best training and playing cards possible.
" To do this, their focus is to help people new to magic get going quickly with high impact and explosive magic. While Ellusionist has been the subject of some criticism, mainly for their marketing techniques, they are a fantastic starting point for the beginner looking to progress rapidly, and they have some excellent resources to get you off to a speedy start in the world of card magic. I've used quite a few of their materials myself, and some of their DVDs that introduce street magic and card magic are excellent. They tend to be very well produced, and while they are a little heavy on the hype at times, there are nearly always some good routines you can use, especially if you are a visual learner.
Ellusionist initially focused on training materials and supplies for magicians, but later broadened their reach by producing high quality custom playing cards. They have a range of more than a dozen different lines of custom decks, with a focus on classy decks particularly suited to magicians and poker players. Magicians especially favour playing cards that are functional and won't distract too much from the art of magic, while at the same time having an elegant look that creates an immediate impression. Ellusionist knows this market well, and these are exactly the kinds of decks that they are very good at producing. Typical for these types of decks are elaborate and impressive tuck boxes, as well as custom card backs, custom Jokers and Aces of Spades, and often custom court cards as well. Over the years, Ellusionist has made a name for themselves with a number of successful decks that meet these criteria.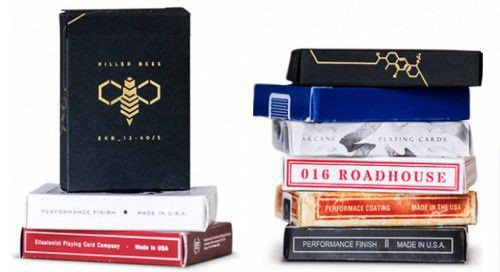 Black Tiger deck
The 
Black Tiger Playing Cards
 is a flagship deck that Ellusionist has been selling for over ten years. Today you can pick up this popular best-seller for around $5, which is an absolute bargain. The deck box is made of glossy card-stock, and immediately introduces the main concepts of the deck: a tiger, plus the simple colour scheme of black and white, with a splash of red.
Created to be a very visual and high impact deck, its chief feature is the reversed images used on the cards. They have a black card-back with a negative black and white image of the familiar Bicycle "rider-back".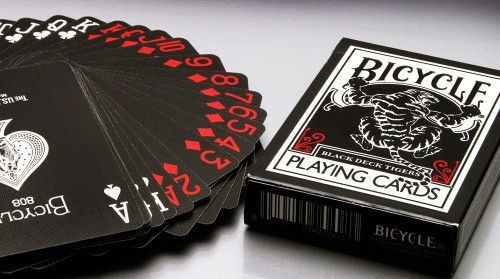 The entire colour palette has been kept to black, white, and red, to ensure good clarity and avoid any confusion between the suits. All the cards have black faces, while the clubs and spades have white pips, and the hearts and diamonds have red pips. The court cards feature a simple reversed image in black and white, which makes the red pips stand out all the more vibrantly.
The reversed image of the cards creates a startling impression, and instantly helps generate a magical feel. The designer Michael Kelley actually created this design after inverting a photo of a fanned deck on his phone, and was thereby inspired to make an entire deck like this. The concept of reverse image cards was originally a an accidental discovery, but the deck it led to proved to be a big hit, far more popular than ever expected. You can read the full story in Ellusionist's free download, 
The Black Deck Book
, which consists of 80+ pages, and includes tips for tricks, as well as helpful information about caring for and using decks with black cards.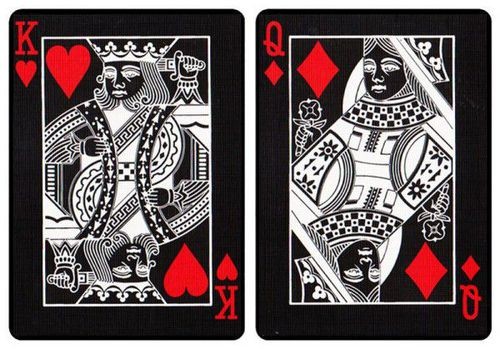 Vintage Series 1800 deck
The 
Vintage Series 1800 Playing Cards
 is available in 
red
 or 
blue
, and is an Ellusionist favourite.
This deck looks like it is more than a hundred years old - literally! - and even the tuck box is designed to look ancient and worn. The cards have a standard Bicycle rider-back design, but this classic look has been put through a convincing faux-aging process to make the cards seem old and grungy.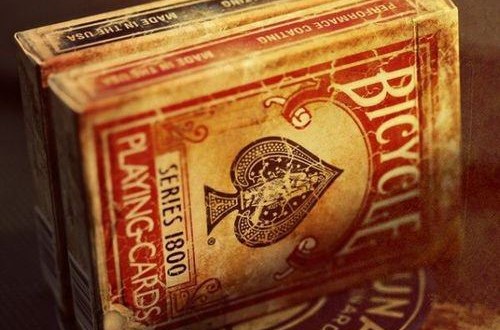 Yet despite the cracked and worn look, the cards themselves are the same high quality as a normal Bicycle deck. The back of every card also has a special marking system built in, which is intended for magicians. I wouldn't recommend that you use these decks for your next Poker night, but it is a great conversation piece, is terrific for card magic, and will make a wonderful addition to anyone's collection!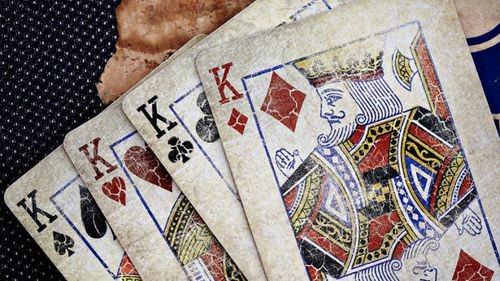 Killer Bee deck
The 
Killer Bees Playing Cards
 pays homage to a deadly hybrid breed of bees.
This stylish deck makes an immediate impression with its matt black tuck box, with attractive gold foil accents. Lurking beneath the humble black and yellow exterior is some killer material, starting with the stylish black and gold card backs, which have a striking geometric honeycomb design.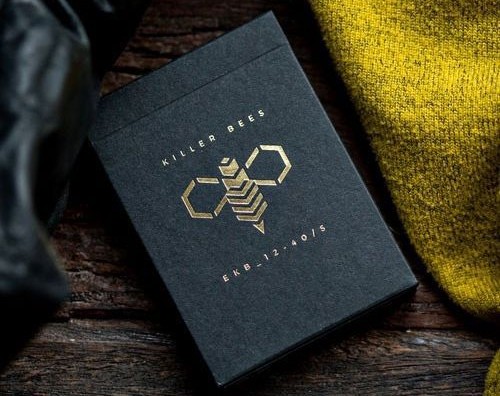 The court cards emphasize the simple black and gold or white colour scheme, by means of sharp lines and lots of empty space.
This deck is a great choice for cardistry, with its sleek look and minimalist colour choice, or anything that requires something flashy and stunning.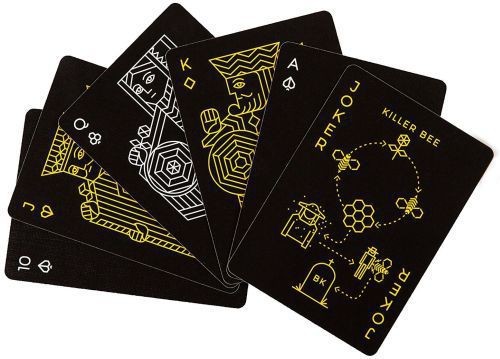 Bumble Bee deck
The 
Bumble Bee Playing Cards
 pays tribute to the humble bumble bee, and shows that Ellusionist also has a care for the environment. Our package gets us buzzing immediately, courtesy of a sweet looking tuck box, with a retro styled design.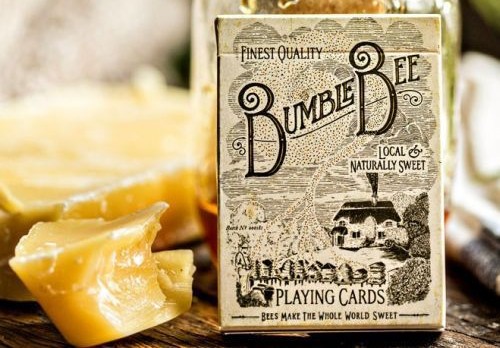 The card-backs feature a very intricate design on a faded and antique style background, one that bees would certainly feel at home in - in fact two of them have a home right in the middle of the card. And if you want to join the rest of the swarm, then just head over to the Ace of Spades, where there's a hive ready to go.
The court cards also have a very earthy and unpolished look, that celebrates our connection to nature, while the Jokers offer educational reminders about the vital role of bees as pollinators. As you'd expect, the handling of these cards is smooth and sweet like honey, with card-stock that will make you buzz with excitement.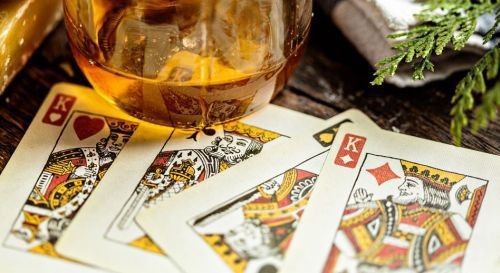 Knights deck
The 
Knights Playing Cards
 draws on a tradition as old as playing cards themselves - chess - and takes its name from the piece with the most unusual movement: the Knight. The tuck box has a matte finish, with an elegant and distinguished combination of white with gold foil, giving an immediately luxurious and classic appearance.
But the understated tuck box has some real surprises in store, including beautiful gold foil interior printing, and the iconic knight on the inside of the flap.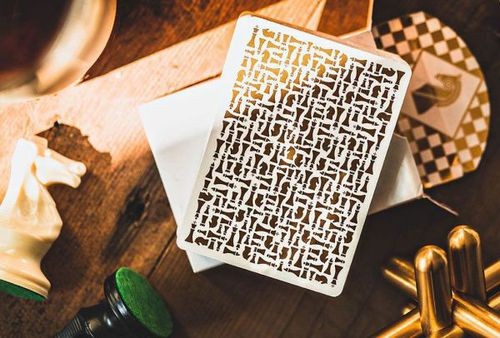 The card backs have an elegant college of small chess pieces decorating the artwork, and these contain some hidden secrets that magicians will welcome, but will escape the notice of all but the most highly observant layman.
The number cards and court cards feature a uniformity in style, but retain a limited beige colour palette within the confines of a somewhat traditional look, to enhance the look and feel of complete class. Overall, the Knights deck has a minimalistic design with an elegant look due to the shiny gold ink and delicate artwork that is used. Besides this original, versions in other colours have later appeared as well.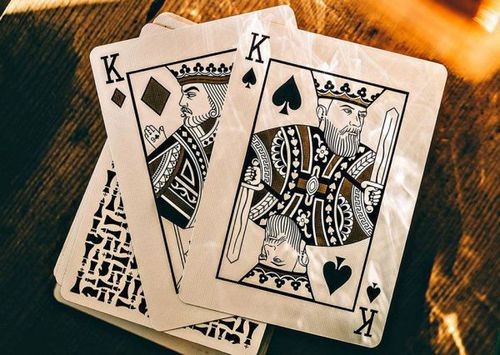 Other Ellusionist decks
The Black Tiger is not the only black deck created by Ellusionist, although it is easily the one that has proven most popular. Other successful black decks in this style include the 
Tally-Ho Viper Fan Back
, 
Black Arcane
, 
Bicycle Black Ghost
, and 
Bicycle Shadow Masters
.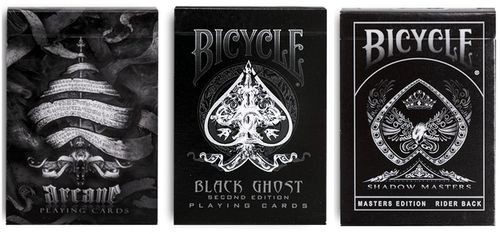 Another bestseller for Ellusionist is their 
Artifice series
, which comes in Red, Blue, Green, Tundra, Emerald, Purple, and Black. These have a very classy back design, and are also ideal for card flourishing and card magic. For playing cards that really makes a splash, check out the 
Fathom deck
, which features a water theme. There is also a matching 
Ignite deck
 which features a fire theme, and together these two decks make a great pair.
Besides the ones already mentioned, a very wide range of decks has been produced by Ellusionist, and it's worth checking out all their releases, including the classy and elegant decks pictured here. The 
Aurelian deck
 represents one of their more extravagant tuck boxes, with lavish use of gold foil on black, while the 
Infinity deck
 also has a stylish and attractive tuck box. The 
Keepers decks
 (available in blue, red, and green) are modelled on the classic Bicycle riderback design, but instead feature lighthouses.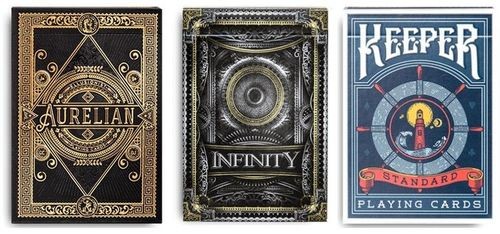 Impressions
Good looks:
 Ellusionist knows what kind of decks are appealing, and their iconic Black Tiger deck is a fine example. The jet black cards have a mysterious look to them, and the red and white makes a very strong contrast with the black, thus making the colours "pop", and very visual. These cards generate an instant "wow" the moment you pull them out of the box, and yet they are still very functional and usable for card magic or card games. Despite the flood of new decks constantly appearing on the market, Ellusionist decks continue to be very popular due to the elegance and simplicity of their designs, while being fashionable and modern at the same time.
Magical:
Many of the Ellusionist decks are particularly well-suited for card magic, which is the foundation of their company. They look familiar, but still evoke a sense of professionalism and mystery. Many of their decks also come with handy gaff cards that magicians will appreciate.
Inspirational:
 When it was first conceived in 2003, the Black Tiger deck was revolutionary and outrageous, because it completely broke with the traditional playing card mould. Some have credited it with giving birth to the custom playing card market that is thriving today. That might be overstating matters, but its large sales figures can't be ignored, and its influence is widespread. Certainly the Black Tiger deck has played an important role in inspiring many playing card designers to come up with innovative designs like the ones hitting the market today.
Card quality - USPCC decks:
 For most of their life as a publisher, Ellusionist has been printing their decks with United States Playing Card Company (USPCC), which is the highly respected American producer of quality playing cards like Bicycle. Ellusionist decks are typically produced with their standard air cushion embossing, and with the best card stock available. Many Ellusionist decks mention "Performance Coating" on the box, and this is what USPCC refers to as their "Magic Finish". Unlike the "Standard Finish" that USPCC uses on the massive print runs of their own branded cards, this is slightly more slippery, and is typically preferred by magicians and cardists because it makes cards slide more easily. All this means that you can expect an Ellusionist deck to be long-lasting, with a finish that makes them ideal for handling and shuffling, fanning and spreading.
Card quality - Cartamundi decks:
 More recently Ellusionist has been partnering with playing card manufacturer Cartamundi in the printing of their decks. Cartamundi's True Linen B9 card stock is a premium card stock that feels thicker than a typical Bicycle deck, but is very soft. The superior handling of these decks is appreciated by many magicians and cardists. To compete with the soft-crush stock from USPCC, Cartamundi has recently been producing decks with a Slimline stock also referred to as their luxury pressed E7 stock, with examples being their 
Marbles deck
 and 
Blue Cohorts deck
. This ultra thin card stock has been the subject of very positive reviews so far.
Marketing:
 Ellusionist knows all about the power of marketing. They are an established brand, and have a legion of die-hard fans who have been buying from them for a long time. But with the emergence of crowdfunding, the custom playing card has really exploded, and suddenly Ellusionist has found themselves with some unexpected competition, often from the creative graphic designer who now can harness the power of the internet to get his own deck funded. But the marketing engine of Ellusionist continues to roll on, and every new deck release is accompanied with flashy photography, which in some cases can even stretch the truth a little. But there's no doubt that they are a highly polished publisher, and very slick at what they do.
Inexpensive:
 Many custom decks of playing cards can cost US$15 or even more today. In contrast, many Ellusionist decks are relatively inexpensive. The fact that they are produced in larger numbers, and have an established market, means that these playing cards can be made available more cheaply than some other custom decks. An Ellusionist deck will usually be quite affordable, and yet you can be confident that it is a high quality product.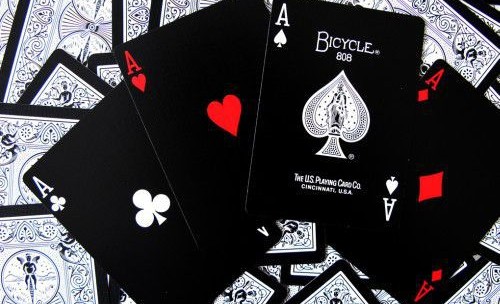 Final thoughts
Ellusionist has a terrific range of magic teaching materials, but the real appeal for most readers here will be their custom playing cards. They have some elegant and classy decks that are ideal for playing poker or other traditional card games, and for performing card magic, especially if you are drawn to a flashy style that engages people on the streets. More recently they are starting to venture into the cardistry market as well.
Definitely take a look at their signature deck, the 
Black Tiger deck
, which is a practical and functional deck that makes a instant bold statement that will make people sit up and notice, and yet handles well. Alternatively check out some of the other decks they have produced, which are quite affordable in comparison to other high end custom decks, without sacrificing quality.
Where to get them?
 You'll find a range of Ellusionist decks on PlayingCardDecks.com 
here
.



About the writer: EndersGame is a well-known and highly respected reviewer of board games and playing cards. He loves card games, card magic, cardistry, and card collecting, and has reviewed several hundred boardgames and hundreds of different decks of playing cards. You can see a complete list of his game reviews here, and his playing card reviews here. He is considered an authority on playing cards and has written extensively about their design, history, and function, and has many contacts within the playing card and board game industries. You can view his previous articles about playing cards here. In his spare time he also volunteers with local youth to teach them the art of cardistry and card magic.