by BoardGameGeek reviewer EndersGame
Who are Tom and Judy Dawson?
Once in a while, while traversing the wilds of the internet, you unexpectedly come across an outstanding resource. That's exactly what happened to me when I came across a fantastic video featuring playing card collectors Tom and Judy Dawson, where they talk about playing cards as part of a 40 minute interview.
Before I show you the video, you need to know a thing or two about Tom and Judy, who hail from Toronto, Canada. They are not your every-day playing card collectors. Tom was a former President of 
52 Plus Joker
, the American Playing Card Collectors Club, and was an active member until his sad passing away in 2016. At the time, they had the unique distinction of being the only members who had attended all 29 conventions up to that point, and Judy was editor of their newsletter for some 28 years. She remains involved on an executive level, and the club's official website designates her as "Club Queen".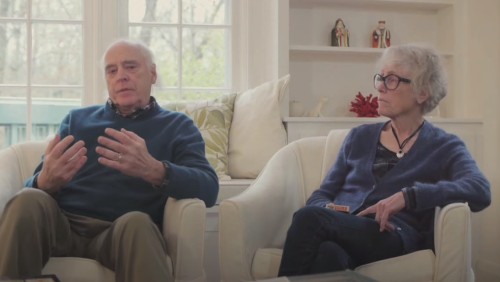 They can rightly be considered experts in their field, and their credentials as authorities on the subject of playing cards is confirmed by an important work they co-authored and completed: Gene Hochman's authoritative 
Hochman Encyclopedia of American Playing Cards
. This four volume set of books was originally the creation of respected collector Gene Hochman, and was first published between 1976-1981. Very few people would have sufficient knowledge and expertise to revise and expand a work of this sort, but that's exactly what Tom and Judy Dawson did with this impressive series of keystone books.
With a main focus is on American playing cards, as the title indicates, it is a comprehensive guide to various decks of playing cards that were produced in the United States from the late 18th century onwards. As part of its catalogue it includes important information on scarcity, and besides covering individual decks it also covers different producers and brands. For serious collectors, it's an essential reference tool. Lee Asher, the current president of 52 Plus Joker, offers this glowing praise for this book: "
This is the best resource on collecting American playing cards, ever written. They took all of long-time collector Eugene Hochman's research, and compiled it into one big volume.
"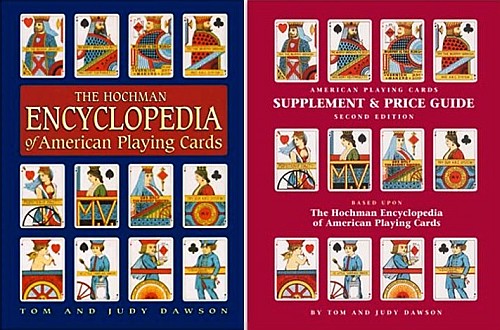 In 2013, Ben Train interviewed Tom and Judy about playing cards, as part of Chris Mayhew's "Series of Unfortunate Effects". In this interview, Tom and Judy share some valuable information about the history of playing cards, different ways that they are used, as well as advice about being a collector, and much more. It was made available online by the current president of 52 Plus Joker, Lee Asher. The video is 38 minutes long, and I highly recommend watching it in entirety. In the material below, I've summarized some key things that you'll learn from this interview, and share some of the material that these two passionate playing card collectors cover.
The Interview
History of Playing Cards
The interview starts with Tom giving a broad overview of the history and development of playing cards. While we can't be certain of their true origins, this is likely in the Far East, possibly as an easier and cheaper way of playing chess-style war games. From here they eventually made their way through the Middle East and North Africa into Western Europe, and that's where the first definite record of playing cards can be found in the late 1300s. Italians, French, and Spanish playing cards weren't standardized like today, but used suits with a variety of symbols such as clubs, swords, and bells, and also had varying numbers of cards in a deck. The French were especially renowned for their playing card manufacturers, and today's playing cards are largely based on old French designs.
The backs of playing cards were originally blank, but over time things were added like images on the card backs, corner indices, double ended artwork for the court cards, and coatings on the paper. Playing cards were at one time called "pasteboards", and were originally thick and bulky. But improvements in manufacturing led to thinner playing cards, with improved quality and handling.
Prior to the adoption of indices, one manufacturer used miniature pictures of the card on opposite corners, which were called "Triplicates", and the indices we use today were developed in competition to these, and were first described as "Squeezers" in light of the ability to hold a larger hand of cards.
I was especially fascinated by Tom Dawson's observation that although many people have tried to introduce innovations to playing cards, these never last, and the traditional style and designs always return. Evidently there is something truly "classic" about the deck we have inherited today!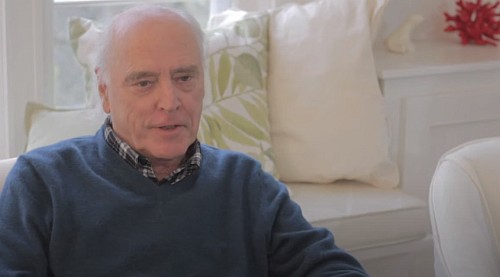 Uses for Playing Cards
In this section of the interview, Tom and Judy share some of the fascinating ways playing cards have been used throughout their history, besides more obvious uses like card magic, and for playing the thousands of card games that exist. But even decks used for card games come in different sizes, e.g. containing 32 cards, or 40, 48, 52, and even 78 or more. So a deck of cards can mean a lot of different things, and many of the games played with them are very regional.
Playing cards have been used very seriously for fortune telling, sometimes with individual cards having fortune information on them. Tarot decks typically have 78 cards, and each of the 22 trumps in these decks has a different picture and is assigned a different meaning. While such decks are sometimes used for the occult, many of them do have fantastic designs and artwork. This makes them very collectable, and even Tarot decks that are barely 20 years old can be worth large sums.
Playing cards were also used for educational purposes (e.g. to teach math, science and more). Souvenir decks have been popular, because they have a picture on each individual card. When these started being produced in the 1890s, photography was still quite new and expensive, so a souvenir deck functioned as a nice miniature photo album.
Because cards originally had plain white backs, they proved useful for note-taking, indexing, invitations, coupons, IOUs, and more, especially in a time when paper and cardboard was rare and expensive. Besides these secondary uses, there was even a time in the 1700s in Quebec when they were used as money cards.
There are also people who build enormous card houses with playing cards, made out of hundreds of decks of cards. Brian Berg is well worth looking up given some of the unbelievable things he has made out of playing cards.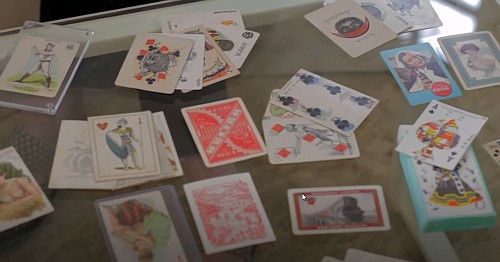 Card Boxes
In today's market, some publishers like Theory11 devote a lot of attention to producing high end tuck boxes, and it is a big part of the marketing. While today's techniques may be new, the idea of an attractive tuck box is not new, and throughout the history of playing cards there have been manufacturers doing interesting things with the card boxes.
Tom explains that originally playing cards were just packaged in relatively plain paper wrappers, and there was no box at all. As the 1800s progressed, wrappers made way for something more sturdy, which led to the development of all kinds of boxes. Various interesting packaging was used, including boxes that had outer and inner cases, and small drawers. Congress Playing Cards used a packaging that would display the designs of the deck on the outside of the box. I really enjoyed seeing some of the unique ideas for packaging that Tom and Judy showed in this part of the video. One of my favorites that they displayed was a beautiful war deck from 1935 that was housed inside a book!
After showing a lovely custom wooden box for the Circus Transformation Deck that was produced in 1988, Judy explains what transformation decks are, showing some example cards. In transformation decks, the pip cards are transformed into a design, by using the pips as part of the picture. I immediately felt a sense of kinship with the Dawsons at this point, because apparently transformation decks are a favourite for them, just as they are for me.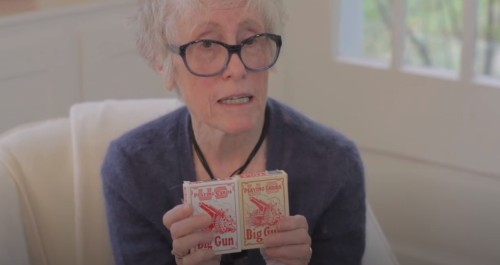 Collecting Cards
Tom and Judy decided to focus their own collection on standard playing cards (i.e. those with a traditional layout and traditional court cards), primarily older cards that are American in origin. It's not that they don't like custom decks, but the simple matter is that if you're collecting anything you need to specialize in some way and have a focus.
Tom gives an extensive list of different kinds of cards that are available to collect, including comic cards, tobacco insert cards, advertising cards, transformation cards, and war cards. All the wars have been commemorated in playing cards, as are many births and other important events in the lives of royalty. Judy puts it well: "You can actually create a whole history from playing cards." She's absolutely right, and in that respect playing cards are a mirror of life.
Besides people who collect decks, there are also those who only collect single cards. This is usually due to their interest in the card backs, and they might specialize in backs on a particular topic like horses or landscapes. But there also people who only collect a particular card, like a Joker, or the Ace of Spades, in light of its special design and the name of the maker, effectively making it like the title page of a book. Judy considers collectors of Jokers the bane of other collectors, because these are one of the most prized parts of a deck, and a deck that is otherwise complete but missing an unusual Joker drops significantly in value.
The condition of your cards is also important, and this is something Tom and Judy know more than a thing or two about, not just from their own experience, but also as authors of the Hochman book. Obviously the less used a deck is, the more valuable it is. Judy also makes some very good remarks about how a modern deck that is purchased and preserved won't nearly have the same value as an older deck that is preserved. There are plenty of collectors today who have limited edition versions of modern decks, while in contrast vintage playing cards are much more scarce since they were typically bought in order to be used rather than collected. This is one reason the Dawson's own interest is especially in old decks, or decks that were only produced in extremely limited editions (e.g. only 50 produced).
Tom points out that a nice aspect about collecting playing cards is that you get the opportunity to do research and learn about your decks. There's a lot of great books that can assist with this. There are also playing card clubs like 52 Plus Joker, and similar clubs in other countries, so there's a lot of good resources available.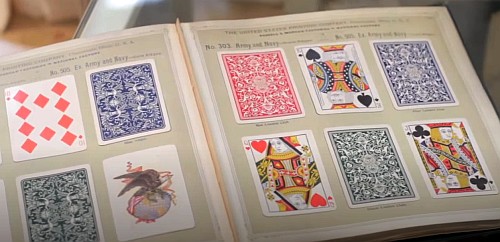 Show and Tell
In the final ten minutes or so of the video, Tom and Judy show us a range of different playing cards to illustrate some of the things they've covered. One deck shown is extremely scarce, with only 50 made. There's even an example of a valuable deck of which only seven total were made; Tom and Judy believe that these decks were withdrawn before going up for sale. You'll also see a card from a deck published in 1950, where the entire deck would be worth $15,000, and you'll see a single card picturing a baseball hall-of-famer that on its own is worth up to $1500.
As well as a range of historic Aces of Spades, a range of old Jokers is also shown, many from different advertising decks. Decks that advertise famous companies like Coca Cola are even more prized, since there are so many collectors of Coca Cola memorabilia around the world. Tobacco insert cards often featured lively burlesque artwork, and because they were released individually, people had to collect these decks one card at a time, making a complete deck of these even more prized. A charming music-themed German deck from around 1850 has cards with spectacular designs that can be placed alongside each other to produce a complete piece of music. You'll even see a card from one of the 1805 Cotta transformation decks, and some other terrific examples of cards from old transformation decks.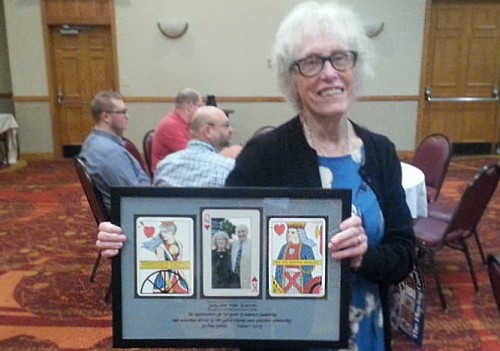 Conclusion
Impressions
Tom and Judy's passion for playing cards really shines through in this wonderful interview. From how comfortable they are with the subject material, it's very evident that they are experts who are extremely knowledgeable. They were obviously a great team, and extremely respectful of each other, giving each other opportunity to share from their wealth of knowledge.
Given that the focus of their own collection is on older standard playing cards, not everything they say applies to modern custom decks. Even so, there's still a lot that can be learned from what they have to say, and my own knowledge about collecting playing cards was enhanced by learning about an area that I don't have as much first-hand experience with myself. I also really enjoyed the opportunity to see some rare decks from the early 1900s and some playing cards that even hailed from the 1800s.
I highly recommend that playing card enthusiasts take the time to watch the whole video, and learn from this lovely couple, who are keen to inspire others in the wonderful hobby of collecting playing cards.
Where next?
With their dedication and enthusiasm as collectors, Tom and Judy have left a legacy for us all. Not only can we benefit from the Hochman Encyclopedia they helped write, but we can also continue their passion for playing cards. Especially if you are a serious collector with an interest in American playing cards, here's what you can do next:
● 
Get the book
: If American playing cards are your thing, the Hochman Encyclopedia co-authored by the Dawsons is a must have. It also contains helpful information about grading and dating playing cards. If you're interested in learning more about this, Tom explains the grading system they use in a separate interview clip that you can listen to 
here
. Lee Asher also has two excellent articles which I highly recommend in relation to this. The first is about 
How to date a deck of USPCC playing cards
, and the second is about 
How to grade playing cards
. The grading scale that he presents there is taken straight from the Hochman Encyclopedia, and gives descriptions for how to grade a deck of cards into one of the following categories, on a sliding scale: 
As Issued, Mint, Excellent, Good, Poor,
 and 
With Faults
.
● 
Join the club
: The 
52 Plus Joker Club
 has been around since 1985, and was originally created to meet the needs of American collectors of antique playing cards. The scope has since broadened, and what they offer today includes things like a printed and digital club magazine, an annual club deck, and playing card auctions. The highlight of 52 Plus Joker is undoubtedly the club's annual convention in October, which is where collectors, designers, manufacturers, and enthusiasts come together to talk about playing cards, listen to lectures, buy and sell, receive awards, and much more. The Dawson Award is one of the awards given, and is a special achievement award named after Tom and Judy.
● 
Go to the convention
: Due to current COVID-19 restrictions, plans for the 2020 convention had to be changed drastically. But the good news is that it's going to be held virtually via Zoom from Wednesday October 14 to Saturday October 17. What's more, this year it will be entirely free to participate! That means that many people who couldn't normally participate have the chance to join in this year, so there's a silver lining to every cloud. Check out the 
2020 Online Convention
 page to see this year's schedule and more details.
Want to learn more?
Visit 52 Plus Joker, the American Playing Card Collectors Club.
● Official links: 
Official website
, 
Conventions
, 
Instagram
, 
Facebook
● Interviews: 
Lee Asher (President)
, 
Don Boyer (Vice-President)



About the writer: EndersGame is a well-known and respected reviewer of board games and playing cards. He loves card games, card magic, cardistry, and card collecting, and has reviewed several hundred boardgames and hundreds of different decks of playing cards. You can see a complete list of his game reviews here, and his playing card reviews here. He is considered an authority on playing cards and has written extensively about their design, history, and function, and has many contacts within the playing card and board game industries. You can view his previous articles about playing cards here. In his spare time he also volunteers with local youth to teach them the art of cardistry and card magic.


Last update date: 10/06/20