by BoardGameGeek reviewer EndersGame
Who is Lee Asher?
I first came across the work of 
Lee Asher
 many years ago. At that time I was exploring my long-time interest in card magic, and Lee had made some good contributions in that area. One of his signature tricks that he is well-known for is an ace routine called the 
Asher Twist
. If you enjoy card magic, you'll appreciate the cleverness involved and the impossibility it apparently creates. Lee is skilled magician, and his name will be familiar to many from his work as a magic consultant.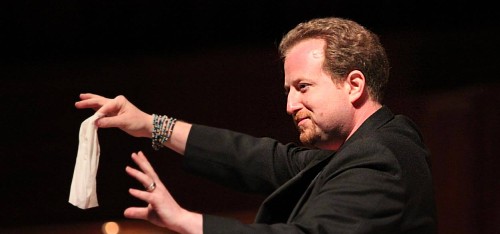 But Lee Asher's credentials extend much further than the contributions he's made as a magician. Self-described as a "
playing card and sleight of hand expert
", it's especially his expertise in the area of playing cards that will interest most readers of this article. When my personal interest in playing cards was revived in the last number of years, I kept coming across his name in several places. When researching things like the iconic Jerry Nuggets Playing Cards, I came across his outstanding article on the subject. While looking up information about dating playing cards, his name popped up yet again, once more with a very informative and authoritative article about this. Via the official online portal for the 52 Plus Joker American Playing Card Collector Club, PlayingCardForum.com, I learned that Lee is in fact the current President of this highly respected organization for collectors of playing cards.
All this is to say that when it comes to experience with playing cards, it's hard to think of someone with finer credentials than Lee Asher. From his personal experience as a magician and a collector, as well as his involvement with 52 Plus Joker and as President, it's obvious that he knows what he's talking about. And fortunately for us, Lee was happy to talk to us, agreeing to this interview, in which he answers questions about himself, about playing cards, about collecting, and of course about 52 Plus Joker. So let's hand it over to Lee, and hear what he has to say!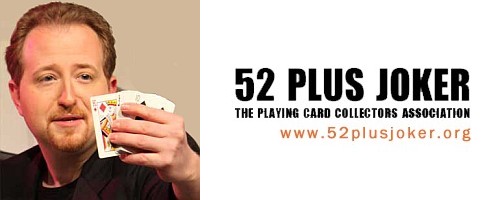 The Interview
General background
For those who don't know anything about you, what can you tell us about yourself and your background?
My name is Lee Asher. I'm 42 years old, and I'm a second-generation sleight of hand artist. My father taught me magic at the ripe age of seven. When I was about fifteen, I started performing magic for money at restaurant and private gigs. Eventually, I moved from my birth state of Florida all the way to Las Vegas, Nevada to attend University and study casino management (UNLV).

Directly after graduating in 1999, I threw all my possessions into a Las Vegas storage locker and chased my heart to Paris, France. During this sublime period of my life, I also traveled around Europe performing and teaching my brand of sleight of hand to other magicians.

Once I conquered Europe, I began performing and lecturing around the rest of the world in cities such as in London, Singapore, Buenos Aires, Copenhagen, Kuala Lumpur, Perth, Shanghai, Taipei, Santo Domingo, Beijing, Tokyo, Glasgow, Tel-Aviv, Hong Kong - and the list goes on and on.

Eventually I moved back in the Americas. Now I live in Canada, married to the woman of my dreams. My wife's name is Christina. And while we have no children, we have a big lovable boxer dog named Quinton.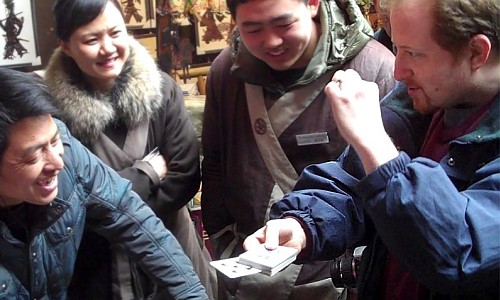 What do you currently do for a day job and/or what are your other interests?
I'm a magic consultant, magician and playing card expert. In my spare time, I like collecting antique, vintage and modern playing cards. I also like creating sleight of hand and other fun moves. But when I'm not holding cards, I'm reading, cooking, watching movies or playing card games with my wife.
Given that you have had a successful career in magic, what would be some highlights in your personal curriculum vitae?
I'm fortunate. I have a bunch. Here are a handful of highlights that mean the the world to me:
● 1993 - Performed with my father as a walk-around magician on Miami's exclusive, Fisher Island.
● 1996 - Performed at the Magical Empire, a 66 million dollar attraction at Caesar's Palace, Las Vegas.
● 2001 - Lectured at London, England's prestigious Magic Circle on September 10th, 2001.
● 2005 - Performed as an Absolut Vodka ambassador during their 'Magic of Winter' campaign using the now famous Absolut cards.
● 2016 - Magic celebrity judge on Amazing Magicians with China's most famous movie actress, Fan Bing Bing.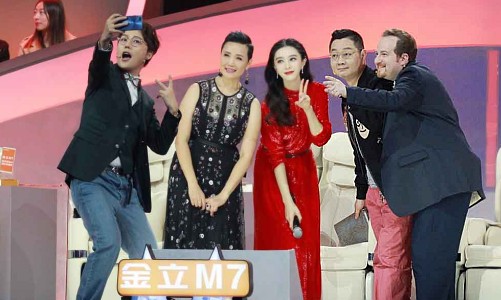 What sparked your interest in magic to begin with, and what is it about magic that you still love today?
My father. He's a eye doctor by day, and a magician at night. He's how I got interested in the art of magic. Adequately reflecting on his significance in a mere several hundred words is impossible. Nonetheless, I'd like to share some interesting facts with you about my dad, Mark Horowitz.

Let's back up to the mid-1950s when my father was a child. New York City was a hotbed for magic in the United States, only rivaled by cities like Chicago & Los Angeles. Fortuitously, Dad learned from a handful of New York's finest magicians. Mega legends like Al Flosso and Lou Tannen nurtured his love for the art. These men taught my father the foundations of magic. You can say these formative experiences helped mold him into the magician that Dad is today. On occasion, you'll hear him reminisce fondly about spending time in those famous NYC magic shops.

BTW, Dad never became a full-time pro. Though he managed to support himself with magic gigs throughout university and optometry school. After graduating, he became a licensed optometrist with his own practice. He also became the resident trade show magician for Swan Optical and HydroCurve, a major contact lens company owned by Revlon. On top of his day job, Dad flew around the nation entertaining high-ranking executives and high-profile clients of the optical industry. Without a shred of doubt, my father paved the way for me to be a professional magician.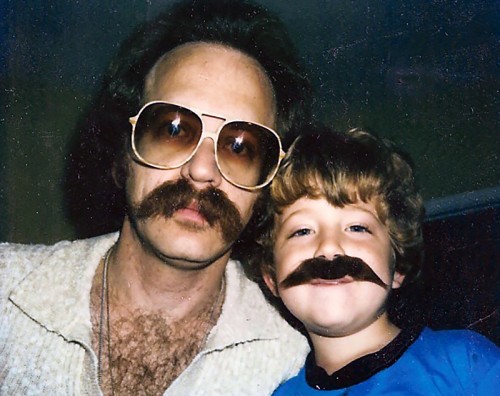 Moreover, if you've met him before, then you'll know that Dad indulges by collecting artifacts from his youth. If it triggers fond memories of his illustrious past, he collects it. Of course it's impossible to own everything. So like any seasoned collector, he's refined his tastes over the years. Currently, he prefers acquiring magic-themed comics, autographed magic books and unique magic ephemera. His lifelong passion for collecting led him to amass the world's largest magic comic book collection. This impressive feat landed him on the cover of MAGIC Magazine in April 2007.

During an early point in his life, my father immersed himself in the political side of magic. Year after year, he's generously helped organize IBM magic meetings, lectures and conventions on a local, state, and nationwide levels. To this day, he's still involved with his local IBM magic club's affairs.

There's no question that his lifetime of remarkable dedication and outstanding service to the organization exemplifies his genuine reverence for the art of magic. While the word count on my heartfelt tribute here answering your question will sadly run out, the love I have for my father will not.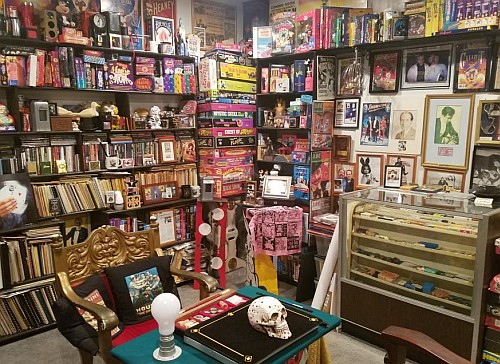 About playing cards
What kind of playing cards did you first use when you started magic?
My dad had already amassed a bunch of decks from years of performance and collecting, so my earliest memories of holding cards and practicing are with US Playing Card Company (USPCC) 808 Series Bicycle 'Rider' backs. Not too long after, I found Tally-Ho's, Bees, Blue Ribbons, and Aristocrats. Eventually, other brands like Hoyle (shell backs) made their way into my hands, too.

As you know, these are all American-made decks. So the first European deck I touched was in 1989. I was thirteen. It's also when the Klutz Book of Card Magic was released. It came with a bridged-sized deck of Piatnic playing cards. They were glorious! I never felt such a thick, smooth, robust deck of cards. My adventures with European decks would not end here. More on that later.
Do you use playing cards for anything other than card magic? (e.g. card flourishing, card games, or anything else?)
Sure. I play card games with my wife all the time. Lately, we've been enjoying a lot of Monopoly Deal (made by Cartamundi). She's savage and plays a mean game of cards. I hardly ever win!

As for flourishing, I still dabble. Though, I don't have the time to practice as much of it as I should. It's true what they say; you must use it, or you lose it. Back in the day, I was influenced by renowned skateboarders like Stacey Peralta and Rodney Mullen. I introduced aerial moves to the flourish culture like 'Yo' (1997), 'Diving Board Double' (1997), and rail slide-esque techniques like the 'Silver Surfer' (1998).

Unquestionably, I'm exhilarated by this new generation of cardists and magicians. It also thrills me when I see people playing with my techniques. For instance, a simple search yields hundreds of videos of young people performing these moves. It's an honor watching the material grow larger than I could have ever imagined.
What do you think are the essential qualities of a good deck of playing cards in terms of design?
I'm a magician. Thus, I'm answering like a magician. I need a deck of cards that people can recognize. For instance, if the courts are beautifully customized but no one realizes they're looking at a King of Clubs, then the design hinders the performance.

I also believe the cards should be somewhat symmetrical, though I'm open to interpretation. There are some beautiful one-way patterned decks. Plus, if subtle enough, the one-ways help me achieve some stunning magical effects! Shhhhh.....
What should buyers today look for in a quality deck of playing cards?
Honestly, a majority of buyers aren't aware of the diverse qualities found in playing cards. There are a plethora of options available on the market today.

My advice: Buy a few decks made by different manufacturers --from around the world-- and start playing. Gather your own empirical evidence. Do you like cards feeling thick? What about thin? Embossed? Or smooth? Believe it or not, this is a personal journey. You never know, you might discover something new about yourself along the way.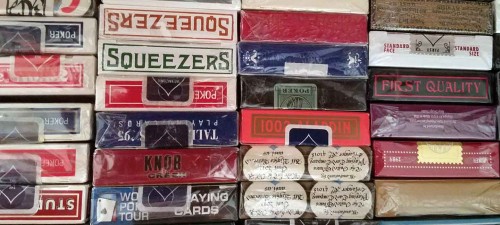 The playing card industry has changed rapidly over the last two decades. Do you have any thoughts on the explosion of custom playing cards?
As the self-proclaimed 'king of playing card geeks', I approve of what's happening. Every day I wake up and see new decks appear for sale from different producers, all around the globe. It's a playing card aficionado's wet dream.

Certainly it doesn't take a psychologist to comprehend the decks we are attracted to --the ones we use for playing, performance and collect in our vaults-- speak to our own personalities and beliefs. They help make us feel unique, and it's fair to say all these modern decks cater to this meaningful need.

Simply put, they offer a bit of happiness to those who find part of themselves represented within the design, color, and even texture of the deck. Again, I approve.
What impact has crowdfunding like Kickstarter had on the custom playing card industry and collecting? And what has your own experience (if any) with this been like?
Kickstarter and the crowd-funding concept have rewritten the rules on how items are produced and purchased. In 2009, when Kickstarter began, there were under fifty decks launched; now there are hundreds of decks per year looking for funding. Of those projects, at little less than half succeed and find financial backing. In the big scheme of things, that's impressive!

More important, Kickstarter is where we're seeing wonderful grass-roots innovation. If the crowd decides that the project isn't interesting, then the project isn't funded. So, no one wastes time on unnecessary R&D. The items that receive funding are the items people want. That, in itself, is an innovation. And because of the low risk involved with crowd-funding a project, more avant-garde, ground-breaking concepts are put forth. These kinds of ideas won't be attempted by any of the larger card producers scared to waste money 'testing the waters'.

But it gets better. The internet encourages fans connecting with artists. Which, in turn, encourages artists pushing the limits on what they create. It's a beautifully symbiotic relationship.

All the while, playing card manufacturers are looking for innovative ways to accommodate. As a result, ground-breaking innovation and even long forgotten vintage techniques are making major comebacks -- in modern ways.
Where do you think the custom playing card industry will go from here, and what innovations or changes might we see in the coming years?
Roughly ten years ago, I went on record saying most playing card innovation will focus on the tuck box. And that's what happened. We've seen a strong push re-popularizing vintage 'bells and whistles' that were famous in the 1970s. For instance, decks printed with metallic inks, extraordinary embossing, and tricked-out foiling have become vogue again.

Consequently, I believe the next ten years will usher in innovative improvements to stocks and finishes. We've satisfactorily tackled the aesthetic, now it's time to pioneer undiscovered tactile fronts. Companies like Expert Playing Card Co. and Cartamundi already lead the way. Cardistry, magic and card games also help drive innovation.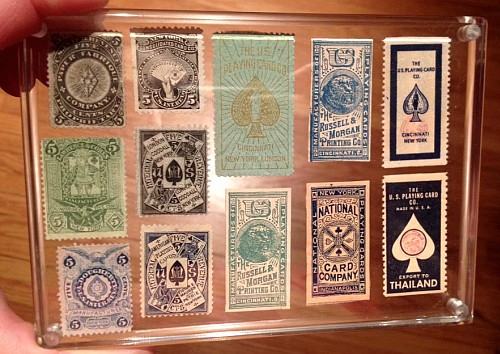 What can you tell us about the Lee Asher 605 Playing Cards, which you produced yourself?
As I mentioned earlier, my taste for European playing cards came early on. Because I lived in South Florida, you could find Fournier playing cards in certain shops. For those who don't know, this wonderful Spanish playing card company was founded back in 1868. In 1986, they merged with the US Playing Card Company. Now though, Cartamundi owns Fournier. Yet, Fournier continues to keep their unique style of printing which differentiates them from everyone else in the world.

When it came time to print a deck, I had several choices of manufacturers. Ultimately, I picked Fournier. Constant innovation, the desire to improve quality and their exquisite attention to detail makes Fournier a leading card manufacturer. These were my guys! My team worked with Fournier's art department. We scrapped our original thoughts and started to play with the Fournier 505 back design. It's beautiful and classical. We wanted to change it and put it to new use. Once out of pre-production, Fournier's art team dubbed these cards the 'Lee Asher 605 Signature Series'. It was great honor!

Printed on Fournier's best stock, my 605s are heavier and thicker than USPCC's casino-grade cards. Each deck of the 605 series is free of defects, and guarantees a precise slide due to the special varnish formula used. This varnish is exclusive of Fournier and follows a secret formula only known by two persons at the plant. At least, that's the story they told me.

This varnish gives Fournier cards their unique feeling and sliding ability. Plus it also adds to longer durability making them higher in quality than other cards on the market. Afterwards the card sheets dry in an oven and later, pressed. This process also gives the cards more resistance and durability.

Each deck goes through twelve (12) different quality controls along the manufacturing process. It ends in a final Intelligent Eye printing check and an optical infrared light test. This guarantees that each deck contains 55 cards. Unlike other manufacturers, all Fournier decks get cut one-by-one. This way, all cards (including the edges) have exactly the same size.

Without a doubt, you can feel a difference between my high-end 605 series decks and the ones produced in America.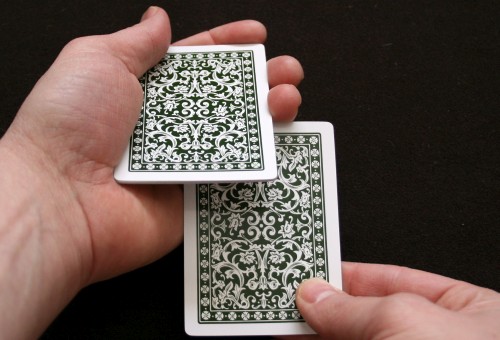 About collecting
You personally have a huge interest in learning about and collecting playing cards. When did this interest begin, and what got you started in collecting?
Again, my father is an avid collector of magic memorabilia and other stuff that reminds him of his childhood. So it's in my blood. I have no choice.

But the playing card side of my habit didn't become apparent until University. That's when I had hundreds of decks littering my dorm rooms and apartment. You'd walk in on any given Sunday and find Jerry's Nugget, Golden Nugget, Desert Inn, Arizona Charlie decks and other random casino cards strewn across the floors. Without a doubt, practicing sleight of hand and cardistry can be messy!
What are some of the reasons motivating people to collect playing cards?
As I mentioned earlier, playing cards speak to our own personalities and beliefs. That means there are many reasons why people collect them. But it usually distills down to two different personalities types:
● Type A - People who collect a specific category, image, artist, brand, feel, reason, etc.
● Type B - People who speculate for money.

Which type are you? The good news is, there's plenty of room for both. The playing card world is inclusive. Also, if you collect long enough, you'll find yourself selling decks to buy other cards. It's natural. Ignore the opportunity to feel ashamed of any capitalist tendencies along your journey.
What are some of the things you personally and especially enjoy about collecting playing cards?
I appreciate the back story. It started with casino decks because of their history. Now I cannot help but notice that during the past decade, my collecting tastes & sensibilities have become refined. What I was originally passionate about back then, now curiously finds itself in the company of other newly formed interests.

Conversely, if you told me back in the beginning that I would find great pleasure in hunting down antique private-die playing card stamps, the younger me would have laughed out loud at the notion. These days, however, I look forward to sharing my label collection with anyone interested in seeing it. I even revel in finding better versions of private-die playing card stamps I already own. Coincidentally, if you are in possession of that almighty Caterson, Brotz & Co. label, give me a call and we will speak.

Within the past several years, I've been connecting the dots between U.S. Patents, inventors/artists & the actual playing card products manufactured. I write a monthly article titled the PATENT FILES that should interest any researcher out there. Digging through Google's digitized patent area has uncovered a real treasure-trove of playing card history & information.

Once again, if you asked the younger me about working on this kind of historical research, I would have scoffed, made several snarky comments and declined. Yet now, all I can do is get excited thinking about it. My, how times have changed.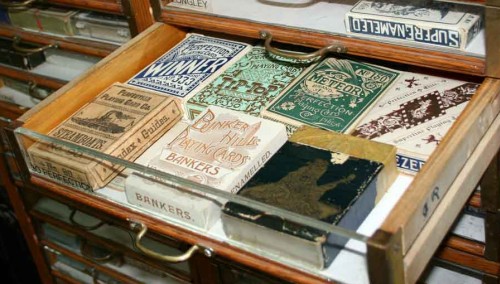 How many decks would you estimate that you currently have in your personal collection?
Lots. But that means absolutely nothing. Heed the old saying, "quality over quantity". It's impossible to own every deck of cards ever produced. Yet, it's possible to own the best of all the cards produced.
How do you organize and display your collection of playing cards?
Usually, I like my collection sorted by antique, vintage and modern categories. But lately I've been lazy and unorganized, so everything is mixed and thrown together. One of these days, I'll take some time and put everything back into some semblance of order.

Consider me a user as much as I'm a collector. Without a doubt, I play with my cards. But at the same time, they also get shelved to stare at from a distance. Finding a balance between the two has its difficulties.

When it comes to showing off my cards, they aren't presented well; I've got display decks in Carat Cases and what not, but it could be better. My friend and fellow playing card collector, Jay McKinstry (a master craftsman/artisan), asked if he could make some beautiful displays for me. This guy is the Michelangelo of wood craft, and that would be a dream come true.

One of these days, with McKinstry's help, I look forward to everyone appreciating all the cool stuff I've collected over the years.
Do you have any special categories of decks that you focus on collecting, and what are your favourite types of decks to collect?
We can break down American playing card collecting into three categories. Are you a modern deck collector, or maybe you fancy yourself as an antique collector? Vintage? Not sure? The easiest way to tell is by the age of the decks you collect:
● You're an antique collector if the majority of your deck collection pre-dates the 1930s.
● You're a vintage collector if the majority of your deck collection dates from 1931 to 1995.
● You're a modern collector if the majority of your deck collection dates from 1996 to today.

It seems, the more you learn about playing cards in general, the more interesting each category becomes.

While I consider myself a vintage card collector, I'm the proud owner of some wonderful antique decks as well as a plethora of modern decks. That makes me a hybrid playing card collector. Apparently, we're a growing breed!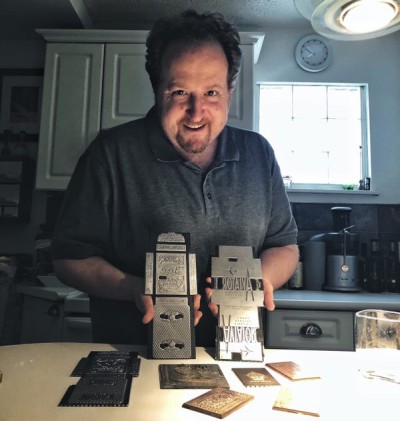 What would the most valuable deck in your collection be, and what accounts for its value?
Everybody is quick to speak about value, but no one ever discusses the worth of sentiments. What's my first European deck valued at on eBay? Maybe $5? $10? For me, it's priceless. So assigning value to my collection is much tougher than it looks. At least, for me. Maybe you feel the same way?
Where can we learn about grading and dating older decks of playing cards?
Pick up a copy of the Hochman Encyclopedia of American Playing Cards by Tom and Judy Dawson. This is the best resource on collecting American playing cards, ever written. They took all of long-time collector Eugene Hochman's research, and compiled it into one big volume. In those pages you'll find discussion about grading and dating your playing cards.

On a side note, if you Google search for info about dating and/or grading your deck, you'll find a bunch of articles relating to these topics. Most, if not all, of this info comes from the Hochman Encyclopedia and/or Tom and Judy Dawson. For instance, here are two links that cover the topics at hand:
● How To Date Your Playing Cards
● How To Grade Your Playing Cards
I'm a new collector. Should I go out and buy a deck of 1970s authentic Jerry's Nuggets right away?
LOL! If you love collecting vintage casino decks, then sure. If you're speculating, buy as many as you can. But if you hear these sentiments and feel they're not applicable to you, then I'd suggest spending your money elsewhere. Like I said before, this is a personal journey. Take the time and discover something new about yourself. Collect what you think is worthy of collecting.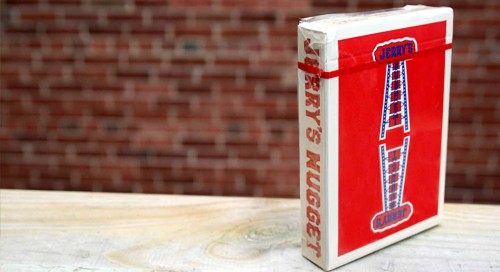 The 52 Plus Joker collectors club
How and when did the 52 Plus Joker come about?
In 1985, 52 Plus Joker formed to cater to the interests of American antique playing card collectors. We have long since broadened the scope of the club to include collecting playing cards of all sorts, from around the world. With the internet spurring the recent surge of interest in playing cards; geographical and categorical lines blur daily.

52 Plus Joker community facilitates:
● The collection and trading of antique, vintage and modern collectible playing cards and related items,
● The advancement of knowledge about the history, manufacture and artistic aspect of playing cards,
● The promotion of fellowship among members with similar interests.

52 Plus Joker welcomes you whether you're an experienced collector or newcomer to the world of playing card collecting. If you want more info or would like to join 52 Plus Joker, please visit their official website. For the record, it's the best $25 USD I spend all year long!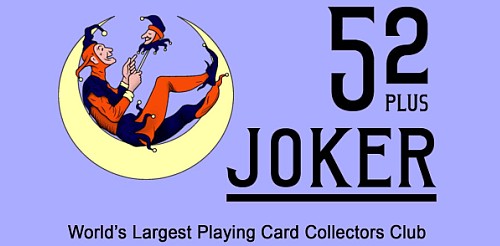 In your experience, what have you found to be some of the benefits of being part of a playing card organization like 52 Plus Joker?
52 Plus Joker Club membership provides a wide variety of benefits, including:
● Attend our annual playing card convention. A unique experience unlike any other.
● Auctions of collectible, unusual and rare decks throughout the year.
● Quarterly printed magazine 'Clear The Decks'. Broaden your playing card horizons.
● Monthly digital magazine 'CARD CULTURE'. Delve deep into playing card life.
● Inclusion within 52 Plus Joker's membership roster. Meet like-minded individuals.
● Access to the Ask Alexander database of all our archives.
● Personal club account on the world's largest Playing Card Forum.
● Plus more!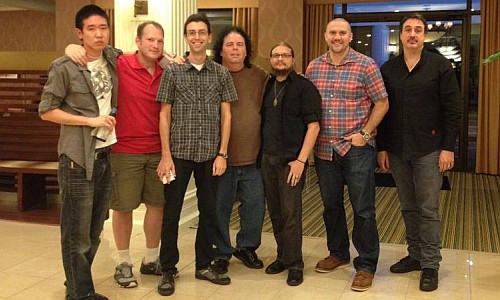 When did you first get involved with 52 Plus Joker, and how would you describe what your role as President involves?
This will be my 10th year involved with 52 Plus Joker. I found them back in 2009. By chance, I stumbled upon an online advertisement for the combined 52 Plus Joker / International Playing Card Society convention in Toronto, Canada. Twenty-four hours after registering, my phone rang with the caller ID - THOMAS DAWSON! I already owned a copy of the Hochman Encyclopedia and knew who Tom Dawson was. I became star-struck that a luminary like him would call a neophyte like me.

Turns out he and his wife, Judy, lived in Toronto, too. As soon as Tom spoke, it felt like we were old friends. Within minutes, I he gave me an invitation to come over and see their playing card collection. I'll never forget that moment. Receiving an invitation was an honor back then and it's still an honor to reminisce about it now. For Tom though, he was simply acting like a playing card ambassador. There could not have had been a better welcoming committee to 52 Plus Joker.

About a week later, I attended the club's annual convention. WOW! I'd never seen so many unfamiliar decks of cards in my life. I had so much to learn. At one point, Judy Dawson remarked how the club could use a little more youth. She thought young people had little interest in collecting playing cards. Her comment was confusing. Was she unaware of the massive explosion of custom card collecting online? Apparently. Actually, 95% of the club had no idea. Quickly thinking on my feet, I requested some day passes. I blurted out that I could convince ten playing card collectors under the age of 30 to show up on the final day of the convention. Some members of 52 thought I was crazy. Judy was hopeful, but placed little faith in it.

To make a long story short, ten playing card collectors under the age of 30 turned up on the last day of the convention. Obviously, it wasn't hard. This club had yet to introduce themselves to the new generation of card collectors. With my help, that was about to change. I was unanimously voted onto 52 Plus Joker's executive board. They made me 'Head of Publicity'.

That was ten years ago. Since then, I've risen through the ranks. In 2016, I became the youngest president in the club's existence. Without a doubt, our playing card future illuminates with great opportunity. It's my pleasure to lead us into this bright light.
What can you tell us about the annual 52 Plus Joker decks?
Of course! I'd love to brag about this. Each year, we ask the some of the greatest playing card designers in the world to craft a club deck. Incredible artists like Jackson Robinson, Paul Carpenter, Mark Stutzman, Alexander Chin and Randy Butterfield have the distinct honor of creating masterpieces for us. Without a doubt, we're the luckiest club on the planet to work with such amazing talent.

For our 2019 deck, we picked one of Europe's finest playing card designers, Lotrek. He says he's working on a special deck that's sure to knock our socks off. Lotrek is a man of his word and we all look forward to what he creates.

If you want to see and own this year's club deck, we release it every year at our annual convention. It's one of the highlights of our entire event.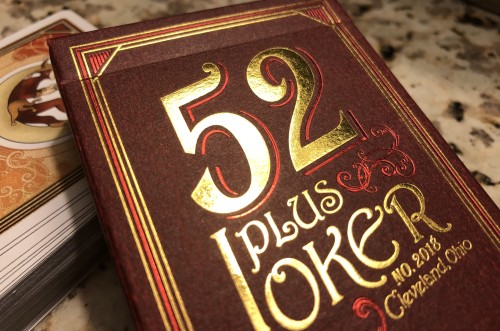 Each year the club hosts a convention. When is this and what is it about?
We're holding this year's convention in Charlotte, North Carolina on October 9th - October 12th, 2019. Come meet legendary collectors & designers, hobnob with premier card manufacturers, and talk decks with other enthusiasts all night long. There's nothing like it in the world.

For more information or if you want to join us, please visit here. October is coming soon. See you in Charlotte!

What can you tell us about the CARD CULTURE magazine that you are the editor of?
CARD CULTURE was my answer to satisfy the digital end of our membership. Plus, it allowed us to connect with members on a monthly basis. After pitching the idea to Tom Dawson (who was the President at the time), I enlisted Don Boyer as the editor in chief. We also managed to wrangle a handful of writers for monthly articles.

On the 15th of each month, CARD CULTURE gets delivered to your email inbox [sample issue]. Most of our membership consumes it on their tablets or phones. Though, we offer it at a high resolution so you can print it, if you want a hard copy. We try our hardest to impress you on a monthly basis.

Don ran the show up until the 25th issue. After his departure, I took over. In May, we published our 52nd issue!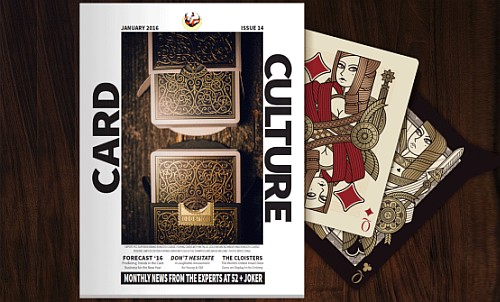 Final thoughts
Is there anything else you'd like to share about collecting playing cards, or about playing cards?
The playing card world constantly changes. For instance, European card manufacturer Cartamundi purchased United States Playing Card Company. I made a video about it if anyone cares to hear me rant about playing cards: Lee Asher on USPCC's Merger With Cartamundi

We're living in fascinating times, and I look forward to what our future brings! Thanks for allowing me to share my thoughts about playing cards, EndersGame.

If anyone reading this wants to continue the conversation, please email me at Lee@LeeAsher.com. I'm always interested in meeting other fellow magicians, playing card collectors and enthusiasts. Speak soon.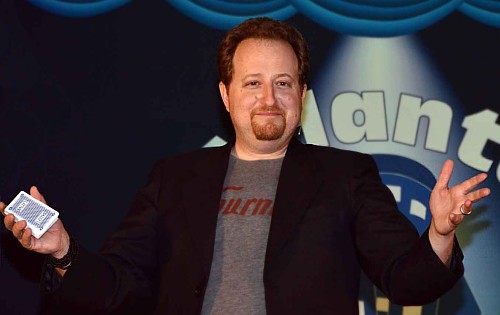 Conclusion
Lee Asher certainly has a lot to offer and share when it comes to playing cards, and I for one are very grateful that he was willing to do this interview. He has a wealth of knowledge, and his insights are helpful, and his enthusiasm is infectious. If you haven't yet seen it, I highly recommend listening to him talk about Cartamundi's recent acquisition of USPCC [
link
] - it's obvious that he's knowledgeable and passionate, and you'll learn some fascinating things from what Lee has to say.
Collectors in the United States will also appreciate learning more about the 52 Plus Joker club. If you're really keen, you may even want to attend the upcoming convention in October. Certainly take a look at what they offer, including the very interesting Card Culture magazine.
Once again a huge thank you to Lee Asher for conducting this interview - I know I've learned a lot, and enjoyed hearing what he had to say. Lee's enthusiasm for playing cards is something that many of us around the world share, and I'm sure I'm not the only one that sees somewhat of a kindred spirit, with our shared love for playing cards.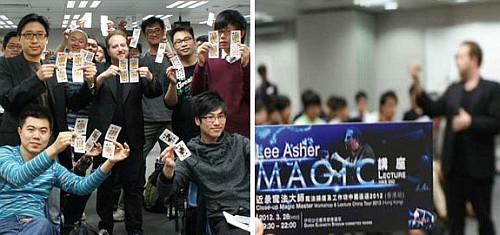 Where to learn more?
● 
Official website for Lee Asher
● 
Lee Asher 605 Playing Cards
● 
Lee Asher's articles on magic and playing cards
● 
Official website for the 52 Plus Joker American Playing Card Collectors Club
● 
The Annual 52 Plus Joker Convention for 2019
● 
Card Culture sample issue
)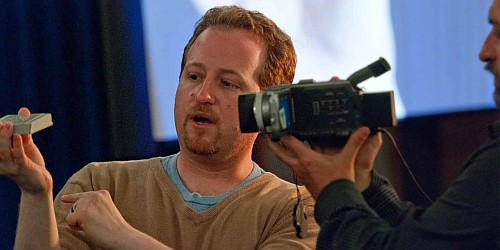 About the writer: EndersGame is a well-known and highly respected reviewer of board games and playing cards. He loves card games, card magic, cardistry, and card collecting, and has reviewed several hundred boardgames and hundreds of different decks of playing cards. You can see a complete list of his game reviews here, and his playing card reviews here. He is considered an authority on playing cards and has written extensively about their design, history, and function, and has many contacts within the playing card and board game industries. You can view his previous articles about playing cards here. In his spare time he also volunteers with local youth to teach them the art of cardistry and card magic.


Last update date: 04/07/20