by BoardGameGeek reviewer EndersGame
Times are changing, and that's also true for the playing card industry. The vast majority of custom playing cards in North America are sill produced by USPCC, and they remain the default choice for a lot of creators. But in recent years we've seen a lot of playing card designers switch to other printers like Cartamundi for production of their playing cards. But before Cartamundi arrived on the scene, some smaller players were already using a factory in Taiwan to provide creators with a viable alternative to USPCC. Leading the charge in producing high quality playing cards out of Taiwan were Legends Playing Card Company (LPCC) and its partner Expert Playing Card Company (EPCC).
But the winds of change continue to swirl, and in an exciting new development, LPCC and EPCC have announced that they are now partnering with a new facility based in China (PRC). It's important to realize that this is a 
different
 facility where they have previously produced decks with their JN finish, which didn't always receive the most favourable reviews about the longevity of their fanning qualities. Unlike the decks we've seen produced from most other Chinese printers, the decks coming out of this new PRC facility promise a quality that at least matches what LPCC and EPCC were producing in Taiwan. Several are already available, and we'll be seeing many decks produced in this new PRC facility in the future, so this is a good time to share some impressions about what to expect from them. I've test-driven several of these decks already, so I have some first-hand experience with them. But first let's share some more info about LPCC and EPCC as general background to this latest development.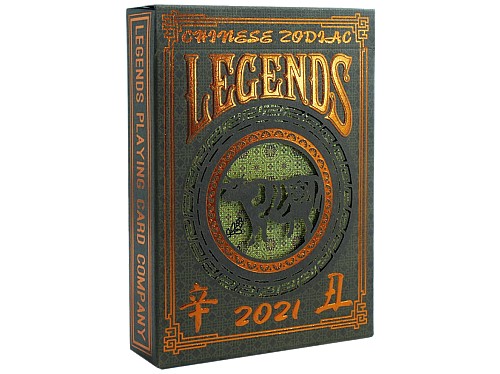 The old: playing cards produced by EPCC and EPCC in Taiwan
LPCC and EPCC often collaborate, as a result of a good working relationship between the two men at the helm of each company: Lawrence Sullivan (LPCC) and Bill Kalush (EPCC). In this article I'll focus especially on LPCC, since the bulk of my own contact over several years has been with has been with its owner Lawence Sullivan. Besides exchanging many emails in my efforts to find out more details about this news, I also had the opportunity to discuss the new Chinese facility with Lawrence in a recent Zoom call.
Lawrence has a background as a professional magician, and spent many of his early years growing up in Asia. So he has a lot of experience in the magic industry, during which he developed a lot of personal contacts throughout Asia, especially in Hong Kong, which would later become his base. His language skills and product knowledge would come in very handy when he established Legends Playing Card Company in 2013. By drawing on his own experience and industry connections, and combining this with his own personal pursuit for perfection, he set himself the noble goal of producing the highest quality playing cards on the market. The first release was the "Legends #852" deck, a very successful collaboration with Bill Kalush from EPCC, and which had an initial print run of 11,000 decks that quickly sold out.
Since their arrival on the scene, LPCC and EPCC have provided creators of custom playing cards with a feasible alternative to USPCC, and many crowdfunded projects have had their playing cards printed at the Taiwan factory that took care of their production. Over the years these Taiwan printed playing cards have gained a solid reputation for quality. Creators and collectors alike began to consider "Made in Taiwan" on their playing cards as a guarantee of quality, especially in comparison to more inferior custom playing cards coming out of China (e.g. those printed by MakePlayingCards).
But eventually the secret would get out, and with the benefit of the knowledge they had developed with the help of LPCC and EPCC, the factory in Taiwan that was producing decks for them began to partner with other publishers who were looking for an alternative to USPCC. That's why in recent years we've seen several other publishers print in Taiwan, such as Hanson Chien Production Company (
HCPC
) and Taiwan Playing Card Company (
TWPCC
).
Even some big-name publishers of cardistry decks have jumped on the Taiwan bandwagon. Lotusinhand used the Taiwan factory to print their Echo Playing Cards (published by HCPC), which was named "Deck of the Year" at Cardistry-Con 2019. In 2020, Fontaines printed several of their releases in Taiwan, such as Fontaine Pineapple and Fontaine Aquaberry. They named Dex Playing Card Co as the publisher, but despite the different names, it all seems to be the same factory. The playing cards themselves have basically the same look, feel, and quality as the LPCC and EPCC decks from Taiwan, with only marginal differences.
While LPCC and EPCC have experimented with several different stocks and finishes over the years, the decks coming out of Taiwan fall mostly into one of two types:
● 
Diamond Finish
: Called "Master Finish" by EPCC, the Diamond finish stock is longer lasting than a typical USPCC deck. It also feels more smooth, but is remarkably durable, and has a very stiff and snappy feel.
● 
Classic Finish
 - This is the most common stock used, because the embossing pattern comes the closest to a standard deck from USPCC. But it is slightly stiffer, resulting in a handling and feel closer to USPCC's thicker Premium stock (Bee Casino) than USPCC's Retail stock (Bicycle Standard).
One noticeable way these Taiwan-produced decks were consistently better than USPCC decks was their precise registration. Unlike the crooked printing often seen with a custom deck produced by USPCC, LPCC and EPCC decks printed in Taiwan were always spot on, even for decks with narrow borders. They also had a super smooth cut that made faro shuffles a dream. If the Taiwan-produced decks had a weakness, it was that they tended to `clump' more quickly over time. This admittedly made them well suited for packet cuts, but affected fanning and spreading, so not everyone was as enthusiastic about them on account of this. They certainly were very durable overall, however.
Besides the two most common stocks and finishes coming out of Taiwan, LPCC and EPCC used the recent reprinting of the Jerry's Nugget Playing Cards to explore another card stock, which they had printed by a different factory in China. Called their JN Finish, and used for the "Vintage Finish" Jerry's Nugget decks among others, it is much like the Diamond Finish, but the cards are 0.1mm thinner. But the quality of these Chinese-produced decks doesn't match that of the Taiwan-produced decks, with clumping occurring even more quickly. Many consumers began opting to buy only the LPCC and EPCC decks printed in Taiwan, and avoiding the ones produced in China, given their sub-par quality.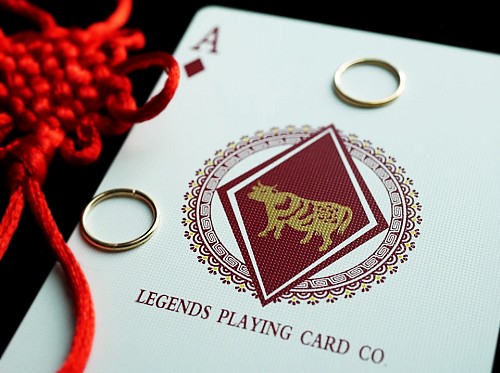 The new: playing cards produced by EPCC and EPCC in China
Playing cards produced in China typically haven't been able to come close to the quality of playing cards produced by USPCC, Cartamundi, or those produced in Taiwan by companies like LPCC and EPCC. Even the China-produced "JN Finish decks" and "Vintage finish decks" (e.g. Jerry's Nuggets) haven't lived up to expectations. That is, until now.
1. New facilities
For some time, LPCC's Lawrence Sullivan has been exploring other printing options in China, and looking for a reliable production source other than the factory that was producing the JN Finish decks that met with mediocre reviews. In a recent interview I had with Lawrence over Zoom, I learned that after a lot of investigation, he found a new factory in China that is Hong Kong based. This company had extensive experience in printing, but not with printing playing cards. He began developing a relationship with this factory, sharing what he'd learned in his many years of experience in producing playing cards, and his expertise in areas such as correct pigments, print steps and techniques, coating, cutting, and packaging. Together, they were able to forge a new partnership, which EPCC was also part of.
This was no small undertaking. From the ground up, LPCC built a boutique card manufacturing production line on one floor of this factory. This included purchasing some of the best equipment in the world, installing it in their partner's facility and teaching them the know-how for creating high quality playing cards, using LPCC's proprietary processes. This allows LPCC to have full control over every aspect of the playing card production, so that they can guarantee the quality of what they produce. As a result, the new facility has the ability to do in-house hot foiling, spot UV, packaging, along with many other special features used for playing cards and packaging. Besides lowering the cost by doing everything at the one location, this new arrangement also enables LPCC to ensure an extremely fast print turnaround, at around 28 days.
Lawrence has been very excited about the initial results for some time already. After a lot of fine-tuning, we're now starting to see the very first decks coming out of LPCC and EPCC's new facility in China. Having used some of these playing cards myself first-hand, I can see why Lawrence is excited about the new decks coming out of his new partner factory in PRC.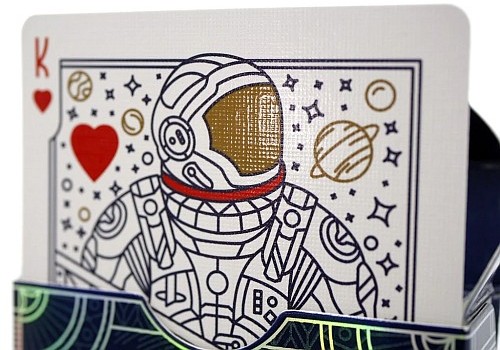 2. New card stock
To begin with, what we're seeing here are completely new card stocks and finishes than the ones used by the PRC factory that LPCC was previously working with for their JN Finish cards. These are also noticeably different from the card stocks and finishes of the playing cards coming out of Taiwan. There are two main paper stocks used for decks in the new China facility:
● 
Pre-Crushed Classic Finish
Out of the box, these feel as if they have the same snappiness and stiffness as USPCC's Premium stock (Bee Casino). But in fact, the cards are noticeably softer, which becomes evident once you've worn them in somewhat. In USPCC's range of most common stocks, a deck of their Premium stock is a couple of cards thicker than a deck of their Retail stock (Bicycle Standard), which in turn is a couple of cards thicker than a deck of their crushed stock. In terms of thickness, LPCC's crushed Classic finish stock from their new China facility has a similar thickness to a deck of USPCC's Premium stock (Bee Casino). But after some use, they quickly develop a pleasant softness that comes close to matching the feel a USPCC deck with their Retail stock (Bicycle Standard).
Especially for people who found the Classic stock of a Taiwan-produced deck a little too firm compared to what they were used to with a USPCC deck, this difference will be quite noticeable. Even though these new cards are around the same thickness as the Taiwan Classic stock, they are far more pleasant for shuffles and springs. Due to the softness the cards don't seem to hold their shape as well as the "old" classic finish from Taiwan, but they are silky smooth to shuffle, and handle beautifully.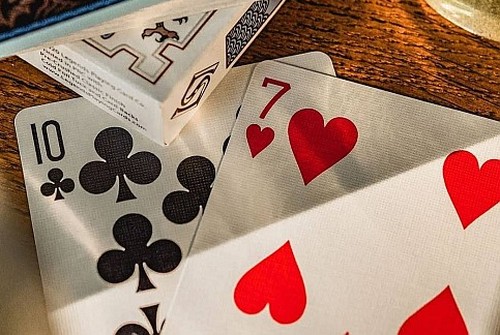 ● 
Viper Finish
The Viper finish is the result of LPCC and EPCC's ongoing quest to find the very best stock for playing cards, and is the result of more than a year of development. They reached out to several premium paper manufacturers, and came up with what they describe as "an all-new ultra thin playing card stock with a medium flex level."
The embossing pattern especially stands out, because it forms tiny pillows, reminiscent of the snakeskin pattern that has inspired the name. It promises to be a soft, silky, and polished finish like no other. In LPCC's words: "
Viper Finish blends the thinness and snap of Master / Diamond Finish, with the soft flex and feel of the popular but rare Stud Finish. All of these advantages without destroying the fibers of the paper by crushing the stock, which can make a deck feel great, but weaken the cards and makes them much less durable. If possible, it is better to "crush" the fibers at your own pace by breaking them in with regular use. Your decks will last longer and feel just how you want them to.
"
If the pre-crushed Classic Finish is similar in feel to a USPCC deck with Retail stock (Bicycle Standard), then the Viper Finish offers thinner cards that are similar in feel to USPCC's crushed stock, and will especially appeal to cardists who love thin and soft card stock. While they have a higher degree of shine and slipperiness, they are extremely long-lasting, and will feel like nothing else on the market. The first deck appearing with this new finish is the 
Copperhead deck
, and this new stock and embossing pattern is set to make a real splash in the market as it becomes available to creators.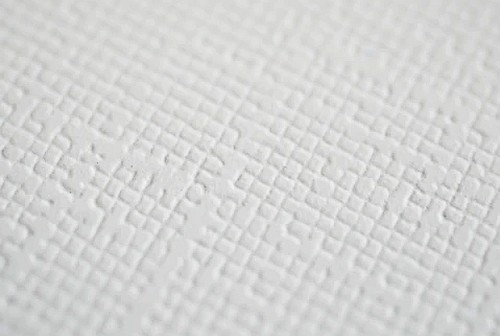 ● 
Other finishes
Besides these two main finishes, LPCC also has a few other special finishes up their sleeve, some of which are in limited supply and will only be used for special decks. These include the pre-crushed Master stock used for the 
Legends Celtic deck
, and the new Japanese Kaolin Finish used for the exclusive 
Chinese Zodiac 2021 deck
. If you want something super soft, there's the amazing Stud Finish of the 
Stone Garden deck
.
All LPCC decks also add a custom formulated coating (which publishers like USPCC describe as a "finish"), to protect the cards and ensure optimum performance. Embossed card stock goes a long way to ensure smooth handling, but a good finish helps this further, as well as adding an extra layer of protection.
It's my understanding that LPCC and EPCC will still continue to use the Taiwan facility as well, so that remains an option for creators that prefer to have their playing cards printed there. But I can understand why the folks at LPCC and EPCC are very excited about their new card stocks, especially the new Viper finish, and I think they will be very well received by the playing card industry. These could even become a game-changer, and see a lot more creators using LPCC and EPCC for their projects.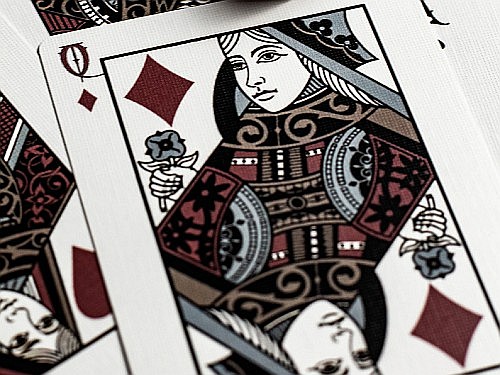 3. New techniques
Besides the new card stock, LPCC and EPCC are using their new facility in China to experiment with new techniques.
● 
Hot foil
Techniques like UV spot printing and hot foil printing have been around for a few years already. But the technology and methods for producing playing cards that utilize foil on the card faces and backs are still being developed, and so we are witnessing some exciting new possibilities as a result. Even just in the last five years alone, printers have been experimenting with new printing techniques that make it possible to produce playing cards with qualities that have never been seen before.
LPCC has about 20 hot foiling machines in-house, and their equipment and expertise in this area means that they can do hot foiling more cheaply than cold foiling. This is the reverse of printers like Cartamundi, for whom hot foiling is a more expensive option than cold foiling. When hot foiling cards, things can easily go wrong if you don't have expert technicians on the job. Given what they can offer, LPCC considers itself as the best and most affordable option for customers wanting this kind of luxury with casino-level quality. They've even had brands like Estee Lauder choose them to produce their playing cards for exactly this reason, in light of the combination of quality and price, particularly for playing cards and tuck boxes that use glamorous hot foil.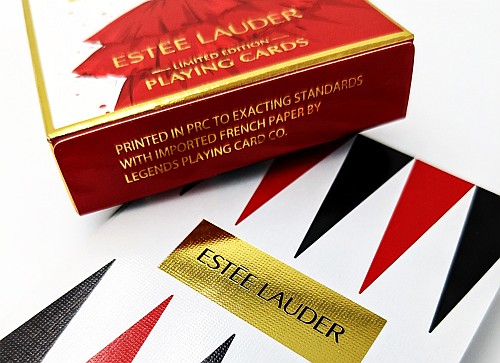 ● 
Cold foil
The stunning playing cards coming out of factories today make it obvious that we haven't yet reached the pinnacle of playing card production just yet, and advances have not yet plateaued. In a 
previous article
, I showcased some of the exciting new techniques that Cartamundi is using, particularly in the area of cold foil. These cold foil techniques produce results that arguably exceed the level of beauty that can even be attained with hot foil.
Several of LPCC's new decks take advantage of cold foil technology, such as the 
Legends Chromatic and Sterling decks
. The Legends Sterling Edition has a silver coloured cold foil on the card backs, which not only looks very attractive, but has proved very durable, and has held up very well despite heavy shuffling. The Legends Chromatic Edition adds several colours of foil to the card backs, to show that there are many possibilities here, and close observers will even notice that the foil accents on this deck includes a well-disguised marking system. Of the cold foil decks, the 
Specials deck
 is one of my favourites, because it features an attractive card back with red and blue stars that make good use of shiny cold foil.
Unlike some decks that use hot foil, there is no visible impression on the faces of any of these cards. And somewhat surprisingly, the handling isn't impacted as much as it would be with hot foil, which tends to make cards very slippery for shuffling. And perhaps best of all, it proves extremely durable. I've thrashed one of these decks to see how it will hold up, and actually the cold foil stands up better than the printing on the faces of the cards! Cartamundi's use of cold foil on the 2019 United Cardists deck from Montenzi deck impressed me even more than what I've seen so far in the cold foil decks from LPCC and EPCC, but we're probably only just getting started with the possibilities in this area. I look forward to seeing what can be done with this, and this should give creators plenty of reasons to be excited about the potential to create elements of beauty that were simply not technically possible until now. Cold foil can even be applied on both sides of each card, although naturally this adds to the cost.
● 
Holographic mylar
All this is taken to an altogether new level with the 
Stratosphere deck
 which features artwork by well-known designer Nick Vlow. Described as having mylar film and spot uv, these cards have a stunning iridescent look that has a visual effect similar to the back of a CD, and produces a remarkable rainbow of colours when held up in the light. It's a look that I've previously only seen previously in trading card games like Magic the Gathering, where it is occasionally used for rare cards.
The mylar film naturally does make the cards thicker, and the entire deck is about 6 cards thicker than a Classic stock deck without it. But despite this the cards still feel soft, and most importantly they look spectacular. The way the process works is that an ultra thin layer of mylar is laminated to the cards before they are printed, and inks are then printed onto the mylar. You can even opt to printing onto the mylar with white, in order to block the holographic effect in selected parts of the card, so creators can use this to emphasize the holographic shine on whatever parts of the card that they wish. These amazingly beautiful playing cards really need to be seen to be believed!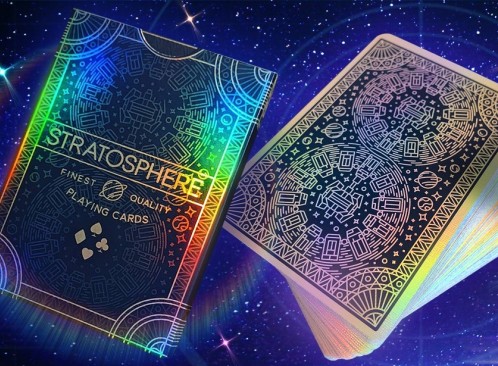 ● 
Other techniques
Of course there is a host of other techniques that continue to be employed and improved with the help of the latest technology. Metallic inks have been used for a while already, but the metallic inks on the court cards of Jody Eklund's 
Stone Garden deck
 are particularly outstanding, and have a brilliance about them that I haven't seen on too many decks previously. UV spot printing is also used on the tuck box of this deck, to add extra gloss to selected areas of the artwork and design.
For even more luxury, the gilded edges of the Limited Edition 
Whiskey Barrel deck
 from Curious Cask not only bring to mind pouring the liquid gold of whisky, but demonstrate the kind of excellence that LPCC can help creators produce.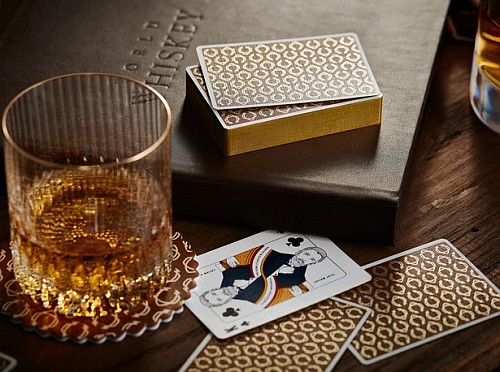 4. New packaging
Along with a new facility comes the opportunity to see innovation in the area of tuck boxes and packaging. Of the new decks from LPCC that I sampled, several of these had unique features we've seen before in LPCC decks, such as long tongue tuck-flaps, and attractive die-cut features on the back of the tuck box. While this is not the first time I've seen these features, I continue to admire due to the classy look this can create. But there are some new things you will immediately notice about the packaging of the playing cards produced in the new China facility:
● 
The cards are wrapped in plastic
This is a noticeable change with the packaging of decks. Like a lot of decks produced by Cartamundi, it's not just the tuck box that is wrapped in shrink-wrap. Once you take out the cards from the box, these are wrapped in shrink-wrap as well, for an additional level of protection. Personally, I welcome anything that will give my playing cards maximum protection before they get into my actual hands!
● 
The tuck box mentions the new facility
The bottom of the LPCC tuck boxes gives a clear visual indication that these decks are made in a new facility, with this text: "
Printed in PRC with Pre-crushed Classic Finish. Cold Foil Tuck and Card Backs.
" Another of the decks (Specials) has this text: "
Printed to exacting standards at our newest facility in PRC. 100% Pre-Crushed Classic Finish Card Stock With Cold Foil Card Backs
". I'm glad to see this specifically mentioned, so there can be no confusion about where these playing cards are printed, and to distinguish clearly from the factory they've previously used in PRC for their JN Finish playing cards.
● 
Luxury packaging options are available
One area where LPCC really seems to be outdoing itself is in the area of luxury packaging. Some of their new decks come with uniquely designed tuck boxes that are inspired by Cigarillo packaging, with a tray that slides out and works in concert with a hinged lid that folds back. LPCC's engineering team has the capacity to produce custom tuck boxes with pop-up elements, or that incorporate embroidery into them. Other projects are presented in additional external packaging, such as a rigid box with classy magnetic closures, and which contains two or more decks. Some of these are then packaged with a further wax paper wrapping, and sheathed in a metallic sleeve with custom seal, for the ultimate look of luxury and protection. Needless to say, I am super impressed with some of this new packaging.
● 
All the packaging is produced in-house
The fact that LPCC can now do all their packaging in-house at their new facility is also a real bonus. They have a very wide range of paper products available, which will especially make them appealing for luxury brands, who will no longer need to outsource part of their project to multiple locations. It gives creators a wider range of options, while keeping production costs affordable and speedy.
Some examples
More decks are in the pipeline, and in months to come we can expect to see a range of playing cards produced by the new facility in China. But here's some that are already available, and which I've had a chance to see and use myself, along with some of my impressions:
● 
Legends Chromatic and Sterling decks
The use of cold foil in these decks is a good place to start. Cold foil is not simply used on the backs of the cards, but also for the tuck boxes. This creates a visually beautiful effect, especially in the case of the Legends Sterling deck. Both these decks have the pre-crushed Classic finish, and are good worker decks. Some of these are also available as expanded stripper decks, with cards cut wider and longer by .5mm, making them a welcome addition as gaff cards for a magicians toolkit.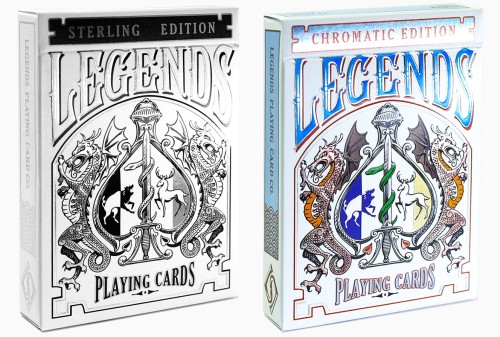 ● 
Stratosphere deck
For something with bling, it's hard to look past the amazing holographic look of the lovely Stratosphere Playing Cards, which uses space age materials and has a space age theme. It's one thing to see this on the tuck box, but to see it return on the back of each and every single card makes it a truly visual treat. The use of metallic gold pantone inks and UV spot finishing on the card faces adds extra bling, and when combined with completely custom artwork, it results in a deck that feels and looks out of this world.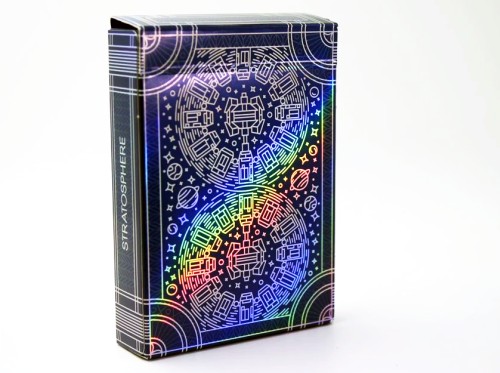 ● 
Specials deck
In terms of creative tuck box design, my favourite is the easily the box that houses the Specials Playing Cards, which showcases real innovation. The top of the tuck box has thumb tabs which you use to pull an internal drawer, which then folds back in the style of a cigarette style case. I've never seen anything like this before in the world of playing cards, and I always appreciate it when creators are prepared to experiment with novelty like this. The cards are made with the pre-crushed Classic finish, and have customized artwork (including the number cards) on the faces, and a tiled design on the card backs that features blue and red stars with cold foil.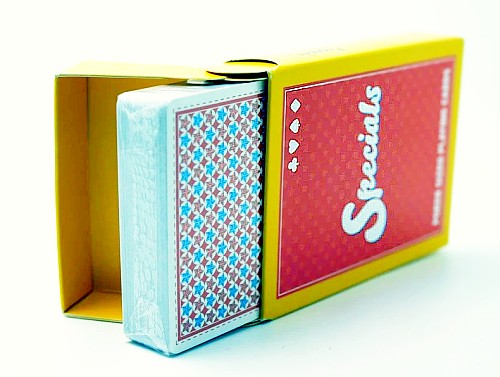 ● 
Stone Garden deck
As far as luxury looks go, they don't get much more classy than this deck created by Jody Eklund from Black Ink Playing Cards. This deck has a wonderful tuck case that is finished with gold hot foil stamping, glossy UV spot printing, and of course embossing, and the overall effect is absolutely exquisite. The cards use LPCC's Stud stock, which is even softer than the Pre-crushed Classic Stock. While this means it won't stand up as well to heavy handling, it feels amazing. The cards are printed with stunning metallic inks, and when combined with Jody Eklund's distinctive style, it's an ideal deck for the discerning collector.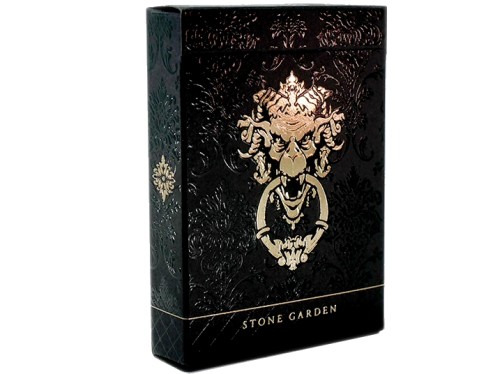 ● 
Curious Cask Whiskey deck
For a fine example of luxury packaging, it doesn't get much better than the current project for whiskey manufacturer Curious Cask. Whiskey makers know that the initial taste is critical to the success of a good drink, and so they understand the importance of making a good first impression with a tuck box. Curious Cask's custom deck has colours that draw on the classic gold colour of whiskey, while the red hues and glossy UV finish of the tuck box point to whiskey's heat, and embossing to whiskey's intricate layers of flavours. A well-designed and constructed tuck box like this is capable of evoking elegance, sophistication, and style, much like a good drop of whisky. Some of the pledge levels available add the option of a premium packaging that houses several decks and is finished with magnetic closures.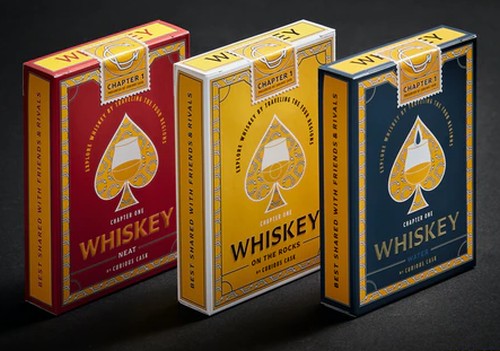 A changing industry
Over the last decade we've seen a huge increase in the production of custom playing cards. Factors that play a role in this development include the rapid growth of cardistry, improved technology for affordable printing, ready funding courtesy of crowdfunding platforms like Kickstarter, and the increased influence of social media and online videos for marketing. Consumers have never had so much choice, so much information, and have never been able to purchase so easily than today's marketplace where you can "Add to Cart" with the click of a mouse. We're also seeing unprecedented levels of quality and luxury. I'm excited by the level of innovation that we're continuing to see from publishers. As the custom playing card market continues to explode, fuelled by increasing demands from cardists and collectors, we're witnessing unprecedented levels of creativity and quality.
But the winds of change have also impacted printers of playing cards, and the traditional pecking order among printers has been changing. For a long period of time, USPCC - makers of the the famous Bicycle brand - has enjoyed a position of dominance in the playing card industry, at least in the United States. The vast majority of custom playing cards in North America are still produced by USPCC, and they are the default choice for a lot of creators. But our modern era has seen the rise of some new kids on the block, which are proving to have an increased presence in the marketplace.
Cartamundi is one of these new players, and while they have been producing playing cards for a long time already, they are still a relatively new source for printing custom playing smaller projects. In late 2019 Cartamundi actually bought USPCC from its parent company Newell Brands, but they continue to produce playing cards under their own name and with their own card stock. Cartamundi has been making its presence increasingly felt alongside its sibling rival and traditional giant USPCC, and has made quite an impression on the playing card industry in the last couple of years. We've even seen a lot of creators switch from to Cartamundi for the production of their playing cards, big name publisher Ellusionist being a case in point. Many designers of individual projects have done the same.
But fortunately these two printers by no means have a monopoly on the playing card industry. It can only be healthy for the industry that there are smaller independent publishers like Legends Playing Card Company and its partner Expert Playing Card Company, that offer quality alternatives, and are pushing the envelope when it comes to quality and new printing techniques. In fact, before Cartamundi made a big splash on the crowdfunding scene, LPCC and EPCC were the printer of choice for many creators, and their Taiwan-produced playing cards have long been praised for their qualities. So LPCC and its partner EPCC have already played an important role in helping creators bring their decks to market for several years.
With their new facility in China, LPCC and EPCC are continuing a pursuit for perfection and innovation, and bringing us playing cards with features that we've just not seen before. They're able to accomplish virtually everything in-house, to ensure that the quality goes up, while the costs and turnaround time go down. While the cold foil decks from Cartamundi remain hard to beat, a case can be made that LPCC and EPCC are the leading printer to use for hot foil decks. Their new crushed Classic stock is set to be very well received, but I'm especially excited about their new Viper Finish. I look forward to what they will deliver in coming years, and what creators will do with these new possibilities!


Where to get them?: Legends typically produces in-house designs of the highest quality to showcase new features and printing techniques. Most of these decks have been produced in extremely limited numbers (under 1,000 decks), but a limited supply is available from PCD:
● Legends Chromatic & Sterling Playing Cards (2 deck set)
● Legends Celtic Playing Cards (Stuart Palm)
● Stratosphere Playing Cards(Nick Vlow)
● Specials Playing Cards (Graeme Reed)
● Stone Garden Playing Cards (Jody Eklund)
● Whiskey Playing Cards (Curious Cask) [currently on Kickstarter]

About the writer: EndersGame is a well-known and respected reviewer of board games and playing cards. He loves card games, card magic, cardistry, and card collecting, and has reviewed several hundred boardgames and hundreds of different decks of playing cards. You can see a complete list of his game reviews here, and his playing card reviews here. He is considered an authority on playing cards and has written extensively about their design, history, and function, and has many contacts within the playing card and board game industries. You can view his previous articles about playing cards here. In his spare time he also volunteers with local youth to teach them the art of cardistry and card magic.


Last update date: 02/23/21