by BoardGameGeek reviewer EndersGame
We are living in a golden era of playing cards, and a large number of wonderful and creative decks continues to be produced on a regular basis. One of those producers is Will Roya from PlayingCardDecks. He started producing his own decks in mid-2017 by partnering with talented artists and graphic designers around the world, and with the help of crowd-funding.
In this article we'll take a look back at all the new playing cards that Will has successfully produced and brought to the market under the PlayingCardDecks label throughout the past year. So let's take a tour of the shiny new decks that PCD has brought us in 2019!
*** CUSTOM DECKS ***
Circus Nostalgic Playing Cards
What better deck to begin with than the 
Circus Nostalgic Playing Cards
. This deck aims to rekindle our childlike enthusiasm and excitement, with a nostalgic tribute to the world of circus entertainment from yesteryear.
Artist Joe Ruiz was inspired by distant memories of his own visit to the circus when he was just seven years of age. The graphic design of the tuck box does a good job of capturing the feel that Joe was looking for, with retro style fonts, and small touches like a custom seal that says "Admit One".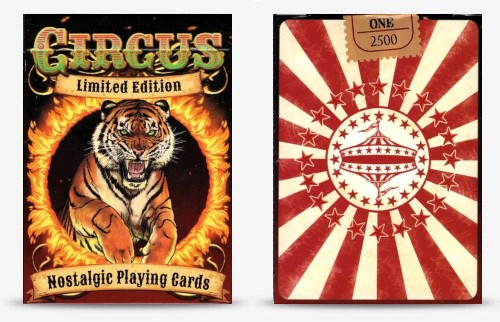 The back of the box features the design that will return on the card backs. These have a "big top" circus tent pattern that is instantly recognizable and memorable, with a borderless design that has red and white stripes branching to the very edges of the cards, for an eye-catching look.
In making this deck, Joe researched vintage circuses, and he's done a good job of doing that on the court cards, which feature classic circus performers, like a strong man, escape artist, trapeze artist, juggler, and more.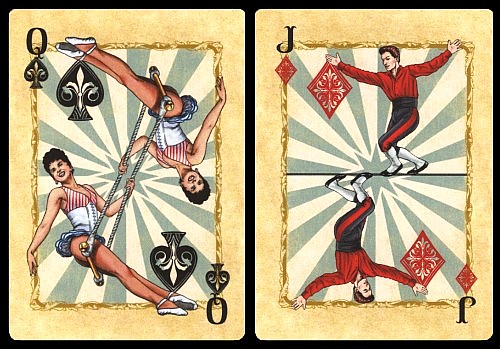 I love how the big top design from the card backs returns in a more subtle way on all the faces, which are finished nicely with vintage borders. The Ace of Spades welcomes back the lion performer from the front of tuck box; all the Aces have an oversized lavish design that matches this style.
Due to the engaging graphic style, even the number cards look colourful and vibrant. Two circus clowns provide Jokers, while two humorous cards are provided as gaffs, a "Tent of Spades", and a "Freak of Spades". It all adds up to a very lively and whimsical deck that I love shuffling and looking through, and has amused and pleased everyone I've shown it to.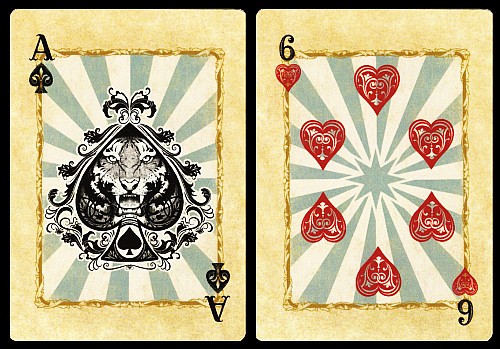 Ladybug Playing Cards
Next up are the two decks of 
Ladybug Playing Cards
. Two decks are available (black or red), each having the same overall design but featuring a slightly different colour scheme. Aside from the different card backs, the red and black decks are identical.
The tuck boxes match the two different styles of card backs, both of which have white borders. The card back artwork is a mirrored two-way design that revolves around two lady bugs. I especially love the small touches, such as the miniature ladybugs on each corner of the design.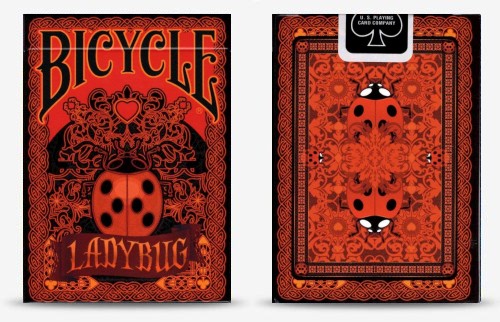 The red and black theme continues on the faces of the cards. The artwork was done by Polish artist Artur Rajch, who has made full use of the card canvas, as is especially evident on the lovely court cards.
Although they build on traditional features expected in court cards, like the King of Hearts suicide king, the artwork is otherwise far from standard, and has a very lavish and stylish feel about it.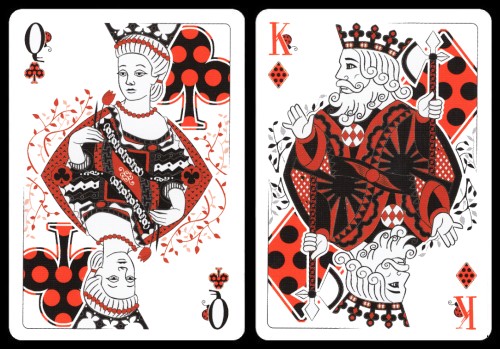 The spotted design is applied to all the pips throughout the deck, including the indices, which employ a somewhat unusual font, and are further decorated by a miniature ladybug for added fun. All the Aces have oversized pips decorated with a black and red spotted design, and are touched with a leafy floral pattern. There are also two customized Jokers and two gaff cards.
These are certainly attractive novelty decks that will appeal especially to collectors, and of course lovers of ladybugs. A luxurious 
gilded version
 with either red or rainbow gilding is also available for those looking for added bling.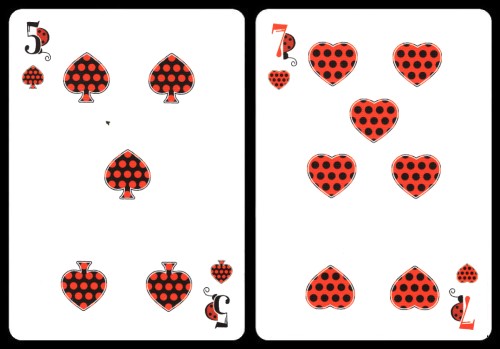 Cybertech Playing Cards
Originally called the Cyberpunk deck, the 
Cybertech Playing Cards
 are the handiwork of artist Jamie Meza.
This deck was inspired by the Cyberpunk literary genre, and Jamie himself is a big fan of science fiction. It depicts a dystopian society where humans are mixed with machines, resulting in a chaotic world full of conspirators and oppression where gangs rule supreme.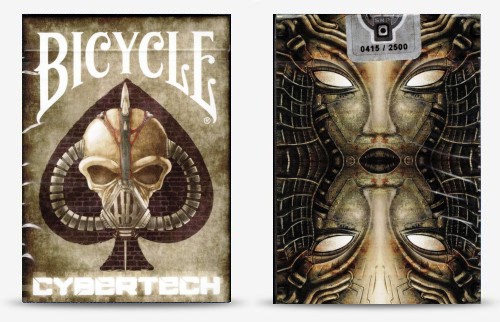 The artwork on the reverse of the tuck box matches the cardbacks, with a machine-like face staring back at us, indicating that we are entering an unusual and apocalyptic type world.
The direction of the artwork has been steered by the dystopian theme, and each suit depicts one of four different types of gangs: The Brotherhood (Clubs), Pirates (Hearts), Good Boys (Spades), and Yaxuka (Diamonds). The artist has clearly put a lot of thought into the background story that he's captured.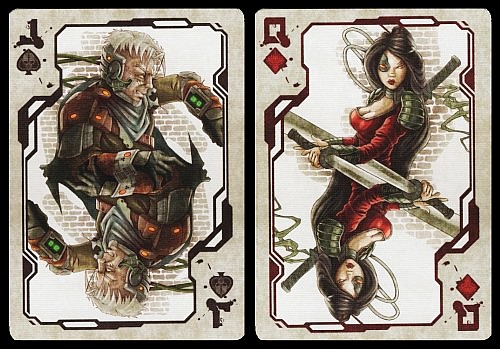 Everything about the faces of the cards is fully custom, with a muted grey background and border, a stylish dirty white panel, plus fully custom fonts and pip arrangements. As a result even the number cards have a very industrial and apocalyptic feel.
The Jokers feature some more light-hearted characters in masks, and there's also some real creativity evident in the two bonus gaff cards.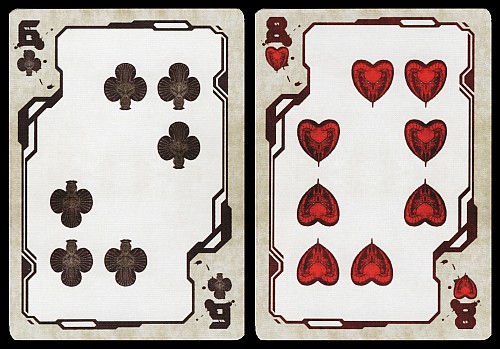 Faro Edition Bicycle Playing Cards
Next we take a look at the 
Faro Edition Bicycle Playing Cards
, which are available in traditional red or blue backs.
This deck is a throw-back to the vintage decks from the 1800s, when it was common practice to print playing cards without any indices. Corner indices were an innovation that revolutionized the playing card industry in America after they first appeared in Hart's Saladee's Patent dfeck (1864), and today it is hard to imagine playing cards without them.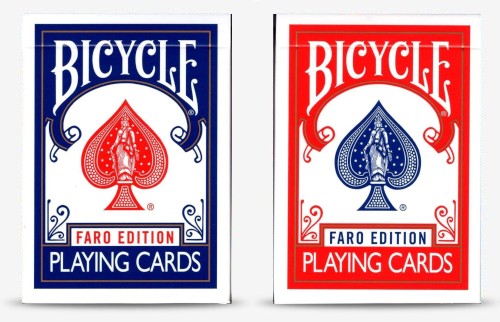 Such retro decks without indices are often called a Faro deck, which originates in a casino gambling game called Faro, played in France in the late 17th century. The Faro gambling game was extremely popular in America when gambling was legalized in the 19th century, and was once even considered "the national card game" until overtaken by Poker.
The card backs in this deck are the standard rider-back design, but the unique element of this deck becomes obvious when we look at the faces for the first time. As we'd expect from a Faro deck, there are no indices. Besides that, everything about the cards looks normal, but the absence of the common indices is immediately striking. It gives the cards a quality of authenticity, simplicity, and purity that you won't get from a regular deck.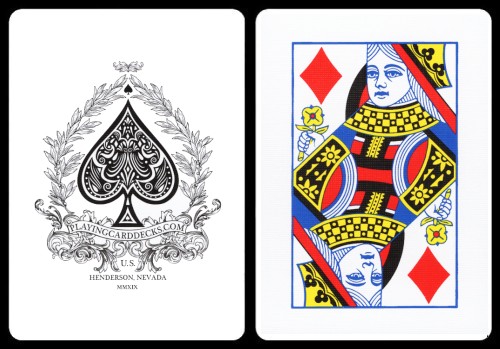 There is some customization, starting with the signature Ace of Spades, which has a whole new look. And there are two Jokers which have artwork that offers a fresh and fun take on the Bicycle theme while retaining a vintage feel.
These playing cards will especially be of interest to magicians looking for a deck with a retro feel, or for doing popular magic tricks with red and black cards such as Oil and Water. Magicians will also get some mileage out of the card reveal on the tuck box flaps, and the two gaff cards.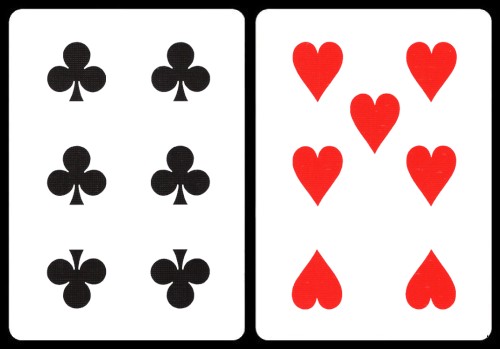 *** REPRODUCTION DECKS ***
Faro Vintage Playing Cards (1887)
The 
Faro Vintage Playing Cards
 was first printed in 1887 by Russell & Morgan, and is known as their Squared Faro #366. It's a fine example of a reproduction deck, which has the goal of bringing back decks from yesteryear with the quality of modern playing cards.
Will Roya collaborated with graphic artist Azured Oz for this and the other reproduction projects. All the artwork has been digitally hand painted from scratch, while sticking as closely as possible to the original artwork and designs. The process began by scanning in artwork from the original decks, or using high quality images of cards from these decks, and then recreating it.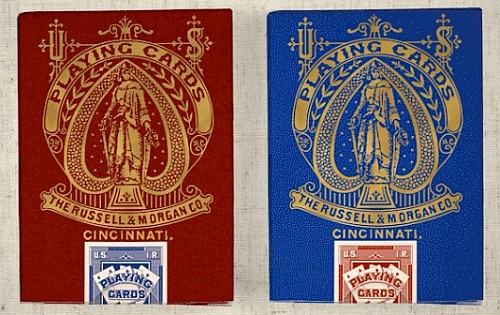 The Faro Vintage deck was originally supplied to 19th century casinos for the game of faro, and can be considered more of a "workers" deck. To learn more about the traditional game of faro, a popular gambling card game in that era, check out 
this article
 over on the PlayingCardDecks blog.
The tuck box has an authentic vintage look, with a retro style that is finished off with classy looking metallic gold ink and a replica tax stamp seal. This deck is available with either red-backed or blue-backed cards, both of which have a look that is described as a full-bleed "snowflake" design.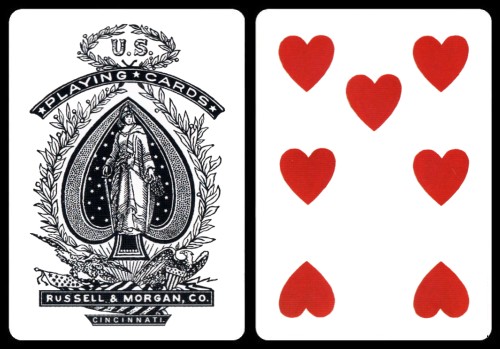 I find myself particularly drawn to the full-length one-way court courts, which is a distinctive feature of the playing cards from this time, prior to the development of the more practical two-way artwork for these cards. And of course indices are absent from the number cards, as was typical of the Faro deck.
This is a deck that will make a fine accessory for reenactors from this historical period, or even for Wild West themed events or parties. Magicians will also appreciate the suitability of the borderless cards for gambling routines, especially ones where a vintage deck would be an ideal prop. And of course there's a lot of points of interest for those interested in history, or collectors of novelty decks that enjoy something different.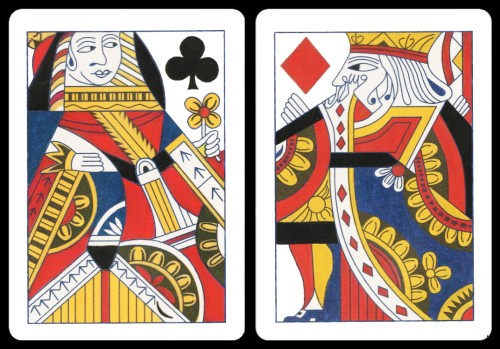 Vanity Fair Playing Cards (1895)
A 
transformation deck
 is a unique deck of playing cards where the pips have been incorporated into a larger artistic image. As an example, the six pips on a Six of Clubs might be transformed into part of a larger image picturing six birds. Typically these pips use their traditional location on the card and retain their red/black colours.
Transformation decks were very popular in the 19th century, with some incredibly creative decks produced in this time period. The 
Vanity Fair deck
 from 1895 is an outstanding example, and PlayingCardDecks has produced this wonderful reproduction version.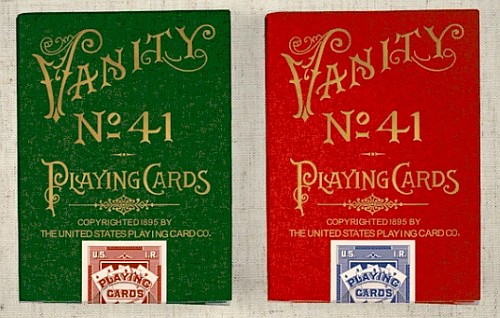 The Vanity Fair reproduction deck remains one of the finest examples of what the genre of transformation cards could produce in the late nineteenth century. It was produced with two different card backs, either a green with a simple pattern (Clown back), or a more ornately decorated red (Hobgoblin back).
As with all transformation decks, the real attraction of this deck lies in the number cards, with their colourful and creative transformation art.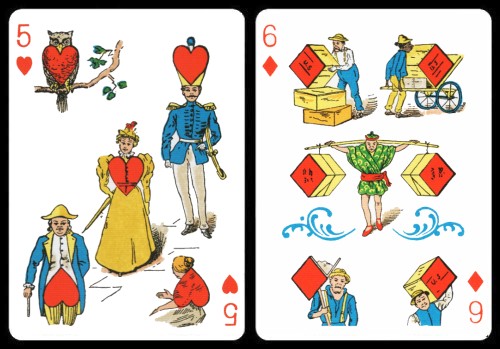 Even the two-way court cards were cleverly turned into comic figures (e.g. the King of Spades is smoking a pipe, the Queen of Spades holds a spoon, the Queen of Clubs holds a pickled cucumber with a fork), so each and every card is a unique and attractive work of art.
The Aces also received special attention, especially the signature Ace of Spades. Overall this is a delightful deck that is effectively a miniature art gallery, and it is wonderful to see that it has been brought back to life for modern collectors to enjoy in a fine new edition.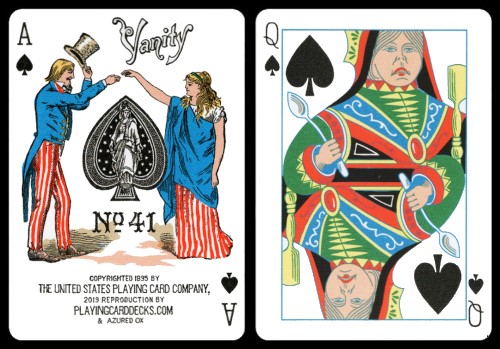 Hustling Joe Playing Cards (1895)
The 
Hustling Joe deck
 also appeared originally in 1885, because the late 19th century was one of the golden eras for transformation playing cards.
The original version of this deck had black-and-white card backs picturing gnomes ice skating by moonlight, which is reproduced with the blue (Gnome back) deck. The green (Frog back) deck gives alternative card backs featuring a vignette picturing frogs.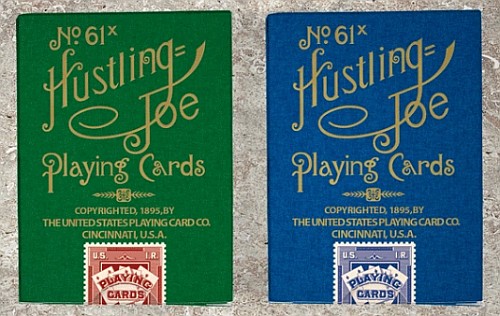 The artwork of this deck was inspired by the classic "hustler", which is a trickster that would lure someone to gamble what appeared to be a sure-fire bet, only to discover afterwards that they had been scammed. Hustling Joe himself appears as a character on the signature Ace of Spades.
Each suit also has its own focus. For example the Clubs depicts different spheres of activity for the police officer.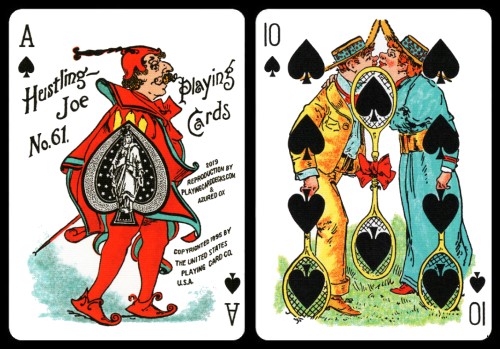 An interesting feature of this deck is that the cards were given different coloured backgrounds, which adds an extra degree of vibrancy and cheerfulness, appropriate for a deck that was intended to be comical and light-hearted.
Not all the pips in this deck are incorporated in the artwork, so it isn't a consistently transformational deck. As a result it is arguably a more functional deck than most transformation decks, and is well-suited to playing card games, while being attractive, amusing, and charming unlike a regular deck of playing cards.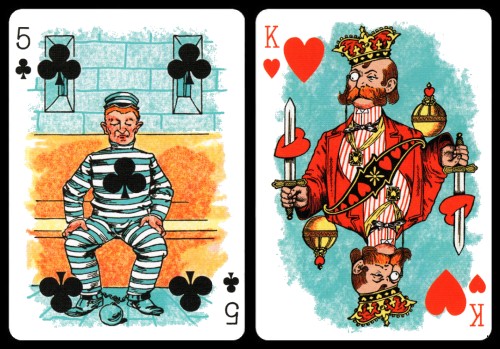 Ye Witches Fortune Telling Cards (1896)
The 
Ye Witches Fortune Cards deck
 dates from the following year, 1896.
The original Ye Witches Fortune Telling deck had one-way card backs with vibrant red and blue, illustrating a coven of witches, complete with a cauldron, and surrounded by bats and dragons. This artwork has been preserved in the red (Cauldron back) version of the reproduction deck, while the green (Broom back) features a simpler two-way design featuring twin witches on broomsticks.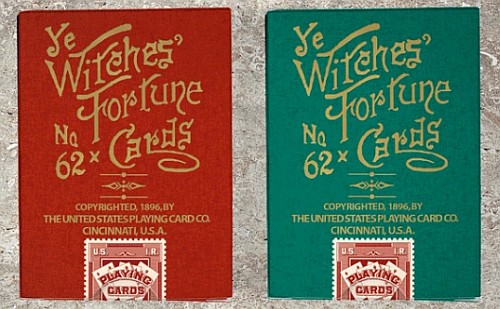 Like the Hustling Joe deck, this deck is transformational in style but without maintaining this strictly throughout, so it can be considered a partial transformational deck. But there are some cards in this deck that definitely classify as transformational, so it is still a wonderful deck that showcases something of the creativity from this time period.
All the number cards feature unique illustrations, and the artwork has been chosen to suggest something about the meaning of those particular cards for divination. The original 19th century deck even came with an accompanying book that explained how to use the deck and interpret the cards.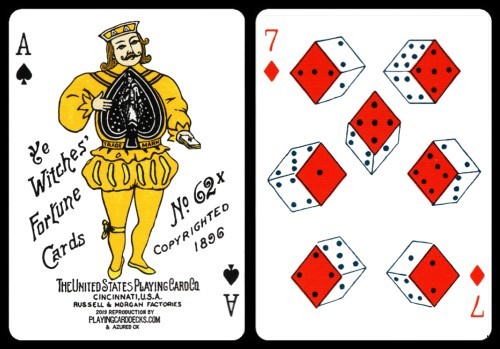 This deck also has historical value because it captures some of the period costumes from the time. For the most part the artwork is somewhat playful rather than macabre, and the cards that are designed to be transformational have real appeal.
The court cards, however, are relatively standard, although the hair of these royal figures was filled in with solid black.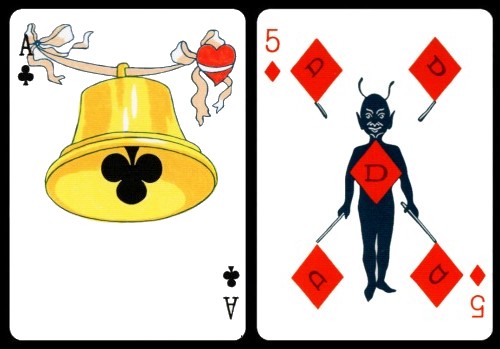 *** ACCESSORIES ***
One-piece Deck Box
In the past year PlayingCardDecks has also been exploring storage solutions for your playing cards. In partnership with a Carat Case Creations, they've come up with a great way to give your playing cards excellent protection at a bargain price. This 
PCD Clear Plastic Box
 is made of thick plastic, so it offers good protection from anything that is sharp or that would damage your deck.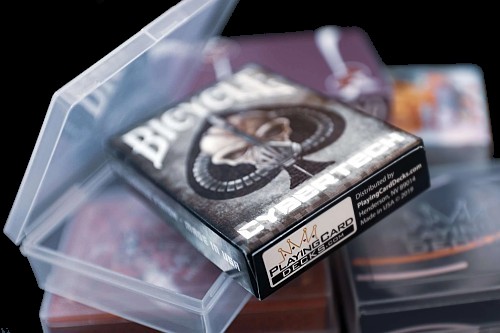 This is a one-piece design that has a hinged lid which stays shut courtesy of a snap closure, keeping the box securely closed. The hinged design also means that you don't need rubber bands to keep it together, as is the case with some similar two-piece boxes. It's been custom made especially for PCD, and has the PCD logo on the bottom of the box. The boxes themselves are transparent, so you can clearly see the deck inside.
I use these to protect my decks in storage, when travelling, or when sending a more valuable deck in the mail. This fantastic one-piece box is very functional, and really does a great job of ensuring that my deck is looked after wherever it goes. They're also very cheap, costing under a couple of bucks each.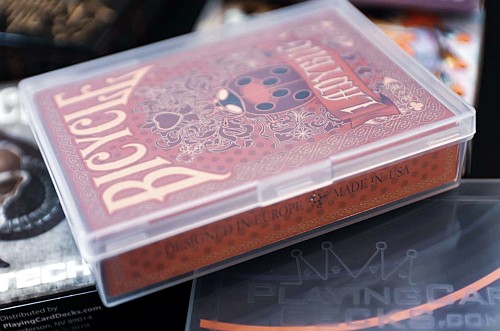 Recommendation
Will Roya has been involved in the playing card industry for several years, and now has extensive experience both as a retailer and as a creator. He has a proven track record for fulfilling his crowdfunding projects, and the decks featured above are all fine examples of quality products that he's helped bring to market in 2019.
Some might think that there is a glut of custom playing cards on the market, but I'm personally appreciative of the large diversity that is available. There's a variety of tastes, and the growing number of decks meets this need. Whether you're looking for something whimsical, or something classic, or something artistically beautiful, or something that reproduces an important piece of playing card history, PlayingCardDecks is helping create decks that suit your tastes.
It's also worth mentioning that all of these decks have been produced by the United States Playing Card Company, an industry leader and maker of the famous Bicycle brand. That means that these playing cards all have an embossed air cushion finish, will handle smoothly and consistently, and have been printed to last.
Props to PlayingcardDecks for continuing to deliver the goods for playing card enthusiasts throughout the past year, with some great new decks of playing cards that fans of card games and collectors around the world can enjoy! Let's hope for more great things coming our way in 2020!
Where to get them?
 You can find all these decks on PlayingCardDecks.com here:
Custom decks
: 
Circus Nostalgic
, 
Ladybug
, 
Cybertech
, 
Faro Edition Bicycle
Reproduction decks
: 
1887 Faro Vintage
, 
1885 Vanity Fair
, 
1885 Hustling Joe
, 
1886 Ye Witches Fortune Cards
Accessories
: 
PCD Clear Plastic Box



About the writer: EndersGame is a well-known and respected reviewer of board games and playing cards. He loves card games, card magic, cardistry, and card collecting, and has reviewed several hundred boardgames and hundreds of different decks of playing cards. You can see a complete list of his game reviews here, and his playing card reviews here. He is considered an authority on playing cards and has written extensively about their design, history, and function, and has many contacts within the playing card and board game industries. You can view his previous articles about playing cards here. In his spare time he also volunteers with local youth to teach them the art of cardistry and card magic.


Last update date: 12/03/19