by BoardGameGeek reviewer EndersGame
October 17 - National Playing Card Collection Day
This week Thursday is a special day for anyone who enjoys playing cards. That's because it's October 17th, which is officially recognized as National Playing Card Collection Day (NPCCD). You can visit the official 
NPCCD website
, where you'll discover that this day was created to celebrate the growing hobby of collecting playing cards, and raise awareness about it. If ever you needed an excuse to share pictures of your personal collection of playing cards, to talk about your passion with fellow collectors, or even to buy a new deck of cards, this is it! Make sure you've got this date marked on your calendar, and try to do something special to celebrate it!

The person who went through all the hoops necessary to get this day recognized is Alex Chin, who is also the man behind 
Portfolio52
, the world's largest online playing card database. Portfolio52 is a terrific way for you to find information about different decks of playing cards, and to keep track of your personal collection. It's also completely free.
But Alex is also one of the most respected modern designers of playing cards, and has won numerous awards for creative packaging. He has a real talent for creating beautiful playing cards, and has received international recognition for his unique tuck box designs. National Playing Card Collection Day not only celebrates our hobby, but it also gives you an opportunity to support Alex's work with Portfolio52, in return for a magnificent deck of playing cards he has designed especially for the occasion. The first NPCCD deck was created for the inaugural National Playing Card Collection Day, and coincided with the launch of Portfolio52. Alex Chin has since turned this into an annual passion project, in which he pulls out all stops to create what has to be some of the most creative decks of playing cards you will ever see.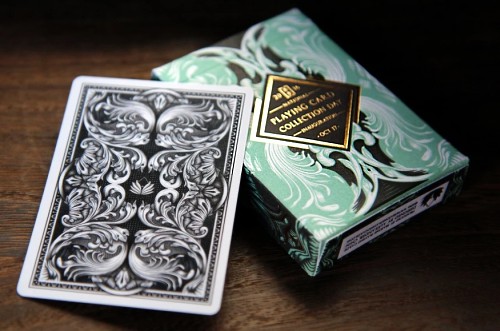 The National Playing Card Collection Day (NPCCD) decks
Three decks have been produced in previous years to mark the annual National Playing Card Collection Day, namely in 2016, 2017, and 2018. Alex has poured his heart and soul into these playing cards and it really shows, because each of them is a true labour of love and a stunningly beautiful piece of artistic work.
If you're familiar with the decks Alex Chin produced under his own label, Seasons Playing Cards, you'll know that he's a craftsman. Several of his decks have won design awards for his creative packaging, such as the wrap-around packaging concept of his Seasons decks. He's also shown innovation in other ways, like the limited edition colour changing tuck box that was available for his first Apothecary decks, which adds a whole new element by creating a tactile experience. Clearly Alex likes pushing boundaries and doing things differently, and his NPCCD decks really showcase this. The remarkable two-piece design of the tuck box from the 2017 annual deck, and the changing 3D artwork of the tuck box from the 2018 annual deck, are both fine examples. From the outset, it's obvious that these decks are very unique.
This represents Alex's vision for what playing cards are about: "
These decks represent how we see the art of card collecting - beautifully unique, consistently dynamic, and authentically yours. The decks are designed to compel and test the boundaries of the playing card world to keep our art consistently growing. They're kept at small runs not because of artificial limits, but because they're handcrafted, side stepping the industrial world of automation in favour of a more authentic handmade piece of art for your collection.
"
In addition, Alex knows how to make decks incredibly stylish right from your first glimpse of the tuck box. His decks have all the luxury you can expect, with elaborate embossing, ornate gold and silver foil accents, coupled with an elegant style. This quality continues when you look at the cards themselves. I appreciate fine artwork, and the artistic designs of these decks are terrific. This is especially evident on the card backs and the court cards, where everything feels beautifully balanced, and well-chosen colour schemes enhance the delightful visual aesthetics.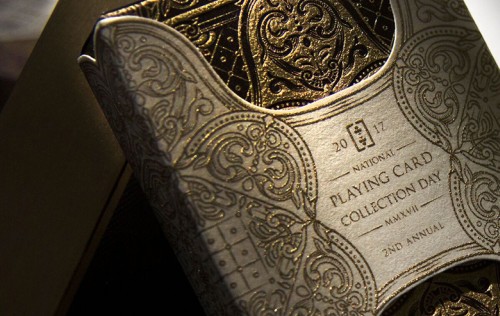 I had opportunity to ask Alex about the NPCCD decks, and here is what he had to say:
You've produced some stunning and innovative NPCCD decks in previous years, to help support Portfolio52 and to commemorate the annual event. What can you tell us about your previous NPCCD decks?
The NPCCD deck is always fun to design because it's for a good cause and it typically gives me a chance to experiment with new things. It's definitely a deck catered to collectors rather than to the masses and I think that's why I really dig it. Every year has a theme or specific goal that I try to embrace.

The inaugural 2016 NPCCD deck used a temperature-sensitive ink that would change colors to the touch. The theme was touch. This was my first deck so I wasn't sure how well-received it would be. It was printed letterpress with a custom die-cut window as well as foiling. I think because the scale was so small that year, it's still the most expensive deck to produce I've made to date.

The 2017 NPCCD deck was the first time I played with designing from scratch. At the time I was getting a bit bored with normal decks and made a goal for myself to create a completely out-of-the-ordinary box-opening experience. I designed a custom "pluck tuck" package design involving a 3-piece set which was entirely engraved throughout which did make it one of the fancier decks of the series. Because of the custom tuck design it did end up winning quite a few awards in the design industry which I thought was a beautiful way to help bring more awareness of our hobby to the mainstream culture.

Last year's 2018 NPCCD deck is my favorite deck to date. I think that is what ends up happening though, your latest deck always ends up being your favorite until the newest one comes along. The deck was an Escher-illusion themed deck. The idea is that there would be multiple perceptions of the designs throughout. The box featured classic illusions so that depending on how you viewed it you would either see a person or a chess piece on the face, back, or sides. But it also featured colored gels that framed the cards inside and depending on which gel was being used, a completely different design would show up!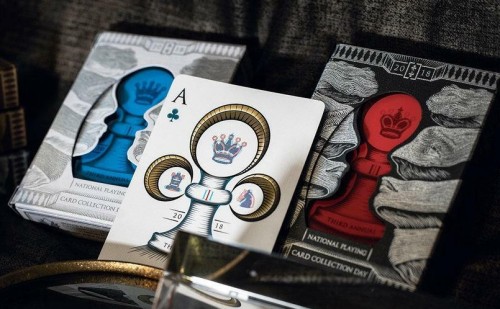 Will there be a NPCCD deck for 2019, and how can we stay up to date with news about it and about this year's National Playing Card Collection Day?
Yes there will be. The best way to stay in touch is to sign up via e-mail on the official website to be notified, or follow Seasons on social media, which is where I hold the contests for the event.
The 2016 NPCCD deck
Let's take a closer look at the ones Alex Chin has produced so far, starting with the very first one in 2016. This was made to mark the occasion of the very first National Playing Card Collection Day on October 17th, 2016, and the launch of Portfolio52.
The idea was that by sponsoring Alex, collectors would have the opportunity to support the Portfolio52 project, and they would receive something special in return at the same time. And of course, it would be a unique memento in honour of National Playing Card Collection Day!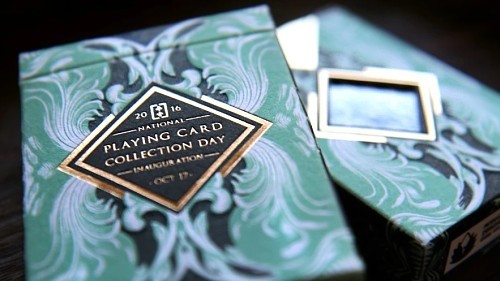 The tuck boxes of this special deck were hand-made, because Alex personally hand fed them into four different machines. After they were die-cut, he personally folded, glued, packed, and sealed them.
Here we get a look at some of the court cards from the very first NPCCD deck, with its ornate borders and intricate artwork.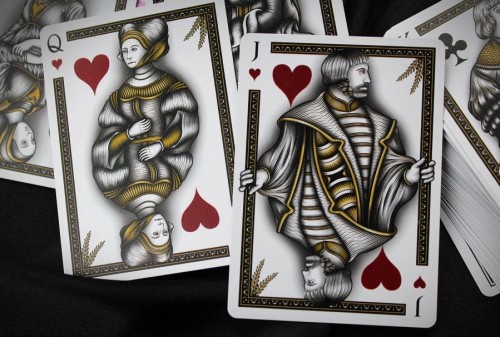 This limited edition deck had a print run of only 400-500 copies. Today it's almost impossible to get hold of, unless you are very fortunate to find one on the secondary market, and it is a true collector's item.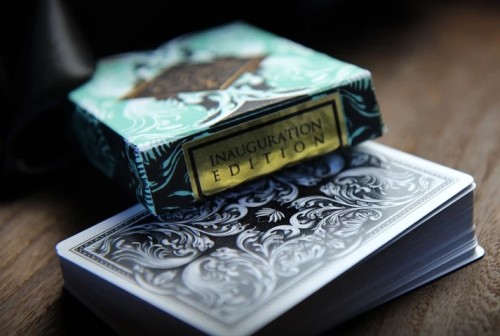 The 2017 NPCCD deck
On October 17th 2017, Alex launched the second NPCCD deck in support of Portfolio52.
In my opinion this deck was even more glamorous and stunning than its predecessor, as is immediately evident from the exquisite tuck case. In keeping with the fact that this was the second NPCCD, the tuck box is comprised of twos: an inside and outside layer, and a top and bottom. Alex calls this innovative tuck box a "Pluck Tuck", because an exposed thumb tab allows you to pluck the deck open.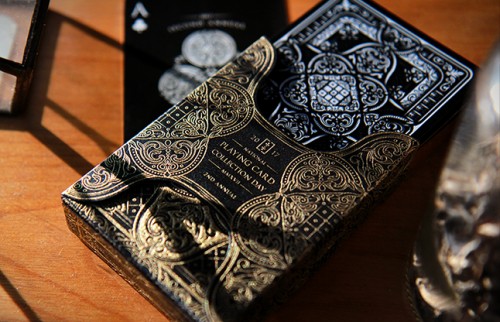 The luxury of the tuck box looks even more stunning when contrasted with the minimalist colour scheme of the playing cards themselves, which feature an ornate design in a simple black and white on the card backs.
The cards themselves are printed by USPCC for quality handling and durability. They are certainly beautiful, as exemplified by these court cards, which have a truly royal feel against a inky black backdrop. The courts are very stylish, yet the simple colour scheme creates a very sophisticated look and feel.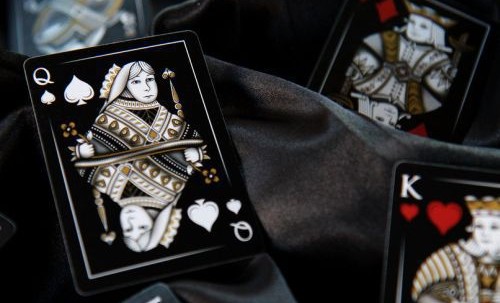 As impressive as the cards are, it's really the tuck boxes that will blow you away. These showcase what Alex is best at: pushing the boundaries of production, with a gorgeously handcrafted work of beautiful art, and a fitting commemoration of the art of card collecting. They have metallic gold engraving, an individually numbered sleeve, and a cotton linen seal on the front and back.
Two editions were created, both with a limited print run of 500 each. There's the Pearl edition which comes in five different colours, and a Midnight Gold edition, which has the added luxury of hand-gilded gold edges on the cards.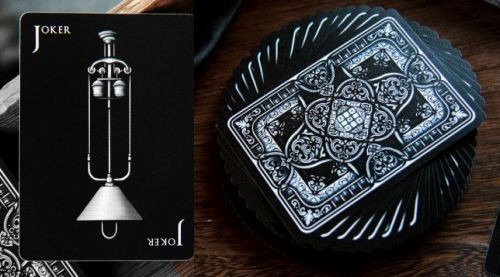 The 2018 NPCCD deck
It's hard to imagine how Alex could surpass his previous efforts, but each year he seems to accomplish exactly that.
The 2018 NPCCD decks pushed the boundaries of packaging design even further, with a remarkable series of decks inspired by the work of famous artist Escher, who was renowned for his mind-bending illusions that blurred the lines of reality. A set of six decks was the result, each corresponding to a different chess piece: the pawn, bishop, knight, rook, queen, and king.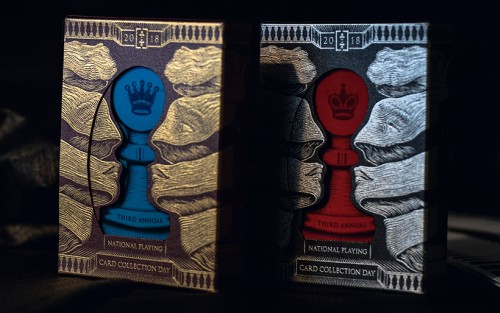 The main feature of these decks is the remarkable tuck box. These were designed to accompany each other in red and blue pairs, which Alex called "matching innovative illusion tuck cases". For example, the King and Queen decks were represented by a red deck and blue deck, employing metallic gold and silver intaglio engraving respectively, on a luxurious astral pearl stock.
For added luxury, one of each such pairing had fully gilded edges, with either ruby, topaz, or holographic hand gilding. Each deck was produced in limited numbers, with only 500 of each, all individually hand numbered.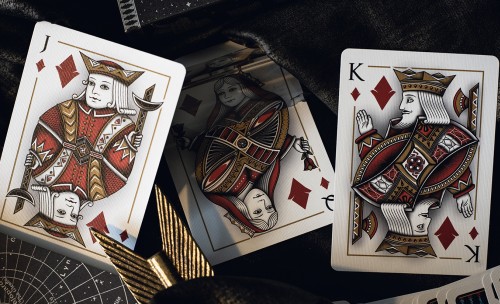 So where does the `illusion' come in? Alex took some inspiration from the classic illusion where you see a vase or a face, depending on your perspective. The theme of these 2018 decks was "perspective", and captures the notion of seeing playing cards as art. Alex wanted to create something that would change your perspective by using a colour filter, which would cause the same design to produce a different look.
To achieve this, each tuck box has a die cut window in red or blue, and opening and closing Alex's specially designed tuck flap causes the die cut to change shape. Because of the coloured layers, this changes what you see. The concept is based on the scientific principle that light waves of different colours run at different frequencies. The changing visual reality this produces is incredible. Much more can be said about these remarkable decks, but suffice it to say that they are positively brilliant!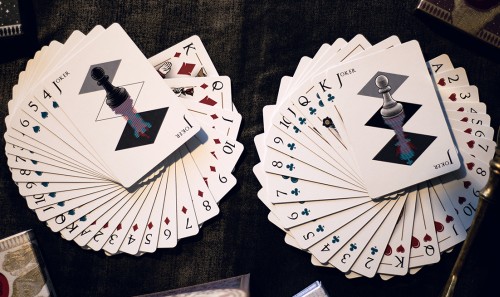 The good news is that a limited number of these decks are still available for purchase on PlayingCardDecks 
right here
, so get them while you can!
The 2019 NPCCD deck
So what do we know so far about the 2019 NPCCD deck? If the previous decks are any indication, we can be confident that this year's deck is going to be another outstanding gem that will be a treasure for any collector that owns one. From the information Alex has released so far, we know that this newest deck is inspired by the beauty of Morocco. The two aspects of Moroccan culture that Alex wants to bring into his latest effort are its mesmerizing architecture and labyrinth-esq marketplaces.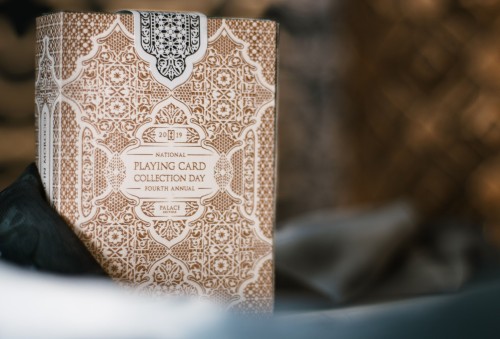 Given Alex's remarkable record for innovation in tuck box design, it won't come as a surprise that the tuck box is again a star performer. It will consist of outer and inner boxes, with the outside box consisting of premium pearlescent stock with gold and silver intaglio engravings for a luxurious look. The back of the box has a small keyhole pattern that enables you to peek at what is inside, and this is either in a "locked" or "unlocked" position, depending on how the inner box is positioned. "Unlocking" the deck reveals the gate, which you'll find on the inner box.
Three different decks represent three variations of the gate: a Locked Gate, an Unlocked Gate, and a Palace Gate. Parts of this employ the use of a mirror, and you might discover different rooms behind each gate, or the same room behind different gates. Depending on which decks you use, and the sequence and lighting combined with them, different effects can be created. Altogether there are two gates, and since each has three variations, there are six different decks in total. They will be available individually, or as a set of three (Palace Pack) or a set of six (Secret Kingdom Set).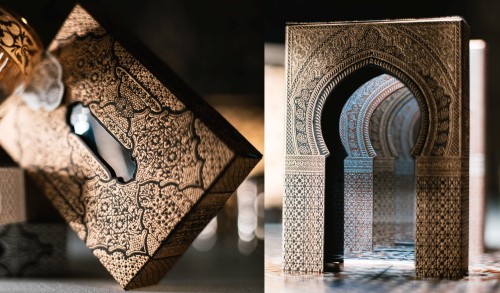 As for the artwork on the cards themselves, these utilize indices on all four corners, to reflect something of Morrocan style archways and geometry. A custom plasterwork pattern featuring pips is embedded in the background of the cards, and it is the card value that determines which are `revealed'.
Final thoughts
There's no doubt that this year's deck is going to be another unique piece of art! Want to know more? Head over to the 
official NPCCD website
, or stay tuned to Alex's social media for more news and updates.
The NPCCD decks that I own are easily among the most luxurious in my collection, and everything about them screams elegance and class: the packaging, the artwork, the colours, and of course the design. Given the wonderful NPCCD decks Alex Chin has released for the past three years running, we can only expect another fine creation for 2019.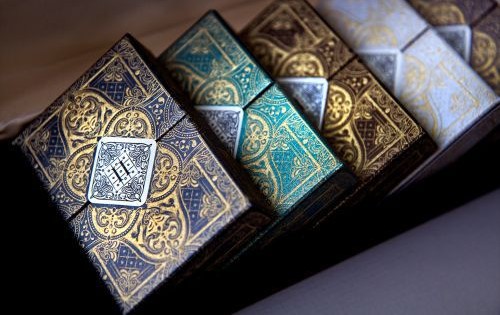 Most importantly, make sure to celebrate being a collector of playing cards on coming Thursday October 17th, which is the fourth annual National Playing Card Collection Day. What a great way to celebrate our hobby, and to share our love for playing cards with the world!

Where to get them?

 

Several of the 2018 NPCCD decks are still available on PlayingCardDecks

 

here.Want to learn more?

 

Visit

 

Portfolio52,

 

National Card Collection Day, and

 

Seasons Playing Cards. (Social media:

 

Facebook,

 

Instagram,

 

Twitter

)

Other articles you might find interesting:


About the writer: EndersGame is a well-known and highly respected reviewer of board games and playing cards. He loves card games, card magic, cardistry, and card collecting, and has reviewed several hundred boardgames and hundreds of different decks of playing cards. You can see a complete list of his game reviews here, and his playing card reviews here. He is considered an authority on playing cards and has written extensively about their design, history, and function, and has many contacts within the playing card and board game industries. You can view his previous articles about playing cards here. In his spare time he also volunteers with local youth to teach them the art of cardistry and card magic.


Last update date: 06/21/20