Your chance to view the main events from 52 Plus Joker's annual convention (Part 4)
by BoardGameGeek reviewer EndersGame
52 Plus Joker
 is the world's biggest club for playing card collectors around the world. Each year they host an annual convention, where creators and collectors meet, listen to presentations, and much more - all the while enjoying a shared love for playing cards.
When COVID made it necessary to cancel the two most recent conventions, the club ran a virtual event instead, which they opened up for free to anyone interested in playing cards. Everything was recorded on video, and in this article we continue our coverage of the main events from this online spectacular.
This time we get to watch several "Table Spotlights", where collectors show and talk about part of their collection. In addition, we get a front row seat to the club's "Mega Auction", which gives us the chance to see and learn about some delightful playing cards from the past. Finally, we round off this installment with a fun "Game Show", which is a fun format designed to help us learn more about the playing cards we love.

Table Spotlight
Over the course of the convention there were several "Table Spotlight" features, which gave individual collectors the opportunity to introduce themselves, talk about what they collect and like, show some of their favourites, and run through some decks they have for sale and trade. This turned out to be far more interesting than I had expected, and here are some highlights from each.
Table Spotlight #1
In the first Table Spotlight segment we meet Darren, a relatively new collector who especially focuses his collection around playing cards that are skull themed. Next up is Joseph, who had a very extensive personal collection, but was looking for a new home for a large number of prized items that many modern collectors will drool over just seeing.
Rounding out the first segment was Kelly ten Hove, who created Red Fox Playing Cards together with his wife, and who shared some of what they have produced.
Table Spotlight #2
The highlight for me in the second Table Spotlight segment was singles collector Kevin Dixler, who focuses on whiskey/beer themed cards. He gave a fascinating and informative slide-show in which I learned a lot about a collecting niche that I didn't know much about, and now have a new-found appreciation for.
Also very interesting was the portion with well-known Bicycle collector Jason Rideout, who not only had an extensive collection of decks for sale, but brims with knowledge and enthusiasm. Another collector was showcasing a number of very old decks in sealed condition, which were remarkable to see. It's pretty amazing to think that these decks have remained unopened across all those years.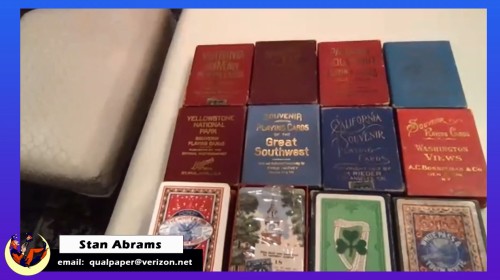 Table Spotlight #3
The third Table Spotlight included several collectors of vintage advertising cards (e.g. airlines, ships, cigarettes, beer/liquor); a collector who had actual company badges from USPCC employees of yesteryear and some historic USPCC stock; and an enthusiastic new collector with some starting decks who shared some things he learned in his first year as a collector. Another collector makes and sells jewellery items (e.g. cuff links, hair clips, tie clips, lapel pins, earrings) that incorporate artwork from playing cards.
But the highlight for me in this section was a feature by Steve Bowling, a member of 52 Plus Joker's executive, who showed a number of older American decks and ephemera. He also did a slide show presentation that gave a historical overview of the evolution of Bicycle designs. I was amazed to learn that in 1905, Bicycle offered over 40 different designs to choose from.
Table Spotlight #4
In the fourth Table Spotlight there's a "show-and-tell" from another five collectors. Two of these had large collections for sale, the first being a lady who had inherited a lifelong collection from her mother, who was born in 1930 and had acquired many of her cards from her great aunt who worked at a card company. But real treasures were especially to be seen courtesy of a 92 year old collector who started collecting in the 1940s. He had many old decks in near mint condition, and also showed some wonderful playing card ephemera, much of it from the 1800s.
New board member Dave Hofmeister had a good range of things to show, and I was especially struck by his observation that when he started collecting more than ten years ago, there were about 3,000 playing card listings on eBay, whereas now this has grown to around 120,000. His fascinating story about why playing card factories appreciate having birds in the area is well worth hearing. Next up was a collector who had a great slide-show with tons of modern decks. Rounding out the segment was Kevan Seaney, better known as The Congress Guy, in view of his passion as a collector of Congress decks. He showed and introduced numerous rare and beautiful Congress decks from his collection, many from the late 19th century.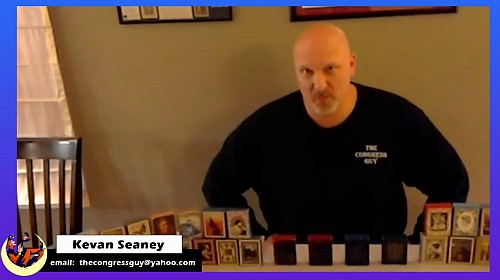 Watch the Table Spotlight videos here:
● 
Video:
Table Spotlight #1
● 
Video:
Table Spotlight #2
● 
Video:
Table Spotlight #3
● 
Video:
Table Spotlight #4
Mega Auction
Watching the online auction proved far more interesting than I thought it would be. It's like watching a slide show with expert commentary. Auctioneer Larry Herold does a great job, and provides some interesting explanations about the auction lots along the way. Lee Asher adds some interesting comments and observations throughout as well, including sharing comments from other collectors in the chat. You'll certainly learn a thing or two about grading vintage and antique decks, and how that works. And it's a chance to see and learn about decks you've never heard about before, and increase your general knowledge about playing cards. If you like playing cards, then try watching some of these auction videos, and you may be surprised to discover how fascinating they are, and how much you will learn!
October 2020 auction
Most of the items listed for sale were playing cards, but there were also some ephemera, such as a book of card games from 1889. I really enjoyed seeing the wide range of playing cards, and it was especially neat to see many authentic decks from the 1800s. The auction included a significant amount of original decks from the late 19th century, such as a copy of the gorgeous Triplicates, and an original Samuel Hart deck. You'll even see some playing cards that are more than 200 years old, like the famous Thomas Crehore 1820 deck, which has square cards with no indices, and sold for $1000.
Many newer collectors of modern playing cards start hesitating at the thought of a Kickstarter deck costing over $20. But when you're talking vintage and antique decks, a hundred bucks is considered a bargain. Most of the older decks tend to go for hundreds of dollars each, and some even topped well over $1000.
For example, you'll get to see a Mediaeval Deck by NYCC from 1897 that went for $1200; a USPC Norwood #85 deck from 1909 that closed at $1950; and a Murphy Varnish deck from 1883 that sold for $2750. A Tarot of the Fools deck by Piatnik from 1864 didn't sell at its $1250 starting price, but looked lovely. A Hodges Court Game of Geography Deck from 1827 attracted a bid of $5000, but didn't sell because it had a reserve of $9000. It's amazing what some things can be worth!
Some ephemera can also be worth considerable amounts, like a Russell Morgan calendar from 1893 that sold for $2500. One of the prize items for sale was a limited edition double deck set celebrating the USPC-Cartamundi Merger. To add to its uniqueness, it was in a special numbered box (only 125 were made) made from wooden floorboards from the old Norwood factory. This went on to sell for $1500. The auction itself seemed to be a big success, and by far the majority of items did sell, with only ten of 114 lots going unsold.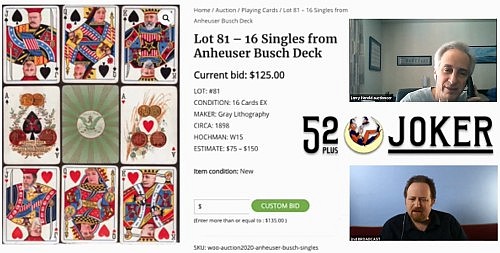 April 2021 auction
Another club auction was held in April 2021, and the edited video for this runs for around 3 hours and covers 64 listings. By now the 52 Plus Joker team had found ways to improve the technical side of things, and the result was a smoother system. Once again, some fantastic items were listed, and it was a joy to listen to the banter and chitchat between auctioneer Larry Herold about the listings, although Lee's audio seemed to disappear about halfway.
I love just seeing the pictures of some great old decks, and hearing the guys talk about them, and as always I learned a lot. Watching auctions like this - even well after the fact - really is a great opportunity to get exposed to playing cards and ephemera that I wouldn't normally see, and to broaden my horizons and knowledge of playing cards and collecting.
November 2021 auction
The club went even one better for their November 2021 auction. In advance of the auction, they had a 90 minute glow-up, which consisted of going through all the auction items in advance of the auction, and discussing them with a panel of playing card collectors and experts: Judy Dawson, Dave Hofmeister, Harry Wastrack, Larry Herold and Lee Asher.
This is a terrific idea, and not only does it give potential buyers an opportunity to make well-informed and well-considered decisions when bidding, but it's also a terrific way to get to see some wonderful playing cards, and learn about them. This 90 minute video not only helped educate buyers, but is a treat for anyone interested in learning more about playing cards.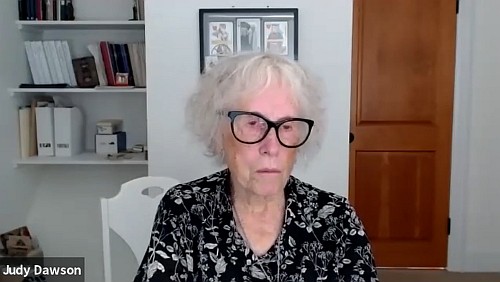 Watch the Auction videos here:
● 
Video:
Day 1 Mega Playing Card Auction
 (Lots 1-28)
● 
Video:
Day 2 Mega Playing Card Auction
 (Lots 29-50)
● 
Video:
Day 3 Mega Playing Card Auction
 (Lots 51-80)
● 
Video:
Day 4 Mega Playing Card Auction
 (Lots 81-114)
● 
Video:
April 2021 Auction
 (Lots 1-64)
● 
Video:
November 2021 Auction Glow-Up
 (Lots 1-63)
Lee Asher's Playing Card Game Show
If you attended an actual playing card convention in person, you'd get the opportunity to meet other collectors and chat about playing cards. Lee Asher came up with a great way for us to meet other collectors, find out something about what they collect and what interests them, and learn some trivia about playing cards at the same time: a game show!
The concept was simple: the production team randomly pointed to someone who was participating in the live event, and put that person's camera on screen for everyone, bringing them live onto the hot seat. About a dozen or so people were picked out in the course of the show, and it was especially fun seeing people's reactions of surprise when they realized they'd been chosen.
First we got to learn a little about the surprise `contestant', such as where they were from, and what kind of cards they liked to collect. After some chit-chat with Lee, he then gave them the choice to pick which category of playing card trivia they wanted to be asked about: modern, vintage, or antique. Even though 52 Plus Joker has a membership that especially thrives on antique cards, it was neat to see that the majority of people selected had a preference for collecting modern cards. With a correct answer, contestants got to "spin the wheel", and win one of many prizes, such as free club membership, or the 2020 Uusi Club Deck.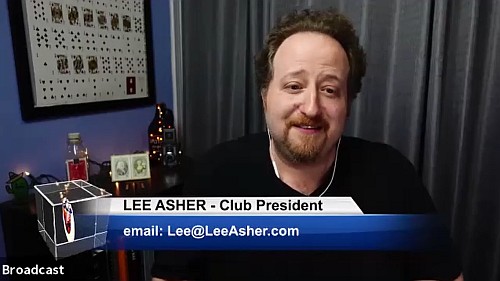 This was a great way to learn some interesting trivia and facts about playing cards, and I especially enjoyed that aspect. For example:
● 
Questions in the modern category
 included ones like these: Who is the owner of EPCC? What playing card project was the first to generate over a million dollars on Kickstarter? What graphic designer produced the back design for Smoke & Mirrors? What was Theory11's very first deck? What Ellusionist deck ignited the modern collecting movement in 2004?
● 
Questions in the vintage category
 asked about the location of USPCC's factories in Canada, anniversary decks created by artist Nick Martin, the Chicago playing card manufacturer that produced Duratone decks, and the name of the St Paul born graphic designer who created pin-up art decks for Brown and Bigelow.
● 
Questions in the antique category
 required you to identify the Boston playing card manufacturer who is one of the patriarchs of American playing cards, and to know something that even Hochman didn't - something of the parentage of William W. Russell of Russell Playing Card Company.
To learn the answers, you'll just have to watch the Game Show video! But contestants could get help from the chat to come up with the correct answers, and it was obvious that the goal was to have everyone who participated be declared a winner and go home with some prize.
Even though the `game show' idea may have felt a little cheesy, it was still a very fun format, and doing a quiz of some kind at an online virtual convention definitely has real potential. More importantly, collecting playing cards isn't just about the cards, but it's also about the community, and this really was a nice way to connect with other collectors and get a small sense of the many people out there who share our passion.
I'm very pleased 52 Plus Joker has made these videos available for posterity, because even if you didn't get the chance to participate at the time, it's a wonderful way to learn from others in the playing card community.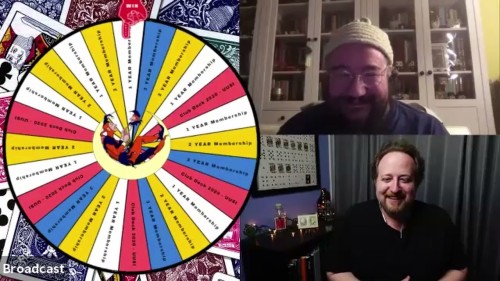 Watch the Game Show video here:
● Video: Lee Asher's Playing Card Game Show

Where to learn more? Official website for the 52 Plus Joker American Playing Card Collectors Club

About the writer: EndersGame is a well-known and highly respected reviewer of board games and playing cards. He loves card games, card magic, cardistry, and card collecting, and has reviewed several hundred boardgames and hundreds of different decks of playing cards. You can see a complete list of his game reviews here, and his playing card reviews here. He is considered an authority on playing cards and has written extensively about their design, history, and function, and has many contacts within the playing card and board game industries. You can view his previous articles about playing cards here. In his spare time he also volunteers with local youth to teach them the art of cardistry and card magic.


Last update date: 03/08/22