by BoardGameGeek reviewer EndersGame
What is the World of Playing Cards?
If you're anything like me, you'll not only enjoy using playing cards, but also reading about them, and learning more about their history and background. There's a lot of sources online with information about the history of playing cards, but one of the very best that you'll find is 
the World of Playing Cards
. Self-described as "
a living encyclopaedia of the history and visual art of playing cards
", the World of Playing Cards has as its mission "
to make a contribution to the public awareness and appreciation of this fascinating and ancient subject that encompasses so much of social involvement, play, history and art.
"
For anyone interested in looking at old playing cards and learning about them, this website is a paradise. You can choose to see articles according to your 
country
 of interest - and there's a massive list! Articles are also arranged by 
sections
, so you can immediately browse to a topic that interests you, such as card games, manufacturers, pop culture decks, souvenir decks, tarot decks, and many many more, and you'll immediately be greeted by a large number of articles on that topic. My personal favourite is probably the section on 
transformation decks
, which I find fascinating! The site was even intended to meet the needs of teachers in an educational setting, and there are lots of ideas for classroom projects, lectures, project handouts and more.
The man behind all this is Simon Wintle, who is the curator for the World of Playing Cards website, and also serves as the webmaster for the English Playing Card Society (EPCS). Simon currently lives in North Wales, but has also spent time in Chile, Spain, and England. With the help of many contributors from around the world, he's put together a marvellous resource that anyone interested in playing cards should spend some time exploring, and bookmark as a site to return to. He was kind enough to agree to be interviewed, to share more about himself and his passion for playing cards and their history, as well as about the World of Playing Cards project!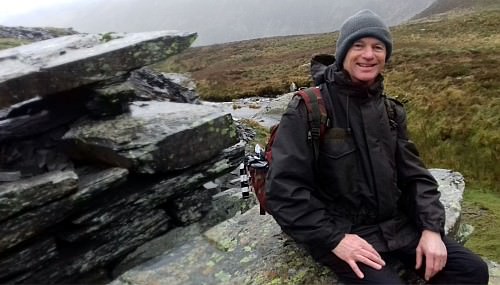 Photo: Simon loves exploring the mountains of Snowdonia, where he currently lives with his wife Paula
The Interview
History
When did you start collecting playing cards, and what got you started?
I started out being a tarot enthusiast sometime in the 1970s and at that time ran a small consultancy from my home. People's feelings about tarot can be rather polarised, and I remember being astonished when a Baptist minister called to warn me that my soul was in grave danger. Similarly a local builder refused to do any work on my house because he had seen a pack of tarot cards. I determined to find out more about this medieval artefact and where the imagery came from, and hand-made my own tarot de Marseille pack to practise with. A good tarot reader doesn't predict anything, they simply allow you to review your life in a different way. Often tarot artwork is superb and they are collectible, just like the 15th century luxury hand-painted tarocchi decks were. So I began collecting decks from flea markets and junk shops and things evolved from there: the excitement of hunting and finding unexpected treasures. 
How did your interests as a collector develop over time?
Over time my areas of collecting have evolved. After I moved into collecting decks from flea markets and junk shops, slowly I discovered more areas of interest, in particular woodblock printed cards. That is when I decided to make my own woodblock and stencil deck, which is documented on my website.

At the same time I was fortunate to be able to travel to Spain on a number of occasions when I visited playing card museums, which is when I made a discovery of Moorish playing cards in a municipal history archive in Barcelona. These were printed from woodblocks in imitation of some Muslim prototype, with stemmed cups or goblets resting on triangular bases. 

How is your discovery of Moorish playing cards in Spain important for our understanding of the history of playing cards?
Along with the hand-painted Mamluk cards from Istanbul, these Moorish playing cards provide a "missing link" or evidence that playing cards arrived in Europe from the East, arguably via Spain. In addition, the early inventory references to cards of a "Moorish" kind link it to the birth of playing cards in Europe.

At that time there was no Internet, but Michael Dummett's large book came out and I studied it thoroughly, and also had some correspondence with Dummett regarding the Moorish playing cards which I had discovered. I was also impressed by Detlef Hoffmann's book The Playing Card.

This whetted my appetite for the history of playing cards, which opens up a larger investigation into print, art and technology. 
What makes the history of playing cards interesting?
Playing cards are intrinsically fascinating and the pack holds many secrets. Collecting can become a sort of 'bug' and at the beginning there is so much to learn which can be overwhelming.

The beginner faces a steep learning curve. The first thing is the confusing diversity of suit systems (French, Italian, Spanish, German, Swiss, etc) and the unfamiliar court card styles and indices, so many different sizes and formats.

Part of the charm of playing card collecting is finding cards whilst on holiday abroad with patterns that may have been used in the locality for generations. Then there are older cards with square corners, no indices...

Antique and vintage card games offer documentary evidence, as well as nostalgic memories, of the social interaction, fashions and stereotypes of bygone days and are a study in social anthropology. Sadly children don't play card games as much because they prefer online computer games, which are the ultimate excitement. 
Do you have any thoughts about where playing cards first originated?
The history of playing cards has close associations with the history of printing, and it is this connection which leads back to their origin in the Far East.

Regarding whether cards originated in China, I'd suggest that they definitely originated somewhere in the Far East, maybe Korea or China, where knowledge of printing was developed many years before it was "discovered" in the West. Apart from religious tracts they also printed paper money and then paper cards. My understanding is that knowledge of the technology spread from the Far East.

Collecting
How many decks would you estimate that you currently have in your own collection?
At one point my collection reached over 1,000 decks but I have become dissatisfied with hoarding decks of cards in my home and have sold off most of them. As I mentioned earlier, I regard it as a form of research and once the knowledge has been gleaned the collection can be sold off to make room for the next project. Thus I have found that the hobby constantly evolves.
How do you organize and display your collection of playing cards?
It is in boxes all over the house. I also have a tall chest of drawers, which houses my South American cards. There are two or three framed pictures of playing cards. I have never liked those plastic display albums.
Do you have any special categories of decks that you focus on collecting, and what are your favourite types of decks to collect?
Initially I didn't really have any special areas of collecting other that enjoying finding old decks in flea markets etc. Since I grew up in Chile and Spain, I was naturally drawn towards re-visiting the playing cards of Latin American and Hispanic countries. These became the largest part of my collection and served as the material for developing my knowledge of the history of playing cards in that area.

The Latin American countries with the largest playing card productions are Argentina, Brazil, Mexico, Uruguay and Chile. There are outstanding examples of political, nationalistic and advertising decks from those countries. Interestingly, many of the manufacturers originally emigrated from Europe, and then localised their production to suit the market. Brand names and decorative motifs must appeal to card players. A selection is available in our online shop.
Which deck in your own collection is your favourite, and why?
When I first started collecting, gradually I discovered more areas of interest, such as woodblock printed cards. That is when I decided to make my own "authentic" woodblock and stencil deck. Imagining that I was an apprentice in a medieval workshop, I acquired woodcutting tools and blocks, producing an edition limited to around 50 copies which was self-funded. Kickstarter didn't exist then. I still have the woodblocks and some proof sheets, which are of course amongst my favourite decks. That project is documented in more detail on my website here.
What impact has technology had on the collecting of playing cards?
Collecting has evolved. In almost everything we do, we use the Internet, and the Internet is enormously beneficial for innovation: ebay, payal, google, online forums, social media, kickstarter, and so on. These platforms have altered the way we communicate, and they connect artists and collectors in a global marketplace. But the flea markets, second-hand and charity shops, local auctions are also rich sources for collectors. Recently someone found a rare nineteenth century card game in a second hand shop for £1.

The World of Playing Cards
How and when did the World of Playing Cards site come about?
I have been working on the World of Playing Cards for over 20 years, and before that I published occasionally in the magazines. In 1996 I set up the website which has become the main focus of my interest. This started as a homepage for the English Playing Card Society (EPCS) but quickly grew to encompass the whole world of tarot and playing cards. I wanted to make a contribution to public awareness of this fascinating subject and rewarding hobby that encompasses so much social history, culture and art. I felt that it was more than just card collecting for me. 
Where does the content of the site come from?
I usually get new material sent in on a daily basis which keeps me fully occupied. Contributions range from items found at flea markets to rarities which people find in antique shops and which require some research to identify precisely what they are.

Most of the content on the site comes from other people's collections, or reviews of new decks which are sent to me, who over the years have collaborated by sending scans and sharing their knowledge for the site. Over time many people have contributed to the site, covering various angles of the subject, and there are several regular contributors today. Some individuals have been especially generous, and I would like to mention in particular Rod Starling, Barney Townshend, Rex Pitts, Ken Lodge,Tony Hall and Matt Probert whose contributions have made a real difference. A full list is here under Bibliography & Credits on the About page.
What are some of the features of the World of Playing Cards website that would be of interest to collectors and playing card enthusiasts?
The site is designed so that anyone can easily become immersed in it just by clicking on tag words, images, categories or links. By following the navigation links and so on, people will soon find something of interest, and discover what in their heart they want to find out! The homepage top menu offers access to various Sections, Blog posts, Shop, Archives, etc while the right-hand side navigation offers Editor's Picks and more Sections and Categories to choose from. To see all the recent articles, view the Archive page.

I have always felt that playing cards are primarily visual, rather than lengthy text articles, but we have tried to keep a balance. Some pages deal more in depth with historical details, others showcase the artwork and design. Dr Ken Lodge's blog, featured on the site, tends to be more academic.
Are there ways in which collectors of playing cards can contribute to or be involved with the site?
Anyone is free to contact me via the website if they would like to contribute something. My son Adam Wintle also became enthusiastic about the website and he made a great contribution at the back end. The site is still the homepage for the EPCS and also Dr Ken Lodge's playing card blog.

WoPC website is still a great love of mine and I update something or add new content almost on a daily basis, even on Sundays! Right now you will see on the homepage a new article about Emergency Money on playing cards which is being edited with the help of a new collaborator. There is always more stuff in the pipeline.

Reflections
Besides the obvious features of the World of Playing Cards as a wonderful source of information about playing cards and their history, it also incorporates several elements. There's a 
webshop
that has available a range of classic, vintage and antique collectible playing cards from around the world, so if the idea of adding a genuine vintage deck from the 1800s or early 1900s to your collection excites you, this is a must see. The site also hosts the official website for the 
The English Playing Card Society
, and 
Ken Lodge's Blog
, which is a more academic blog about playing cards and their history.
The World of Playing Cards site is easy to navigate, and once you start clicking on some of the topics and diving into some of the sections, you'll soon find yourself entering a rabbit hole of fascinating information. I especially appreciated all the pictures of the cards and carefully scanned images that are incorporated together with the informative text. Not only does this make the site pleasant on the eyes when browsing, but it gives you the chance to explore and enjoy playing cards that you'd otherwise never get opportunity to see in person. Simon and his son Adam, who assists in running the site, have done a splendid job in including a large amount of wonderful images of countless playing cards, and looking at this material gives you a real sense of a connection with authentic pasteboards that are of historical importance.
Simon Wintle has done the world of playing cards a wonderful service with the creation and maintenance of this wonderful website. Here's hoping that this great resource can continue to grow, and be maintained for future generations of playing card collectors and enthusiasts to enjoy and benefit from.

Want to learn more?
The 
World of Playing Cards
 website can be found here: 
http://www.wopc.co.uk

About the writer: EndersGame is a well-known and highly respected reviewer of board games and playing cards. He loves card games, card magic, cardistry, and card collecting, and has reviewed several hundred boardgames and hundreds of different decks of playing cards. You can see a complete list of his game reviews here, and his playing card reviews here. He is considered an authority on playing cards and has written extensively about their design, history, and function, and has many contacts within the playing card and board game industries. You can view his previous articles about playing cards here. In his spare time he also volunteers with local youth to teach them the art of cardistry and card magic.


Last update date: 04/07/20