by BoardGameGeek reviewer EndersGame
What is Murphy's Magic?
Murphy's Magic
 was founded by Mark Murphy in 1998, and it is a wholesale magic company that he's been running for over 20 years. Being a wholesaler means you can't purchase directly from Murphy's Magic, because they only sell in bulk quantities to authorized retailers. But if you've bought something from a playing card retailer online, there's a very good chance that they got their stock from Murphy's Magic in the first place. Murphy's Magic produces and sells an enormous range of magic products and playing cards which they sell to dealers around the world, and they have a huge network of contacts in the retail industry.
So if you see something on their site that you like, you can't purchase individual items directly from them, just ask your favourite retailer, like PlayingCardDecks, which is one of their largest customers. The Murphy's Magic website is still a terrific resource with tons of information about their products, which include all things magical: magic kits, magic tricks, card tricks, DVDs, books, gags & jokes, puzzles, juggling, playing cards, accessories, and more. And of course that includes playing cards - lots of them!
But besides being a supplier of literally thousands of different decks, Murphy's Magic also produces their own playing cards. Under the leadership of their former director of New Product Development, Jason Brumbalow, and current director George Tesoro, multiple decks of playing cards have been developed under the Murphy's Magic brand, together with creative artists in the industry, such as Adrian Velanquez (Memento Mori Playing Cards).
I reached out to Murphy's Magic to see if we could learn more about what they do, the decks of playing cards they sell, and the ones they've made. They put me in touch with their Traffic Coordinator and Marketing Assistant, Sydnie Anderson, who was kindly willing to do an interview. Huge thanks to Sydnie, and I'm happy to share with you her answers to my questions about Murphy's Magic and their playing cards!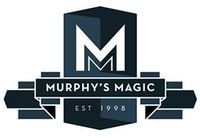 (Murphy's Magic logo)
The Interview
What is your current role within Murphy's Magic, and what does your day job there involve?
I am the Traffic Coordinator/ Marketing Assistant. I assist with marketing, planning presale and release items, working with magazines, reviews, social media, internal and external communications, organizing and all around loving magic and cards!
How did you personally first come to be involved with Murphy's Magic, and how long have you been part of the company?
I have worked with Murphy's for nearly 6 years now.
What is it that you especially enjoy about your job in working at Murphy's Magic?
I love the entire team here at Murphy's. I also enjoy being able to work with people from all over the world. I have met and had the pleasure to work with some amazing people!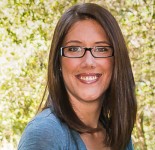 (Traffic Coordinator Sydnie Anderson)
About Murphy's Magic
Is Murphy's Magic only for magicians? Why should anyone interested in playing cards know about Murphy's Magic?
Magic is for everyone! We carry items for everyone from the hobbyist to the beginner to the working professional. If you are interested in getting into cardistry or magic, visit here and you will get five free tricks to get you started, and up to date information on all the latest magic and card related items.
For those unfamiliar with Murphy's Magic, what is it that your company does exactly?
Murphy's Magic was founded in 1998 by Mark Murphy. We are dedicated to Murphy's being THE place to get everything magic and playing cards. Though, we do not sell to the public, the products we distribute can be found at Murphy's Magic retailers throughout the world. Also, we are proud to have a full studio team that can help guide you to bring your magic trick or deck to market. Submissions can be made here.
Who is Mark Murphy, and what is his involvement with the company today?
Mark Murphy is the owner of Murphy's Magic and he stays extremely involved in the company. Mark is also very involved with our vendors and dealers, making sure everything runs as efficiently as possible. He cares about the legacy he built 21 years ago. The company motto is "We care about your success", and he truly means it.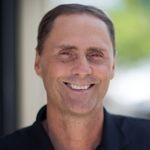 (Founder, Owner & President Mark Murphy)
Can you give us some idea of the size and range of your products?
We have roughly 13,000 different items from magic tricks to decks. We carry and produce instant downloads now if you can't wait for your shipment to arrive or don't have time to physically get down to your local magic shop.
How many different types of decks of playing cards would you carry and sell? How big would your total current inventory of playing cards be like?
We carry over 1,000 decks – that's a LOT of cards! They can all be seen on our website under the playing card option here.
What does your warehouse look like, and how do you store and organize all your decks of playing cards?
We have 29,000 square feet of warehouse space, and over 10,000 products stored here. We receive hundreds of products every day from the top creators in the world, and ship out daily to retailers in every corner of the world.
How many new deck designs would arrive each month?
We carefully curate our playing card selection to serve the magician, collector and cardist. We are constantly working with artists to bring out the very best.
Is Murphy's strictly a US distributor, or do you also distribute internationally?
We are an international magic supply wholesaler. Anywhere in the world you can get your hands on something from or made by us.
Can we buy playing cards directly from Murphy's Magic? If not, how do we go about getting cards from your inventory?
Murphy's Magic is strictly a wholesaler. We only sell to magic shops and dealers who sell magic to the public. If interested in anything we carry, speak up to your local magic retailer. They should have it. If not, they can come to us and get it for you no problem.
You have an extensive website which lists all your products. What parts of your website should collectors of playing cards especially know about, and check out?
We categorize all our products for easy access, including a special playing card only section which can be found here, and for those that are looking for limited edition cards they can find them here! Another good place to keep up on the latest playing card decks and tricks is our social media where sometimes we even give sneak peeks and give-aways.
What should we know about your "At The Table Experience" lectures?
I admit, am not a magician, but I LOVE our At The Table Lectures. Years ago I attended a couple when they had live audiences and I found them extremely entertaining. It's a great opportunity to learn some awesome magic and the feel is like sitting in a jam session with your best friend.

Not only that, but the price can't be beat! An individual lecture costs only $7.95, but why stop at one when you can get two lectures a month for $9.95. All available and upcoming lectures can be seen here. Not to mention, you can order these from your favorite Murphy's Magic retailer now to get it moments later and then sit in your pajamas and enjoy. There are some upcoming ones that you will have to wait for, but catch up on ones from the past while you wait!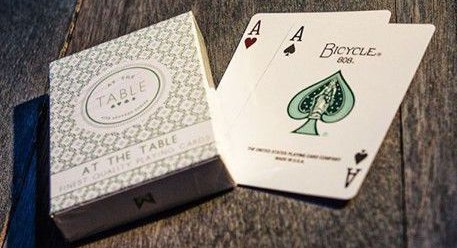 (At the Table Playing Cards)
About playing cards
Murphy's Magic also creates playing cards. Can you give us the names of some examples of custom decks that Murphy's has produced under its own name or label?
We're always looking for new decks, so if you have a design you can submit it to us here. Some of the decks we have produced include Memento Mori, Banshees, Run Decks, Six Strings, Cherry Casino Playing Cards, Fox Targets, Revolution, Mandalas, Darkfall, Run Decks – just to name a few.
What is all involved in the producing of a custom deck of playing cards?
When we receive a proposal for a new deck design, there is a thorough process to check if it fits what we are looking for. Once accepted, our development team works with the best printers in the business to make it a reality.
What can you tell us about your personal interest in playing cards? Do you use them for anything such as card magic, card flourishing, card games, collecting, or anything else?
I really do like cards. I think they are pocketable beautiful pieces of art. I see a LOT of magic and decks and trailers here at Murphy's and I must admit; I am enamored by flourishing. I have tried my hand at it and well, failed! I honestly can barely shuffle a deck without spilling them on the ground. I'll just leave it to the pros and watch in amazement.
Of the decks you have personally used or come across over the years, which are your favourites, and why?
I'm all about the aesthetics as a layperson and here are just a few I personally fancy: Memento Mori Playing Cards, Cherry Casino Playing Cards, Mechanic Optricks, Malibu V2 Playing Cards, Regalia Playing Cards - just to name a few. Really, I think it's interesting to have a deck that fits your mood or style that day. Custom playing cards are a wonderful way to express yourself – even in a simple card game with friends and family. Take a look at our Playing Card section on our website, and you will see how it is hard to pick just a few.
What do you think are the essential qualities of a good deck of playing cards in terms of design?
What makes a good deck design is completely a subjective choice. While some people like ornate, gilded designs, many others prefer clean modern styles on their cards. Ultimately it is up to the magician, card collector, or cardist to find the style which best suits them. The most successful decks are those that carry the theme throughout.
What should buyers today look for in a quality deck of playing cards?
For me, an aesthetically appealing design and theme is first and foremost. Buyers also look for the feel of the paper stock, the quality of the finish, and unique or stylish tucks.
What are some ways that you have noticed that decks of playing cards have changed in the last decade or so?
A larger amount of artists are able to bring their visions to life with the help from Murphy's. For this reason we have seen more variety and innovations used both on the faces, backs and tucks. There has also been a growth in collecting and cardistry, so artists have been catering their designs to these markets.
The playing card industry has changed rapidly over the last decade. Do you have any thoughts on the explosion of custom playing cards that we are seeing today?
I think the rapid growth of the custom market is due to three factors.
1. The change of tools to design cards have certainly played a role. Consider that over a decade ago Adobe Illustrator cost over $500 to obtain a license. Learning the program cost hundreds of dollars on top of that. It was a steep barrier of entry for any new designers. Now for under $50 dollars a month, a young designer can get their hands on an Adobe license and a Skillshare account and can begin dreaming up innovative new designs.
2. Murphy's assistance and crowdfunding sites have made it easier than ever for someone to fund a run of their clever designs.
3. Overall increase in popularity due to exposure to magic and cardistry in the culture and media.
What advice would you give someone just starting to learn about playing cards?
All I can personally say is – HAVE FUN! Enjoy your decks and use them to express yourself or what you want to portray.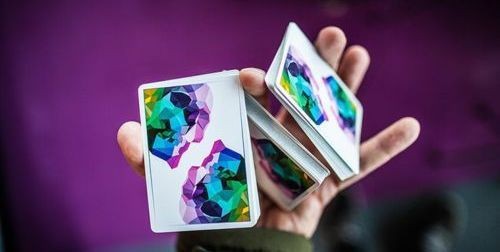 (Memento Mori Playing Cards)
Final Thoughts
One thing I really appreciate about decks that come from Murphy's Magic is the wide range of diverse styles that they have available. If you're looking for playing cards that offer a high degree of customization while remaining fully playable and usable for card games or card magic, they'll have a deck that's right for you. Others decks in their catalogue are geared to cardistry, while yet others again are more traditional and conservative. So if there's a style that suits your needs, they're almost certain to have something that will work for you, given the wide selection of decks they've created and that they offer.
Given Murphy's Magic background and experience with magic, many of their decks are especially ideal for use by magicians. Cardists have very different needs, but Murphy's Magic is obviously aware that this is a growing part of today's playing card market. So they also offer lots of modern decks that are especially ideal for card flourishing, with bright colours and inspiring designs. And if you're just a collector and appreciate interesting designs and artwork, they've got that covered too.
All the decks that I've seen which have come via Murphy's Magic have been of good quality. The vast majority are printed by United States Playing Card Company (USPCC), who have earned a solid reputation as an industry leader through producing cards under their Bicycle brand. Their cards are consistently of solid quality, and feature excellent handling, due to their air cushion style embossing and magic finish/coating. As a result they shuffle well, and spread and fan nicely. Others decks in their catalog are produced by leading printers like Legends Playing Cards and Expert Playing Cards, or Cartamundi, and are also very good quality.
So where do you go in order to get decks supplied by Murphy's Magic? Look no further than your favorite retailer, like PlayingCardDecks.com! Murphy's Magic is one of PCD's main suppliers, and PCD is one of their largest customers. Murphy's does the hard work of finding the best creators and decks, and they in turn supply them to retailers and local dealers, so they play an important role in today's marketplace in helping our playing cards get to us. Many of the decks you own may well have traveled through the Murphy's Magic warehouse on their way into your hands and into your collection! So even if you've never heard of them before, they play an important role in helping today's playing card industry be what it is!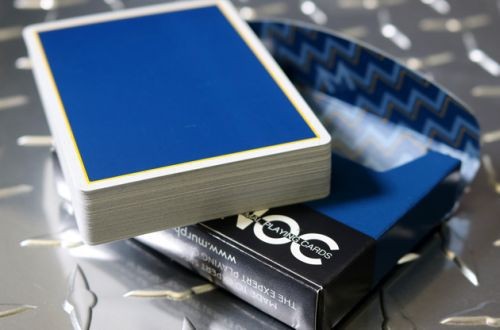 (Murphy's Magic Signature NOC Playing Cards)

Want to learn more?

 

The best place to look is the official Murphy's Magic website (murphysmagic.com), where you will find their online

 

playing card catalogue. You can also stay in touch on social media (Facebook,

 

Instagram,

 

Twitter,

 

Youtube), or sign up for their

 

mailing list. They also have a page for

 

submissions, and for their

 

At The Table lectures.



About the writer: EndersGame is a well-known and highly respected reviewer of board games and playing cards. He loves card games, card magic, cardistry, and card collecting, and has reviewed several hundred boardgames and hundreds of different decks of playing cards. You can see a complete list of his game reviews here, and his playing card reviews here. He is considered an authority on playing cards and has written extensively about their design, history, and function, and has many contacts within the playing card and board game industries. You can view his previous articles about playing cards here. In his spare time he also volunteers with local youth to teach them the art of cardistry and card magic.


Last update date: 04/07/20