by BoardGameGeek reviewer EndersGame
This article continues a series where we take a look at some lesser known playing card manufacturers. When it comes to producing playing cards, the vast majority of quality custom decks are produced by big name printing companies like the United States Playing Card Company (USPCC) and Cartamundi. But there's a couple of reasons why it can be important to know something about the smaller players in the playing card industry.
Firstly, perhaps you're a designer or creator, looking to produce your own custom playing cards for a crowd-funded project or otherwise. Or maybe you're a consumer, and as a collector or cardist you're buying a custom deck for your collection or to use. Either way, it can be useful to know something about what options you have in printing your own deck, and what kind of quality you can expect if you buy a deck from a particular printing company.
Make Playing Cards (MPC)
One thing that sets apart 
MakePlayingCards.com
 (which I'll refer to from now on by using their own preferred acronym MPC) from most other playing card manufacturers, is that they are willing to fulfil smaller sized orders. While companies like USPCC or LPCC require a minimum order of 600 or more decks, with MPC you can print as few decks as a single one. This makes them ideal for the average person who has a smaller project, or even for printing some prototype decks as a trial. It's for this reason that many prototype decks that are printed as part of crowd-funded projects are MPC-produced. So let's learn a little more about MPC, and what kinds of things we can expect from them.
Run by QP Group, a printing and production company that has been around since 1982, MPC has been producing board games for over 30 years. As part of that, they have been professionally printing and manufacturing custom playing cards for a long time. In other words, they've been in the business of printing custom cards with the face and backs of your choice for a good while.
The company headquarters are based in Hong Kong, but their factory is in Guangdong province in China, where they have an extensive array of different machines that can handle a wide variety of pre-print, print, and post-print processes. Some sense of the size of their operation is evident when you consider that it is run by a small army of around 4000 staff.
But in the last number years MPC has been taking advantage of new possibilities offered by technology, and as part of this in 2012 they released their online playing cards making website. This online platform is a dedicated card making website, and enables them to collaborate with consumers to produce high quality decks of cards. It has been a huge success, and has grown rapidly, and currently each month they produce custom print playing cards for thousands of customers around the world.

MPC branded decks
Not only does MPC make playing cards for others, but they have also developed their own branded playing cards. After receiving many requests to produce their own brand of cards, in 2014 they launched their own range of playing cards, unsurprisingly called 
MPC Playing Cards
. These are similar to a standard deck, but redrawn and redesigned.
Standard decks
In making this self-branded product line of playing cards, MPC took a traditional playing card design that was in the public domain, but redrew all the faces.
For the card backs, they came up with a symmetrical design that uses a tree as focal point. The thinking behind this is that this tree design reminds them of their roots and values. Playing cards are made of paper, which in turn originates from trees, so that makes trees an essential source for playing cards. Without trees, MPC couldn't exist. The tree also reflects MPC's personal commitment to be a responsible paper product manufacturer and print company, and their company encourages the use of recycling wherever possible.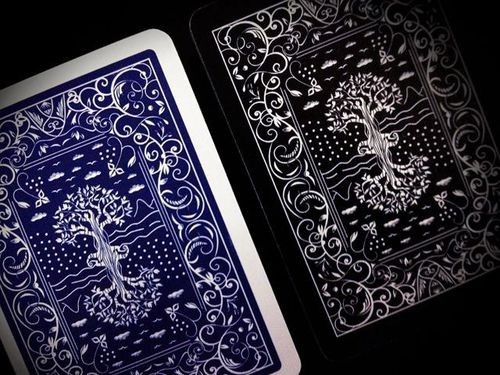 The Impressions series
While the MPC branded decks are very inexpensive and look fairly ordinary, it is their range of 
MPC Impressions decks
 that shows their willingness to innovate. These decks introduce a new concept to playing cards, because they use special printing techniques to add a sense of actual touch to the artwork.
Basically this involves adding a secondary printing process, in which they apply a layer of polymer to create a raised glossy effect on the card faces. As a result the cards have all the characteristics of a regular deck, but in addition they have a glossy and raised surface that stands out visibly and can be noticeably felt.
MPC later went on to produce a Impressions Foil Edition in 2015, which further enhances the card-backs with the addition of metallic foil, and was made available in a range of colours.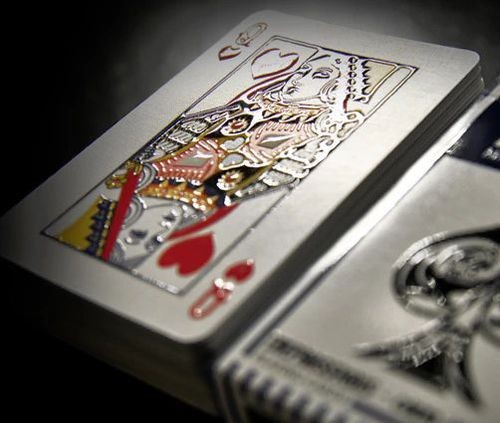 The technology
The state of the art technology used to accomplish this is very interesting, and it is also very expensive. It involves applying embossed UV with pinpoint accuracy to certain areas of the images only, which produces a raised and glossy embossed effect called "virko". Not only does this cause selected areas of colour on the cards to visually stand out, but it also adds a tactile experience which you can feel when touching the cards. Unlike traditional spot UV technology, this new method of applying selective varnish enables printing of varied amounts of gloss, which can be up times 100 times higher than traditional selective varnish.
MPC uses premium playing card material for their Impressions decks (310gsm German linen air card stock), and while the embossing adds a slight amount of height/thickness to the cards, they still handle reasonably well. Inevitably there is some increased slipperiness, but the cards can bend just like normal cards without becoming damaged in the slightest.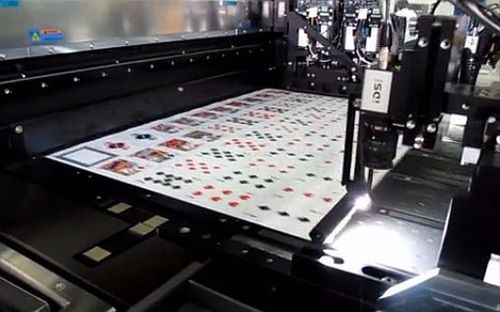 An example deck
My favourite MPC deck that uses this technology is the Impressions Cardinal Edition. This stunning deck features a simple colour scheme of blood red and white on a black background, which helps accentuate the raised and glossy printing on the cards.
The red and black combination looks beautiful and classy. At the same time the use of red and white still ensures that the suits are clearly distinguished, and the cards are playable.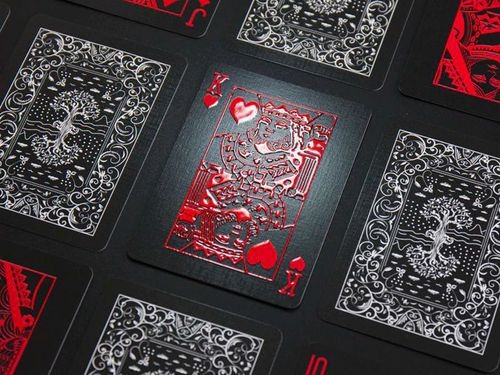 Publishing your own deck with MPC
Aside from their own branded range of MPC playing cards, a more important reason to be interested in MPC is their ability to print playing cards on demand. So why might you want to consider an MPC produced deck?
Firstly it should be mentioned that the quality of MPC produced playing cards is no match for those produced by more well-known and larger printers, like the United States Playing Card Company. In my experience, MPC decks don't handle nearly as smoothly or well, and this is immediately noticeable when performing fans, spreads, and shuffling. On the other hand the quality isn't terrible either. The colours usually look good, the print registration is fine, and the card stock feels quite durable. The cards just don't slide together as smoothly and cleanly as cards from higher end printers.
What's more, MPC is somewhat of a budget printer, and this means that if you get them to produce prototype decks, you can opt to have them delivered in very plain packaging, such as an ordinary white tuck box. And that's where MPC will be of primary interest to producers and consumers of playing cards. They offer you a way of printing playing cards without breaking the bank, at a much lower cost than you will find from big name publishers.
Perhaps most importantly, MPC is happy to print very small print runs. For most publishers, including USPCC and EPCC, it becomes extremely expensive to produce just a dozen or so decks as a trial. It's usually considered to be an exercise that is so cost-prohibitive that most creators won't even bother doing it. That's where MPC comes to the rescue. You can have them print just a single deck, or perhaps a few dozen. That makes MPC perfect for the hobbyist designer who has created a custom deck on their personal computer and would love to see it in print, or for the project creator that wants to check out some prototypes before making a big investment with a large print run.
MPC's willingness to innovate is already evident with their Impressions line, but it is further evident with a project that they are currently fulfilling, called 
The ONE
. This project represents yet another new development within MPC, as they work on producing a thinner, lighter, and softer card stock that they call "Linen Air Light". The stated goal of this card stock is to provide higher performing decks suitable especially for card flourishing and card magic. My impressions of this deck so far have been extremely positive, and it appears to match the quality of the higher performing decks, with handling a real step up from the `regular' MPC decks. If this new stock and finish proves to live up to what MPC is hoping for, it could turn MPC into a truly serious competitor in today's custom playing card market, and they could provide a viable alternative for creators looking for a printer that can produce playing cards of a high calibre to match USPCC.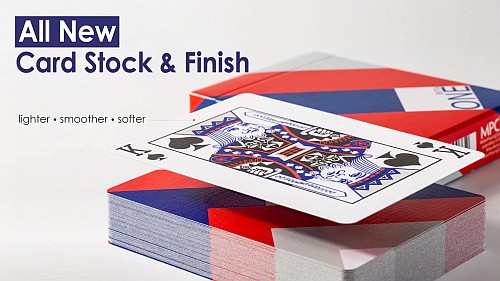 Final thoughts
MPC's own standard branded decks are somewhat ordinary, but their Impressions decks are nothing short of remarkable. I love the way that the light falls on the glossy raised surface of the cards, and this really adds something special to the cards, including a tactile dimension that is absent from the artwork of a regular deck. In most cases the same technology has also been applied to the tuck boxes for a further dramatic effect. All this helps MPC's playing cards become a more fully sensory experience - and many collectors and gamers with an eye for bling and shiny things will appreciate this enormously.
When a crowd-funded project opts to use MPC as their publisher of choice for producing their playing cards, I'm not going to expect the same quality as I would from a USPCC-produced deck, and this is chiefly noticeable in the handling and performance. At present, MPC would not be my publisher of choice for printing or purchasing decks that are geared for use in cardistry or card magic - although that could quickly change if their new "Linen Air Light" proves to live up to expectations.
Meanwhile the chief service that MPC provides and that will be of interest to consumers in the playing card industry is their ability to produce small print runs and prototypes at a very low cost. With their help even the amateur designer can afford to make a single deck as a personal memento or as a gift.



Where to get them? You'll find a small range of MPC-produced decks on PlayingCardDecks.com here.

About the writer: EndersGame is a well-known and highly respected reviewer of board games and playing cards. He loves card games, card magic, cardistry, and card collecting, and has reviewed several hundred boardgames and hundreds of different decks of playing cards. You can see a complete list of his game reviews here, and his playing card reviews here. He is considered an authority on playing cards and has written extensively about their design, history, and function, and has many contacts within the playing card and board game industries. You can view his previous articles about playing cards here. In his spare time he also volunteers with local youth to teach them the art of cardistry and card magic.


Last update date: 10/21/19