by BoardGameGeek reviewer EndersGame
This is the next article in a series where we profile some lesser known playing card manufacturers, ones that are typically dwarfed by industry giants like United States Playing Card Company (USPCC) and its new owner Cartamundi. Most of the competition consists of small fry, but there are some notable exceptions that you need to know about, especially this one: Legends Playing Card Company (LPCC) and its partner Expert Playing Card Company (EPCC). These two companies often collaborate and work together, and do the bulk of their printing in Taiwan.
Ever since the custom playing card industry has boomed with the help of crowd-funding, LPCC and EPCC have proven to be the most popular printing alternative to USPCC, due to the high quality of their playing cards. Cartamundi has made a big entry to the market, but that is only a recent development. If you have a decent collection of custom playing cards, there's a good chance that some have been LPCC/EPCC produced.

Legends Playing Card Company (LPCC)
In this article I'll primarily be focusing on 
Legends Playing Card Company
 (LPCC), although most of the information about their playing cards applies equally to Expert Playing Card Company (EPCC). The man behind EPCC is Bill Kalush, whereas the man behind LPCC is Lawrence Sullivan. Lawrence is an American magician who grew up in Asia, and works in Hong Kong. He has a background in magic, and has enjoyed a successful career as a professional magician over the course of several decades.
With a lifetime of card handling experience behind him, and equipped with a variety of skills learned from travelling and magic, Lawrence decided to establish the Legends Playing Card Company in 2013. His aim was raise the bar of the standards of a deck of playing cards, by drawing on his many skills and experience. LPCC was conceived as his answer to the frustration experienced with many "premium" brands of playing cards, many of which were poorly cut and sub-par quality.
And so began a mission to create something better than what was currently on the market. Being a perfectionist, Lawrence first immersed himself in the history of playing cards, and studied the development of the manufacturing process. From the outset, it was his goal to print the best rather than the cheapest product, and he wanted to know everything that could affect card quality - humidity, equipment settings, coating, and more.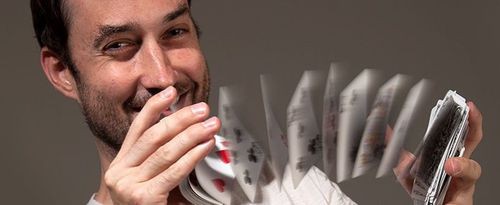 As evidence of Lawrence Sullivan's commitment to quality, it is worth considering the elements that he considers to be essential for a high quality deck of playing cards:
● 
Quality design
: The first criteria is a good design, ideally something which is simple, bold, and beautiful in its first impression, and yet filled with detail rather than resorting to minimalism.
● 
Quality details
: All the details of a deck need to meet high standards of excellence, including a tuck box (e.g. by upgrading it with die cut elements, embossing, and foil accents), and a perforated stamp seal printed with fine details.
● 
Quality paper
: Lawrence is constantly experimenting with new paper stock and tweaking production, to achieve the best possible product. To provide playing cards that are suitable for different needs, he employs a wide range of different paper stocks, ranging from stiff and durable to soft and flexible. He's particularly proud of the quality of his paper stock and his card cutting technique, which he has worked years to perfect.
● 
Quality finish
: The finish applied to a deck of cards is critical in order to ensure a deck handles well. At LPCC the goal is to achieve a consistent formula for a coating that allows cards to be spread easily, and yet not so slippery that shuffling becomes difficult.
● 
Quality manufacturing
: Reliable manufacturers that share this vision for perfection and quality are necessary to make it a reality. This has led LPCC to partner with a card factory in Taiwan, one that had established a good reputation through printing high quality cards for Asian casinos.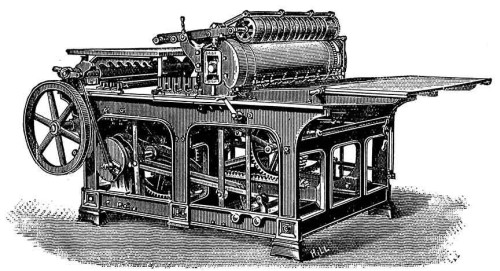 LPCC branded decks
Legends #852 deck
LPCC was off and running when they released their highly successful "Legends #852" deck, which was produced in collaboration with EPCC's Bill Kalush. Since Lawrence grew up in Asia, he had the inter-lingual skills and the knowledge of product sourcing necessary to find and work with a factory in Taiwan that would print these decks to the high standard that he had in mind.
Its initial print run of over 11,000 sold out in a matter of days, and it proved extremely popular with collectors, magicians, and poker players.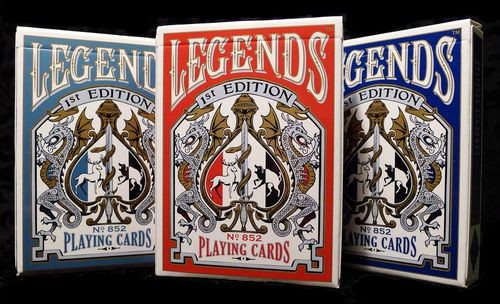 Legends #202 Egyptian Edition

Like the #852 deck, the Legends #202 Egyptian Edition was illustrated by Mark Stutzman. The design of the card backs has all the elements Lawrence considers to be the hallmarks of good design: intricate details (here reflecting the Egyptian theme), yet having a recognizable pattern that is bold and striking, with a diamond shaped LS monogram in the center. The court cards are fairly standard, but instead of being garish they have an appropriately lush gold look.

But most stunning of all is the tuck box. In making this deck, Legends aimed to create the best packaging design ever seen on a deck of cards, and the results show it. In keeping with the theme of ancient Egyptian luxury, the tuck box has 3D embossing and gold foil accents, and a diamond shaped "window" at the back which cleverly reveals the monogram on the card-backs, as well as a shiny gold foil on the full interior. This is a luxurious and classy deck fit for a king, and fitting for Egyptian royalty, while being practical at the same time.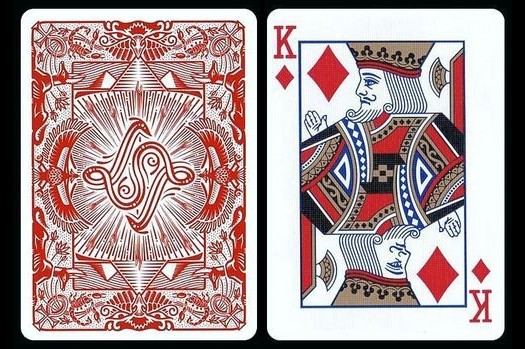 Legends #098 Persian Edition
This deck continues an exploration of ancient myths and legends, this time travelling to ancient Persia. The artwork by Alison Lee features Persian floral and animal motifs, and was originally hand-carved into linoleum panels, and then printed.
Legends often uses their brand name decks to experiment with innovations, and in this instance that is evident with the tuck box, which has actual thread stitched into the box - which at the time was the first for a deck of playing cards.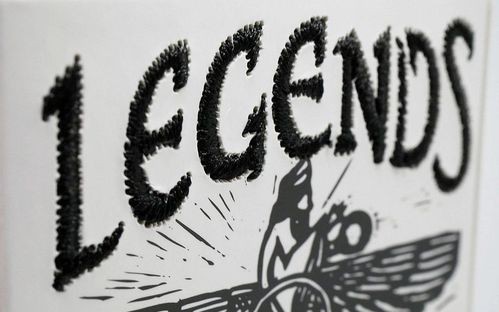 LPCC produced decks
Besides their own branded decks, Legends has been producing quality playing cards for a variety of high end clients, with the benefit of the resources and expertise developed from printing their own decks of playing cards. As a result, they have been able to offer the printing and fulfilment of quality playing cards for customers around the world interested in producing their own deck. Besides a range of paper types and options for metallic inks and foil on the cards themselves, they also offer a large number of possible choices for the tuck boxes, including specialized stock, foil accents, embossing, interior printing, and more. Here is a small sample of what LPCC has produced for outside designers and creators.
LUXX Greille Playing Cards
This deck is part of the LUXX premium line of playing cards, and comes in either blue/silver or black/copper, and makes an immediate impression with its super shiny tuck box. Only 1000 of these decks were produced in a limited edition, and the seals are individually numbered.
Like the tuck box, the card backs have repeating grid pattern that was designed by Rick Davidson, with geometry that helps to emphasize the shimmering foil. Depending on how the light falls, the look of this shiny foil on the card backs can change dramatically. The card faces are mostly in the traditional style, with some adjustments to the font and colours, as well as custom aces, custom jokers, and custom court-cards.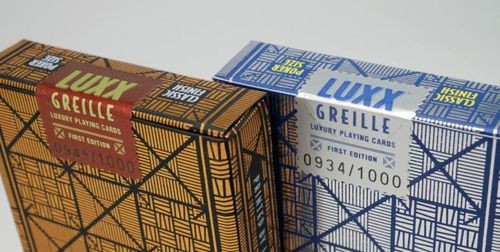 Rome: Antony & Caesar Playing Cards
This pair of decks was created by Randy Butterfield and Midnight Cards, and is the result of his long-time dream to produce playing cards with an Ancient Rome theme. The magnificent tuck boxes in red (Caesar deck) and blue (Antony deck) are both finished with gorgeous gold foil accents. The card backs have artwork that depicts the death of Julius Caesar and the death of Marc Antony respectively, and feature a borderless design that has been crisply and accurately printed. The court cards depict a dozen of the most influential men and women from the end of the Roman republic, in rich and vibrant colours.
It is hard to imagine more that could be done to make a deck look absolutely perfect in every way, due to the beautiful card backs, stylish tuck boxes, and all-round look of luxury, quality and elegance.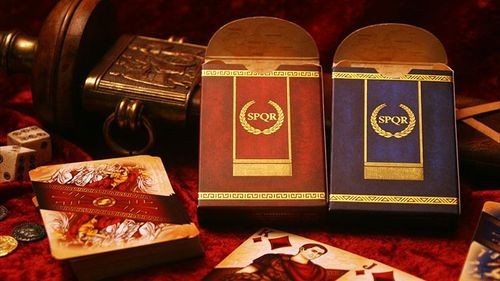 Tough Luck Playing Cards
This LPCC-produced deck was created by Sam Schuna, and intended as a surprise for his family for their annual week-long card playing sessions while on holidays in the woods. The tuck box is constructed from a very unusual material, with a texture that can best be described as a "tree bark" style, both in looks and feel.
The card-backs continue the simple red and white colour scheme, with intricate lines and details that include pip shapes from all four suits. Everything about the deck is stylized and customized, but the real center piece is the magnificent court cards, which make an immediate impression with the size and grandeur of their artwork. These have full-bleed artwork that goes right to the very edge of the cards, and they are filled with rich details to explore and admire.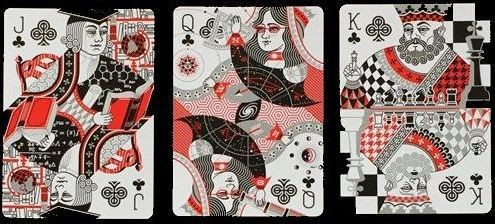 Leonardo Playing Cards
This ground-breaking deck was one of the most successful projects on Kickstarter at the time it was funded in 2015, with almost 1600 backers. To make this ambitious project of creator Dent-de-Lion du Midi a reality, LPCC was commissioned as its printer. Named in honour of Leonardo da Vinci, the deck captures various aspects of his artwork, and the first edition was produced in Gold, Silver, and a limited edition Platinum. The tuck box of the standard edition was remarkable for including a texture that simulated actual canvas, finished with full foil interior printing for a classy and eye-catching look.
The card backs featured the Leonardo's classical Vitruvian Man, while the faces of every card had unique artwork that incorporated actual work from da Vinci, and examples of his secretive handwriting. The final artwork was subjected to a process that du Midi calls "age distressing", while LPCC's Elite Finish paper-stock was chosen for this deck due to its more pronounced texture, given that it feels more like canvas.
The original intent was to get this deck produced by USPCC, but the designer in the end opted to go with Legends Playing Card Company, and the outstanding results have justified this choice. This deck is a true work of art, and a quality printing from Legends has made this worthy creation a thing of beauty.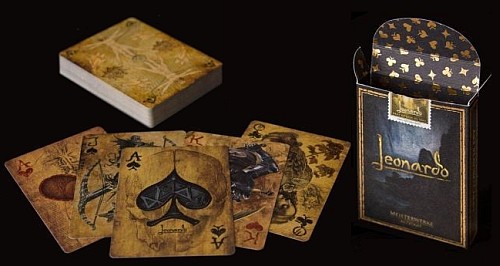 Impressions
Fulfilment
: Naturally the above decks are only a small sample of the many, many decks that LPCC has produced for a large number of customers over the years. LPCC especially shines in the service they provide in producing cards for designers who are crowd-funding and looking for a company to provide printing and fulfilment. But they are selective with the projects they agree to take on, because they they only want to produce quality and give each project the time and attention it deserves. They also require a minimum order of 900 decks.
Tuck boxes
: For LPCC, a tuck box is your first experience with a deck of playing cards, and their tuck boxes are constantly stretching the boundaries of what is possible, and show a willingness to experiment and innovate with new technologies and ideas to make them the most classy and beautiful that they can be. LPCC tuck-boxes are rarely run-of-the-mill, and standard features like foil accents and embossing are merely the beginning of a quest for elegance, innovation, and creativity. In their portfolio you'll find unique elements like die-cut windows, embroidery, tear-proof synthetic materials, textures that look like bark or reptilian scales, and of course creative designs.
Card quality
: LPCC uses a range of what they call "finishes", which simply refers to different combinations of paper stock and embossing. Their paper stock comes pre-embossed from overseas suppliers, and the main differences between the different "finishes" they have available has to do with the type of paper and embossing used. All of their playing cards have an embossed finish that performs somewhat similarly to the air-cushion style finish from Bicycle, but it is important to be aware of the main options they use:
● 
Classic Finish
 - This is a paper stock that feels softer and more papery than the other LPCC finishes, and has an embossing that feels and performs the most like a Bicycle type deck .
● 
Diamond Finish
 - This is a thinner paper stock that is remarkably hardy and durable. It has somewhat of a plastic and oily feel due to less embossing, but as a result the cards have a stiff and snappy feel, and are long-lasting. EPCC calls this their Master Finish.
● 
Emerald Finish
 - Sometimes also called their JN Finish, this is intended to replicate the feel of the legendary Jerry's Nugget playing cards. It has a similar look and feel to the Diamond Finish, but is 0.1mm thinner.
Many of the Emerald Finish decks are produced in a factory in China rather than Taiwan, and their quality doesn't seem to match the Taiwan-produced decks with the Classic and Diamond Finishes.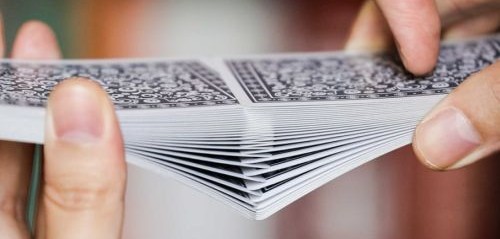 Card handling
: The air cushion style embossing ensures that cards slide smoothly over one another, and it is what makes playing cards spread and fan consistently and also shuffle nicely. However their handling does seem to be one step below a USPCC deck, because over time the cards don't always slide as smoothly or evenly, which is noticeable in fans and spreads, and you may see some clumping, especially with their decks produced in China. LPCC's best and most consistently quality decks are the ones produced in Taiwan with their Classic and Diamond Finishes. Just realize that the thinner and slighter stiffer cards of the Diamond finish will feel and handle quite differently than a USPCC produced deck, although some people actually prefer this.
Card durability
: Playing cards from most publishers will inevitably wear over time, with the edges getting chipped or ragged. But LPCC playing cards do seem to last longer than those from other publishers, and their claim that their cards are more durable and long lasting appears to stand up. The cards hold their shape well, and continue to have a real spring and snap to them, even after heavy use.
Card printing
: Anyone familiar with the playing card industry will know that on numerous occasions the borders of USPCC-produced decks aren't printed evenly. In contrast, the printing registration of LPCC-produced decks is always right on. This means that Legends can produce playing cards with consistently narrow borders if desired, and the result will be an exercise in precision, always coming out beautifully - something you can never be certain of with a Bicycle deck.
Card cut:
 LPCC decks are especially renowned for having super smooth edges, courtesy of their "Diamond Cut", as a visual comparison with a typical Bicycle deck from USPCC shows. The edges are smooth as glass, and yet function fine for doing weave shuffles like the faro. They are also produced with a "traditional cut", which is preferred by most magicians over the "modern cut" that is the default option used by USPCC.
Accessories
: In recent years LPCC has been expanding their brand with a line of playing card accessories, such as carbon fibre card clips of the highest quality, and leather card wallets, all of which make great gifts for the serious card enthusiast.

Final thoughts
In the world of playing cards, USPCC is the most well known company that prints custom playing cards, being especially respected for producing the Bicycle brand and several other well-known brands like Bee and Tally Ho. Many people producing large volumes of decks of playing cards choose to go with USPCC simply because it is located in the US and has an established reputation. Of the competition, Legends Playing Card Company is arguably one of the front runners. Together with Expert Playing Card Company, their factory in Taiwan produces decks with a quality that in many respects rivals the best that USPCC can offer, and sometimes exceeds it. With a combination of quality and good pricing, it is not surprising that many creators have chosen to have their playing card projects manufactured by LPCC rather than with USPCC.
By opting to produce playing cards in Taiwan, with the help of the expertise and industry connections that Lawrence Sullivan has forged courtesy of decades of experience, it is obvious that LPCC has found a way to make playing cards that compete well with those coming out of US factories. There's no shame in an LPCC-produced deck; on the contrary, it is clear that this company is committed to the very highest quality possible, and the results speak for themselves.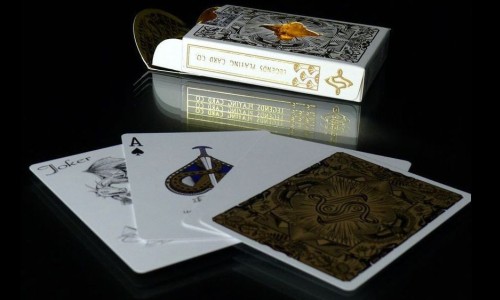 Where to get them? You'll find a range of LPCC-produced decks on PlayingCardDecks.com here and here, and EPCC-produced decks here and here.

About the writer: EndersGame is a well-known and highly respected reviewer of board games and playing cards. He loves card games, card magic, cardistry, and card collecting, and has reviewed several hundred boardgames and hundreds of different decks of playing cards. You can see a complete list of his game reviews here, and his playing card reviews here. He is considered an authority on playing cards and has written extensively about their design, history, and function, and has many contacts within the playing card and board game industries. You can view his previous articles about playing cards here. In his spare time he also volunteers with local youth to teach them the art of cardistry and card magic.


Last update date: 09/24/19