by BoardGameGeek reviewer EndersGame

Who is Kellar O'Neil?
Arguably the single most prestigious award in the playing card community is 52 Plus Joker's Diamond Award. So what better way to introduce Kellar O'Neil than by noting that two of his decks have been nominated for the Diamond Award for Deck of the Year.

In 2020 he created Charmers Playing Cards in collaboration with Lotrek, one of the very top playing card designers in the world, and that deck went on to be nominated for the Diamond Award. Then in the past year he created his Marvelous Hummingbird Feathers Playing Cards in collaboration with Chris Tipton, and that was nominated for this year's Diamond Award. Considering the huge number of playing cards that appear on the market every year, to have a deck you have produced make the shortlist of the top four candidates is a huge honor and recognition.

But there is a lot more to Kellar O'Neil, and in this article we're going to learn more about him, and some of the decks he has produced. While he is active in the playing card community, especially as a creator, his roots lie in his expertise as a magician, although he prefers to call himself a mystifier due to his performing style. He's been performing professionally for over 20 years, and when going to one of his shows you can typically expect Victorian charm in a historic venue, with some astonishing illusions courtesy of Kellar, who is billed as The Southern Charmer, Mystifier of the Finest Affairs.

Kellar was kind enough to agree to do an interview, so please join me in welcoming him, and let's listen to what he has to say about himself, and about his beautiful playing cards.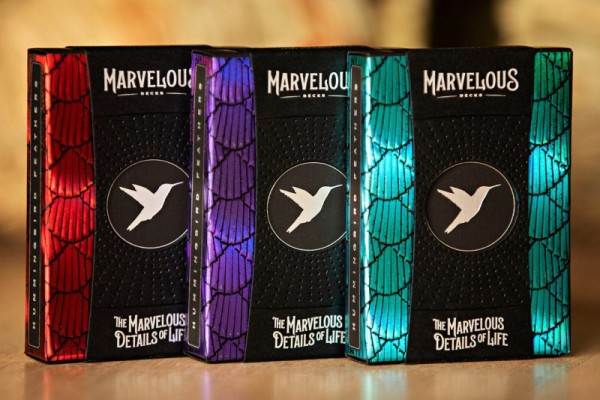 The Interview
About Kellar O'Neil and Marvelous Cards
For those who don't know anything about you, what can you tell us about yourself and your background?
I reside in South Carolina. I am a professional Mystifier. I entertain mostly as a corporate entertainer for major companies in the United States. I have been performing since the age of 12.

What can you tell us about your career as a performing professional?

I love performing for audiences to give them a moment in time where they can simply forget about the world's problems (and their problems) and realize that there is wonder - true sense of wonder that still remains in the world ... and doesn't need to be on a screen!

You describe yourself as a "mystifier" rather than a magician, but also as a mind reader and mentalist. What is the significance of those terms for you?

A mystifier is someone that creates wonder for someone. My interaction with the audience is one of an experience, and not just a 'show.' I want someone to remember the moments they had - not just some showcase of the impossible. Ten years down the road, I want those that have experienced my performances to say - WOW! that really changed my perspective.

What is the significance and origin of the name used for your professional website, keepthewonder.org?

Keep the Wonder is a reminder to everyone I meet to take a moment to enjoy the true miracles in life - those miracles are within us and we have so many wonderful things in life yet to experience and explore.

The name Marvelous Decks has a similar feel. What is the origin and significance of this name?

Marvelous Decks does have a similar feel - that name was created by myself and Chris Tipton (Master of Letterpress Art). When we decided to create the concept of Marvelous - we knew that there are so many Marvelous Details in Life and we want to capture those as creatively as possible and bring those to collectors, magicians and the world. Marvelous encompasses the magical wonders of this world. We can't wait to share more.

What should we know about Marvelous Decks, and what it strives to be?

Marvelous Decks is a creation between Kellar O'Neil & Chris Tipton. Our decks have and will strive to be 'eye-candy' and 'texturally miraculous'. We give great thought to the designs and production process. I have a background in print production and the creative, while Chris has many years in design and production and is at the top of letterpress in the world. Our experience through these projects was a perfect fit in our minds ... and so ... Marvelous it is. So, so many Marvelous things coming...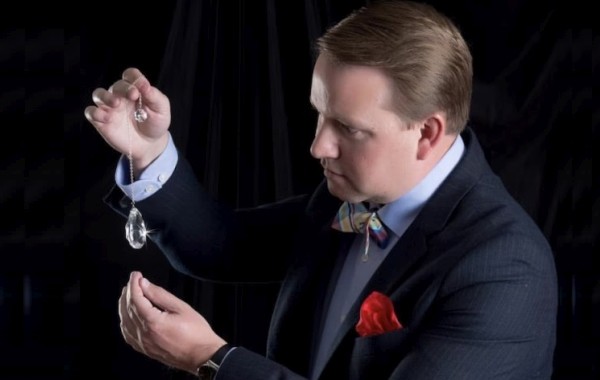 Playing Cards
What kinds of routines do you use playing cards for in your professional performances?

Mind reading effects mostly, and some card flourishing.

Which playing cards do you personally use when performing?

My Charmers Playing Cards designed by Lotrek.

Do you have any favourite deck that you have used for performing over the years?

I am a fan of Theory 11's Citizens Playing Cards.

As a performing professional, what qualities are most important to you for handling of a deck?

Definitely the stock and finish.

What card stock do you prefer the most, and why?

I am a huge fan of Cartamundi B9 Linen Slimline. It's just so so buttery - and they know their shimmer.

What are your thoughts on how the playing card industry has changed, and the explosion of custom playing cards that we are seeing today?

I love this! I am an avid supporter of the community and love supporting as many decks as I can. Creativity at its best. I love watching other creators, and watching videos of cardists, magicians and collectors experience all of these decks.

You used Kickstarter to help produce your Charmers deck. What has your experience with Kickstarter been like?

Kickstarter is a great platform. It's great that there is a platform that can be used to create a new product. More decks are coming from us on Kickstarter.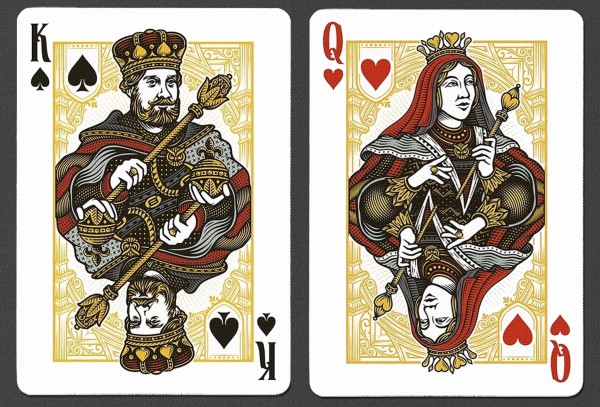 Marvelous Cards
What got you started with creating playing cards, and why?

I wanted to have my own deck designed and was honored to work with Lotrek - it got into my blood after becoming a member of 52 Plus Joker and here we are!

Which decks have you been involved in creating so far?

Charmers, TwentyTwenty, Hummingbird Feathers and coming soon, House of Whispers.

Which of these have been your most successful designs, and which is your favourite?

Honestly, I can't say that I feel one has been more successful than another and I have an admiration for them all as they have different characteristics and meanings.

What are some of the easiest, and what are some of the hardest parts of the process in creating a custom deck?

The easiest part is coming up with ideas. The most difficult is the long process of design (normally two years) and then of course the funding. Fulfillment is fun and rewarding, but a lot of work!

How much time does it take to actually create a deck from start to finish, and what aspects take the most work and time?

Two plus years. Artwork most definitely involves the most work/time - a lot of back and forth to get it just right!!

You printed both the Charmers and the Hummingbird decks with Cartamundi. Why did you opt for them, and what aspects of the results were you particularly happy with?

I believe Cartamundi produces the best decks in the business at the moment. Their stock and finish is something truly special. They are the best in the cold foil finishing as well. I have been able to create a relationship with them that is wonderful. They are busy of course - so patience is key. They stand by their product and quality control is very important to them.

Most of your decks have a relatively standard look to the court cards and number cards. Why was this important for you?

It's a card deck first and foremost - so I want people to be able to sit around a table and play cards or do great card effects. Playing cards are also art - I find that courts should be fun and beautiful, but functional.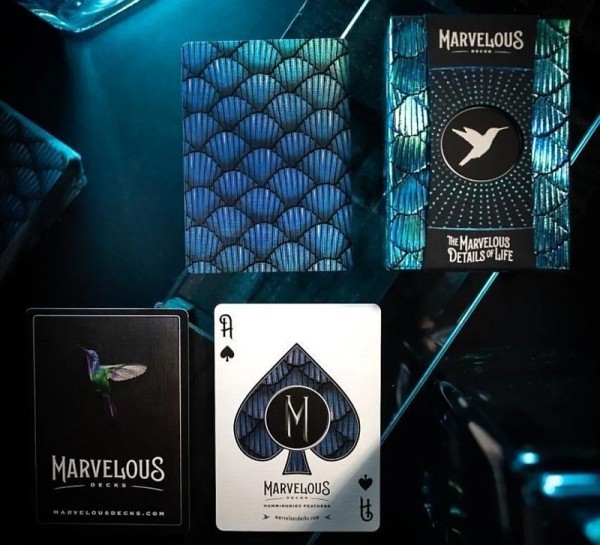 Charmers Playing Cards (2020)
The delightful Charmers deck is billed as a throwback to the Victorian Era. What is the significance of that inspiration and style for you, and why did you choose this?

My performance style is from this era - so when working with Lotrek we wanted to pull together that style. It's such an elegant style.

How did this deck come about, and what were some of your goals in producing it?

I always wanted to have my own deck and approached Lotrek to create something special - he did such a fabulous job creating a collector's deck - but also extremely functional and magnificently beautiful.

You created this deck in collaboration with Lotrek, who is a rock-star designer in the world of playing cards. How did this collaboration come about?

I simply reached out to him after seeing his decks - I knew it would be a long-shot - but he was excited about the project and we worked well together.

What role did you play in the creation of these decks, and what role did Lotrek play?

I created the name and Lotrek created the art. I allowed Lotrek to use his creative license to make something special. He's truly at the top of the art - and never doubted what his vision was.

What do you like most about how the Charmers decks turned out?

The gold...the gold and the gold. I am partial to the tucks. I am addicted to foils and textures.

Which of the Charmers decks is your favourite, and why?

The Green Standard deck. I love the color and it's my go-to deck for performance. Of course they are all great - and the Signature...well, it's a masterpiece from Lotrek. Glad my name is on there...

The Charmers deck was one of the nominees for 52 Plus Joker's Diamond Award for 2021 Deck of the Year. What did this nomination mean to you?

Such an honor. Very humbling. I never would have imagined this would have happened so quickly with my creations. 52 Plus Joker is a wonderful organization and I am proud to be a member. Their work is awesome for the community.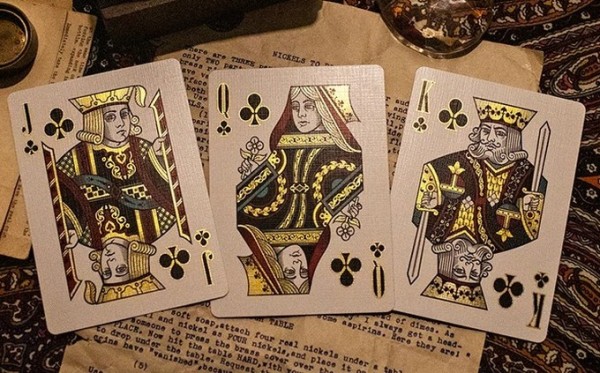 Marvelous Hummingbird Feathers Playing Cards (2021)
What do you love about hummingbirds, and what inspired you to create a hummingbird themed deck?

I love the intrigue of hummingbirds, but also their beauty and determination. My inspiration came from my grandmother's love of hummingbirds. We always spent time together filling hummingbird feeders and watching them visit. Magical!

This deck was a collaboration with Chris Tipton. What should we know about Chris, and what contribution and role did each of you make?

Chris is a true professional in his design and Master of Letterpress. When I decided to create Marvelous - I knew his expertise was a great match. He loves bringing these productions to life and has a love and excitement for the process too.

The tuck box of this deck looks amazing. What went into the design and creation of the tuck box, to accomplish this?

There are 8 dies that went into making these tucks. Chris spent hours upon hours creating this masterpiece. Many prototypes were made with dies and this was because we knew it had to be just right.

What is meant by "multiple holographical foils", and what can you tell us about how the cold foil was used?

We have a Secret Marvelous Recipe for these products...

Why did you decide to go with the colours red, blue, and purple for the three different decks of this series?

Red was my favorite and I knew it had to be used - and the other two colors were so striking ... so I knew they had to be used too. They are based, however on real hummingbird combinations.

What are some of your personal favourite things about how the Hummingbird decks turned out?

The tucks for sure - but I absolutely was amazed when I opened the decks from the factory and they turned out better than I imagined. The Shimmer, shimmer, shimmer is at the top too.

Your Hummingbird deck took out 2nd place for "Best Tuck Box" in Portfolio52's 2021 Deck of the Year contest, and was also a nominee for "Overall Deck of the Year" and the "Best Card Back" category. What do these awards and recognition mean for you?

Whew ... again so humbling. The card community has been such an inspiration to me and to be nominated by the community as being in the top ... words can't describe how blessed we feel.

Can we still get these decks?

Very few decks remain - there are some decks available from other playing card retailers, but very few remain.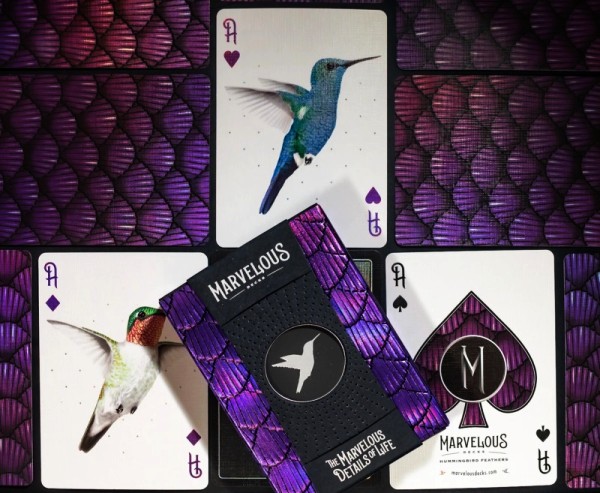 Twenty Twenty Playing Cards (2021)
What is written on the back of the 2020 deck tuck box, and what is the importance and significance of this for you personally?

The Year 2020 caused everyone around the world to rearrange their normal. This official deck will serve as a reminder that through the highs and the lows, we will go on.

This deck was very personal to me and to others. Covid changed the world, and was a tragic situation - however, we felt that through the court cards we could portray some of the lighter sides of the craziness of 2020, while keeping this deck as a keepsake for collectors and future generations to say ... we did make it and we are stronger for it.

What can you tell us about Kevin Keigley, who was the artist of this deck?

Kevin is based in South Carolina and is a wonderful person and artist as well. He has a whimsy with his art and makes me smile. Expect another Marvelous Deck from Kevin very soon too!

What can you tell us about the novelty designs we can expect to see on the court cards of this deck?

See the gallery at Card Scans. They portray some of the things that represent 2020 as the Year that Turned the World Upside Down ... in a light hearted way.

Why did you opt to print these with Shuffled Ink, and what was that experience like?

We also like this US company. Their stock and finish is nice (and smells good too). Their customer service is wonderful. More Marvelous to come from them too. Their decks handle well.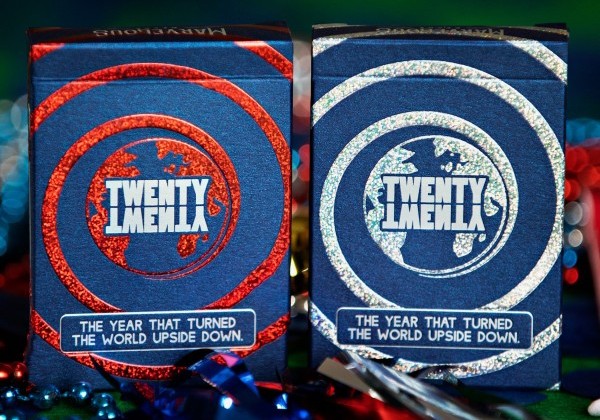 Final Thoughts
Are you also a playing card collector, and what can you share about this?

I collect a wide variety of decks (I have around 300 decks). I normally am pulled towards the more ornate designs. Favorite designers outside of my own decks would be Lotrek and Lorenzo,

What advice would you give someone who is interested in creating their own deck of custom playing cards?

I dig it and love that people are so excited about decks. It is great for us all. Be creative and make it happen! Advice would be to take your time and create something meaningful.

Do you have any recent, current, or upcoming projects that you can tell us about?

House of Whispers designed by Widakk & Dalibass with Marvelous Decks - coming to Kickstarter soon!

What is the best way for people to keep up with news about any new projects you might put out?

Instagram.

Is there anything else you'd like to share about designing or using playing cards?

It's such a fun creative outlet - have fun collecting and treasure the art. Support the community and Keep the Wonder!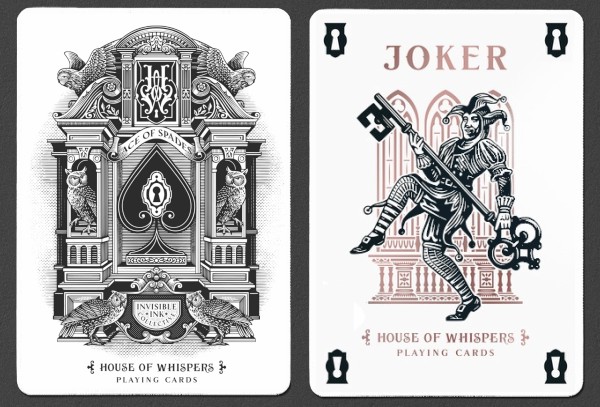 Conclusion
There's a good chance you've seen pictures of some of Kellar's decks previously, especially the stunning Hummingbird Feathers, which makes an instant and memorable impression. It is bursting with holographic foils, and generates the kind of amazement that seeing a hummingbird in real life can produce. And that's the sort of wonder that Kellar wants to evoke, whether it is through his performing, or by putting one of his custom decks in your hands.

While I've not had the opportunity to see Kellar perform his mystifying brand of magic, the fact that he is a professional entertainer who specializes in creating a sense of wonder and astonishment, ensures a good crossover to the world of creating playing cards. He's keen to approach the task of producing custom playing cards with a similar benchmark of success, by creating something genuinely remarkable and breathtaking.

If the Marvelous Hummingbird Feathers deck is any indication, he certainly has what it takes to produce a spectacular deck that stands out from the competition. We can only look forward to what will come next!

Ways to connect with Kellar O'Neil and Marvelous Decks: Keep the Wonder, Marvelous Decks, Instagram.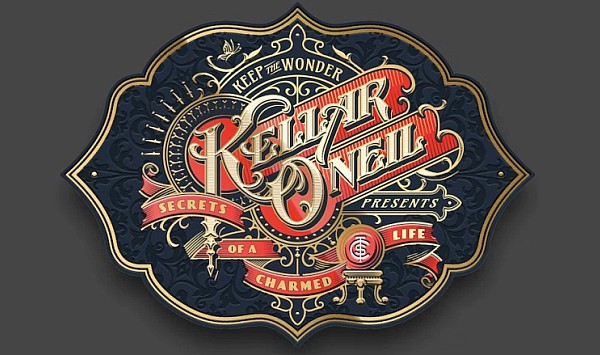 About the writer:

 

EndersGame

 

is a well-known and respected reviewer of board games and playing cards. He loves card games, card magic, cardistry, and card collecting, and has reviewed several hundred boardgames and hundreds of different decks of playing cards. You can see a complete list of his game reviews

 

here, and his playing card reviews

 

here. He is considered an authority on playing cards and has written extensively about their design, history, and function, and has many contacts within the playing card and board game industries. You can view his previous articles about playing cards

 

here. In his spare time he also volunteers with local youth to teach them the art of cardistry and card magic.
Last update date: 11/30/22