by BoardGameGeek reviewer EndersGame
Who is Jeff McBride?
Chances are you are reading this article because you already have some interest in playing cards. So maybe you've already heard of the name 
Jeff McBride
. If you have, you'll already be familiar with his credentials, so you'll be itching to get straight the good stuff and read what he's got to say, because you know it's going to be worth reading.
But if you haven't heard of Jeff McBride before, let me tell you why this interview is a must-read:
● 
Are you into card magic?
 Jeff has been doing card magic his whole life, and is one of the very best in the world at card manipulation and sleight of hand. He has also been running his famous Magic & Mystery School for over 30 years.
● 
Are you into cardistry?
 Jeff's instructional 
Art of Card Manipulation
 videos were some of the foundational materials that shaped fathers of the cardistry movement like Dan and Dave Buck. Card manipulation is his speciality, and if there's anyone that we can learn a thing or two about card handling from, it's him.
● 
Are you into card collecting?
 Jeff's entire career has been built with a deck of cards in his hands, and he also collects some playing card memorabilia himself.
So if you are a playing card enthusiast in any way, this is a wonderful opportunity to learn from one of the greatest living card men. We were delighted when Jeff agreed to do this interview with us, and couldn't wait to hear some of his thoughts about various topics relating to his own career with playing cards. We even got opportunity to visit him at his own place, and take some photos of his memorabilia and more, which we have permission to show our readers for the first time! But first let's share some of his credentials, so that we can appreciate what he has to say in the context of his own accomplishments and achievements.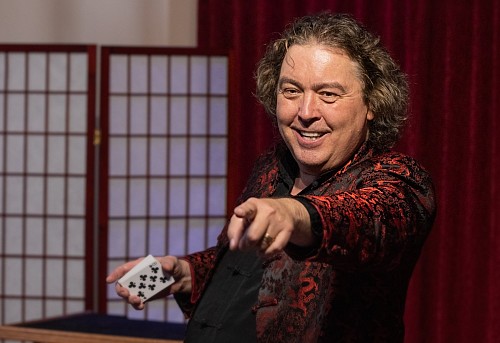 Jeff McBride the Performer
Jeff McBride has had a love for magic that goes back to his childhood in New York's Catskill mountains, where he grew up. As a young boy he stumbled across The Golden Book of Magic in a library, which quickly became his first magic Bible. He performed gigs locally, did street performances, and eventually moved to Las Vegas, where he successfully built a career in magic, and performs his award-winning stage magic and runs a magic school.

His performance style is highly praised for its unique blend of traditional magic with a form of Japanese theater called kabuki. Drawing on an unusual mix of skills that includes martial arts, philosophy, and more, Jeff's stage act combines an unorthodox blend of sleight of hand with masks and mime, to create a unique show like no other. Besides his "home" stage in Las Vegas, he's performed on stages and in theaters around the world, including touring with The Illusionists. A Jeff McBride show never fails to showcase his dynamic, innovative, and creative personality, from someone who has proven himself over time to be a master entertainer, showman, and sleight-of-hand artist.

Jeff McBride's list of awards is too lengthy to cover all of them. But to mention just a few, he's received recognition from exclusive and respected organizations, including "Magician of the Year" by The Magic Castle's The Academy of Magic Arts and "Magician of the Year" by the Society of American Magicians. In 2018 the International Fédération Internationale des Sociétés Magiques (FISM) gave him their "Theory & Philosophy Special Award", in tribute for his lifetime contribution to magic from a viewpoint that is analytical and academic. This illustrious award has previously been given only to Tommy Wonder, Juan Tamariz, Eugene Burger, and Roberto Giobbi. Most recently in January 2020 he was inducted into the prestigious Hall of Fame by the Society of American Magicians. He is part of a very small group of living magicians that are part of this exclusive club, which includes David Copperfield and Siegfried and Roy. He's even the holder of three world records - don't worry, we'll be sure to ask him about that in our interview!


And of course he has appeared on television many times, already back in 1995 as part of the "World's Greatest Magic, and more recently on shows like Masters of Illusion, Criss Angel's Mindfreak, and Penn & Teller's Fool Us. But he's not just "another magician", as his selection as a judge for the 2008 reality celebrity-magic show Celebradabra confirms. Already more than ten years ago filmmakers produced a documentary about him, entitled Jeff McBride: A Magickal Life. This has been highly praised by magicians and viewers for how it shows his journey from a boy magician to a headline act in Las Vegas, and also his personal spiritual journey and development from a brash young man into a mature and caring magician who is keen to pass on the art of magic to the next generation. He really is one of the best.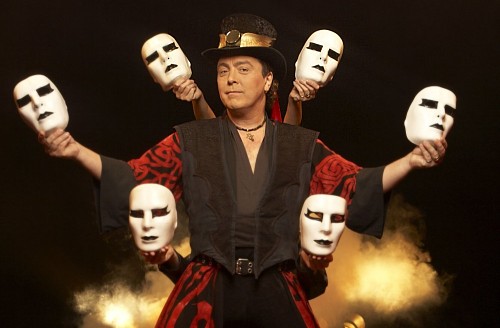 Jeff McBride the Teacher
While the first part of his career was all about performing in his inimitable style, as the years have passed Jeff McBride has more and more mellowed into a highly respected teacher, with a keen interest in sharing his wisdom with others, and helping young magicians develop their skills in magic. Besides many written works, he's produced best-selling and highly influential instructional videos on the art of card manipulation, and on stage magic. His current passion is to serve as a sage that helps other magicians make their dreams as performers come true.
Perhaps his crowning achievement and lasting legacy is the 
McBride Magic & Mystery School
, which he established in 1991. This is a world-renowned training ground for stage magic, and is generally regarded as the very best and most prestigious institution in the world for receiving magic instruction. There's simply no better place for aspiring magicians to go, in order to take seminars, classes, and workshops, to help raise their magic to a higher level, and to learn the true secrets of the craft.
Highly respected magician and lecturer Eugene Burger (pictured below with Jeff McBride) served as Dean of this school until his sad passing in 2017. It was from him that Jeff learned the importance of burning one end of your own candle in order to light someone else's candle. Many leading magicians have served on the faculty or as guest instructors, including big names like Lance Burton, Johnny Thompson, and Max Maven.
Jeff McBride is a wonderful entertainer himself, but his current passion is to be a mentor to others, and he will leave a lasting stamp in the lives of many magicians of the future. But now it's time for us to sit at his feet, and learn a thing or two from his life, and about his experiences with playing cards in particular.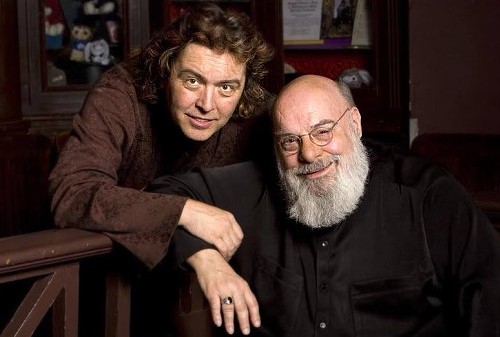 The Interview
General background
For those who don't know anything about you, what can you tell us about yourself and your background?
I started my career with a pack of playing cards. Now I headline Las Vegas shows, and theaters and festivals all over the world. I also run a very successful magic school in Las Vegas, and I teach online.

I am one of the first magic teachers to create a video series, and my breakthrough videos on card manipulation taught the world how to perform flourishes and card manipulation, which happened to grow into a new cardistry movement. I was fortunate enough to train with great old-school masters and I put out The Art of Card Manipulation which caught on in Asia. The material contained within those DVDs - they were VHS videos at that time - did not need words to understand how to perform the magic, so they had international appeal. Many people like An Ha Lim and leading Asian manipulators found these, and my videos were their original training tools.
What would be some of the highlights in your career in magic?
Performing at Radio City Music Hall, the largest theater in the world with no screen support, no image magnification, and performing my card manipulation routine. The only other person that had that experience was Cardini. That was one of the highlights.

And of course, being inducted into the Society of American Magicians Hall of Fame. Also winning the FISM Special Award for Theory and Philosophy was a highlight. That's an award I share with Tommy Wonder, Juan Tamariz, and Eugene Burger.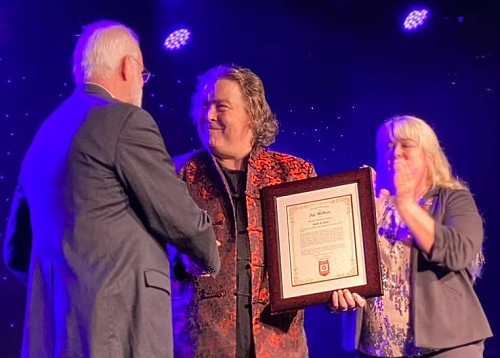 How would you describe the style of the amazing act that you are known for?
I call it "sorcerer" style, which is very fiery and dynamic. There are many types of card routines, and mine is very explosive and dynamic. In fact during my touring seasons with the hit show The Illusionists, the closing number of the show was my card routine, just before the snow storm sequence. So my card routine can fill a giant theater. At that time of The Illusionists we were working a 7,000 seat theater. So my motto was "pack small, play big."
What were your major influences for this style of performance?
My influences came from many directions. I realized early on that performing standard magic was not a path to success. It was a path to working weddings, bar mitzvahs and birthday parties. In order to break out, I had to become a much more dynamic performer and I added other skillsets I had studied, like classic pantomime theater, which I'd studied at the American Mime Theater. I combined martial arts and my passion for masks and quick change, and dance. And it was this fusion of all of these different theatrical elements that made a huge difference. It was much more than magic, it was a total theatrical experience.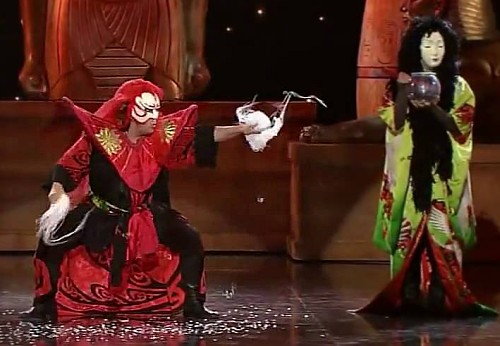 Where can people go to see you perform today?
I teach magic on a platform called MagicFlix. There's performances and tutorials. It's the world's leading streaming platform for magic. So you can immediately see me there. If you want to trial it, all you have to do is go to MagicFlix's website, enter your information, and put in the code MCBRIDE, and you can get 30 days for free. You can see not only myself, but the great masters of magic, and some of the great card magicians in history, as well as learn my card manipulation sequences.

Also if you want to see my live shows, I perform in Las Vegas at Wonderground, which is the longest running independent variety magic show in the history of Las Vegas. It is not attached to a casino, so we can do some pretty wild stuff! That's been running 11 years, and has hosted more variety entertainers on its stage than any other stage in Las Vegas.
What should we know about the McBride Magic & Mystery School, which has now been running for around 30 years?
It's now over 30 years. The McBride Magic and Mystery School came out of a great desire to study with masters. The challenge I see these days is that most people are learning magic from their peers, from people in their own age group. And not necessarily looking up the ladder at masters that have achieved great amounts of success.

So what I did 30 years ago, is I decided to host a retreat for masters to come and teach hungry students, mostly professionals, that were willing to empty their cup and fill up on wisdom and on the experience of great masters. And over the years we've had Eugene Burger, Johnny Thompson, Max Maven and many, many other masters come to the school to help our students understand the path to mastery. So not just learning from your pals online or at magic class, but really top-down training from experts in the field.
What are some of your interests outside of magic?
I spend a lot of time going to other conferences learning more skills on how to facilitate life-transforming experiences. So I spend a lot of time still studying how to teach more effectively, both in person and online.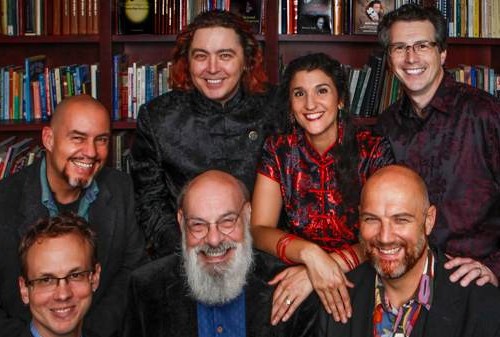 Magic
What quality in magic makes it so enjoyable for people to watch?
I think there is not one thing. People like engineers have a really different relationship with magic; if you watch them squint their eyes and wrinkle their forehead while they watch magic, they're only interested in the puzzle aspect. Other people are interested more in the mystery aspect. So there's different types of audiences. There's the audiences that like to sit there and try to figure the tricks out. And then there's the audiences that like to sit back and enjoy the mystery.

I was having this conversation with Judge Gary Brown, who's a wonderful magician, creator, inventor, and writer. He sent me a quote from Dariel Fitzkee, which talks about "Is magic more than fooling?" Fitzkee says - and this is written up in The Fitzkee Trilogy - "Don't put too much stress on the trick itself as a mystery. Your audiences might suddenly think of television, which is much more miraculous. Stress it in terms of human interests, of human relationships, of character response, of human situations. If the mystery were important, the much greater miracles of our everyday world would far outshadow it. Method is important only as a means of accomplishing a desired end, like the grindstone which sharpens the headman's ax. The ultimate objective is something entirely different."

Our Dean of the Mystery School, Larry Hass, entered this conversation and read it like this: "It isn't not knowing or fooling that is important, and it isn't even encountering mystery. It is what a human artist expresses about humanity and life itself that is the real core of the experience of magic." Penn and Teller do both: making it hard with the fooling method, but their show and their stories are also about issues in politics, in relationships, in critical thinking, in skepticism. They have many, many presentational frames that are about more than just mystery or fooling.

That's what I saw in Eugene Burger so many years ago. His magic was coming from a deep, philosophical perspective and experience that gave it a richer meaning than just Instagram magic and flashy, "How does he do that?" sort of stuff that is so pervasive on YouTube and social media. Perhaps performers will soon be able to give more depth to their magic instead of just what I call eye-candy. My goal is to transform eye-candy into soul food.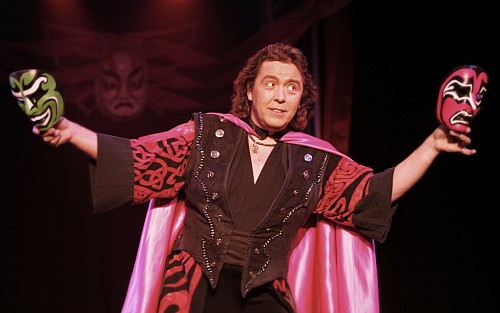 What first sparked your interest in magic?
I talk about it at the end of my show each and every day. My life was changed forever when a magician said, "Pick a card." And this magician was actually a young girl named Linda Van Etten who had a twin sister named Susan, and they knew card tricks. And they showed me a card trick, and from that moment on I knew what I wanted to do. It was a card reversal in a deck with a card turned face up in the deck. I was six years old at the time. And by seven years old I was deep into magic.

I think sometimes we forget - because magic and cards are so familiar to us - that the simple task of having somebody pick a card can change their lives. That's an important thing to remember.
What is the key to your longevity in the magic industry over several decades, and what keeps you going as a performer and teacher?
I think my longevity is due to being able to adapt and recreate myself to make my magic relevant at the different stages of a magician's life. At the Mystery School there's kind of a typology that we use: "The trickster, the sorcerer, the oracle, and the sage." Those are the four stages of the magician's life. From learning simple tricks, to being able to perform, to learning all of the meaning and interior worlds of magic, and then being able to pass that knowledge onto the magicians of the future.

I've worn the mask of the trickster in my younger days, and in mid-life, the sorcerer, burning up stages all over the world. And then taking time out to reflect and look inside for meaning and taking time for introspection. I'm now at the stage of my life of being able to pass on a lifetime of wisdom and experience to future students. So I think it's a process of reinvention that has helped me endure and keep my passion for magic.

I try to read as much as I can. I try to watch as much as I can. I try to get together live with magicians as much as I can. And teach and go study as much as I can. Zero TV. I have not had a working TV in my home since 1979. Most people spend way too much time on the internet and television, and way too much time on Facebook and social media.

What's the path to mastery: Facebook and social media? Or reading and practicing and videoing and refining your show? That's not for everyone, because that's not everyone's goal. Some people are very content to sit on magic forums and ask "What's the best trick? What's the best three tricks for close up?". That's okay, but that's not getting real world experience and going out and doing it.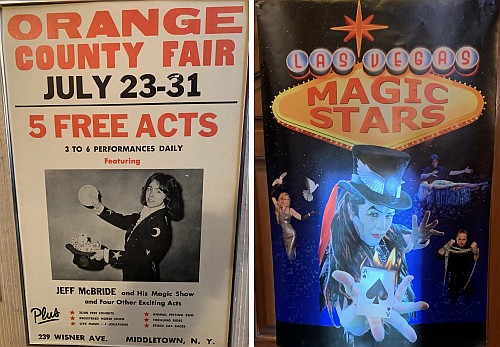 How important is one's own personality in performing magic, and how did this play a role in your own career?
I think that magicians discover their personality through performance. I know that I have become many different versions of Jeff McBride over the years. Because when we're young, magic is just about learning the trick, and doing it and getting the `wow'. Then as we get older, magic gets to be a way of interacting and getting a social edge, and being able to be seen and stand out from the crowd. And if people pursue it more, they develop a personality and a connection to performing magic that might take them around the world. Or just to make them the hit at the family reunion, so that people can have a peaceful time at the Thanksgiving table!

People have different reasons for performing magic at different times in their lives. Some people use it to compete. Other people use it to teach and instruct. Other people use it to wind down after a hard day's work. But I think magic is a way to develop aspects of your personality. And I think that is a very powerful role that magic plays in our lives.
Are there differences in how an amateur and a professional approach magic?
Absolutely. I started reading a blog and books on a website called The Jerx, which is a very opinionated, very humorously yet potently written blog about magic from an amateur's point of view. Different rules apply if you want to be a professional: there's costuming, there's lighting, there's sound, there is scripting, and all of these other theatrical components that are essential in creating a theatrical magical experience, if that is your goal.

However the writer at The Jerx - and I really am entertained and often enlightened by his writing - has a completely contrary view to this. Instead of me trying to rehash his personal experience writing and philosophy, if you are an amateur magician and want to read about other people's opinion on amateur magic and non-professional magic, just take a visit to The Jerx - you'll find some very interesting information there.

It was a wake up call to me, because not everybody that performs magic wants to be professional. Some people just want to do it for their friends and have fun, and that's a perfectly satisfying lifestyle of magic. And they don't need scripting and they don't need all of the other requirements of the theater, because they're not working in theater; they're just doing it for their friends at the office. And that's perfectly fine.

However, the rules do change when you get up onstage in front of 5,000-6,000 people in a theater! Then you need to consider some of those elements.

But as Eugene Burger reminds us, "There are many rooms in the house of magic." There are many rooms for all of us, including rooms for the people that are passionate amateurs, whom I call "enthusiasts". I don't like the word "amateur" myself, so I use the word "enthusiast", because there are many great magic enthusiasts that have never been full time and professional magicians. And that's perfectly valid. Magic is not about tricks, and magic is not gauged on the box office success. Magic is really a way to enhance the quality of your life, and there's many ways to do that. If a person is collecting cards, they don't have to collect every deck to feel complete, they can collect the ones they like, and that's fine, right? Everybody has their own path to walk.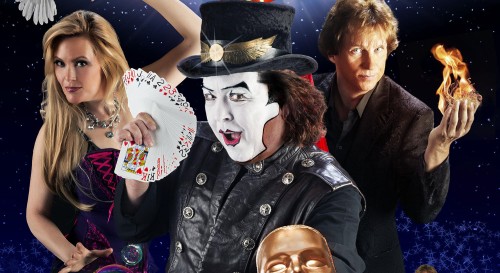 How has the magic industry changed since you first became involved in it, and how has technology impacted it?
It's a double-edged sword. We talk about YouTube and Instagram and all these different ways that people consume magic, but most of this magic is eye-candy and very shallow. There are archives of great performers on YouTube, but it's still mediated and it's not the same as being there.

It makes me sad when I see a clip of Fred Kaps on YouTube and then some bozo going, "Fake, fake, fake, he has a thing in his hand, it's frame 725!" My response would be: "You're critiquing Fred Kaps? Go practice. Don't be giving critiques to Fred Kaps, who won FISM like three times, hello? And you're 14, and you've stopped a frame because you've watched it 15 times, and you're so clever, really?" That's what hurts magic, I think.

What also hurts is when you look up a great performer, say Cardini, and right next to it there are sixteen YouTube clips of 12 year old kids in their pajamas teaching a bad back palm, just because they want clicks and hits on their YouTube site. It's disgraceful. So that's what hurts magic.

However technology has also made possible sites like MagicFlix, which have a bit of a firewall to them, so that people have to be invited to it to get there. Those people that have serious passion can now study with all of the great masters. They can study with Karrell Fox, Jay Marshall, Tom Mullica, Johnny Thompson, Daryl, and so many others. And it's very convenient for learning. So that's the good side of it.

When people get interested in magic on the internet, hopefully they'll find a teacher. But what mostly happens today is they just stay online. That's not really learning magic, that's collecting secrets. That's collecting postage stamps. That's not transforming these into meaningful, magical experiences.

What we do at Mystery School is create a learning environment that's a safe place for people to come to, in order to really study the secrets of magic. Everyone here signs a secrecy agreement, so that the things that we teach won't be bastardized by exposure on the internet. We feel that Mystery School is one of the last great holdouts of secret information. When all of the secrets are just out there, there is no magic. There has to be secrecy, in order to create very effective magic.

And we keep working and innovating, and looking through the old books and digging out the gems, polishing them up, and fusing them with new materials and new technology to create hybrid magic effects that have never been seen before. That's a passion of ours: resurrecting some of these old magic gems and bringing them to new audiences.

So there's a struggle, these days with exposure. But the good news is that it's just too much for any one person to observe. A lot of the real secrets of magic are in the books. The internet is just a little tiny tip of the huge iceberg of magical literature that is hidden away. Many people call themselves, as Scott Alexander puts it, "visual learners." That means they don't read books. That means they won't ever have the depth of knowledge of someone that can learn visually and can read books. They cut off more than half of the resources that exist for them, and that's a shame.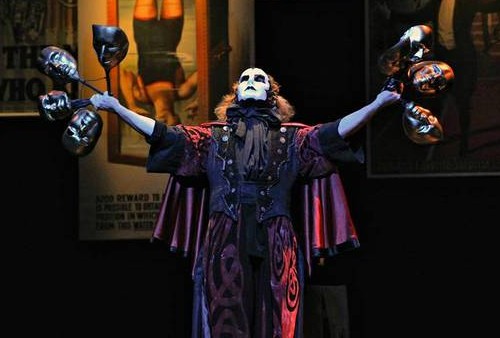 What is the most difficult trick you ever performed, and what made it so hard?
Double One-Handed Waterfall. I used to have showdowns with Ricky Jay on the streets of Madrid, Spain. Ricky and I would basically do cowboy showdowns, gun-slinging with cards, late at night. We were attending the FISM convention in Madrid, and we'd have challenges back and forth with card spinning. He definitely could throw much further, but I definitely could do a One-Handed Waterfall in each hand. That's probably the most difficult feat. I actually performed it, I believe, on The Art of Card Manipulation, in one of the little quick cuts.
Do have any good stories you can share about a magician "fail" that you experienced?
There's an old formula that says, "Tragedy plus time equals comedy." All magicians have challenges and barriers on stage, and so have I. In the moment, they're never fun, but you can retell these stories to friends. Everybody has war stories! Let's see if I have one that stands out...

I remember being on stage, and I had to pull some paper ribbons out of my mouth, and then I produced a dove from the paper ribbons. Then I would secretly switch out that bird for a rubber bird, and put it in a paper bag. I would blow up the paper bag, then pop the paper bag, and little feathers would drop out. However, on this day I was pulling the paper ribbons out, and I decided to use scissors to cut the paper ribbons, and I cut a hole inside my lip! I quickly shut my mouth, and my mouth filled with blood. This was my grand finale - I'm thinking "Oh, this is very bad," but the audience can't see anything yet.

So I get to the part where I produce the live dove, and I switch it for the rubber dove, and put it in the bag. But now I have to blow up the bag - I didn't see that coming! And I figure this is a really good time to get all that blood out of my mouth. So I blow up the bag, and it's filling with blood. And when I pop the bag, there's nothing but blood and feathers everywhere, and people screaming! Some teenagers thought it was just so rock and roll, and other mothers and children thought it was so horrible. It was this mixture of some people going out of their mind applauding, and other people going out of their mind screaming. So we never know - even when the worst can go wrong, people will still love it!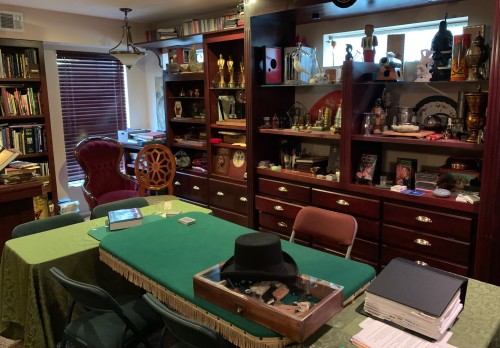 How would you like to be remembered in the magic community, and what accomplishments would you still like to make?
I feel like I already am remembered in the magic community. I've accomplished more than all my childhood dreams: headlining Vegas, Magic Castle Magician of the Year, Hall of Fame, FISM Award winner, Guinness World Records - I've done a lot.

Now my goal is to help other people's dreams. So when I see a student of mine like Mat Franco win America's Got Talent and get his own show in Vegas, and my student Aaron Crow win on Britain's Got Talent and come on America's Got Talent with a magic routine that I'd helped him design - that's what I want to be remembered for. When I have students getting their own shows and winning awards. I'm a magic teacher, and I love to give. That's what I love to do now. I still tour and perform internationally all the time, but my passion right now is teaching and helping other people achieve their dreams.
What is one piece of work you have released that you'd like to be remembered by, or which might be of interest to the playing card enthusiast?
Anybody that watches Jeff McBride The Art of Card Manipulation will see how I researched all of the old school material and the stuff that I'd learned in my generation, and put it all together in one place. Those are the videos that the Buck twins - Dave and Dan - saw. Many of the people that first started card manipulation and cardistry saw me on those World's Greatest Magic specials back in the '90s that were filmed at Caesar's Palace. This was one of the first modern versions of card manipulation on TV.

So I think my series on The Art of Card Manipulation imprinted a lot of young magicians, young card handlers, and then the cardistry movement. I was not singularly responsible for that, but The Art of Card Manipulation was definitely essential fuel for it, because it was the most comprehensive card manipulation series ever put out.
What advice would you give to a young person just starting to learn card magic or card manipulation?
Learn from your pals, but study in person with a great master. It will shave years off your learning curve.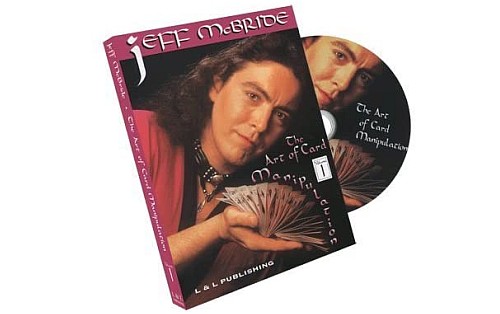 Playing cards & card manipulation
You have set several Guinness World Records. What can you tell us about these?
I have three Guinness World Records, two of them for coin rolling, and one of them for card spinning. My Guinness World Record certificate states that I was able to "single handedly spin or scale a record of 106 playing cards within 60 seconds." That was set in 2004 for speed, for card throwing.
You are known for your skill in card manipulation. How would you distinguish magic from cardistry?
When they're fused together, they're indistinguishable, because of the flow state. Here are some flourishes, here are some card tricks - I think it can be seamlessly blended together. When I watch young cardists out there, I'm just amazed by the things that I see them doing these days. I'm totally delighted, and it's magical for me. Magicians that call cardistry "juggling" are just not getting what it's about. It's about entering a flow state, mastering these series of moves, and then pushing the envelope, until you have many of these different flourishes that you can string together seamlessly. That's the elegance of it.
Do you have any thoughts about the current boom in cardistry, and how this has become immensely popular in recent years?
The deck of cards is a great equalizer, isn't it? Here you have 52 objects, and now all you have to do is add your creativity and countless hours of practice and commitment to perfection. It's not like you can buy it. Acquiring the next magic illusion is quite different than acquiring the next impossible flourish with cards. You just can't do it, it has to come from the heart and soul. That's why I think cardistry became such a phenomenon. It doesn't have any language barriers, cultural barriers, or status barriers. All that separates one from being average or great is the commitment to perfection, artistry, and beauty.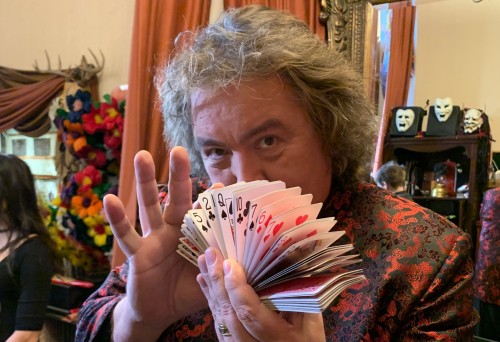 What brand/type playing cards did you first use when you started magic and card manipulation?
I used every card I could get my hands on. There were bridge-size decks for card fanning that would have four different colors or four different patterns, so you could get the different color fans out of them. Really good fanning decks are sorely lacking today; I very rarely see any of these new decks being good fanning decks. But I would collect every thin card I could possibly find at that time. Very few people at that time were making flesh colored cards. Sometimes you had to strip cards down, and then paint them flesh colored, and use lots of powder to make them fan again.

Early on I used Crusaders, because in my teens that's what Jeff Sheridan was using, so I used Crusaders that you could get at Woolworth's. Bee cards are okay, but when they reach a certain age they just crack. A lot of the `old school' used and swore by the old Denver Plaids and the old Steamboats. So when I was in my tens and early teens (11-15 years old), there was a lot of Steamboats, and in my later teens I used Crusaders.
What brand/type playing cards do you mostly use today?
I switched over to my own brand, when I had my own cards printed by Phoenix (my cards are available on my site here). Phoenix really pays attention to their cutting and I'm very fond of Phoenix brand cards published by Christian Schenk from Card-Shark.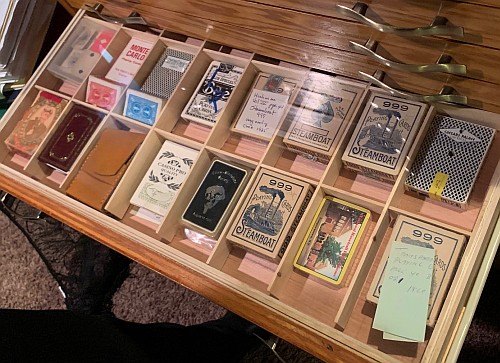 What do you think are the essential qualities of a good deck of playing cards?
The ability to fan them out of the pack, and their ability to faro shuffle. Those are the two prime ingredients. That they don't need fanning powder. That they're not too slippery, so you don't have to work with them too long to get the finish off, and that they faro well. I'm mostly a stage performer, and I do close up as well. I love some of the decks that you have, with the very whimsical face designs. But for me it's the way the cards handle more than the way they look.
Has the quality of playing cards has improved over the years?
Oh, absolutely. Absolutely the quality has improved over the years. The finishes these days and the deck designs are just incredible.
What are your thoughts on the explosion of custom playing cards that we are seeing today?
For me personally, I don't see enough nice fanning decks. I would collect them, but they're not out there.

I think the next step for card collectors is: how do you store and display them? The serious person will start to make floor to ceiling displays for walls of cards with a giant ladder, like a library so you can have these decks on display. I've seen some people have little wall panels that will hold 20 decks or so, but how about something like a turning rack, like the racks for displaying CDs or a turning poster rack? If somebody could come up with some sort of system.

And now we have some place to display them and take them out, then the great question is: do I take them out of the box, or are they just sealed? Or do I always have to buy two decks - one to play with, one to keep sealed? I see people doing both.

However I have yet to see a really beautiful card collection display that goes beyond `decks in a drawer', or `decks on a wall', or `decks on a tabletop'. If you consider these cards art (and they are - the back designs and the front designs are art), how do you display this art? How do you put it in a frame, and how do you appreciate it? Do you put it in a shoebox and say "Here's my card collection"? Do you have it in a little wall display of 20 decks and say "Here are my 20 decks"?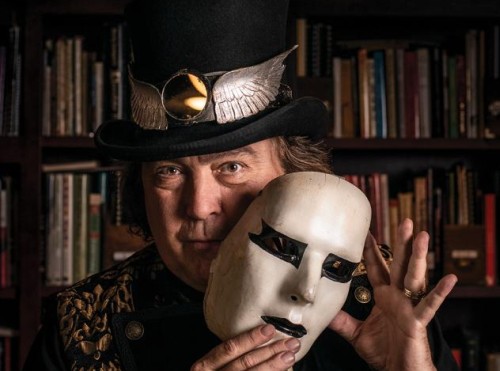 What impact has crowdfunding like Kickstarter had on the custom playing card industry and collecting?
People feel part of the creation, and feel like they can be patrons of the art. It's like: "Oh, I can be part of this, I can be part of this creative process, I can be a co-collaborator." So that's a good thing that I'll say about it. People support what they help create, and people feel like they're helping create art. I think we need more people that are patrons of the arts. And playing cards is a very good way to share your wealth, and support other people's creative enterprises.
Do you recommend performing magicians get their own branded custom deck of playing cards?
Absolutely. But it depends on what impression you want to make. Some people like to use regular cards because they look very normal. I use my own cards because they're very special, and they have my name on them. If somebody looks at my cards, they'll say, "Wow, Jeff has his own brand of playing cards, he must be very good." You can drive a car, but you can design and manufacture your own car. Who do you deem more magical? Probably the person that's designed their own car.

And when I throw my cards into the audience, it's not the end of my show. It's the beginning of an adventure, because on the back the card it says: "Every card has a special meaning. To discover this card's secret, you have to go to my website." So now they have to go on this mysterious quest to find out the meaning of their card. It's a tarot information site. And when they get to my website after they catch one of my special cards, now they have an opportunity to pick an email address of a friend, and throw that card around the world to them. So I'm continuing the tradition that got me into magic; I'm throwing a card out and saying, "Here, pick this card." And they pick up that card in the audience, and hopefully it will take them on a magical adventure for the rest of their lives.

How many decks or cards have I gone through throughout the years? Tens of thousands. I go through at least two decks a show, for tens of thousands of shows.
Do you personally collect playing cards?
I'm not manic about it, but I collect good fanning decks. If a particular design of a more standard deck hits my radar, I'll pick it up. I like some of your decks, they're very beautiful.

Sometimes it's the box - it makes a statement. Sometimes the card box is the tuxedo for the cards. So the card box in my opinion has a lot to do with matching the performer's style and creating an aesthetic for the magical performance.

And it's even how you take the cards out of the box. If you read Roberto Giobbi's books, he's got very special ideas on how to remove the cards from the box, and how the box is put away. The Dean of the Mystery School teaches what he feels is the proper way to present a pack of cards out of your pocket, remove it from the deck gracefully, and place the box away. There are more refined ways to present a deck of cards to people than just tossing a box of cards on the table.

A deck of cards is a wonderful, mysterious, enchanting object. Fortunes are won and lost, and lives have come and gone on the turn of a single playing card. I live in Las Vegas, which is a town that was built on playing cards, divination systems, dice, and spinning wheels of fortune. Cards have an incredibly deep history and connection to mystery, and they're inherently very mysterious. So it's no wonder how people are attracted to their many different manifestations these days, whether it's a special box, or a back design, or a limited edition.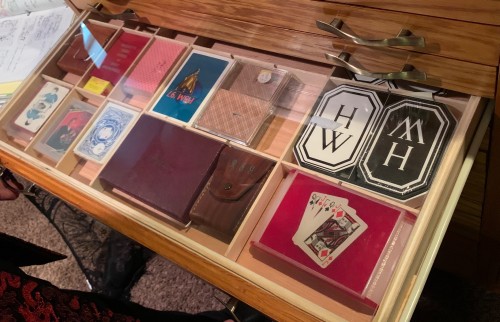 Do you use playing cards for anything besides card magic and card manipulation?
I give very extensive workshops on the history of Tarot. We have an extraordinary collection of Tarot decks here, and also Tarot books. We also collected the greatest Tarot teachers from around the world to come and teach every year at the Las Vegas Tarot Summit.
Is there anything else you'd like to share?
I did an entire performance based on two cards. I did an off-Broadway show called Mask of the Mystic, and it was about two playing cards: the Magician card and the Fool card of the Tarot. I had originally designed an entire show around the Major Arcana of the Tarot cards back in the '80s, with a performance piece for each and every card. But the show was so dense with symbolism and meaning and complex, that I decided to keep it to just the first two cards. I played the Magician card, and a juggler named Michael Marlon played the Fool card, the innocent. There was a great dynamic between a trickster and an all too serious mage wizard character, and it was about the relationship between being blissfully ignorant, and being overly-fixated on the symbolism and meaning of magic.

That really sums up the experience with playing cards. Playing cards can be used for gambling. They can be used as a pastime to pass the time and play solitaire. They can be used for card magic. They can be used for cardistry. And for me, a deck of playing cards is a magic carpet that has taken me all over the world and has introduced me to incredible experiences, taken me to incredible places, and introduced me to all of the people I love most dearly in life.

So whether you're a fool just beginning your journey through the playing card story, or if you're at the end of your story as a wizard counting down your days, remember that there is a deck of playing cards - and perhaps a single playing card - that can change a person's life. So next time a person says "Pick a card," remember that this moment can change a life forever.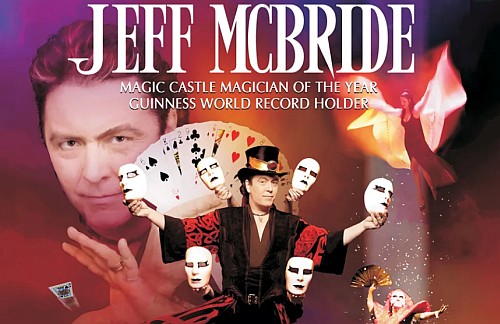 Conclusion
It takes a lot for the Society of American Magicians to vote you into their Hall of Fame, especially when you're still active performing and teaching. Jeff McBride is one of the few in the world who can lay claim to being part of that select group.
Jeff is first and foremost a performer with a love for entertaining people, and the unique combination of elements that helps make his stage act stand out from other performers will always be a memorable trademark style that people associate with his name. But perhaps his lasting legacy will be the new role he has taken on as a sage and mentor to others. His Magic & Mystery School has been instrumental in producing new magicians who will continue to entertain us in years to come.
With this interview we've had a wonderful opportunity to have a glimpse of his thinking and learn about some of his experiences. Thank you Mr McBride for all that you've given to magic! May this inspire all of us to turn that pack of playing cards in our hands as a tool to develop our own skills, and to share our love for the arts with those around us!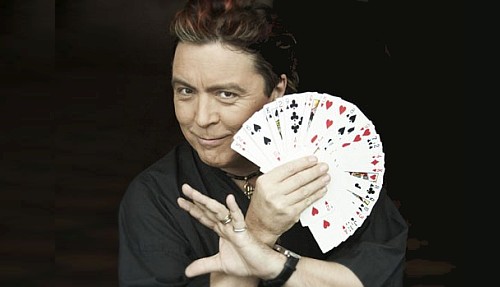 Where to learn more?
 Check out Jeff McBride's resources here:
- 
McBride Magic
: 
Official site
, 
promo video
- 
Performance videos
: 
Fool Us
 (2017), 
Masters of Illusion
 (2009), 
Masters of Illusion
 (2017)
- 
Card manipulation
: 
"Shaman Cards" performance
, 
"King of Cards" performance
- 
Magic & Mystery School
: 
Official site
, 
shop
, 
Facebook
- 
Social media
: 
Facebook
, 
Twitter
, 
Instagram
, 
Youtube
- 
Teaching resources
: 
MagicFlix
 (code: MCBRIDE), 
Art of Card Manipulation DVDs
, 
Essential Card Manipulation video



About the writer: EndersGame is a well-known and respected reviewer of board games and playing cards. He loves card games, card magic, cardistry, and card collecting, and has reviewed several hundred boardgames and hundreds of different decks of playing cards. You can see a complete list of his game reviews here, and his playing card reviews here. He is considered an authority on playing cards and has written extensively about their design, history, and function, and has many contacts within the playing card and board game industries. You can view his previous articles about playing cards here. In his spare time he also volunteers with local youth to teach them the art of cardistry and card magic.


Last update date: 5/26/20