by BoardGameGeek reviewer EndersGame
This article is the next installment of a two part series about how playing cards were used in different ways in previous centuries. Before our modern deck obtained its traditional look, playing card decks were often highly customized, and used for a variety of different purposes. The previous article covered how playing cards were used in more typical ways: for playing card games, for art, and for education. But the past has also witnessed playing cards being commonly used for other purposes, like the ones described here.
For Fortune Telling
Fortune telling, or cartomancy, has a long history and association with playing cards. While a traditional deck is rarely used for fortune telling today, the connection between playing cards and cartomancy continues, even though playing cards were used for playing games long before they were ever used for fortune telling. Especially in some cultures, there continues to be a close relationship between cards and fortune telling, which is why in the popular mind gypsies are associated with fortune telling cards.
Despite what some people think, the origin of our modern deck does not lie in the fortune telling Tarot deck. Tarot cards appear to have been a separate and later development from a standard deck of playing cards, and rather than pre-date the traditional deck, the 78 card Tarot deck actually came a century or two later. In fact, historical evidence suggests that the additional 22 cards common to a Tarot deck originated as trump cards for more advanced games, and at some point the addition of these cards to a standard deck led to a larger Tarot deck. This was first used for more complex trick-taking games, but later began to develop a life of its own in the hands of cartomancers and occultists.
The rise of divination eventually did see the use of playing cards for fortune telling and cartomancy, and the earliest known fortune-telling deck is by John Lenthall and dates from around the late 1600s. While the legitimacy of fortune telling will be dismissed by most modern secularists today, it cannot denied that it has made an important contribution to the history of playing cards and also had an impact on its artwork. This is particularly the case with the larger Tarot deck, which soon became a tool of choice for cartomancers, and is still commonly used as such today. Many Tarot decks were created with all the cards having colourful images that depicted all manner of disasters or good fortune. Many different Tarot decks exist, and these often feature wonderful artwork, and continue to be popular with collectors worldwide.

For Magic
As we've seen already, playing cards were first used only by the aristocracy that could afford them, and it was only with the arrival of mass production that playing cards found themselves in the hands of the general public. Along with this welcome development came a less welcome one: gambling. Gambling soon became a real problem, especially because this is what the lower class chiefly engaged in when playing card games. It's for this reason that the church frequently and strongly denounced card playing. And along with gambling came another dark activity: cheating. 
But what about if cheating techniques are used to create illusions which are designed purely to amuse and entertain? That's effectively what magic is all about, and so playing cards became an obvious tool for magicians to use, using similar techniques used by crooked gamblers. Magic as a performing art has a much longer history, of course, and sleight of hand existed long before playing cards, whether it was intended to cheat or to entertain. But playing cards did lend themselves very naturally to magicians looking for ways to create illusions, especially because they were a familiar item for the masses who used them for playing card games. 
18th century Italian magician Giovanni Giuseppe Pinetti is often credited as being a pioneer that paved the way for playing card magic. His charismatic popularity made him a popular entertainer, and he was one of the very first to include card tricks in his official theater performances, and he even entertained royalty. Prior to this, the only place you could expect to see card magic was on the streets or in private rooms, and it didn't have any real respect or credibility. Many famous magicians followed in Pinetti's footsteps, such as the 19th century icons Robert-Houdin and Hofzinser, the latter being considered by some to be a father of card magic. From this time onwards, magicians began to include card tricks in their repertoire more and more, and card magic became a growing art form. Names like Dai Vernon, Charles Bertram, and Erdnase, are well known to magicians today, but these magicians played an important role in popularizing and shaping card magic as we know it.
Today we are building on the work of these pioneers, and magic with playing cards is often one of the places that beginners now start their journey in magic. Almost everyone has a deck of cards and is familiar with them, so they are an ideal starting point, requiring no real investment. Magicians tend to use cards extensively for practicing and performing, and the production of playing cards for working magicians represents one of the biggest shares of the playing card market in our modern era.

For Souvenirs
Playing cards have long served as an ideal souvenir, particularly when each individual card is used for a different picture. This turns a deck of cards into a mini photo album of 50+ individual works, making it perfect for depicting places or events. Souvenir decks started emerging in the 1890s, coinciding with the growing popularity of photography, which was at that time a very expensive undertaking. In contrast, a deck of souvenir playing cards allowed you to own a mini photo album of an exotic place or country you visited at a relatively low cost.
Special events have long provided a rich source of material for playing card artwork as well. Notable events such as various wars led to the production of commemorative decks of playing cards, to serve as memorials of the Napoleonic Wars, American Civil War, and many others. Royal occasions and other special state events have been commemorated in a similar fashion. Royal coronations and weddings have often featured on playing cards; so too anniversary celebrations of important discoveries or conquests.
Current events have also been a catalyst for new decks of playing cards, the First World War being a prime example. Some of these decks were used for the purposes of propaganda, with decks in Germany printing court cards that gave places of honour to the Kaiser and other leaders, while war scenes were depicted on other cards. Meanwhile playing cards reflecting Allied sentiments were produced in the United States, some featuring court cards depicting generals, officers, and other ranks. During the Second World War, a pro Allied deck produced by Van Mierle Proost included Churchill, Roosevelt, Stalin, and de Gaulle as Kings, while the Aces had outlines of Big Ben, the Statue of Liberty, the Eiffel Tower, and the Kremlin.
But souvenir decks aren't limited to events, with many decks created that depict colourful images of towns, countries, and cultures, geared to serve the tourist industry in particular. This, too, doesn't exhaust the potential, since playing cards can depict almost any hobby or interest under the sun, and so we have seen the production of playing cards with images of anything from house-cats to antique furniture. Decks have been created to commemorate all kinds of unique interests, from ancient mythology to modern bull-fighting. A good example of this is a deck that was produced to honour the medical profession, featuring doctors, nurses, chemists, and research workers in hospital gowns, along with the expected equipment of stethoscopes and medicines. 
The scope of souvenir and hobby decks is limited only by the imagination of the creators. Today's custom playing card industry continues to benefit from this, and decks that celebrate popular films, celebrities, or sports, have a ready market. And virtually anywhere you travel, you're bound to find a deck of cards with pictures that you can take home as a souvenir of the place you've visited.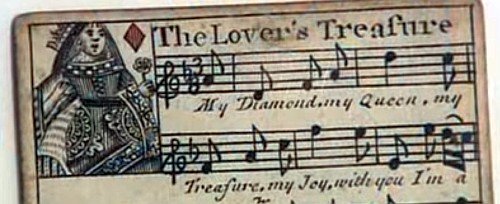 Other Uses
This list by no means exhausts the many ways that playing cards have been used. For example, an important secondary usage of playing cards in previous centuries was as a source of writing paper. Early playing cards didn't have artwork on the card backs, and were simply blank on the reverse side. Given that paper was often expensive to produce, this made a deck of playing cards a valuable source of paper. Individual cards became a very handy resource, and could be used for writing notes or lists, and were even used more formally as invitations, calling cards, coupons, or as a record of financial transactions, debts, or currency.
Playing cards no longer have blank card backs, so that particular secondary use has all but vanished. But today we are seeing new uses for playing cards emerge, the most notable one being for card flourishing. Cardistry is a thriving industry, and since cardists tend to wear out their decks even faster than magicians, and because of the importance of visual aesthetics, there's a growing demand for colourful and creative designs.

The Standard Deck Today
Our historical overview demonstrates that playing cards have been used for a variety of uses across the ages besides playing cards, and so it comes as no surprise that in the past there has never really been a "standard" deck as we often imagine it today. Customized decks have existed for centuries, and there are many fine examples of playing cards created especially for the purpose or art or education. This means that the typical Bicycle style card deck as we usually think of it is in reality by no means "standard". 
Even today there's actually a great variety of different types of decks used around the world, not just in terms of style, but also in size. Most of these are localized in their usage, but you will find places where 32 card decks are very common, or 48 card decks, and even 100+ card decks. In many cases, the size of the deck is closely connected with games that are popular in a specific region, and these games can't even be played with a deck of a different size.
And not only is the size of a deck non-standard, but so is the artwork. Given the multiple uses for playing cards across the centuries, it was inevitable that there would be a diversity of artwork and styles. In that respect the modern custom playing card industry is hardly new, and customized playing cards have existed for centuries. 
Yet despite all this rich variation throughout the history of playing cards, there does remain a commonly accepted "standard" for playing cards today. This standard is primarily based on the French suits that swept Europe and spread across the globe in previous centuries. Today's court cards largely go back to printer Thomas de la Rue of London. Mr de la Rue was granted a patent for printing playing cards by letterpress and lithography in 1832, and subsequently took control of the playing card market due to his enormous success. With prices and taxes dropping, his production and sales increased significantly. Smaller designers that produced custom decks simply could not compete with him, and slowly disappeared, leaving de la Rue with a monopoly. 
For better or for worse, it was the fact that de la Rue effectively cornered the market that led to cards becoming more or less standardized. In his book 
Playing Cards
, Roger Tilley gives this very unflattering assessment of this development: "
To add insult to injury, the very expressions of the cardboard court have been crystallized in commercialism. The kings' looks have become those of company directors, strained and indicative of ulcers, while the queens and knaves have taken on the air of the attendant secretaries: the personal are pawky, and the company ones circumspect ... Thomas de la Rue was without doubt a very great printer; yet that very genius proved calamitous to this small branch of the graphic arts ... it might be said of Thomas de la Rue that he found a small quantity of marble and left a great quantity of brick.
"
Certainly there have been attempts from time to time to create new designs that break with tradition, by designing and producing playing cards that are more easily recognized or with fresh or more contemporary patterns. But these have always failed to receive any serious degree of general acceptance. Of interest is the fact that the De La Rue Company itself promoted a competition in 1957 for new playing card imagery for the court cards to help celebrate the company's 125th anniversary. But while the prize winning efforts of Jean Picart le Doux were beautiful, they were a commercial failure.
So it could be argued that the history of playing cards has become somewhat stale in the last era, since there have been no significant alterations to the "standard deck" of playing cards for a long time. The dominance of the USPCC has also led to the Bicycle rider-back design becoming somewhat iconic, and its success has also stifled other designs somewhat. Perhaps that is changing given the enormous success of the custom playing card industry, and the gradual acceptance of custom playing cards in the world of professional magic. But for now, at any rate, it seems that custom playing cards will continue to remain somewhat of a novelty rather than becoming a new standard. Even cardistry demands and encourages constant novelties, rather than the adoption of a new accepted standard.

A Lesson from the Past about the Present
We are fortunate to live in a new era of history, which has witnessed the explosion of custom playing cards, and also a growing acceptance of these by the general public. It remains to be seen what future generations will consider to be our contribution to the ongoing history of playing cards. I believe that the increasingly high standards of modern printing techniques, and the ability of the internet to connect creators and consumers, means that we are living in a time that is unprecedented. Highly imaginative and attractive playing cards are being produced, the likes of which have never been seen before. Perhaps today's biggest contribution to the history of playing cards lies in new abilities to produce high quality decks, and to connect creators with backers and buyers, while ensuring that the entire enterprise remains affordable. The result is a marketplace flooded with new and exciting designs. Not only are we witnessing some very imaginative designs, but we are seeing incredible innovation in the area of tuck box designs, with the use of unprecedented techniques that allow boxes to be created with embossing, metallic foil and inks. The final product of the custom decks we can buy today is often a real work of art, and no wonder collectors love them. 
Perhaps for now the lesson of history is this: to consider ourselves privileged for the luxuries we enjoy today. The future will undoubtedly look kindly on what our era has been producing. May we have a real eye of appreciation for the rich heritage that has produced this wealth, and respectfully tip our hat to those who have gone before us, and to the designers, printers, and middle men that help get these works of art into our hands and onto our game tables today. 


About the writer: EndersGame is a well-known and highly respected reviewer of board games and playing cards. He loves card games, card magic, cardistry, and card collecting, and has reviewed several hundred boardgames and hundreds of different decks of playing cards. You can see a complete list of his game reviews here, and his playing card reviews here. He is considered an authority on playing cards and has written extensively about their design, history, and function, and has many contacts within the playing card and board game industries. You can view his previous articles about playing cards here. In his spare time he also volunteers with local youth to teach them the art of cardistry and card magic.


Last update date: 08/08/19