by BoardGameGeek reviewer EndersGame
Awards are always controversial. Whenever they are handed out, they generate public debate about whether the right decision was made, and whether the winners really were the best.
But if you want to get a snapshot view of some of the best output, looking at a list of award winners is an excellent way to get an overview of the cream of the crop. One of my other hobbies is board games, and annual awards like the Spiel des Jahres award and the Golden Geek award are genuinely helpful tools that point out some of the very best games in the business.
The same is true of playing cards. Fortunately for us, there are several annual "Deck of the Year" awards that have been running for some time. By taking a look at the award winners, we get a good overview of some of the cream of the crop that has been produced in recent years. So let's take a look at some of the best of the best!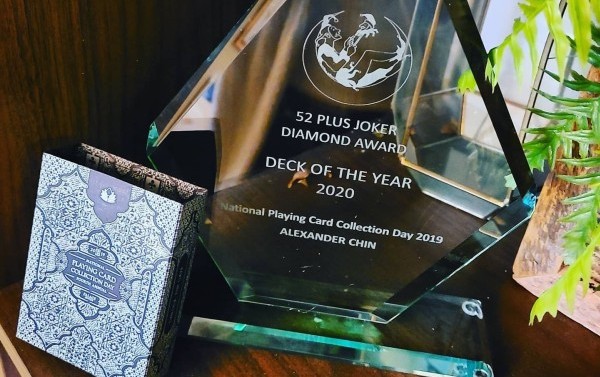 Diamond Award winners (52 Plus Joker)
52 Plus Joker
 is the official name of the American Playing Card Collectors Club, one of the biggest and best organizations in the world for playing card collectors. Each year they have an annual convention, at which they unveil the winners of their Diamonds Awards. One one of the most prestigious awards that is announced each year goes to "Deck of the Year". The folks at 52 Plus Joker These are very well-informed, well-rounded, and passionate collectors, so their awards have a lot of credibility. Here are their Diamond Award winners for Deck of the Year, which has been run since 2017.
2017: Golden Oath (by Lotrek)
Lotrek was the winner of the inaugural Diamond Award for "Deck of the Year" with his stunning Golden Oath deck. This is a true collector's item and a dream come true for playing card enthusiasts. It continues to be highly regarded and valued due to its amazing all-foil artwork on the cards. Lotrek is considered to be one of the most sought-after and highly regarded designers in the world of custom playing cards, and collectors are typically prepared to pay top dollar for his extravagantly luxurious creations, so it is fitting that a Lotrek deck took out the very first ever Diamond Award for Deck of the Year.
The other decks nominated for this category in the inaugural edition of the Diamond Awards were Apothecary (Alexander Chin), Pagan Blue Edition (Uusi), Silver Arrows (Jackson Robinson), and Vitreous (Adrian Valenzuela).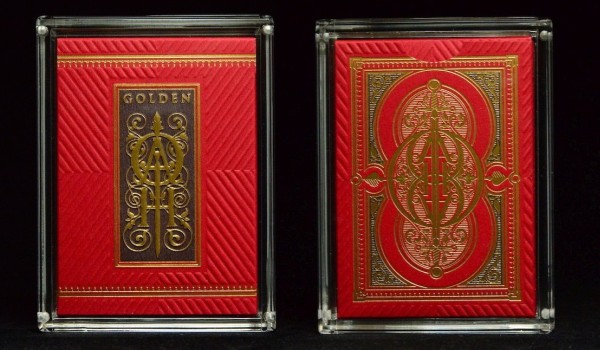 2018: Cartomancer Poker Deck (by Alain Benoit)
Alan Benoit's Cartomancer Poker Deck was actually his first contribution to the world of playing cards. In this creative deck he cleverly incorporated all kinds of fortune-telling elements into the design. It was inspired by old French cartomancy, and also cleverly utilized archetypes from famous Swiss psychiatrist Carl Jung. The result was truly creative, which is why it was applauded and embraced by collectors.
The other decks nominated for the award this year were Masquerade (Denyse Klette), and Luna Moon (Kevin Yu).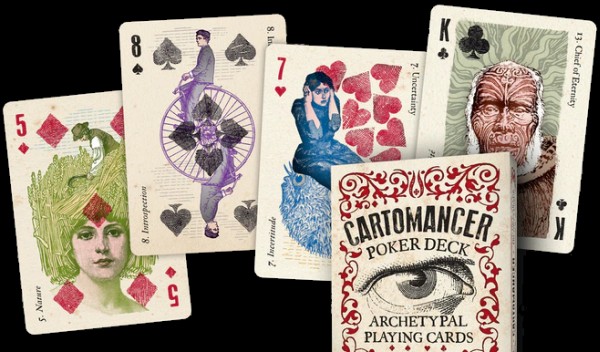 2019: House of the Rising Spade

 

(by Stockholm17)

Popular designer Lorenzo Gaggiotti, who runs the brand Stockholm17, has a signature style that is in high demand, so it isn't surprising to see one of his decks on this list of the elite. This particular deck is easily one of his best, and one of my personal favourites from his many terrific decks. This deck is also influenced by cartomancy, and has been given a deliberate feel borrowed from the world of Tarot.

The other decks nominated in 2019 were De Novo (Rick Davidson), Monolith (Thirdway Industries), Six Strings (Kardify), and Top Aces of World War II (Black Ink Playing Cards).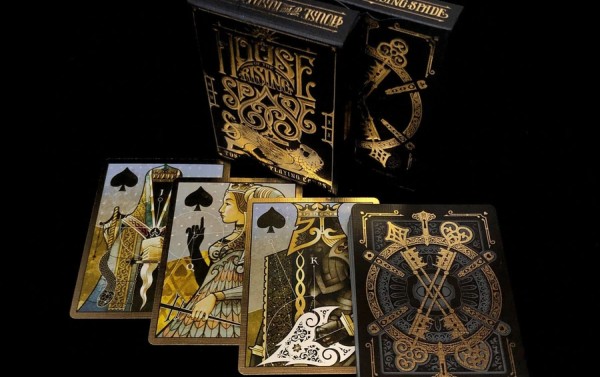 2020: National Playing Card Collection Day 2019 (by Alexander Chin)
The winner of many awards for his creative and stylish tuck boxes and designs, it's no surprise to see an Alexander Chin deck on this list. He always stretches the boundaries of what is possible with his annual National Playing Card Collection Day decks, and his amazing 2019 deck was a worthy winner of the 2020 award, despite some tough competition.
The other decks nominated for 2020 were Ascension (Steve Minty), Iron Spades (Roxley Games), Luminosity (Black Ink Playing Cards), UC2019 No 7 (Montenzi), and Vivaldi (Passione Playing Cards).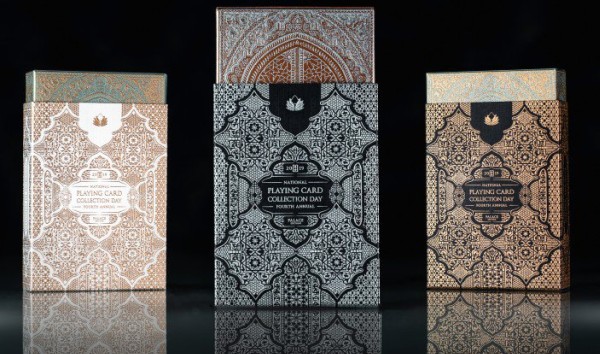 United Cardists winners
United Cardists
 is one of the most popular forums for card collectors to hang out and to discuss the latest projects for crowd-funded playing cards. Despite the name, they aren't focused on cardistry first and foremost, but this forum is primarily a vibrant and active community of enthusiastic collectors. Their annual awards include individual categories for the best back design, the best court cards, the best Jokers, and more. But the crowning honour of course goes to whichever deck is announced as the overall best deck, or Deck of the Year.
2013: Federal 52 (by Jackson Robinson)
The Federal 52 deck by Jackson Robinson and Kings Wild Project is cleverly inspired by bank notes, and is one of his most sought after decks by collectors. He produced several different versions of it, and the idea to use a graphic design that mimics currency turned out to be a brilliant move.
This deck proved so popular that not only did the main deck take out the Deck of the Year Award, but his Federal 52 Black Reserve Note Limited Edition and his Federal 52 Silver Certificate decks took out the two runners-up places in the Deck of the Year category for this year.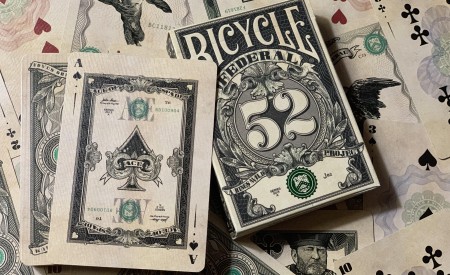 2014: Origins (by Rick Davidson)
New Zealand designer Rick Davidson might be familiar to some readers from his recent De Novo deck, and his older LUXX Palme and LUXX Greille decks. His Origins deck was inspired by 16th century designs, drawing on the important history and tradition of playing cards that goes back to the French region of Rouen.
Second and third place for the 2014 Deck of the Year went to Lotrek's Venexiana Gold and Stockholm17's Requiem.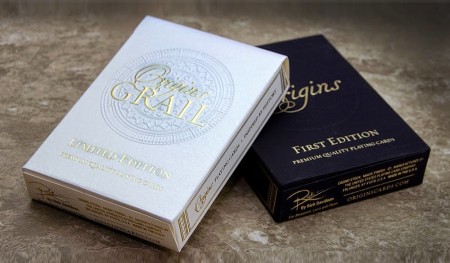 2015: Heretic (by Stockholm17)
One of Stockholm17's early projects, Heretic was based on alchemy and the hermetic world, with many alchemist symbols recurring throughout the playing cards. Two decks were produced, a Lux deck (light) and a Noctis deck (dark).
Giovanni Meroni's Omnia, Jackson Robinson's Scarlett Tally Ho, and Chris Ovdiyenkos' Arcana were the other nominees for the award in 2015.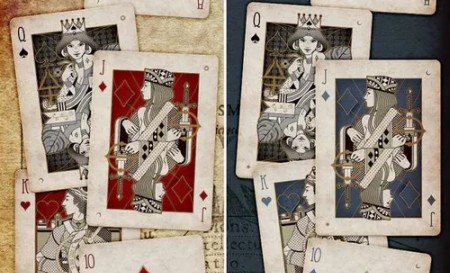 2016: Icons Imperial (by Lotrek)
 and 
Wicked Kingdom (by Wylie Beckert)
The competition was tough in 2016, with unsuccessful nominees including Giovanni Meroni's Omnia: The Golden Age, Stockholm17's Le Chat Rogue, Alex Chin's Magna Carta, and Steve Minty's Anubis and Osiris. All of these would be good enough to pull out a win when stacked against the winners of some other years.
This year's contest featured a shared award, with a tie for the first place. The first of these two winners was Wicked Kingdom, a hand-painted deck by fantasy artist Wylie Beckert. It features a range of unique characters set in a dark fantasy world, and will best be appreciated by those who enjoy art playing cards.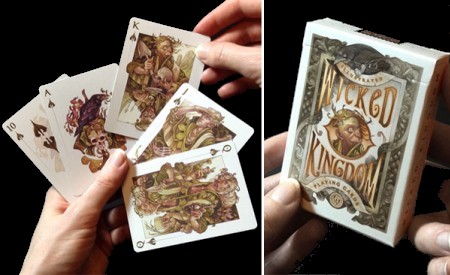 The other winner for 2016 was Lotrek's Icons Imperial. Inspired by Byzantine art, the style captures something of the pictorial style of religious altar pieces, while the card backs feature foil stamping in gold and silver for the ultimate luxury look.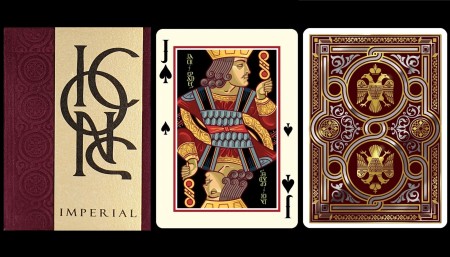 2017: Golden Oath (by Lotrek)
Lotrek's magnificent Golden Oath deck would see him crowned with a winning deck for the second year in a row. This is the deck that also won 52 Plus Joker's inaugural Diamond Award for Deck of the Year.
Second place in the 2017 awards went to Stockholm17's Gemini, and third place to Alex Chin's pair of Apothecary decks (Ponderings and Insights).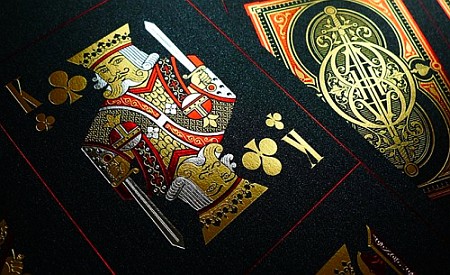 2018: House of the Rising Spade (by Stockholm17)
House of the Rising Spade was Stockholm17's second Deck of the Year win, and was also the deck that took out the Diamond Award. Given the popularity of this deck, a second edition of this deck was later produced to meet the demand from collectors.
The minor placings for the 2018 Deck of the Year went to Lotrek's Arabesque (Collector's Editions), and to Alain Benoit's Cartomancer.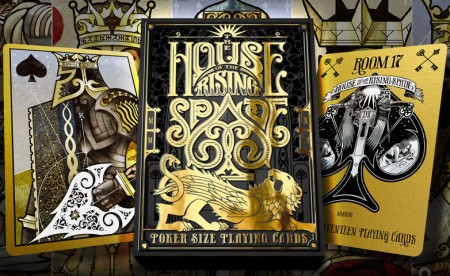 2019: Silk (by Lotrek)
Lotrek is absolutely at the top of the game when it comes to innovative luxury custom playing cards, and he is the first person to have three of his decks crowned as winners of Deck of the Year in the United Cardists awards. As we've come to expect from Lotrek, Silk is a fully custom deck that uses foil on the playing cards. When viewed in the light the 3D effect is reminiscent of the weaving of renaissance silk fabrics, while the court cards are inspired by engravings from this era. The results are spectacular.
Alex Chin's 2019 NPCCD deck took out second place for the 2019 Deck of the Year, while a two-way tie means that third place was shared by Luminosity (Jody Eklund's Black Ink Playing Cards) and Monolith (Giovanni Meroni's Thirdway Industries).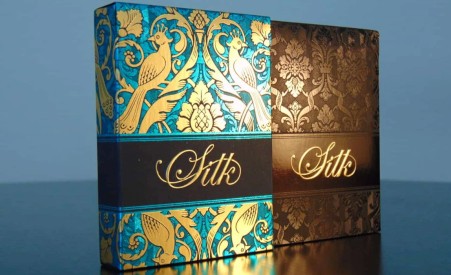 2020: Crypt (by Lotrek)
This United Cardists winner is the fourth for Lotrek, and once again he's found a way to produce something unusual, the likes of which haven't been seen before. It's a remarkable deck in that unless you have the deck yourself, you won't be able to find out much about it. No pictures of this deck were released, and the concept was that it would keep its secrets hidden - like a crypt - from everyone other than owners of the deck. Those who bought this luxury mystery deck on faith alone, universally praised it as a masterful piece of art that is truly next-level.
Second place went to the Devil's in the Details deck from Riffle Shuffle, and third place to the Robin Hood deck from Jackson Robinson's Kings Wild Project. The awards stepped up a notch this year by partnering with 
Porfolio52
, and included a presentation show.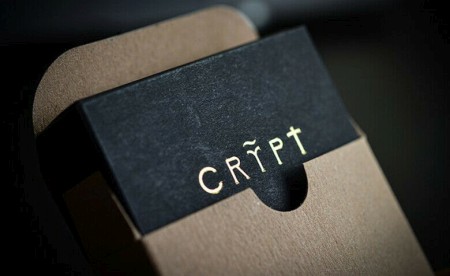 Cardistry Con winners
Cardistry Con
 is an international convention that is held annually for cardists. One of the biggest ways cardists connect is online, but this meeting is a highlight of the calendar, and includes an award ceremony that crowns Move of the Year, Video of the Year, Breakout Cardist of the Year, Cardistry-Con Champion, and of course Deck of the Year. Cardists have different requirements for their playing cards, because the visual aesthetic of cards in motion is very important. As a result, cardists look for very different things than what collectors do, and that is also reflected in their choices for Deck of the Year.
2016: Virtuoso Spring/Summer 2016 (by The Virts)
In the world of cardistry, The Virts are considered to be one of the most influential cardistry groups, with several of their dazzling cardistry videos going viral. They've been a bit more quiet in recent years, but their contribution to cardistry has been significant, and their series of Virtuoso decks is still highly respected and sought after by cardists and collectors alike.
Their Virtuoso decks were arguably the very first ones to be designed exclusively for cardistry, with an aesthetic designed around an optimal look for flourishing. That makes it fitting that they were the inaugural winner in this category with their 2016 SS deck, which featured strong geometric shapes, and a vibrant yellow colour.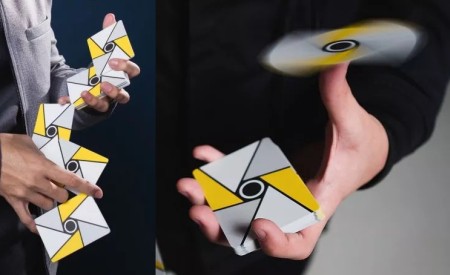 2017: ORIGIN (by Touch Cardistry)
The stylish and creative tuck box of this deck already makes a big first impression, in view of the unusual way it opens. These decks also use Cartamundi's amazing C9 stock, which is expensive to produce, has supreme quality, and was only used for a handful of decks on the market. But the real innovation with this deck is in the cards themselves. First of all they have a unique geometric design, optimized for cardistry.
But perhaps more importantly, the design on each card is identical. I suppose it was inevitable that playing cards would evolve in this direction, given the popularity of cardistry. It means that we now have playing cards that you can't even use for playing card games, because there aren't any suits or values on these cards at all. But they certainly are great for flourishing, making this a worthy winner.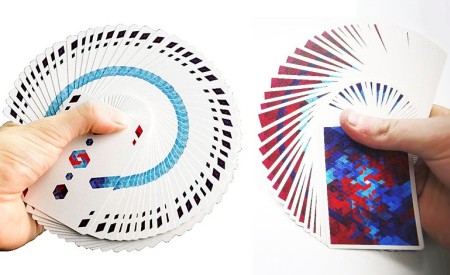 2018: Dots (by Anyone Worldwide)
In recent years Anyone Worldwide has become one of the biggest brands in the world of cardistry. The minimalist design of their Dots deck is sheer genius. The card backs feature a plain grey colour with white borders, and with a single red dot.
But the genius is that the dot is not in the center of the cardback, but three-quarters of the way down. This completely breaks the usual convention of avoiding one-way backs, and opens up completely new options for cardists to create new patterns with the help of this deliberately off-set image.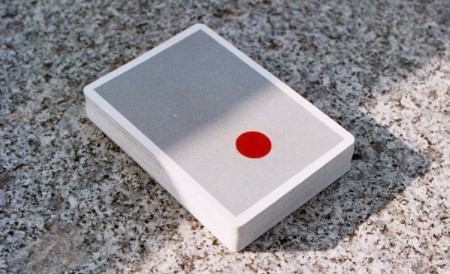 2019: Echo (by Lotusinhand)
Lotusinhand is an extremely popular cardistry channel and brand, and these guys are also highly respected for their contributions to cardistry. With the Echo deck they came up with a design that has a carbon fiber look on the backs, where the central point of interest is a simple target shaped image in white on black.
The cleverness comes in the fact that the card faces dispense with pips except for the corner indices, and reprise the target shaped design but with an inverse colour scheme of black on white. It's a very effective design that works well for card flourishing, and has unsurprisingly become a big hit.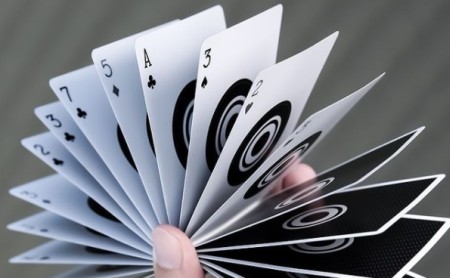 The 2020 CardistryCon planned for Brussels had to be postponed in view of the coronavirus, so we'll have to wait a little longer to find out which deck will be the next winner.
Kardify winners
Kardify
 is a long-running independent website devoted to news, previews, and reviews of playing cards. It was founded by Ivan Choe, and also features wonderful photography by Anthony Ingrassia. This site has been running an annual Top 12 for some time, but the year 2020 marked their inaugural Deck of the Year award. While this award doesn't carry as much weight as the other ones, since it's effectively just the choice of a single individual, it is still helpful in highlighting one of the best from the past year.
2020: Holographic Legal Tender (by Jackson Robinson)
The original Federal 52 deck from Jackson Robinson and Kings Wild Project took out the inaugural United Cardists Deck of the Year award for 2013. This banknote themed deck has already had several popular reincarnations over the years. But this newest holographic deck really took things to the next level, with a stunning holographic tuck box, and holographic cards, produced with the help of Expert Playing Card Company.
Other decks named in Kardify's top 5 collector decks for 2020 included Cartamundi's United, Lotrek's Crypt, Theory11's Star Wars, and Kevin Yu's Trident.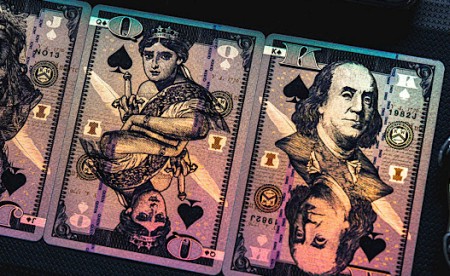 Conclusion
The above awards are the playing card equivalent of a musical collection of greatest hits, and are a terrific way to get an idea of what the world of collectors truly appreciates, and to identify some of the playing cards that are at the pinnacle of design beauty.
When looking through these awards and the larger list of nominees, it's immediately clear that some designers are dominating the industry, and with good reason. Creators like Lotrek, Alex Chin, and Stockholm17 are rightly regarded as among the very best that there is. Their output is not only prodigious, but also of a consistently high standard. Other names that can be mentioned alongside them include Giovanni Meroni (Thirdway Industries) and Jackson Robinson (Kings Wild Project). Designers like Jody Eklund (Black Ink Playing Cards) and Steve Minty are also worth keeping a close on and following, and have been nominated in previous years already.
If you want to be at the cutting edge of playing card design, check out the work of designers like these and follow their social media to get news about the latest and upcoming releases. Other top designers I can recommend include Lee McKenzie (Kings & Crooks) and Paul Carpenter (Encarded).
Cardists have a very different set of requirements from collectors, so their choices for Deck of the Year are tailored around meeting other criteria. Even so, the Cardistry Con choices for Deck of the Year give us a good sense about what is popular, and what the people in the world of card flourishing appreciate and are looking for.
Not many of these decks are going to be easy to find at a low cost today, due to how popular they are. You'll often have to rely on the secondary market to get your hands on them, and you can often expect to pay a pretty sum in return for adding one of these to your collection. At the same time these decks are likely to hold their value well. And of course, there's a good reason why they are so in demand, and that's because they are beautiful and appealing. I'm already looking forward to seeing what beauty and creativity the winners in years to come will bring us!


About the writer: EndersGame is a well-known and respected reviewer of board games and playing cards. He loves card games, card magic, cardistry, and card collecting, and has reviewed several hundred boardgames and hundreds of different decks of playing cards. You can see a complete list of his game reviews here, and his playing card reviews here. He is considered an authority on playing cards and has written extensively about their design, history, and function, and has many contacts within the playing card and board game industries. You can view his previous articles about playing cards here. In his spare time he also volunteers with local youth to teach them the art of cardistry and card magic.


Last update date: 03/02/21