by BoardGameGeek reviewer EndersGame
A brand new resource with rules for your favourite card games
Overview
I love playing cards. Put a custom deck of traditional playing cards in my hands, and I'm a happy man. I enjoy collecting them, and I enjoy using them for things like card magic and card flourishing.
But my favourite use for a standard deck of cards is for playing card games. I love card games, and I've even curated a collection of the all-time best that there are in my article 
40+ Great Card Games for All Occasions
.
So it won't surprise anyone that I also have a section on my bookshelf devoted to books with rules about card games. I've already got some of the best books in the business, such as 
Bicycle Official Rules of Card Games
, 
Hoyle's Rules of Games
, and David Parlett's monumental 
Penguin Encyclopedia of Card Games
. But I'm all for any new title that promotes enjoying playing card games with a traditional deck of playing cards.
So when I had the opportunity to check out an advance copy of a new book about card games by Will Roya entitled 
Card Night
, I was quick to agree. Subtitled 
Classic Games, Classic Decks, and The History Behind Them
, this new title is releasing on 13 July 2021, and is billed as featuring step-by-step instructions for playing 52 classic card games.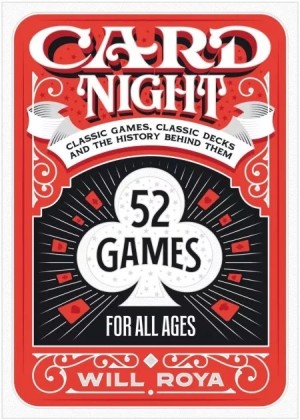 Author
The author of 
Card Night
 is Will Roya, a former magician. For many years, playing cards were the tools of his trade as a professional entertainer. He's now the founder and owner of PlayingCardDecks.com, a successful retail business that sells playing cards online. Besides this, he also has produced many custom playing card decks of his own. He has a passion for playing cards and for card games, and I hold him in high regard for his many contributions to the playing card industry, both as a retailer and as a creator.
In the interests of full disclosure, I contributed a few small parts to this book. Readers may recognize some of the additional sections that supplement the game rules, such as the opening segment about the history of playing cards, the section about the use of playing cards in war, and an overview of the relationship between a standard deck and the tarot deck. But that's about it, because for the rest I had no involvement whatsoever with this project.
I also have no official relationship with Will Roya or his PlayingCardDecks business, other than that I have an arrangement with Will where he publishes my articles on his blog - although I also cross-post them on other sites from time to time as well. I've actually never met Will personally, and I've never even had a telephone conversation with him, although I've corresponded with him over email many times.
But I do know that Will Roya is a stand-up guy, who I respect highly for his involvement and expertise in the playing card industry. He has built up a successful business which offers a tremendous range of custom playing cards to collectors at reasonable prices and with good customer service. Although I occasionally purchase playing cards elsewhere, PlayingCardDecks is my first option and my main source when I personally buy playing cards.
What's more, Will has made a terrific contribution to the industry as a creator, having brought dozens of new custom decks to the marketplace. His reproduction decks, especially the delightful transformation decks from the 19th century that he's brought back into print in high quality editions, are among my personal favourites.
So am I biased? Of course. But I'd like to think that I can still share some helpful information about this new release that he's bringing to market.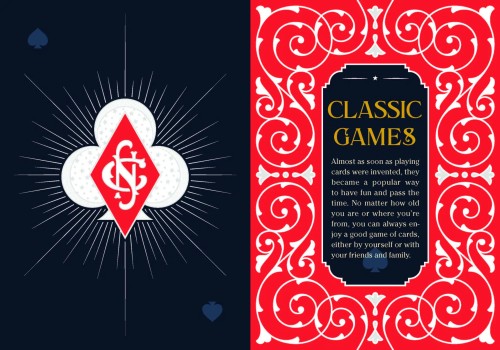 Contents
Card Night
 is a well-bound hard-cover book that consists of 234 pages, and is divided into four main sections, each covering a selection of classic card games:
1. Classic Games
: "
Almost as soon as playing cards were invented, they became a popular way to have fun and pass the time. No matter how old you are or where you're from, you can always enjoy a good game of cards, either by yourself or with your friends and family.
"
Included here are: Bingo, Crazy Eights, Cribbage, Devil's Grip, Egyptian Rat Screw, Go Fish, I Doubt It, Ninety-Nine, Old Maid, Pig, Six-Card Golf, SlapJack, Snap, Snip Snap Snorem, Solitaire, Spit, and War.
2. Rummy Games
: "
Rummy games are a group of games that revolve around the simple concept of matching cards of the same rank or sequences of the same suit. These beloved games have multiple variations and are played in all corners of the world.
"
Included here are: Rummy, Gin Rummy, Canasta, Hand and Foot, Tunk, and Conquian.
3. Trick-taking Games
: "
A trick-taking card game is one in which each player in the game contributes a single card, and the highest-ranking card played wins the round, or "trick." Often played in teams, trick-taking games are perfect for gatherings of friends or family. The basic objective of any trick-taking game is to win more tricks than your opponents.
"
Included here are: Bezique, Bridge, California Jack, Cinch, Euchre, Forty-Five, Go Boom, Hearts, Idiot, Napoleon, Oh Hell, Pinochle, Piquet, Pitch, President, Sixty-Six, Spades, and Whist.
4. Gambling and Casino Games
: "
The games in this section involve betting, and some of these games, such as Baccarat, are popular in casinos around the world. However, many players get just as much enjoyment from playing these games at home with bottle caps, pennies, candy, or other small items you can find in quantity around the house.
"
Included here are: Baccarat, Blackjack, Booray, Fan Tan, Guts, In-Between, Michigan, Red or Black, Seven-Card Stud, Texas Hold 'Em, and Thirty-One.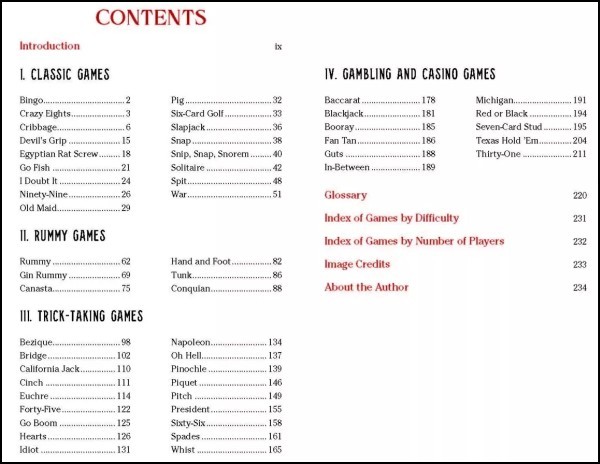 In addition there are several information sections scattered throughout the book, starting with a 13 page introduction about the development and history of the standard deck. Other smaller essays of about half a dozen pages each include a section about playing cards as weapons of war, the history of court cards, and the relationship between playing cards and Tarot cards. For some reason none of these additional materials are mentioned on the Table of Contents page, but you'll come across them naturally as you explore the book.
Throughout the book there are also one page overviews in the relevant section that are devoted to the history of specific games like Cribbage, Solitaire, Rummy, Euchre, Hearts, Pinochle, Pitch, Spades, Whist, Poker, and Thirty-One. So in fact there's quite a bit of content besides just the game rules, which are obviously the main feature.
The book is rounded out with a ten page glossary of common terms used in the world of playing cards and card games, plus an index that arranges all the games into levels of difficulty (easy, moderate, or difficult), and another index that conveniently arranges them by the minimum number of players required (from 1-4 or more players).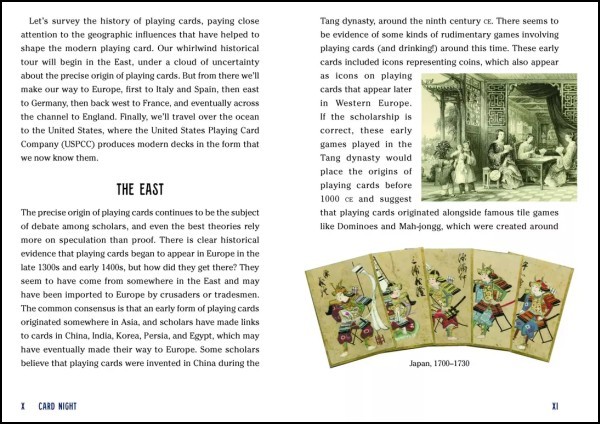 Games included
One of the first things I did when I got the book was check the table of contents to see which games were included. It's a very solid collection, but I was disappointed to see a handful of my favourites missing, such as Knockout Whist and Palace. The choice to include only two solitaire games - Solitaire and Devil's Grip - also seemed surprising initially.
But when I started reading through the book, I discovered that some games are simply listed under their less common names, while others are included as variations. So it turned out that Palace is included under the name Idiot, while Knockout Whist is included as a variation of Whist. As a result, there's many more games here than you'd think when first perusing the table of contents page. Similarly you'll find common favourites like Beggar My Neighbour listed as a variation under Egyptian Rat Screw, and Spoons under Pig. As for solitaire games, I was pleased to notice that in fact there are half a dozen different ones listed as variations, including the very unique and thematic Bowling Solitaire. It's just a bit of a pity that all these variations aren't also mentioned in the indices at the end, to make them easier to find. But in reality there's a lot more card games that are included than simply 52, and there must be rules for well over a hundred games altogether.
Overall the inclusions and arrangement of material seems to be influenced by the categorization of games on the Bicycle 
How to Play
 website, which also corresponds to a free app available for iOS and Android. While this has its merits, it isn't without fault, and as a result games like Idiot and President are incorrectly categorized as trick-taking games, when in fact they are climbing or shedding games. Perhaps this possible influence also explains the inclusion of some less familiar games that I haven't played before, like Conquian, Tunk, California Jack, Napoleon, and Cinch. Personally, I'd also have been inclined to have moved some of the titles from Classic Games into a separate section for Children's Games or Light Games. The inclusion of King's Cribbage (p.12) as a variation was also rather unexpected and surprising, since it requires specialty components.
But these minor criticisms notwithstanding, generally speaking this is a very solid collection of proven favourites, and most classic card games are covered. I've had a lot of experience playing card games, and have played most of the games that are included in the book. I did think that the omission of the classic game Scopa was a pity, and I would also have liked to have seen the excellent German Whist included as a variation of Whist, since not many solid trick-taking games for just two players exist. Climbing or shedding games are also under-represented, and while the popular President is included, something like Big Two would have been a welcome inclusion alongside it. Competitive patience style games like the real time Nertz and the more leisurely Spite and Malice would also have made good additions as variations. But that's just my subjective opinion, and any book with card games will omit some personal favourites.
Given the limitation of 52 games, the author has done well to include as many games as he has. All the tried-and-true classics you'd expect are included, like Rummy, Canasta, Cribbage, Bridge, Hearts, and Spades. There's also a strong selection of popular games ideal for casual play, or for enjoying with families and children, like Crazy Eights, Go Fish, I Doubt It, Pig, Slapjack, and Spit. Some of these will even be suitable for parties and social gatherings. There's a good range from light games to serious games, and you're certain to find some great new card games that you haven't played before. After all, given that some of the "variations" are sometimes in fact different games, strictly speaking there are more than one hundred games covered here. And if you do want more, you can find a slightly 
longer list
 on Will Roya's website, including instructions for additional games that didn't make the cut for the book.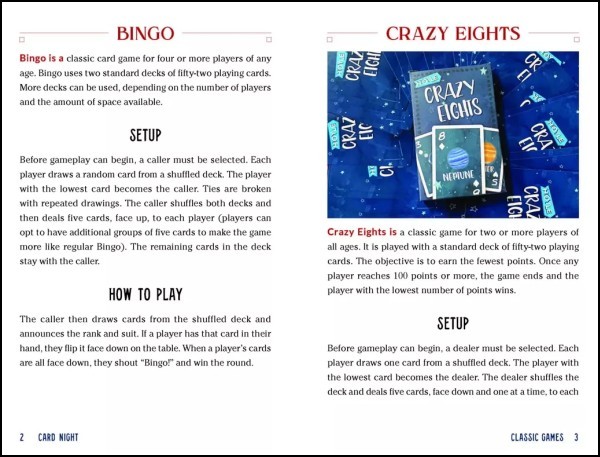 Format
From a production perspective, this is easily one of the nicest books with rules about card games that I own. It's a very sturdy hard-cover volume that isn't too large or unwieldy. Navigating to the appropriate sections is quick and easy with the help of a clear table of contents and the two useful indices.
The pages are quite thick and glossy, and make an immediate positive impression. Colours are used throughout, with clear and consistent headings that make good use of both black and red. Breakout sections relating to history and other information are presented in blue panels to make them easily distinct from the main text. Reference charts for scoring are printed in a similar manner. There are ample diagrams throughout, which illustrate how to set-up the various games, or explain aspects of game-play. It's all very nicely done.
The arrangement of material within the rules for each game is presented in a consistent format as well, starting with a short overview of what the game is about and how many players it is suitable for. Then come separate headings covering Setup, How to Play, Scoring, and where appropriate, Gameplay Examples, and variations. Each game is explained independently, with full instructions, so you don't need to rely on information from other parts of the book to figure out how to play.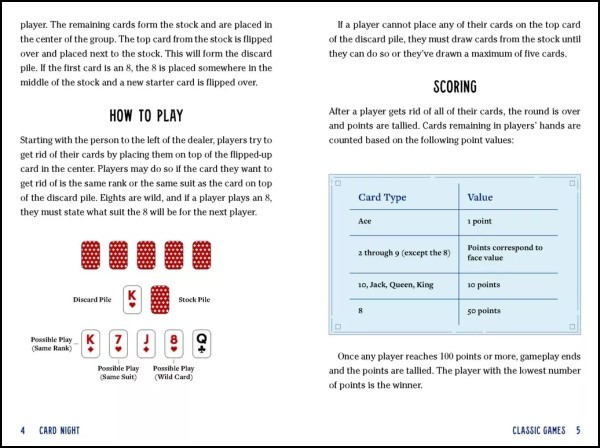 Other impressions
Unlike the more cut-and-dried approach of many similar titles that contain rules for card games, 
Card Night
 doesn't make the mistake of being too concise or clinical, and it is generally pleasant to read. But the actual description of the rules isn't one of the book's strongest points. At times the writing style feels a little amateurish, and there are even a couple of inaccuracies I noticed with specific rules e.g. turning up a Jack as the Starter Card in Cribbage (p.10) is mistakenly described as earning 1 point instead of 2 points; and the scoring rules for California Jack (p.111) cover the three Trick Points but omit mention of the all-important Game Point, as well as the fact that this game is a favourite for just two players.
Having said that, traditional card games are notorious for having a multitude of variations, which are often localized and regional. 
Card Night
 isn't about to become a standard reference text to supplant existing books like David Parlett's 
Penguin Encyclopedia
, but that's also not its intent. The real value of a book like this in my view is that it introduces people to new games and kindles a love for playing cards and traditional card games. Once you've found a game that interests you, it provides you with the tools you need to learn the basic rules. But from there it's always going to be a good idea to consult other sources to check for popular variations, and even to help learn how to play the game.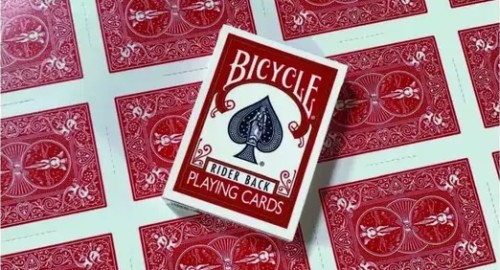 Additional helps
If there was one omission, it would be mention of further resources that would complement this book. When it comes to rules for standard card games, the most authoritative and comprehensive website in the world on the subject is Pagat.com. So if you're enjoying a game that you've learned from 
Card Night
, I'd highly recommend also heading to Pagat, to learn more about typical rule variations and other information about that specific game.
But first, you should head to the section on Will Roya's own website with 
Card Game Rules
. There's a lot of overlap there with material from the book, but there's one terrific resource that you'll find on the page for each game, which will prove to be an extremely valuable complement to the material in the book. And that is the excellent video tutorials produced by Triple S Games, the creation of which has been sponsored by PlayingCardDecks. I've watched a number of these instructional videos (e.g. 
How to play Cribbage
, or 
How to play Golf
), and they are really well done, with the game rules explained very accurately and clearly.
Card games like Cribbage and Bridge are notoriously difficult to learn from the written rules alone. And that's where watching a video tutorial in conjunction with the book will provide you with the best of both worlds, and really help jump start your experience with a new game. I highly recommend using these video tutorials in conjunction with the information in the book itself. If you come across a game in the book that sounds interesting, my advice is to watch the instructional video provided on the website, and using that together with written rules in the book in order to learn the game.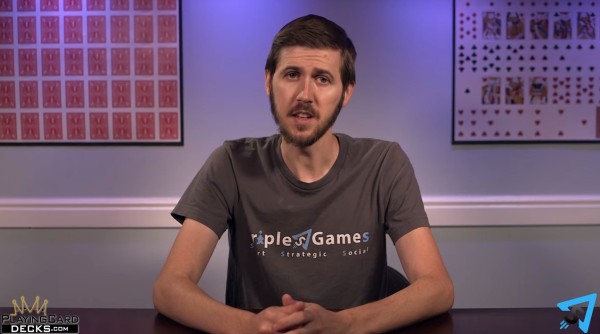 Recommendation
I'm not exaggerating when I say that the overall presentation of this book was much nicer than I was expecting. 

Card Night

 is a high quality book that looks great, and really stands out from the run-of-the-mill books that I have with card game rules, most of which have received a budget printing in plain black and white. Not only does that make 

Card Night

 a pleasant book to read, use, and enjoy, it also makes it well suited as a gift. It certainly would be a fine choice to give away as a present together with a quality deck of custom playing cards.

This book is by no means the final word in card game rules, nor does it cover the many hundreds of card games that exist, or all of their many variations. But it is an excellent launching point for discovering and learning some proven classics. I applaud anything that gets people dusting off their playing cards and enjoying them together around the table. And this book will do a fine job of helping you do exactly that.

Where to get it?

 

Card Night is releasing on 13 July 2021. PlayingCardDecks has a limited supply here, but it is also available as an ebook or in hard-cover from the many retailers listed on the

 

publisher's product page.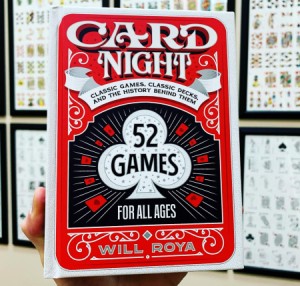 About the writer: EndersGame is a well-known and respected reviewer of board games and playing cards. He loves card games, card magic, cardistry, and card collecting, and has reviewed several hundred boardgames and hundreds of different decks of playing cards. You can see a complete list of his game reviews here, and his playing card reviews here. He is considered an authority on playing cards and has written extensively about their design, history, and function, and has many contacts within the playing card and board game industries. You can view his previous articles about playing cards here. In his spare time he also volunteers with local youth to teach them the art of cardistry and card magic.


Last update date: 07/13/21